This coconut lavender lemonade will be your absolute favorite drink this summer!
Last summer my daughter spent an entire day with her friend at the swimming pool. She created a very delicious and fresh drink that is the perfect summer pool beverage, so today I thought I would share this drink with you as well.
Making this lemon lavender lemonade is super easy and only takes just a few simple ingredients. The lavender can be found at any specialty store (I found mine at World Market), but I also noticed that TJ Maxx, Amazon, Ross, and other stores like that carry it as well. Your grocer might even have it.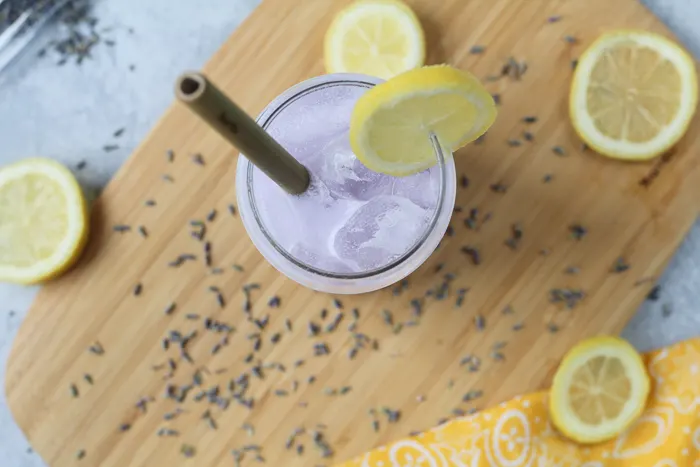 This was originally published in 2019.
The other ingredients are as simple as lemons, lemonade concentrate, coconut milk, and lemons. That's it! This drink would go amazing with these delicious Earl Grey Lavender Cheesecake bites.
Now– let's learn how to make this delicious summer drink.
How to Make Coconut Lavender Lemonade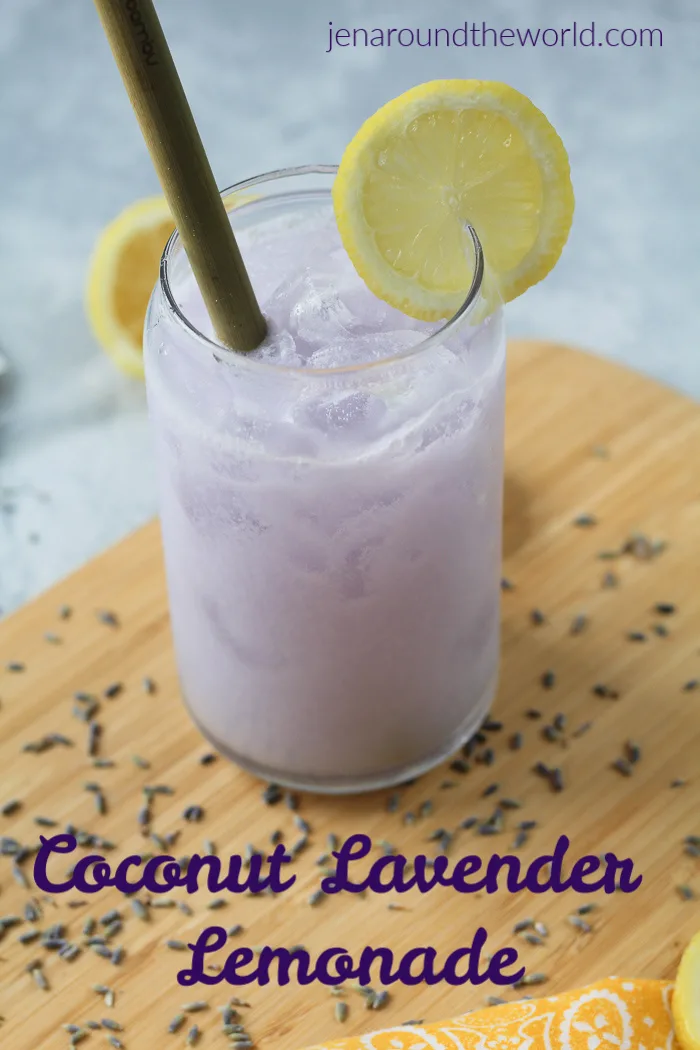 To start, the first thing we need to do is to make lavender simple syrup. This is very easy — equal parts sugar and water and then 2 teaspoons of dried lavender.
We used 1 cup of sugar and 1 cup of water along with the 2 teaspoons of lavender. The original recipe called for 3 tablespoons, but we wanted a light flavor of lavender and not a pungent one. If you want more lavender flavor, just add more dried lavender.
Cook over medium-high heat until the sugar dissolves.
Set it aside while you make the lemonade.
Making the Lemonade
For the lemonade portion, we used 1 can of coconut milk, 1 can of frozen lemonade concentrate, 2 lemons, and 2 cups of water. We placed all of this into a container and mixed it up really well.
If this is too tart for you, you can add more water to mellow out the lemon flavor. Here in Kentucky, we like our lemonade to the point that it will make your lips pucker.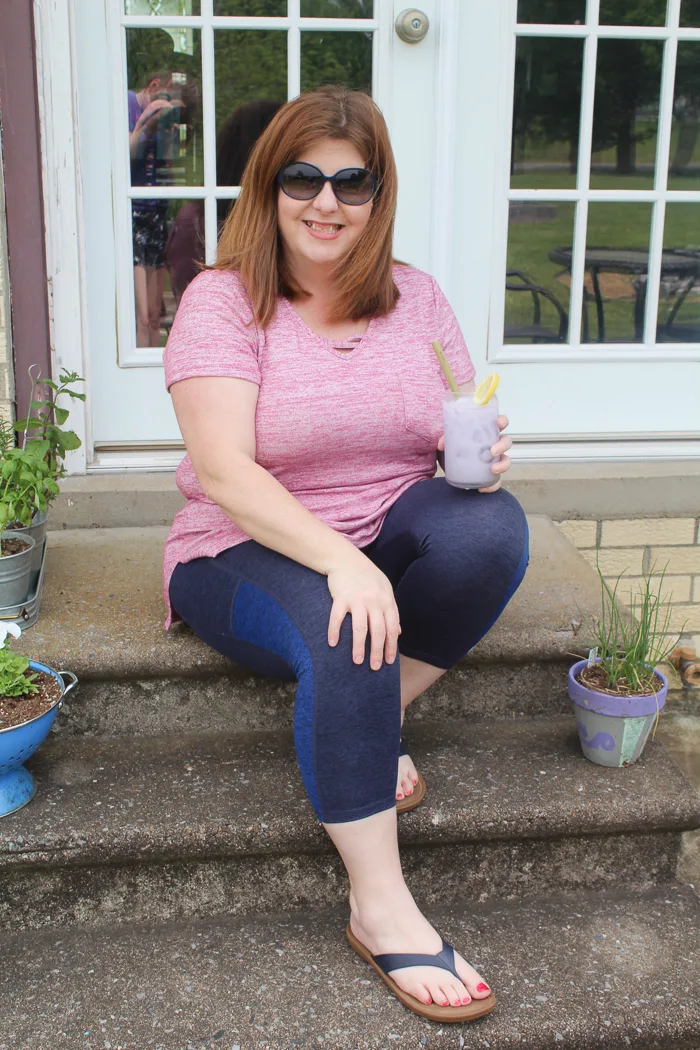 Once the simple syrup has cooled down some, strain it to remove the lavender leaves. Now, pour it into your container with your lemonade mixture.
To achieve that perfect lilac color, just add a drop or two of purple food coloring.
That's it! Mix it well before serving each time. Pour over ice and serve with fresh mint leaves, sliced lemon, or sprinkled dried lavender.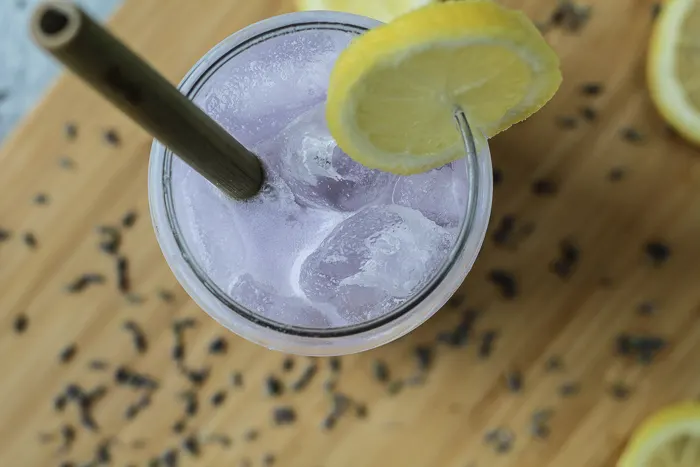 Interested in more delicious drinks like this? Check out these recipes!
Yield: 8 cups
Coconut Lavender Lemonade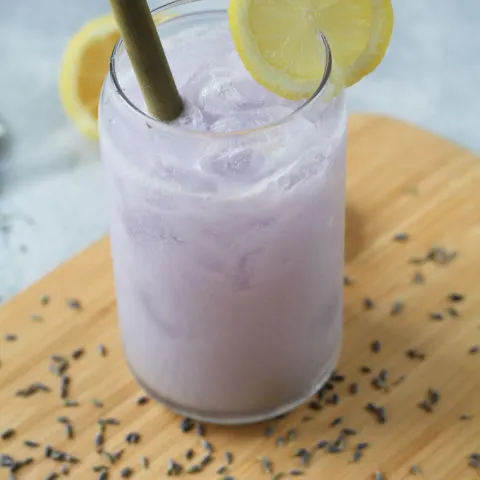 This refreshing summer drink will be perfect for any pool party this year.
Ingredients
For the lemonade
1 can of Thai Coconut Milk
1 can of frozen lemonade concentrate, thawed
2 lemons, freshly squeezed
2 cups of water
Purple food coloring
For the Lavender Simple Syrup
2 teaspoons of dried lavender
1 cup of water
1 cup of sugar
Instructions
In a sauce pan on the stove, combine all the ingredients for the simple syrup. If you want a more pungent lavender flavor, add more dried lavender.
Cook over medium high heat until the sugar has melted. Remove from the stove and allow it cool completely.
While the syrup is cooling, combine in a gallon jar or jug the coconut milk, lemonade concentrate, fresh lemon juice and water. Stir to combine.
Once the simple syrup has cooled, strain to remove the lavender leaves. Combine with lemonade mixture. Add in 2 drops of food coloring.
Taste. If the lemonade is too sour, add more water or sugar to taste. Be sure to mix well before serving each time.
Nutrition Information:
Yield:
8
Serving Size:
1 glass
Amount Per Serving:
Calories:

286
Total Fat:

11g
Saturated Fat:

9g
Trans Fat:

0g
Unsaturated Fat:

1g
Cholesterol:

0mg
Sodium:

12mg
Carbohydrates:

50g
Fiber:

1g
Sugar:

41g
Protein:

2g