If you want a taste of Mint Julep without alcohol, I've got you covered. This super easy drink is perfect for Derby Day and great for those people in your family who are not drinkers.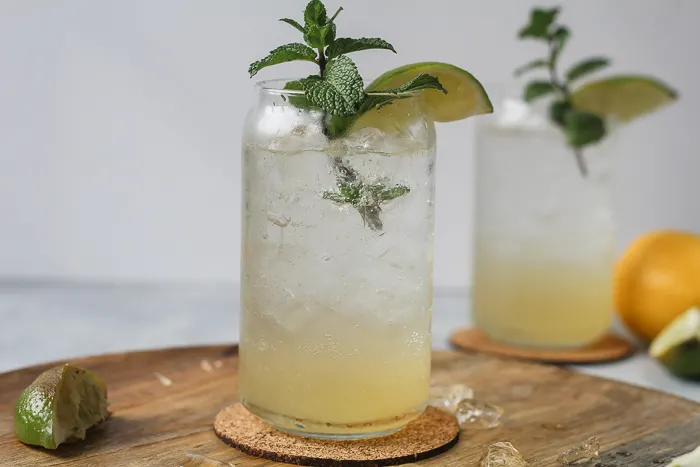 I have been a Kentucky girl my entire life and you know what? This girl has never been to the Kentucky Derby. I have driven past the tracks many times in my adult life, but I have never really been and watched the horse races.
Finding out all about racehorses on my trip to Georgetown, KY really fueled my curiosity about all things Kentucky Derby. One of the drinks of choice is a Mint Julep, which is normally served full of alcohol.
Since I am not a drinker and alcohol is not my thing, Kayla and I decided to whip up our own version that has the same taste minus the alcohol. The best part? It's one of the easiest drinks we have ever made.
How to Make a Non-Alcoholic Version of This Kentucky Derby Drink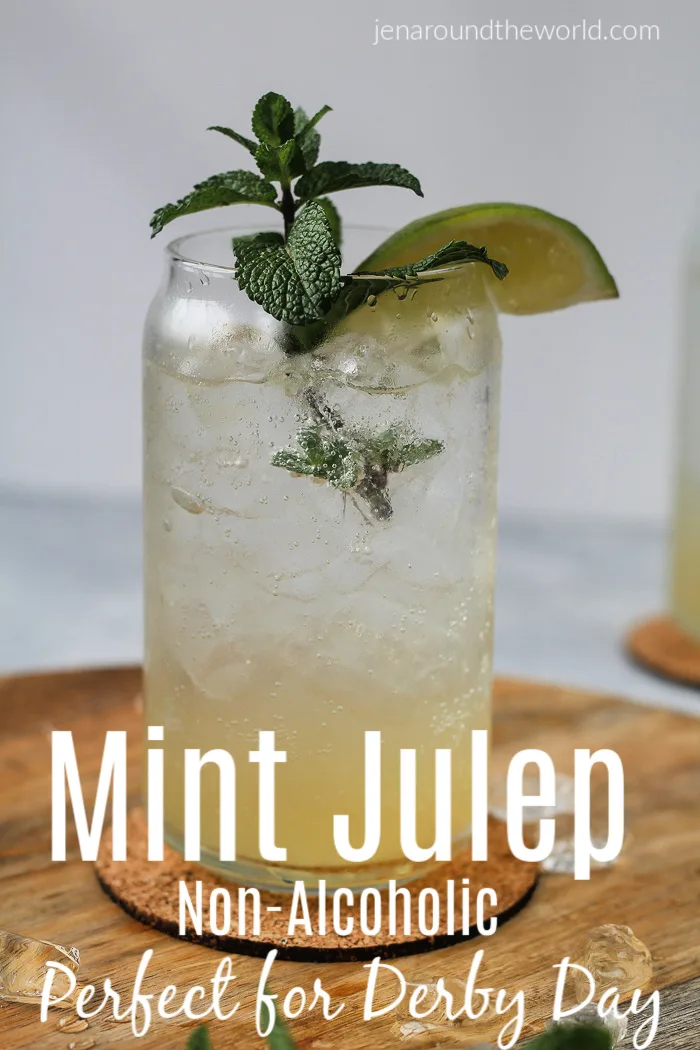 So — according to Wikipedia — a Mint Julep is
The mint julep is a mixed alcoholic drink, or cocktail, consisting primarily of bourbon, sugar, water, crushed or shaved ice, and fresh mint. As a bourbon-based cocktail, it is associated with the American South and the cuisine of the Southern United States in general, and the Kentucky Derby in particular.
To make this recipe you really only need a few things —
lemons
limes
fresh ginger
mint leaves
1/12 cups sugar and 2 cups water
Sprite Zero
You are going to start by making the base of your Mint Julep. It starts with the juice of 3 fresh lemons, 2 fresh limes, 1 tablespoon of chopped mint leaves, 1 tablespoon of freshly grated ginger (or you can find a tube of ginger paste — 1 tbsp– at ALDI and it works too).
In a large bowl, combine the water, sugar, lemon juice, lime juice, ginger, and mint. Let stand for at least 45 minutes.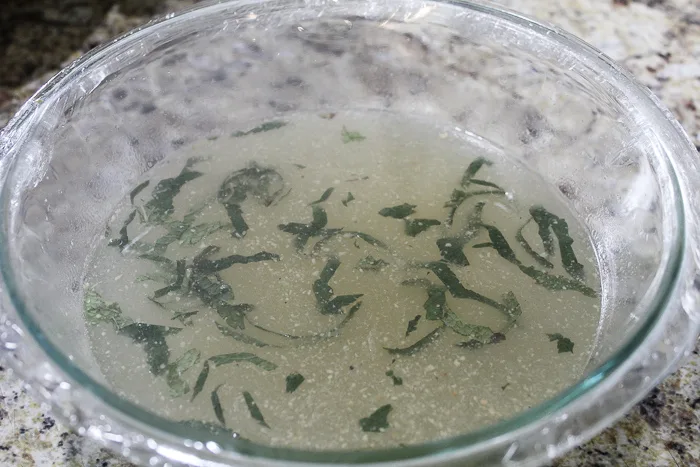 Once it sets for 45 minutes, set up your glasses and fill with ice. Normally these are served in tin cups, but I found these amazing beer style glasses on Amazon and I knew they would be perfect for our summer drinks this year.
Strain your liquid to remove any mint leaves.
To each glass, fill half full with Mint Julep mixture and then top with Sprite or Sprite Zero.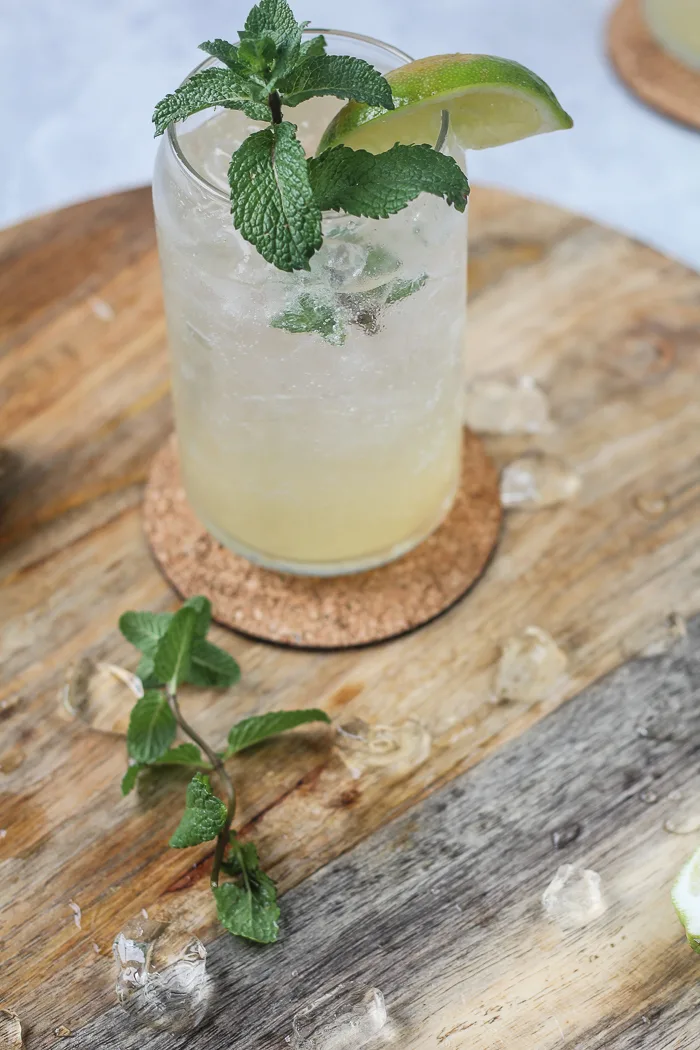 Then, top off with fresh mint and fresh lime wedges. Right before you drink it, squeeze the lime right into your glass and drink. It is seriously one of the most refreshing drinks that my daughter and I have made.
That's it! Now you are ready to party in style at the Kentucky Derby. Be sure and grab your best Fascinator and root on your favorite horse this year.
Yield: 13 glasses
Mint Julep - a Non-Alcoholic Version Perfect for Derby Day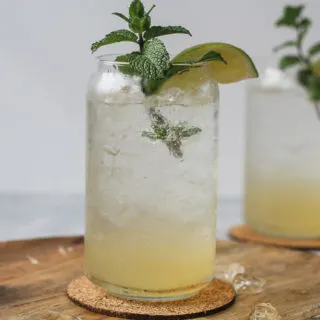 This is the perfect version of Mint Julep that is non-alcoholic​ for those who don't like to drink adult beverages.
Ingredients
3 lemons, juiced
2 limes, juiced
1 teaspoon of freshly grated ginger
1 tablespoon of chopped mint leaves
2 cups of water
1 1/2 cups of sugar
2-liter of Sprite or Sprite Zero
ice
glasses
Instructions
In a large mixing bowl, combine the lemon and lime juice with ginger, mint, and water and sugar. Mix together and cover. Let it sit out for 45 minutes.
After 45 minutes, strain.
When ready to make the drinks, fill glasses with ice. Pour equal amounts of Mint Julep mix and Sprite Zero in a glass.
Top with fresh mint leaves and lime wedges.
Notes
You can use Ginger Ale in place of the Sprite.
Recommended Products
As an Amazon Associate and member of other affiliate programs, I earn from qualifying purchases.
Nutrition Information:
Yield:
13
Serving Size:
1 glass
Amount Per Serving:
Calories:

164
Total Fat:

0g
Saturated Fat:

0g
Trans Fat:

0g
Unsaturated Fat:

0g
Cholesterol:

0mg
Sodium:

21mg
Carbohydrates:

43g
Fiber:

1g
Sugar:

40g
Protein:

0g