Easy Coconut Ice Cream is made with cream of coconut and coconut milk. It's a smooth and creamy dairy-free dessert!
A few years ago I had THE best dessert at a blog conference. It was creamy and delicious and had the best coconut flavor. I asked the lady what it was and she said it was coconut milk ice cream. She said — there is no dairy in this and it is better on the stomach, especially if you are lactose intolerant.
I was intrigued immediately! Ever since then, it is the only ice cream I crave. Now, Kayla and I have created the perfect coconut ice cream for you to enjoy too!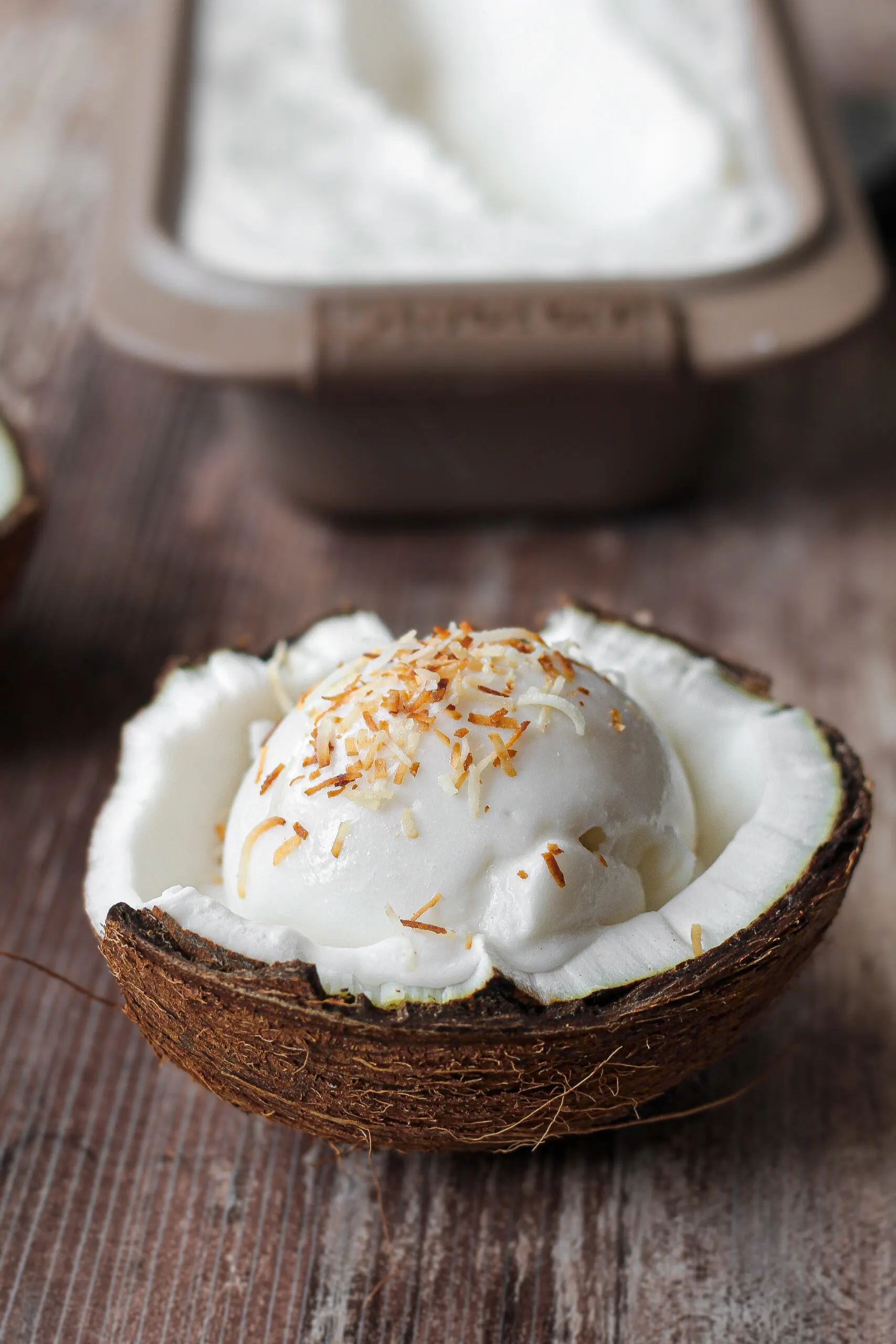 Normally when you have an ice cream that does not have milk in it, you wind up with an icy version that does not have a creamy texture.
However, since this recipe uses cream of coconut, you get this amazing creamy texture that resembles real ice cream made with milk.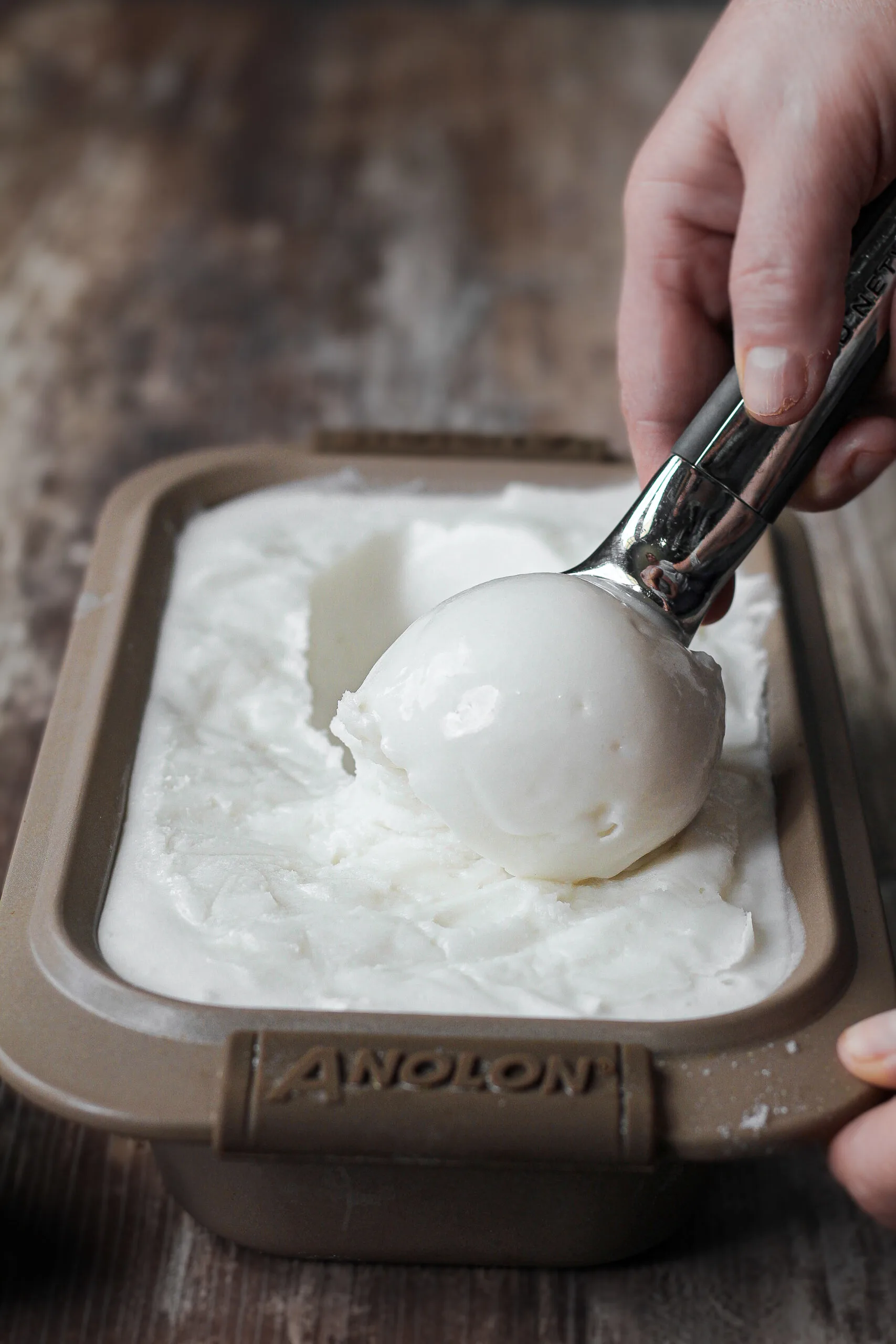 How to make the best non-dairy ice cream from scratch
The best way to make this delicious ice cream is by using an ice cream maker. You can make it without it, but it's always best to have the right tool for the job.
I like to place my canister in the freezer so that it helps move the ice cream along. Be sure to also place the cans of coconut milk and coconut cream into your fridge the night before.
All you have to do is mix everything together and place it in your ice cream machine. Make the ice cream according to your machine's directions.
Then, when it is done, place it in a 9×5 loaf pan and let it continue freezing in the freezer until it is the desired consistency.
You can add toasted coconut to the ice cream while it is in the ice cream freezer. However, for us, we simply added it to the top of the ice cream.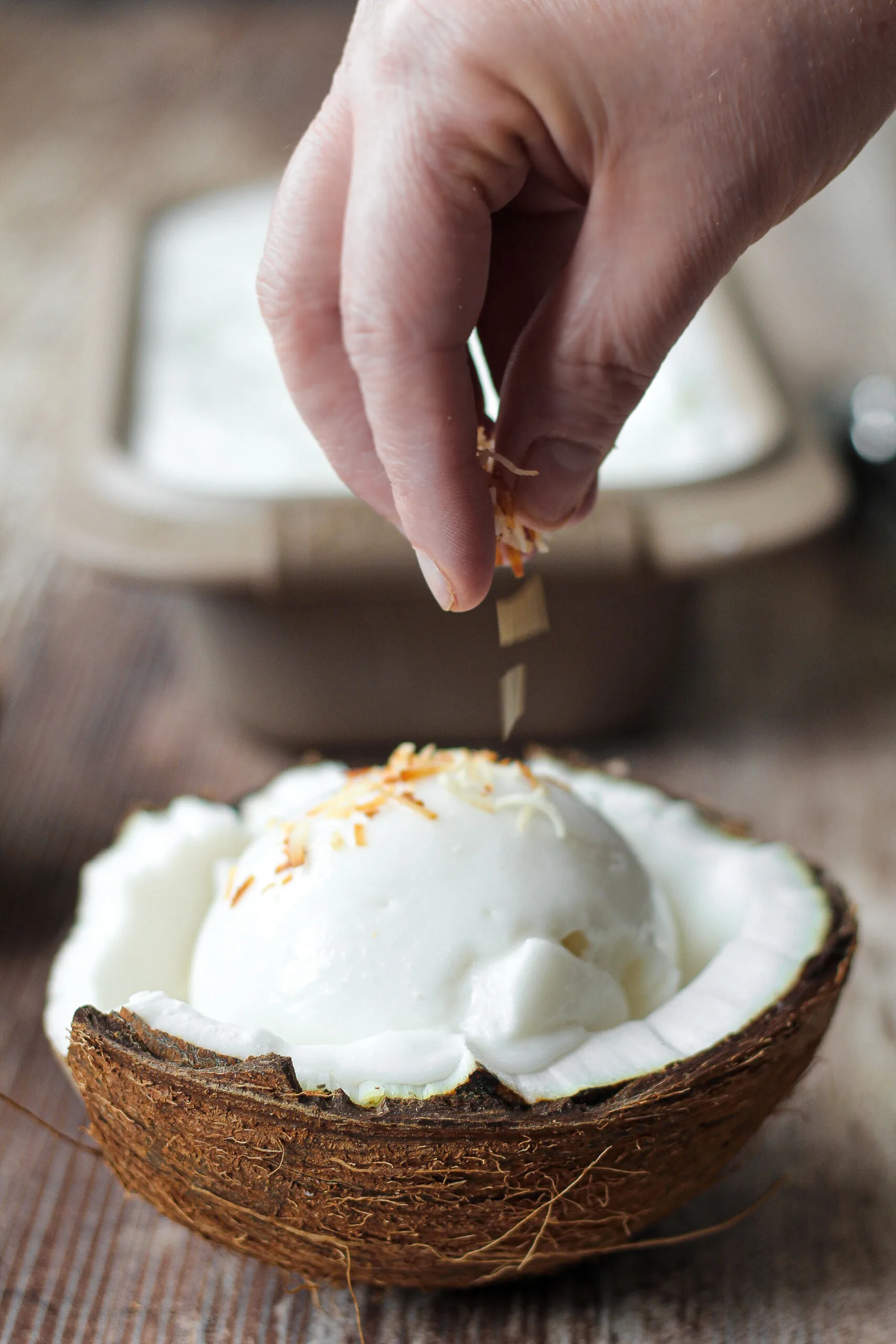 Let everything freeze for a couple of hours before scooping out and serving. This will become your new favorite way to have ice cream — and the best part is that it is dairy-free!
Check out these other delicious ice cream recipes
Yield: 8 cups
Easy Coconut Ice Cream
Delicious and easy coconut ice cream that is completely dairy free.
Total Time
3 hours
5 minutes
Ingredients
3 (13.66 Ounce) Cans Unsweetened Coconut Milk
1 (13.66 Ounce) Can Unsweetened Coconut Cream
1 Cup Granulated Sugar, adjust to taste
½ Cup Shredded toasted Coconut, optional
Instructions
This recipe uses an ice cream maker. If necessary, place the core of the ice cream maker into the freezer overnight to freeze solid.
Additionally, place the cans of coconut milk and cream of coconut in the refrigerator for several hours before using.
Add one can of coconut milk and sugar into a small saucepan and heat over low heat. Stir occasionally until the sugar is dissolved, then remove from heat. Transfer to the refrigerator to cool completely.
After the coconut milk cools, place it along with the other cans of coconut milk and the coconut cream into a blender. Blend just until the mixture is combined.
Pour the mixture into the prepared ice cream maker and churn until it reaches the soft-serve stage.
Add the shredded coconut if using.
Transfer the ice cream to a 9x5 loaf pan. Freeze for 2 to 3 hours.
The ice cream will firm up a bit but will be softer in texture than full-fat, dairy-based ice cream.
Nutrition Information:
Yield:
8
Serving Size:
1
Amount Per Serving:
Calories:

157
Total Fat:

5g
Saturated Fat:

4g
Trans Fat:

0g
Unsaturated Fat:

1g
Cholesterol:

4mg
Sodium:

19mg
Carbohydrates:

29g
Fiber:

1g
Sugar:

27g
Protein:

1g