This creamy garlic mushrooms recipe comes together in just 20 minutes and is the perfect popular recipe for all the mushroom lovers out there. This is a must-make side dish to celebrate National Mushroom Month.
I am a massive lover of all things mushroom. One of my favorite recipes that I have made to date is these pan-roasted lion mane mushrooms. But these creamy garlic mushrooms are a close second. The beautiful mushrooms are served in a Creamy Parmesan sauce.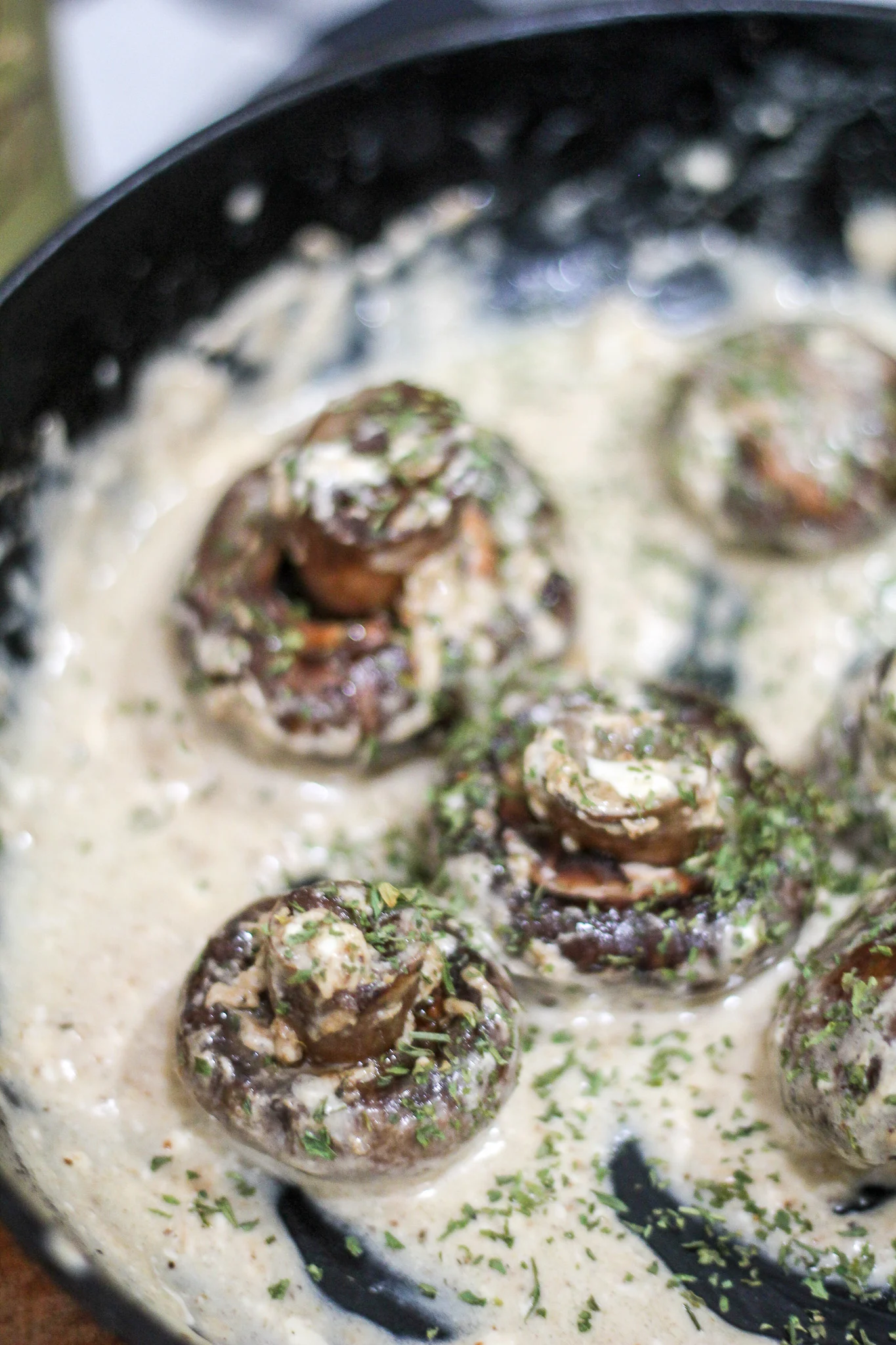 The baby Bella mushrooms are pan-roasted in butter and olive oil. Then we add some heavy cream, Parmesan cheese, and cream cheese making a delicious creamy sauce nest in which the mushrooms are nestled. If you are feeling frisky, you can add a splash of white wine to the mushrooms as well.
Once the mushrooms are cooked, that delicious cream sauce would be great to serve with a side of crusty bread to soak it all up.
how to make creamy garlic mushrooms
This easy recipe uses simple ingredients. Of course, if Baby Bella is not your favorite mushroom, you could use Cremini mushrooms or even white button mushrooms which are the big white mushrooms. I like the meaty texture of the Bella mushroom. If you are not sure which ones to choose, the Bellas are the brown mushrooms.
Of course, the kind of mushrooms you use is not really important.
Step 1: Melt the butter and extra virgin olive oil in a skillet over medium heat. Clean mushrooms off with a damp paper towel and cold water. Make sure to use the whole mushroom.
Step 2: Add the whole mushrooms and cook until golden brown on all sides, around 5 – 7 minutes.
Step 3: Add the following ingredients to the pan — fresh garlic, heavy cream, cream cheese, and freshly grated parmesan to the pan. Cook until the creamy garlic mushroom sauce is thick and creamy and coats the mushrooms.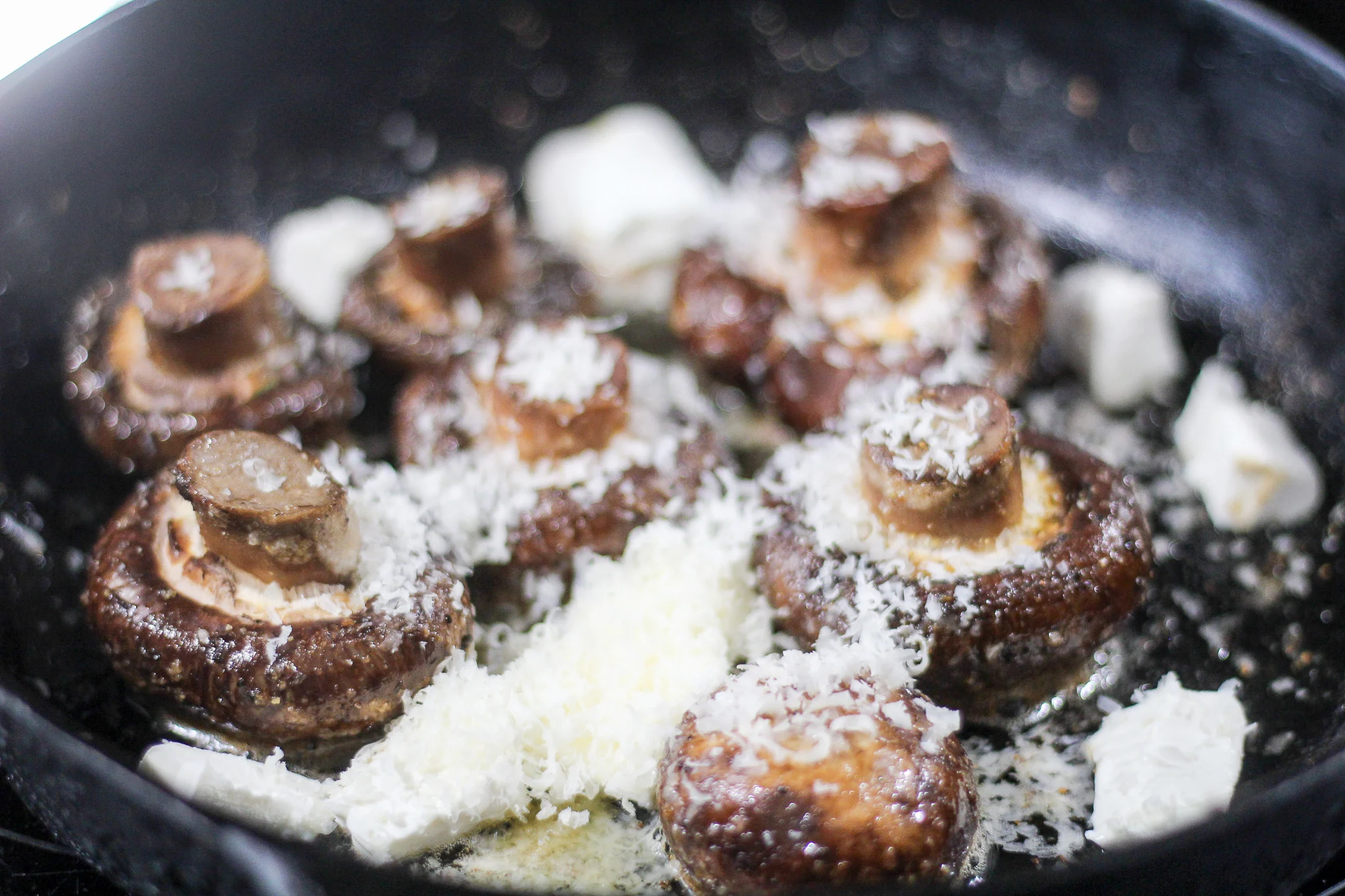 Step 4: Sprinkle fresh parsley and black pepper over the top of the mushrooms and serve with your favorite protein like pork chops or a delicious ribeye steak. If you want to give it a little kick, you could also sprinkle on some bacon bits and red pepper flakes.
This easy side dish is very low carb and could even be a main dish if you want it to be! You could also add cooked pasta and make it a creamy mushroom pasta for an additional main course.
How to Store These Creamy Mushrooms
To store the mushrooms after cooking them, place them in an airtight container and place them in the refrigerator.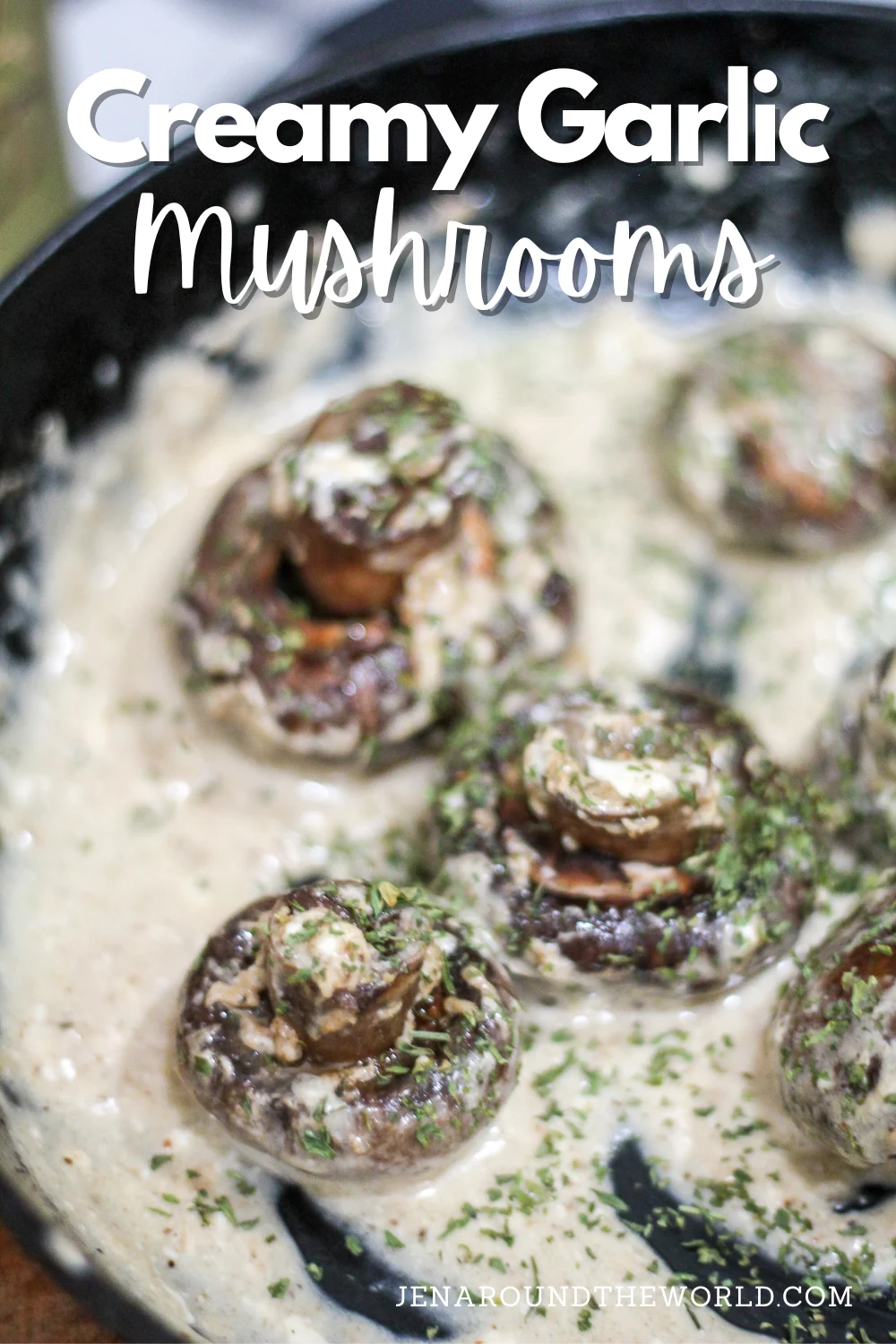 Check Out These Other Delicious Mushroom Recipes
Check out my other blogger friends mushroom recipes below. They use different mushrooms and I am sure that each recipe tastes amazing!
Must Make Mushroom Recipes

We share Recipes From Our Dinner Table! Join our group and share your recipes, too! While you're at it, join our Pinterest board, too!
Yield: 6 servings
Creamy Garlic Mushrooms
These creamy garlic mushrooms are the perfect side dish for any occasion. Serve it with crusty bread on the side.
Ingredients
1 package of mushrooms
2 tablespoons of butter
2 tablespoons of olive oil
2 ounces of cream cheese
1/4 cup of heavy cream (more if you want it creamier)
1/4 cup of Parmesan Cheese
3 garlic cloves minced
salt and pepper to taste
Fresh Parsley
Instructions
In a skillet over medium heat, melt the butter and olive oil.
Add the mushrooms to the pan and cook for 5 to 7 minutes until golden brown.
Add in the cream cheese, garlic, heavy cream and Parmsean Cheese.
Mix well and serve. Sprinkle on fresh parsley and salt and pepper to taste.
Nutrition Information:
Yield:
6
Serving Size:
1
Amount Per Serving:
Calories:

161
Total Fat:

16g
Saturated Fat:

8g
Trans Fat:

0g
Unsaturated Fat:

7g
Cholesterol:

35mg
Sodium:

188mg
Carbohydrates:

2g
Fiber:

0g
Sugar:

1g
Protein:

2g