This post has been sponsored by Lunchbox.

I love finding new and delicious appetizers to serve to my friends and family during the holidays. I recently discovered this recipe from the Kraft Foods section at Walmart for Mini Savory Cheeseballs.
This recipe is one of the featured recipes on the Walmart Kraft recipe page. If you hop over there, you can find it and a few more and even vote for your favorite!
While reading the recipe, I wasn't really sure how these were going to taste. They use raw garlic and if you have ever bitten into a piece of raw garlic, you know the taste that is left in your mouth.
However, after creating these — let me just put your mind at ease. They are amazing!
They take less than 20 minutes to prepare and look so darn festive — especially for the holiday season.
Delicious Kraft Mini Savory Cheeseballs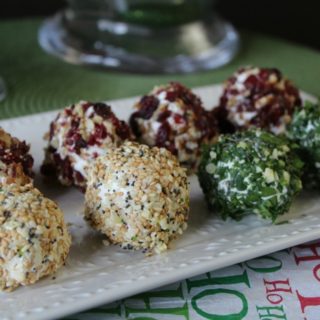 Ingredients
1-1/2 pkg., 8 oz. each PHILADELPHIA Cream Cheese (12 oz.)
2 Tbsp. toasted sesame seed
1 tsp. poppy seed
2 cloves garlic, minced, divided
2 Tbsp. finely chopped fresh parsley
2 tsp. choped fresh thyme leaves
1 tsp. finely chopped fresh rosemary
1/4 cup finely chopped dried cranberries
2 Tbsp. finely chopped PLANTERS Pecans
Instructions
CUT cream cheese into 6 pieces; roll each into a ball.
COMBINE sesame seed, poppy seed and half the garlic in small bowl. Mix herbs and remaining garlic in separate small bowl. Mix herbs and remaining garlic in separate small bowl. Combine cranberries and nuts in third bowl.
ROLL 2 cheese balls in sesame seed mixture, 2 cheese balls in herb mixture and remaining cheese balls in nut mixture.
You start by putting your spices together to roll your cheeseballs in.
Then using Kraft Philadelphia Cream Cheese, cut it into 6-8 cubes and then roll them to create balls. Be sure to let your block lay on the counter for a bit before getting started so that it is easy to roll.
Then you just roll each ball into whichever mixture you want. We did all three because we wanted to try them all.
The herb mixture was parsley, rosemary, thyme and garlic. It was really good. The fresh herbs mixed with the cream cheese give it a great flavor.
The next mixture was sesame seeds, poppy seeds, and garlic. This one was a favorite and I was surprised by that. The bite of garlic tasted great even though it was raw garlic.
The ultimate favorite though was the dried cranberries and chopped pecans.
Doesn't that look delicious? You can make every day delicious with Kraft! Right now, you can grab a coupon for $1.00 off 2 packs of Philadelphia Cream Cheese Brick. I keep this in my refrigerator at all times.
Be sure to hop over, get your coupon and find some more amazing great Kraft recipes! This one was definitely a winner!