This classic sausage balls recipe is perfect for any holiday get together you attend. They take no time to prepare and are always a hit!
My all-time favorite Christmas present every year is sausage balls ( you can be my best friend too! Just make me some and send them to me–haha).
From the moment I met my husband, the lady who was his mother's best friend made us these delicious sausage balls every year as a gift. She did not have a lot of money so this was her way of saying I love you.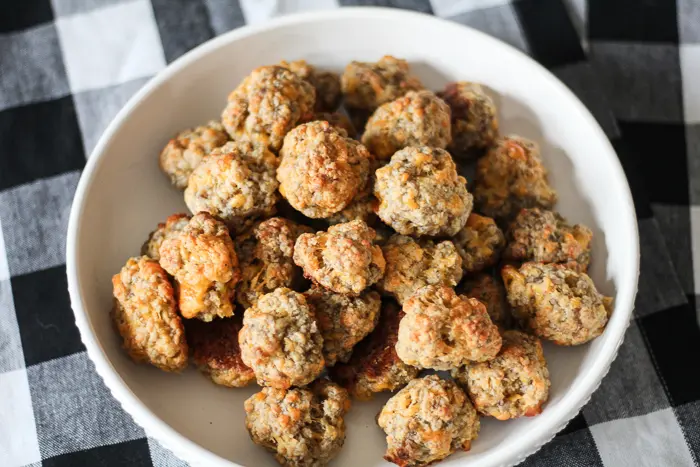 Seriously –nothing says I love you more than a ton of sausage balls as a gift.
How to Make 3 ingredient Sausage Balls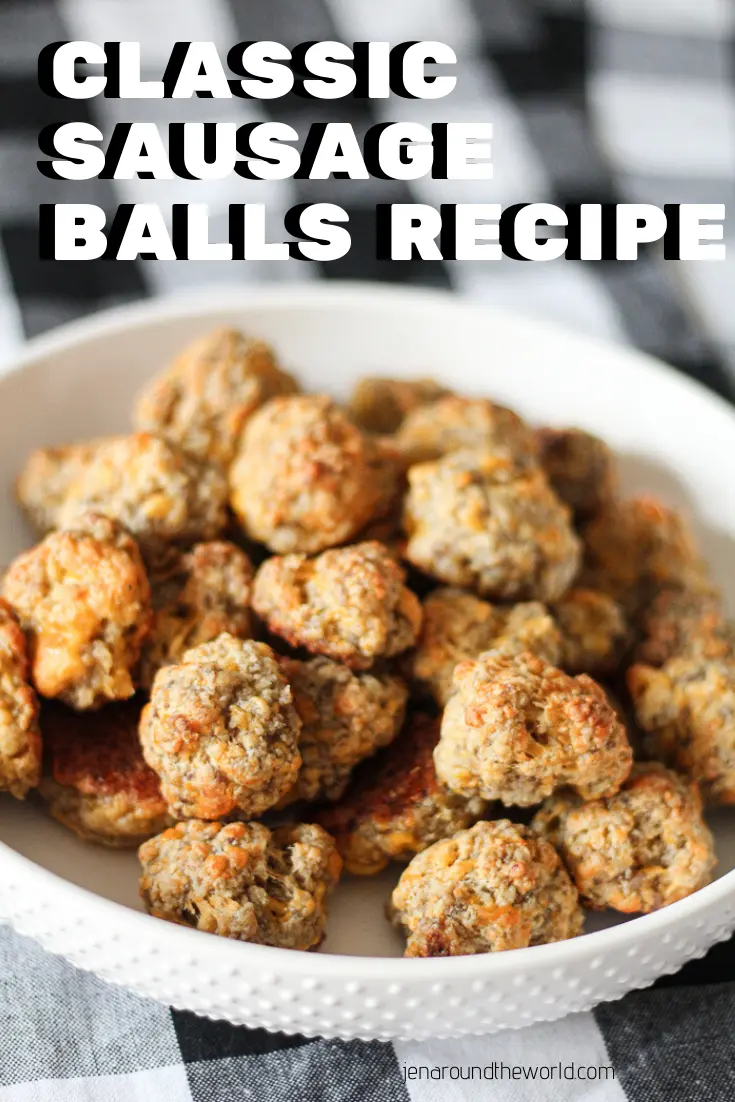 The recipe that I have been using for years is the original Jimmy Dean recipe. It features sausage, cheddar cheese, and Bisquick mix. You also can try other substitutes for cheddar for your favorite flavor.
These biscuit mix cheesy sausage balls are always a holiday staple for both Thanksgiving and Christmas as an appetizer
It uses only three ingredients and you have a delicious snack or side dish.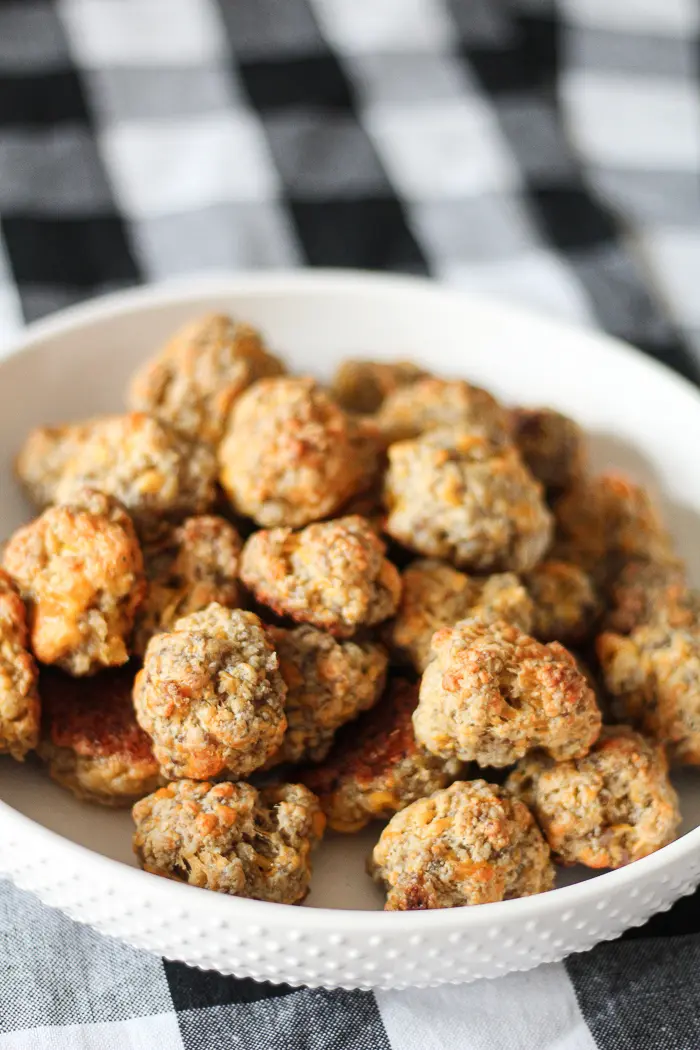 These Bisquick® Sausage Balls are a classic recipe and are so easy and delicious to make!
How to Make These 3 Ingredient Sausage Balls
Literally, this recipe only has 3 simple ingredients — sharp cheddar cheese, Bisquick Mix, and sausage.
These sausage balls are the kind of food that screams comfort during the fall and winter because they are so rich and decadent and filled with all the carb goodness.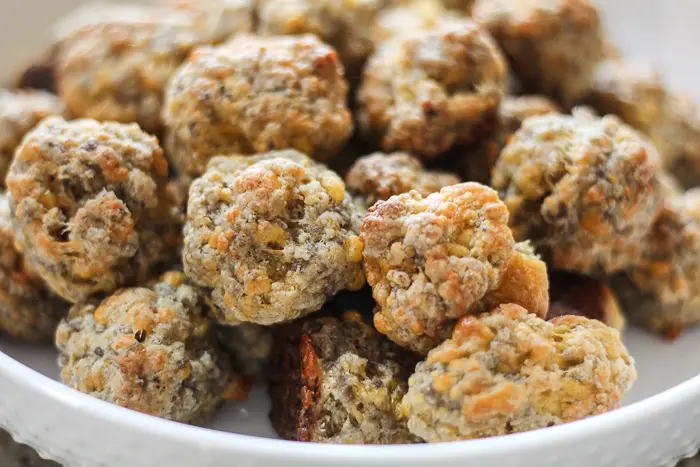 Speaking of carbs, you could make these gluten-free by using gluten-free flour and if you use flour that is carb friendly, you could make these keto as well.
The recipe makes a 24 golf ball-sized sausage balls and they will fit on a large baking sheet together perfectly. I use my 2″ cookie scoop to get the perfect ball size.
I like a good recipe that turns into using less kitchen equipment because it makes cleanup a lot easier!
Step 1
Simply mix everything together in a bowl. Make sure you mix it up really good. it will seem like it is not going to come together, but I promise if you keep mixing it, it will come together right.
Using your Kitchenaid stand mixer to make these sausage balls will make this a lot easier to mix and your hands will thank you immensely for the break.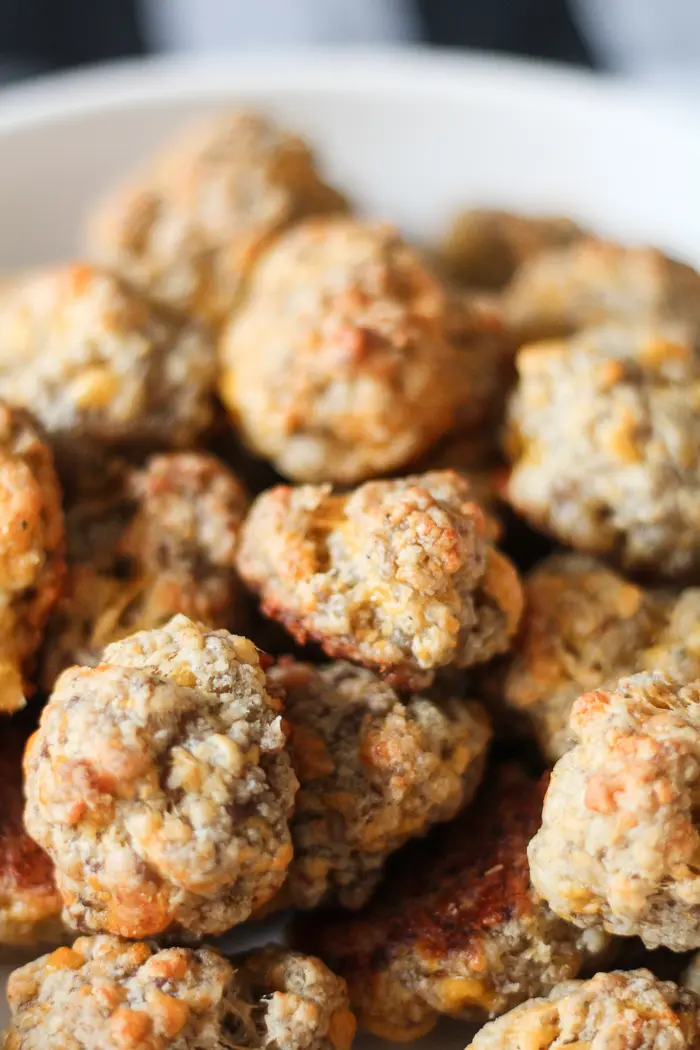 It does a better job of working the ingredients together than mixing them by hand would.
Step 2
Then, I just use a cookie scoop to make sure that all my balls are the same size. I scoop them out and then roll them to make sure they are even and then place them on a cookie sheet to bake in the oven.
Be sure to leave a little space between each one because they do spread a bit.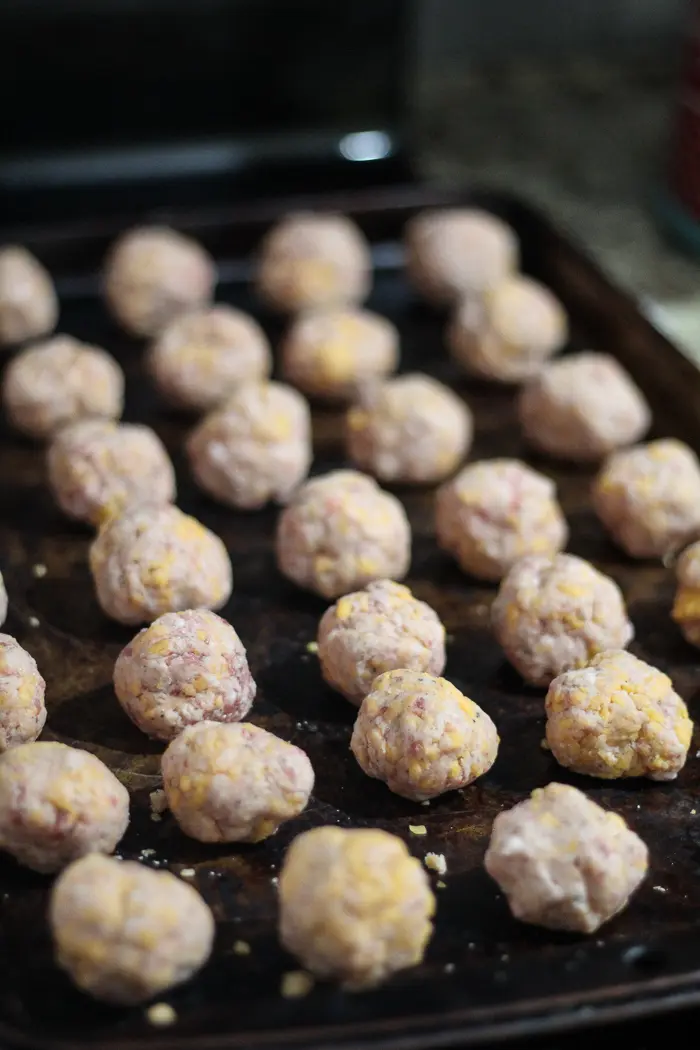 Also, make sure that you use Sharp cheddar. I have used mild before and it really changes the taste of these sausage balls. You need that bit of sharp cheese to really enjoy the full flavor.
Another thing — don't use bagged shredded cheese. You need the moisture that comes with freshly shredded block cheese. The cheese shreds in the bag are dry and covered in a plastic coating and you will end up with a dry product.
Every time I make these now to take to church functions, they are gone before I can get one. Luckily for me, I have another batch at home waiting for us!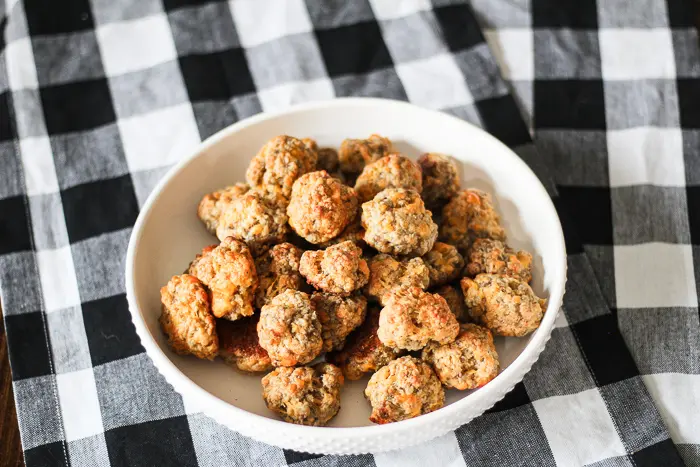 When I take these to a function, I love serving them on white rectangle platters. I bought this set of three from Amazon and they really jazz up the table.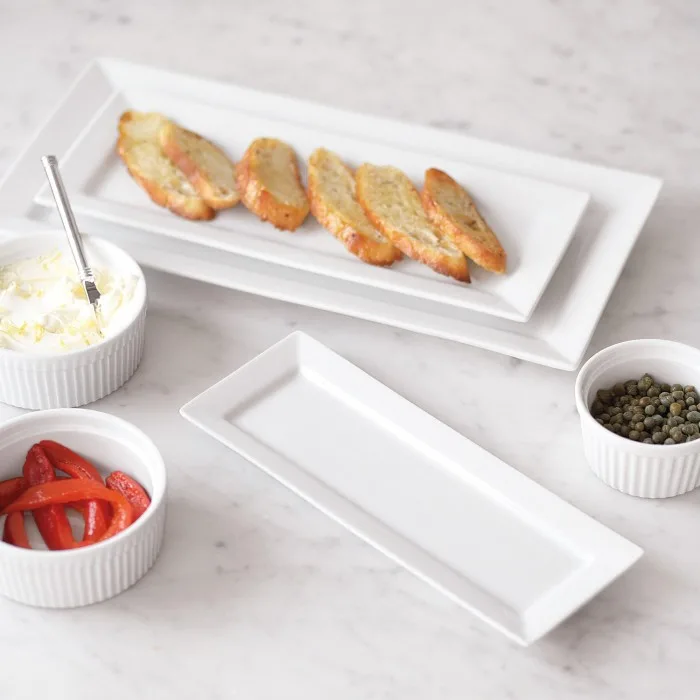 This is definitely one of those recipes that you will want to make over and over again. You can also make up a ton of these and freeze them. Just par-bake them and allow them to cool off.
Then place in freezer bags so that when you are in need of sausage balls, you can grab a few and pop them in the oven.
These sausage balls would go great with my homemade ranch dressing.
Check Out These Other Delicious Appetizer Recipes
This is always been my favorite appetizer anywhere we go. If they are serving Sausage balls, I am going to be right there digging in!!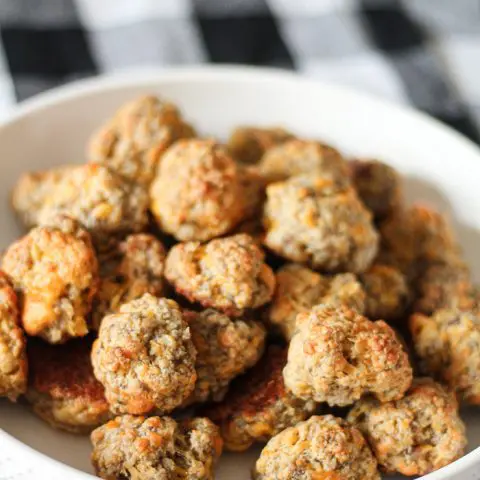 This easy sausage ball recipe needs to be on your list of recipes to make for your next get together.
Ingredients
1 pound Jimmy Dean sausage, uncooked
2 cups Bisquick baking mix
3 cups sharp chedder cheese shredded
Instructions
Preheat oven to 350 degrees.
Mix all three of the above together and then roll into 1 inch balls. Place on an ungreased cookie sheet and bake in the oven for 25 minutes or until golden brown.
Remove and enjoy!
Nutrition Information:
Yield:
35
Serving Size:
1 ball
Amount Per Serving:
Calories:

125
Total Fat:

8g
Saturated Fat:

3g
Trans Fat:

0g
Unsaturated Fat:

4g
Cholesterol:

21mg
Sodium:

300mg
Carbohydrates:

7g
Fiber:

0g
Sugar:

1g
Protein:

5g
So what is your favorite appetizer?