This Lemon Chicken Piccata dish is a very impressive chicken dish that takes no time at all to prepare.
It is simple light fried chicken in a tasty lemon, butter, and capers sauce.
Perfect with pasta for a quick and delicious dinner.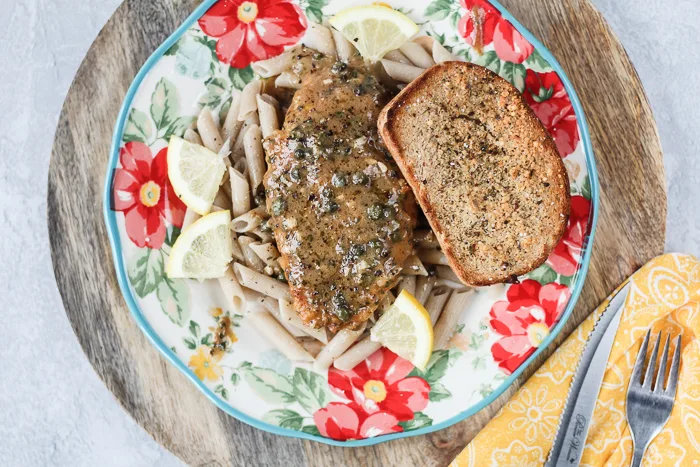 Kayla and I love getting in the kitchen and experimenting with new dishes. She is all about cooking the sweets, but I am all about cooking the savory — which is why she and I work so well together.
We recently tried our hand at making Lemon Chicken Piccata and Y'all I am so over the moon for this dish ( I think I say that about every dish we cook).
This chicken piccata is an impressive dish and the best part? It's so simple to make. I love how you can take easy pantry ingredients and turn it into something so deliciously fabulous.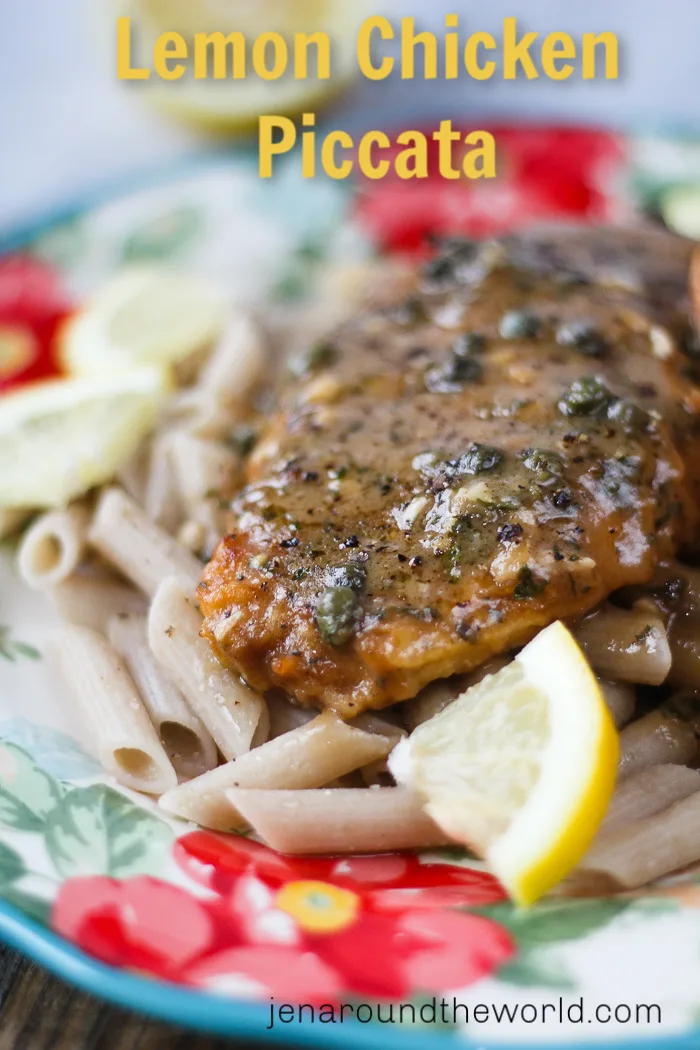 WHAT IS CHICKEN PICCATA
Piccata is a method of preparing food where meat is sliced, coated, sautéed and served in a sauce. The dish is Italian as the name would imply, but it is originally made with veal. However, we are not fans of veal, so we chose to make ours with chicken breasts that we pounded thin.
We did this between two sheets of wax paper and our rolling pin. I seriously need to invest in a meat mallet.
I use the chicken that comes in my Butcher Box because it is free-range chicken that has not been fed hormones or antibiotics and this chicken has the best flavor ever.
HOW TO MAKE CHICKEN PICCATA
The chicken breasts are skinless and boneless and pounded to about 1/2″ in thickness. This helps them cook evenly and get done all at the same time.
Then they are generously seasoned with salt and pepper then dredged through flour. The chicken is then pan-fried to golden brown on both sides in butter and olive oil.
Once the chicken is golden brown, then it gets removed from the skillet. Next comes the lemon juice, chicken broth, and capers. While that is cooking away, be sure to scrape all those delicious brown bits from the bottom of the skillet.
You will notice that my sauce is darker than most when others make Lemon Chicken Piccata. The reason for that is because I used Chicken bone broth instead of just chicken broth.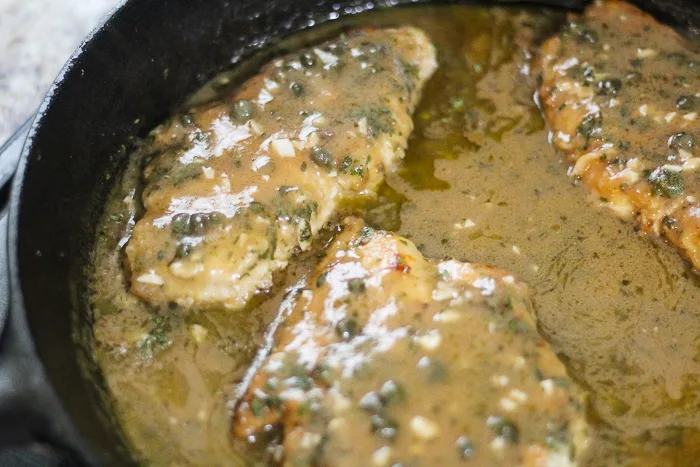 The sauce is thickened with a little flour and butter and, while it did not call for it, we added fresh garlic to our sauce. Garlic and lemons go hand in hand in our book. Sprinkle in fresh parsley or in a pinch use dried parsley.
Now, add the chicken back to the skillet and simmer in the sauce for another 5 minutes, after which you remove the chicken to a platter.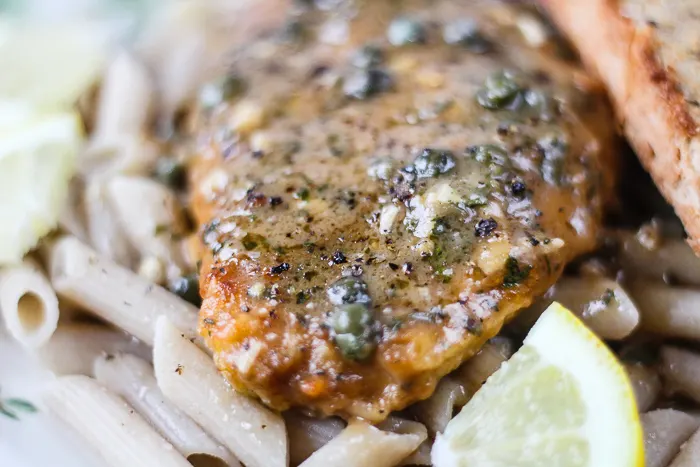 It's such an easy dish to make, so full of flavor! If you love lemons, pasta, and chicken then this dish is definitely for you!
WHAT TO SERVE WITH LEMON CHICKEN PICCATA
This chicken piccata is perfect over pasta (we love making homemade fresh pasta or boxed is fine too). You can also serve this over quinoa or couscous and a side of roasted broccoli.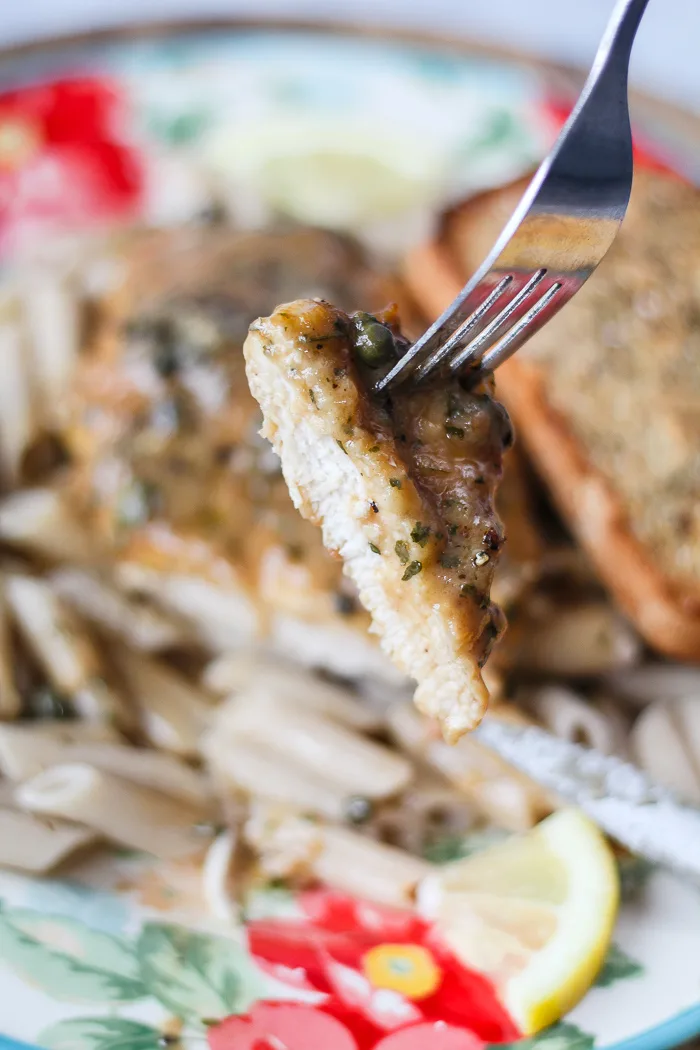 Check out these other delicious pasta recipes
Yield: 4 servings
Lemon Chicken Piccata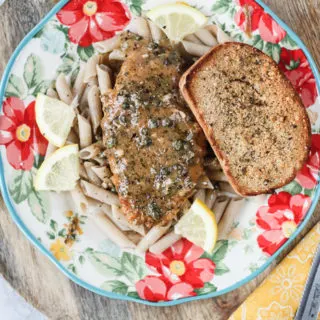 Chicken piccata features chicken breasts simmered in a delicious caper and lemon chicken broth sauce.
Ingredients
For the chicken
1/2 cup flour
1 lemon zested
4 chicken breasts pounded to about 1/2 inch thick or cut in half crosswise
2 tablespoons olive oil more as needed
salt & pepper to taste
For the Sauce
1/4 cup butter
1 1/2 tablespoons flour
1 1/2 cup chicken broth
2 cloves​ of garlic, minced
1/2 lemon juiced (about 1 1/2 tablespoons)
3 tablespoons capers drained
2 tablespoons fresh parsley chopped
Instructions
Combine the flour, lemon zest, salt and pepper. Dredge the chicken in flour mixture
Heat olive oil over medium high heat and cook chicken about 4-5 minutes per side or until just until cooked through.
In the same pan, melt 1/4 cup butter and add flour to create a roux. Whisk until smooth. Cook 1-2 minutes.
Gradually stir in chicken broth whisking after each addition until smooth.
Add lemon juice, garlic and capers. Simmer 3 minutes, whisking occasionally.
Add chicken back to pan and simmer 2-3 minutes. Stir in parsley and serve over pasta.
Nutrition Information:
Yield:
4
Serving Size:
1 breast
Amount Per Serving:
Calories:

441
Total Fat:

23g
Saturated Fat:

10g
Trans Fat:

0g
Unsaturated Fat:

12g
Cholesterol:

134mg
Sodium:

757mg
Carbohydrates:

17g
Fiber:

1g
Sugar:

1g
Protein:

40g