This copycat Olive Garden Chicken and Gnocchi soup taste just like the real thing — in fact even better!
My daughter and I love Olive Garden. It is our favorite place to go and have a girl's day out.
The menu item that has us the most intrigued so far is the Olive Garden Chicken and Gnocchi Soup.
This soup is so delicious! The fresh gnocchi, the taste of the spinach, and the hearty and creamy broth will leave you begging for more.
Ever since that first bite at the restaurant, my daughter and I knew this would be one of those dishes we would want to recreate at home.
While I like to make my gnocchi fresh for dishes like this one, you can purchase store-bought.
It's whatever is easiest for you. If you want to try making this at home, you can just use a fork to make your gnocchi, but I invested in this paddle from Amazon and it has worked wonders in cranking out those delicious potato puffs!
How to Make Olive Garden Chicken and Gnocchi Soup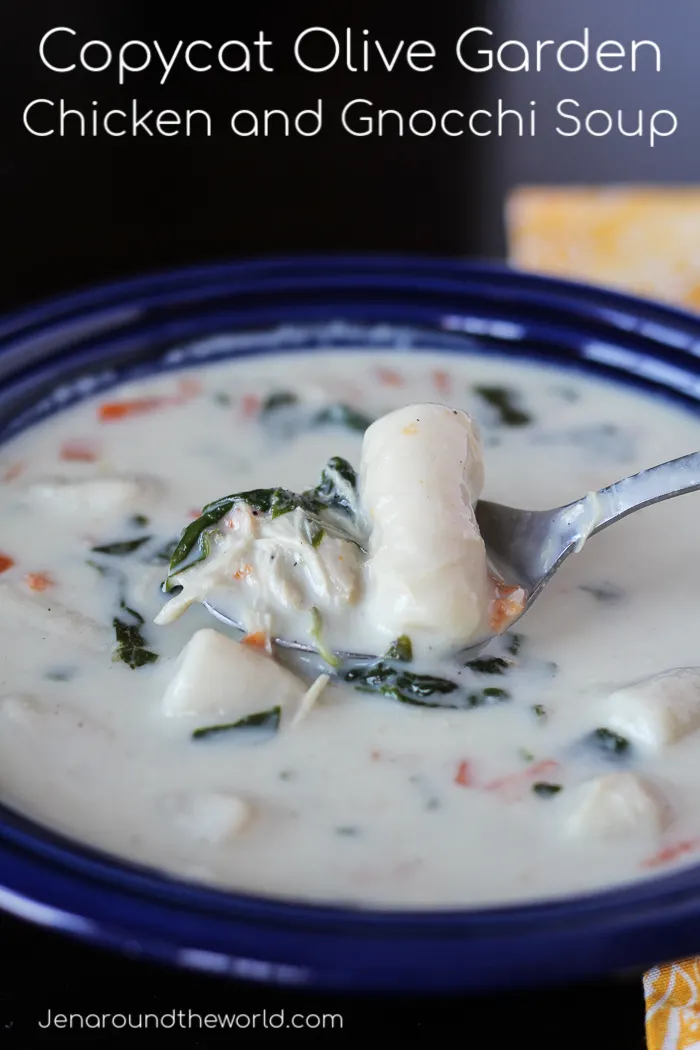 This dish comes together in under 3o minutes for one of the most delicious soups you will ever prepare for your family.
The cool thing about this meal is if you are pressed for time, you can take some shortcuts, which will cut down on the cooking time drastically!
Instead of making homemade gnocchi, you can purchase boxed kind you can find on the pasta aisle
For the chicken, you can purchase a roasted chicken from the deli
You can always purchase pre-washed and cut up spinach — it's a great time saver
Use canned carrots and then drain and chop them up into quarters
There are 10 servings in this pot of soup which makes it very budget-friendly and good to have on a day when it is cold outside and you need to warm your bones.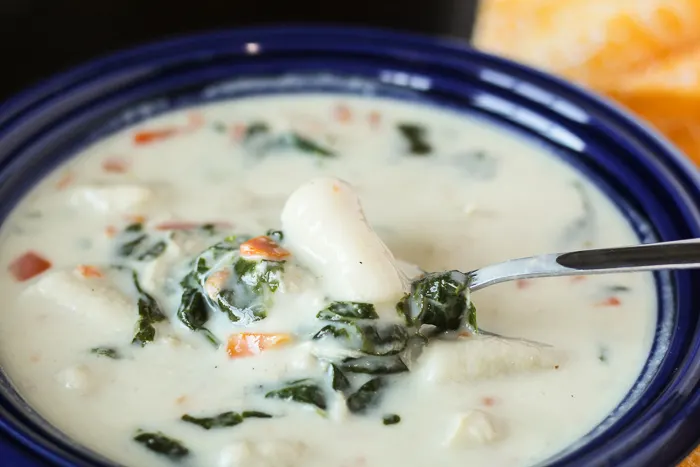 I served this soup with a chicken sandwich (using the same kind of chicken) with mozzarella cheese, spinach, tomato and pesto sauce (all of this was leftover stuff in the refrigerator!) Or even better yet, you can serve it with a delicious grilled cheese sandwich.
Looking for Other Copycat Recipes? Check These Out!
Yield: 8
Copycat Olive Garden Chicken and Gnocchi Soup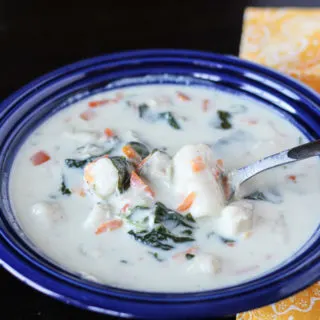 This copycat soup is so good and so easy to make that you won't even need to visit Olive Garden again!
Ingredients
2 chicken breast, cooked and diced
4 tbsp butter
4 tbsp flour
1 cup half and half
2 boxes can of chicken broth
2 cloves garlic, minced
1 cup carrots, diced
1 cup fresh spinach, torn or chopped
1 box potato gnocchi (or you can use my recipe to make homemade)
salt and pepper to taste
Grated Parmesan Cheese for garnish
2 tbsp olive oil
Instructions
In a skillet on medium-high heat, season chicken breasts with salt and pepper and then saute on both sides, about 5-7 minutes each until chicken reaches 160 degrees internally. Shred chicken and set aside.
In a large soup pot, saute garlic in the butter and olive oil over medium heat until garlic is cooked through.
Add the flour and make a roux. Cook for 2 minutes until flour taste has been cooked out of the roux.
Now add in chicken broth and half and half.
While this is cooking and thickening, cook the gnocchi in a separate pan according to package directions.
In the soup pot, add in the carrots and chicken. If the mixture gets too thick, be sure to add in some extra half and half if needed.
Now, add in the cooked gnocchi, the spinach, and salt and pepper. Simmer until soup is heated through. Serve with sandwiches and enjoy!
Nutrition Information:
Yield:
8
Serving Size:
1
Amount Per Serving:
Calories:

227
Total Fat:

14g
Saturated Fat:

7g
Trans Fat:

0g
Unsaturated Fat:

7g
Cholesterol:

57mg
Sodium:

267mg
Carbohydrates:

13g
Fiber:

1g
Sugar:

2g
Protein:

12g