Make your own easy homemade pizza sauce with this simple recipe!
We love making homemade pizzas. I shared my homemade pizza dough recipe with you the other day and now I get to share with you my super easy homemade pizza sauce.
It literally takes minutes to make this sauce and if you already have some par-baked pizza crusts on hand, you can make dinner in about 15-20 minutes.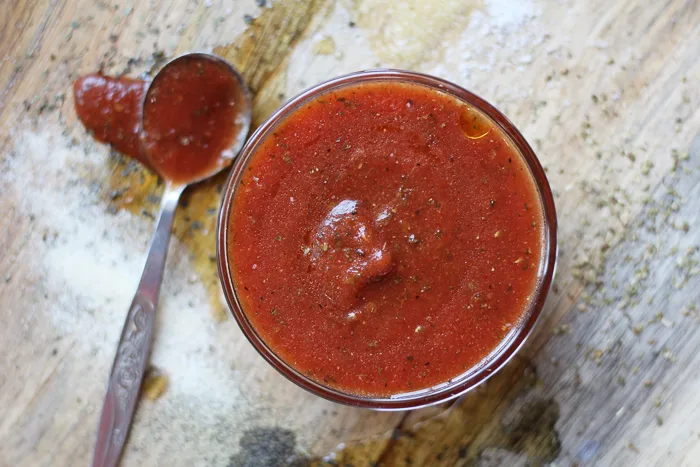 This post was originally published in 2013. It has been republished with new photos and an updated recipe card!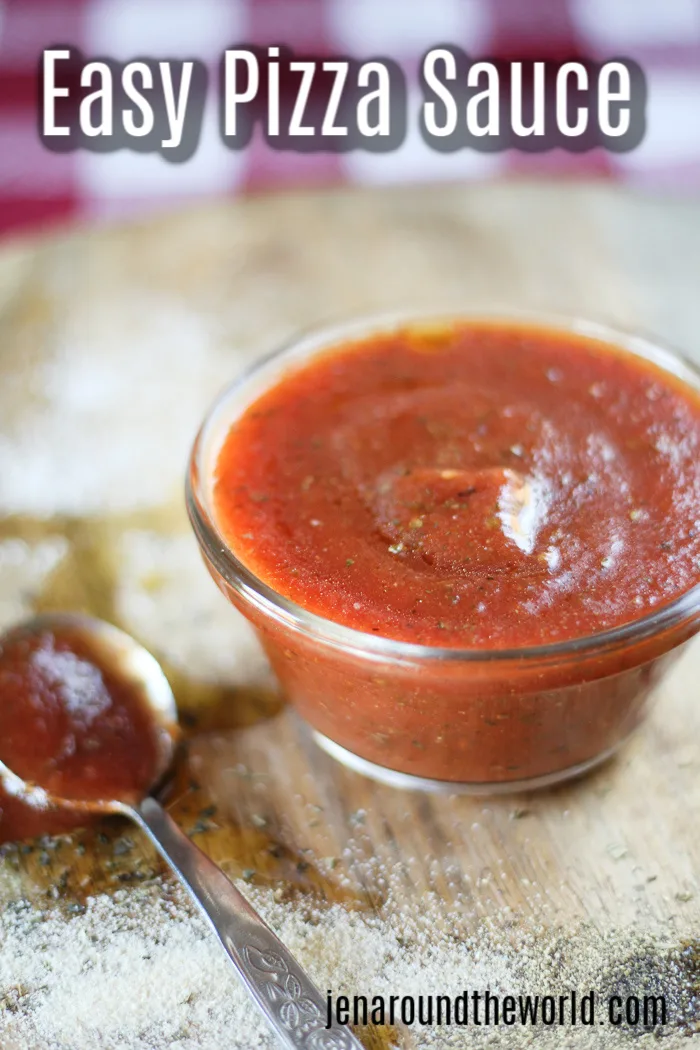 To me, this is less time than calling the pizza delivery guy — and the kids can get in on the fun as well.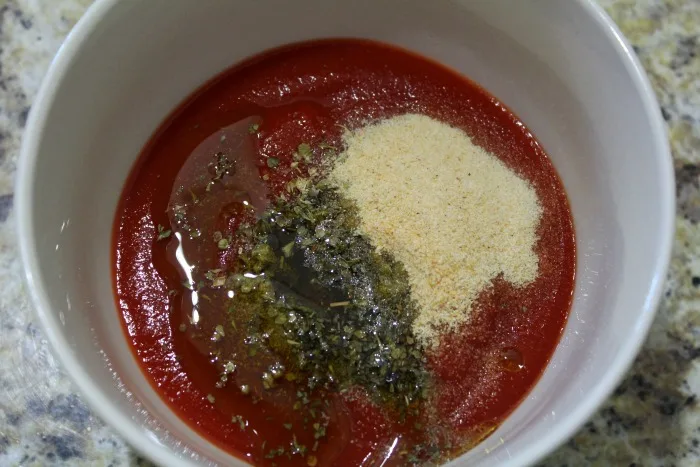 When my daughter was little, this was always her favorite part. We used this as a way to teach fractions in math class when we homeschooled.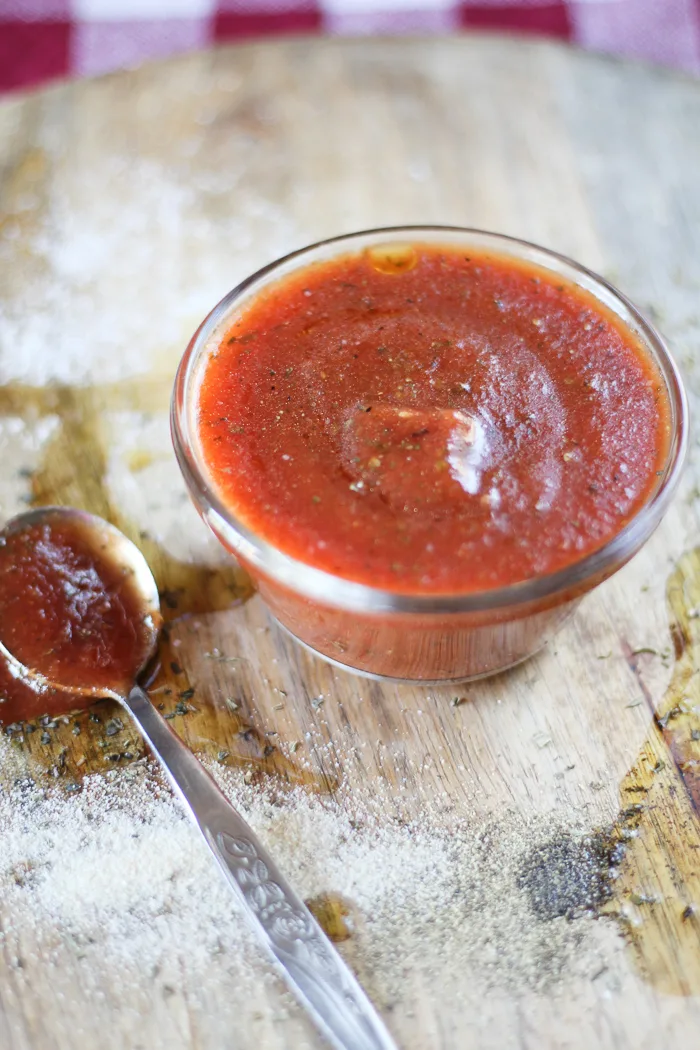 Through making homemade pizza sauce, Kayla learned the difference between 8 ounces and 16 ounces. She learned how to half things, the difference between 1/4 teaspoon and 1/2 teaspoon — and how many teaspoons make a tablespoon.
How to Make Homemade Pizza Sauce
As I said, this is one of the simplest sauces you will ever make. Add all your ingredients in a bowl and then stir together. You can store this in the fridge for 3 weeks, which is what we do whenever I make a batch of this pizza sauce up.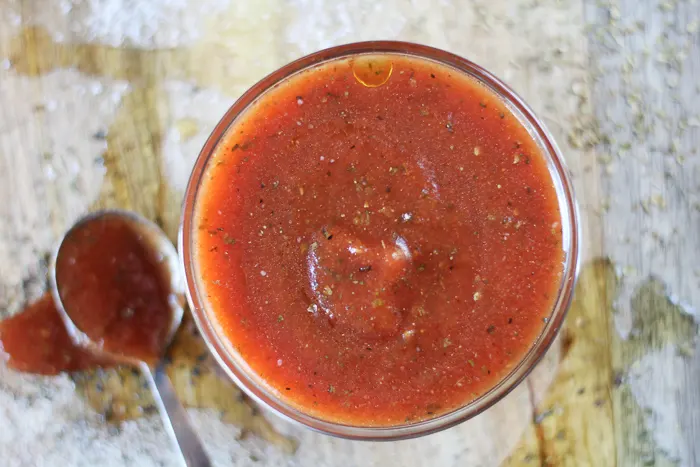 Making homemade pizzas are so much better for you than the store-bought ones. If you keep ingredients on hand all the time, you can make a homemade pizza for pennies!
Cans of tomato sauce at the grocery store usually run anywhere from .25 to .50 each. All of the other ingredients are pantry staples, so your delicious and homemade pizza that will be so much better than frozen or takeout — will be totally inexpensive.
I love when I can create a meal for my family that costs almost nothing out of pocket.
Looking for more delicious recipes like this one? Check these out!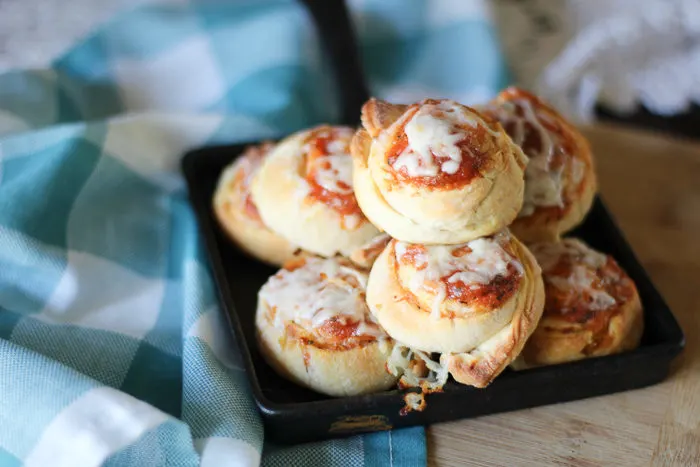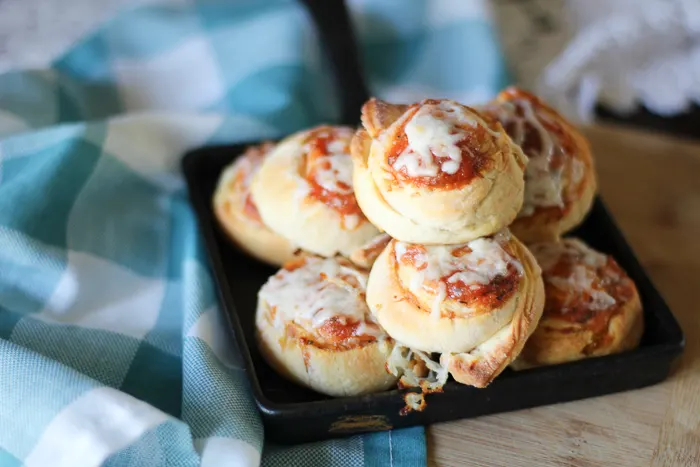 I also love that this sauce uses honey to sweeten it instead of sugar. It's really good for you and healthy and if you make your pizza dough with whole wheat flour, you can have a very delicious and good for you meal.
What is your favorite food to make for your family?
Yield: 1 cup
Homemade Pizza Sauce
This pizza sauce will become your new favorite sauce for making pizzas at home. It's also great in pasta.
Ingredients
8 ounces of tomato sauce
1 teaspoon of sugar or honey
1/2 teaspoon dried basil
1/4 teaspoon of dried oregano
1/4 teaspoon garlic powder
1 teaspoon onion powder
1 tablespoon of olive oil
Instructions
Mix all the ingredients together and spread over the top of your pizza crust.
Can also be used as a dip or for a pasta sauce.
Store in the fridge for up to 3 weeks.
Nutrition Information:
Yield:
8
Serving Size:
1
Amount Per Serving:
Calories:

34
Total Fat:

2g
Saturated Fat:

0g
Trans Fat:

0g
Unsaturated Fat:

1g
Cholesterol:

0mg
Sodium:

146mg
Carbohydrates:

5g
Fiber:

1g
Sugar:

4g
Protein:

0g