Thank you to the Gatlinburg CVB for hosting me on this amazing trip and for the complimentary stay at The Appy Lodge in the Smoky Mountains.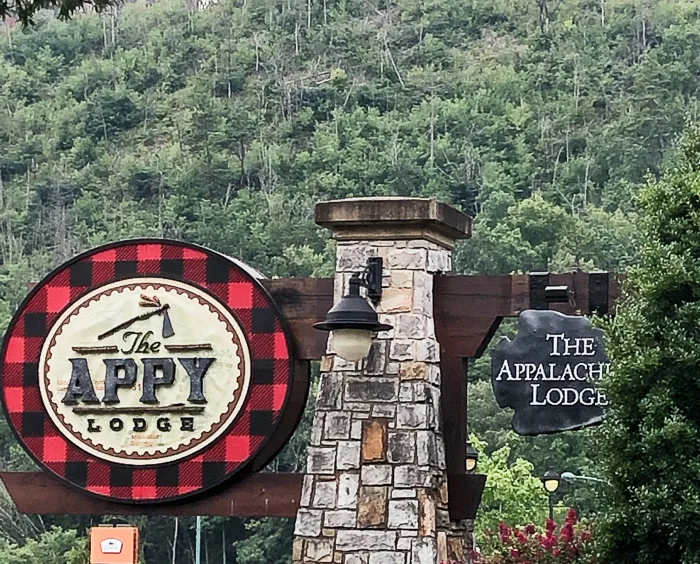 Last week I headed out on a 3-day trip to a beautiful and restful work vacation in the Smoky Mountains. While there, we had the privilege of staying at The Appy Lodge — which is nestled right into the beauty that is Gatlinburg.
The Appy Lodge is a rustic looking lodge with all the amenities and beauty you could imagine. From the moment we pulled up, I was in love with everything!
Let's take a closer look at this gorgeous hotel and see why it should be your number one choice when making plans to stay in Gatlinburg.
Staying at The Appy Lodge in Gatlinburg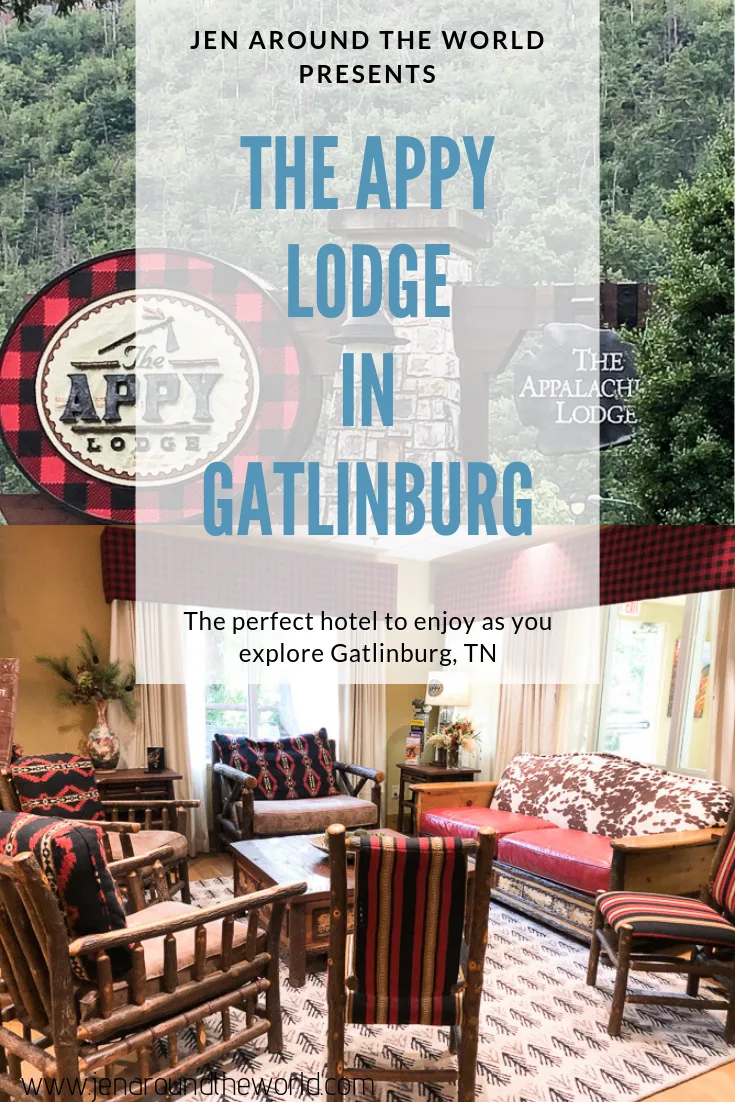 Like I said, the moment you pull into the parking lot, you are transported immediately to the beautiful Smoky Mountains.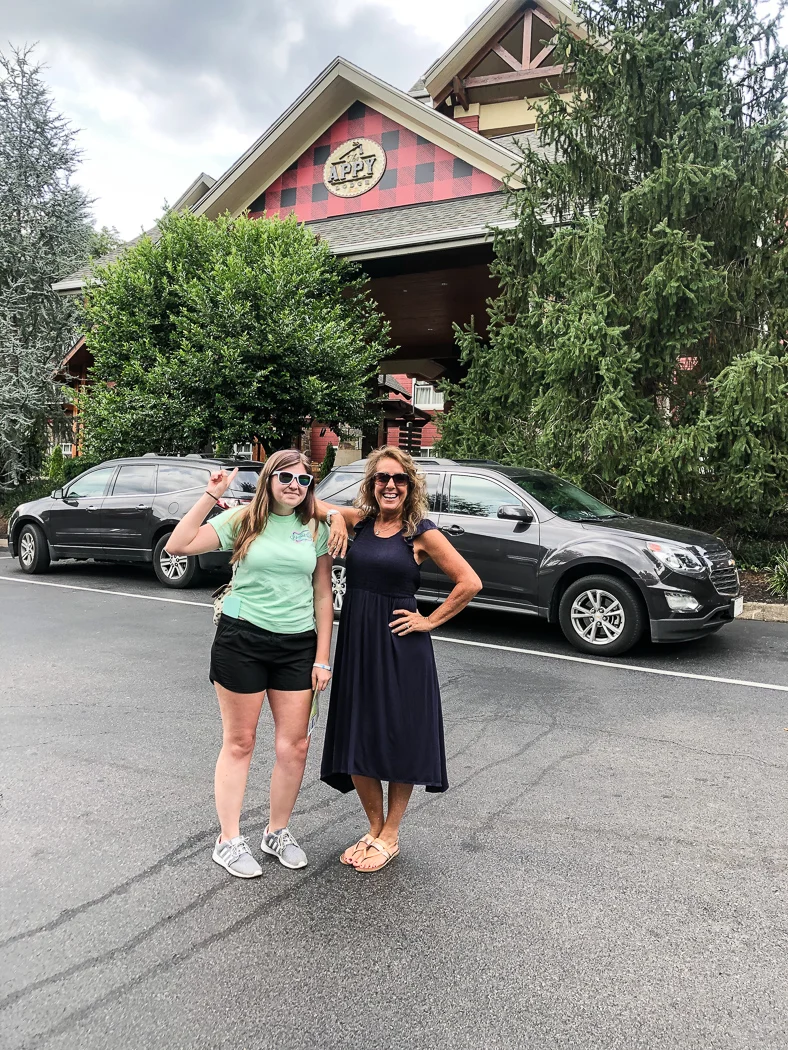 The hotel is nestled between tons of trees and sports a miniature golf course right outside the front door! Not only that, but you will find a gorgeous seating area under a pergola with big rocking chairs and a fire pit — making it the perfect place to sit and enjoy the nighttime life that Gatlinburg has to offer.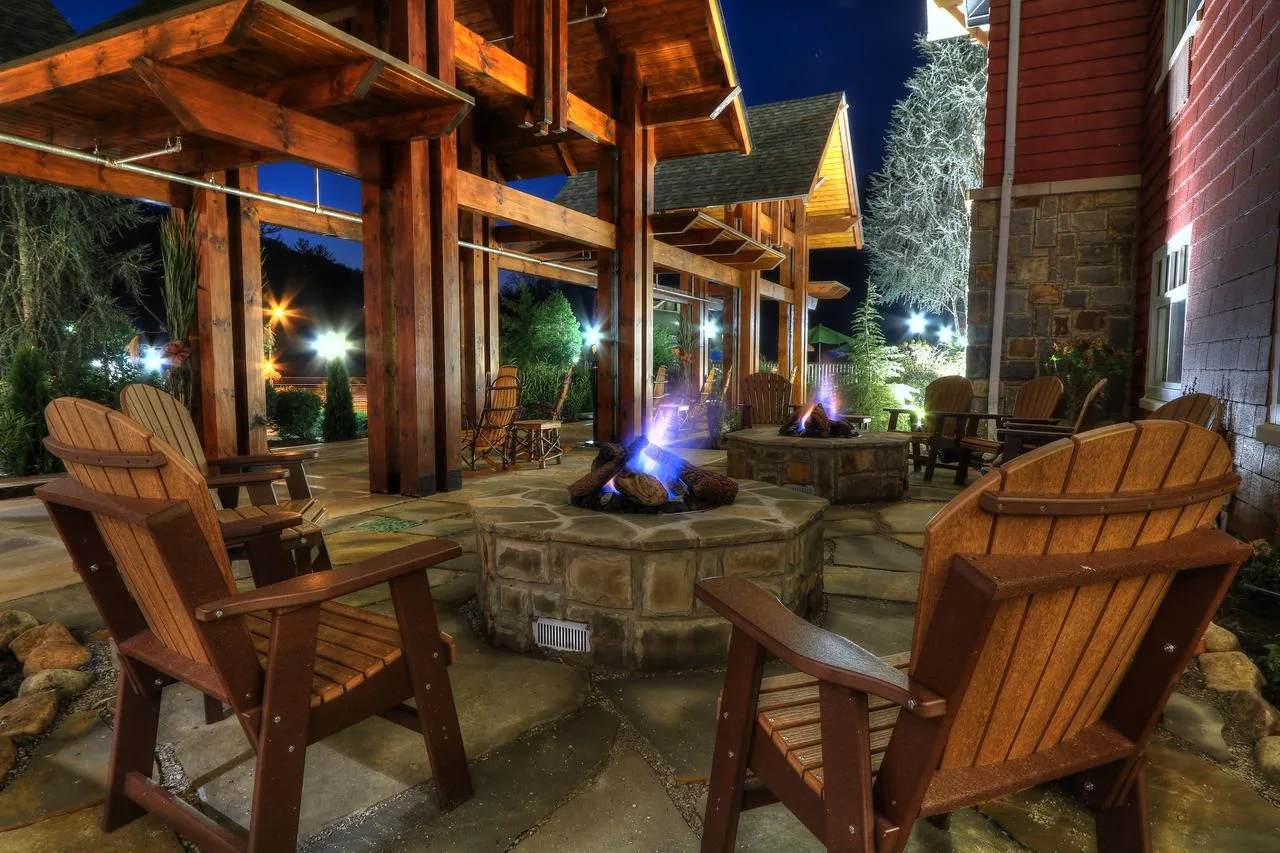 Photo courtesy of The Appy Lodge
Right as you walk inside the door, I was so impressed! They have a blanket ladder full of blankets to use when the nights get cold as you sit around the fire pit. I thought that was a really nice touch — and I have never seen a hotel that offers such a thing!
The Lobby
The lobby area, which is where you check-in, is so tastefully decorated. If you are a buffalo plaid lover, then you will adore everything you see here. The decorations are that of Indian/cowboy/buffalo check and really makes the inside look absolutely stunning.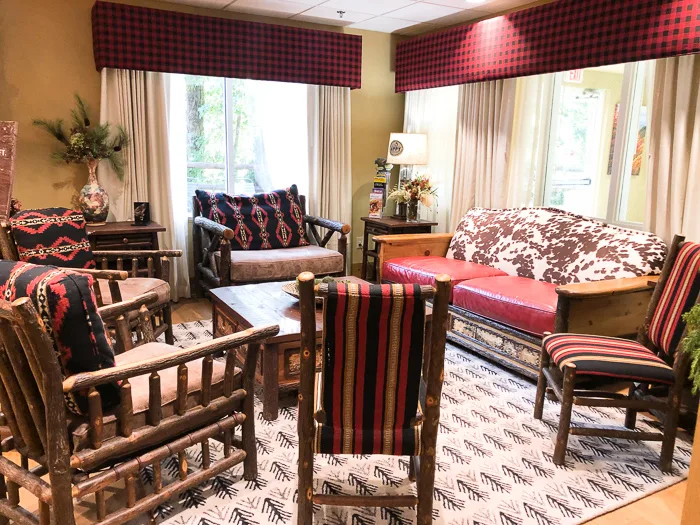 There is a little market where you can pick up some snacks, but my favorite thing? They had a little gift shop RIGHT inside the hotel lobby. This was perfect because I needed a last-minute gift and did not have to trek downtown to get it.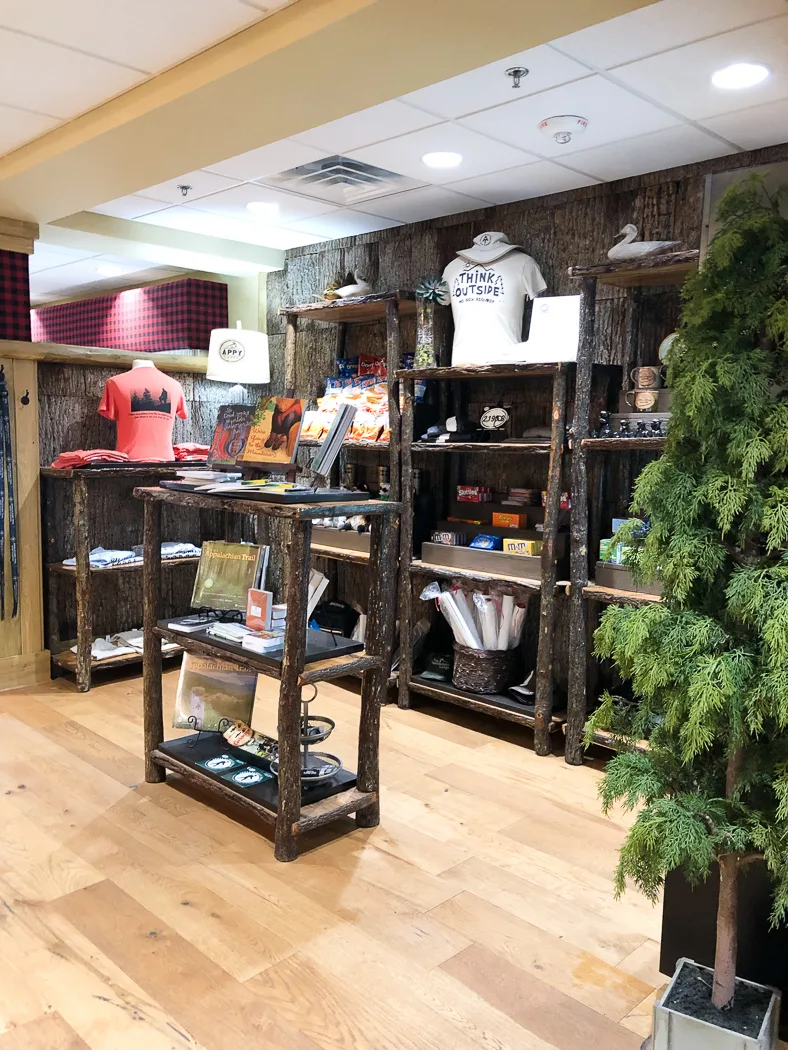 The prices are very affordable and they have a variety for all of your loved ones.
The Appy Lodge also offers a complimentary breakfast from 7am-10am every morning. They have sausage biscuits, other hot items, cereal, bagels, muffins, and more.
I can tell you that the hotel guests truly love the breakfast and said they adored the variety offered by the hotel.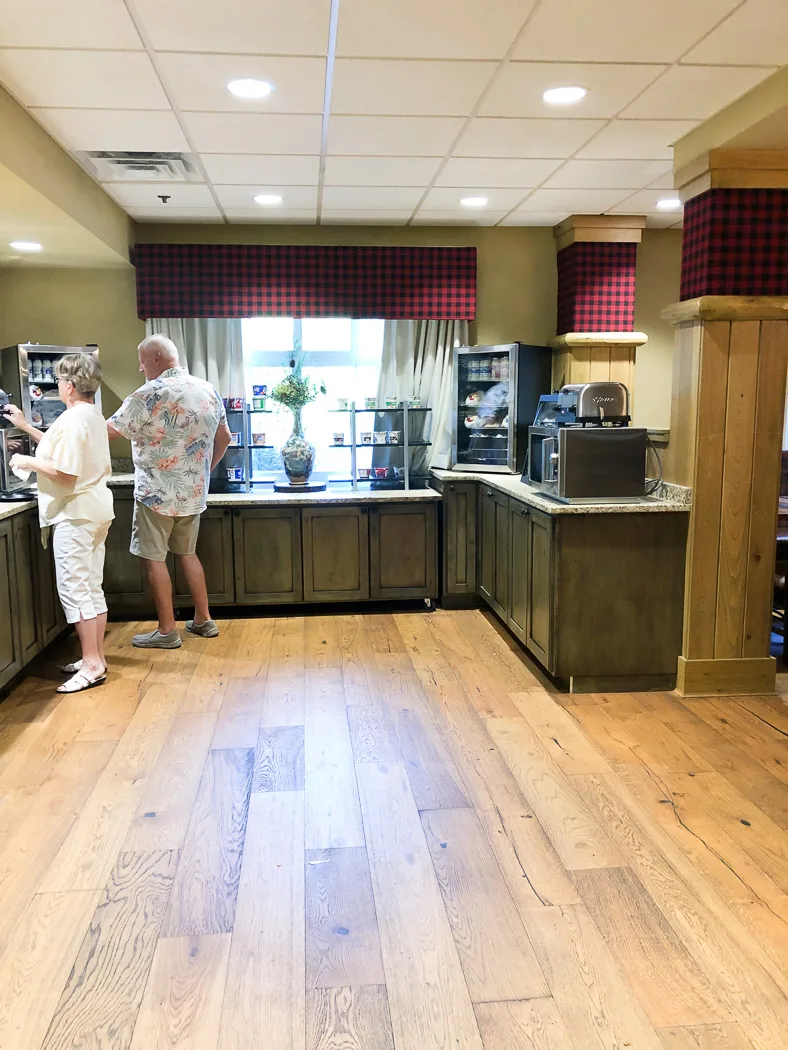 While eating your breakfast, you might prefer an outside view and The Appy Lodge has you covered. I was simply impressed with the outside breakfast seating area. I would definitely never tire of seeing this view every single morning.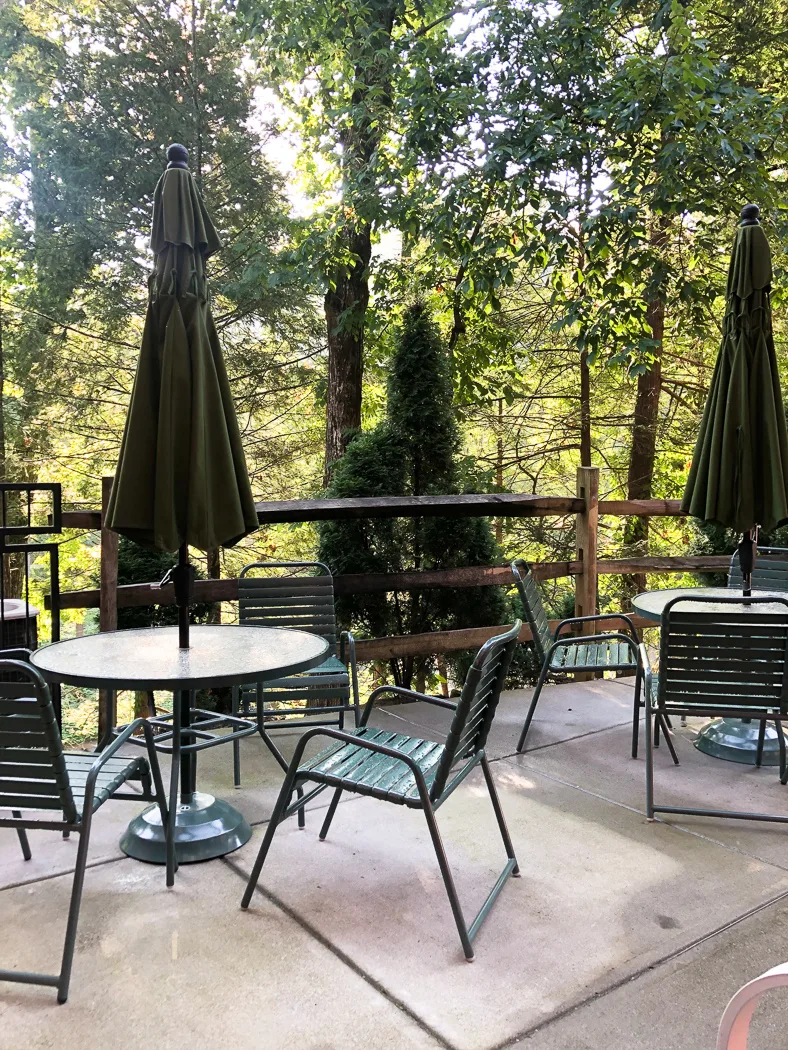 On the first floor, you will also find an exercise room and the entrance to the pool area — they offer both an inside and an outside door pool. Me and my girls decided we would revert back to our little girl selves and go play outside in the outdoor pool.
The Outdoor Pool Area
The outdoor pool area was so fun! It has been a long time since I slid down a slide, but as you can tell from these photos, all three of us had an excellent time.
The Rooms
The rustic decor continues throughout each of the rooms. Most of the furniture has a wood look –which if you ask me made the rooms all smell so wonderful.
Our room had a high top table which was perfect for my work area while I was catching up on emails.
My favorite part of the room was the comfy chair! It is perfect for curling up in with a good book. One of the nights while we were there a thunderstorm arose and just sitting in that chair listening to the rain outside was pure bliss.
The beds are very comfortable with enough pillow options for everyone. We had double queens in our room. The mattress is not firm but they are not super squishy either — which made them perfect. It was almost as if they molded to your body — making it the most amazing bed to sleep in.
Another thing I noticed about the room is that they have adjoining rooms, so if you have a large family and need two rooms, you can open the door between which is great for keeping an eye on everyone!
Getting Around to Gatlinburg
When you stay at They Appy Lodge, you will be happy to know that you are literally about 8 minutes from downtown. In fact, my friends and I walked to town and back our first night there. It's just a short 25-minute walk from the hotel to the bustling Gatlinburg strip.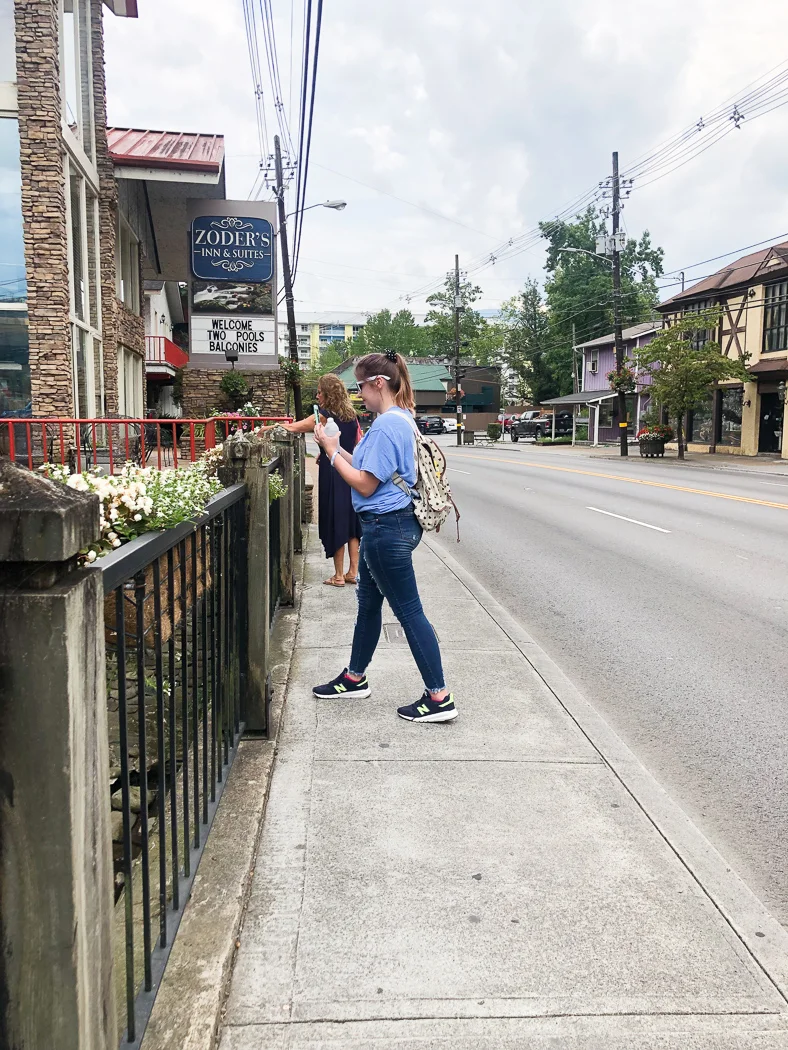 If walking or driving is not your thing, no worries! The downtown trolley picks up right at the hotel! You can ride for .50, or you can pay for an all-day pass for $2 – which is SO much more affordable than driving downtown and parking which will run anywhere from $5-$15.
Finally
After staying at They Appy Lodge, I can tell you that when I go to Gatlinburg that this will be my #1 choice of places to stay. It is conveniently located to everything and is nestled within the mountains perfectly.
Want to know the story behind this beautiful hotel? Check out this video!
Rates staying here run around $99 — and they do offer discounts and attraction ticket packages, helping you save even more money in the long run!
Planning on Visiting Gatlinburg soon? Check out these other posts
Contact Info for The Appy Lodge