This shop has been compensated by Collective Bias, Inc. and its advertiser. All opinions are mine alone. #MarinadesWithMazola #MakeItWithHeart #CollectiveBias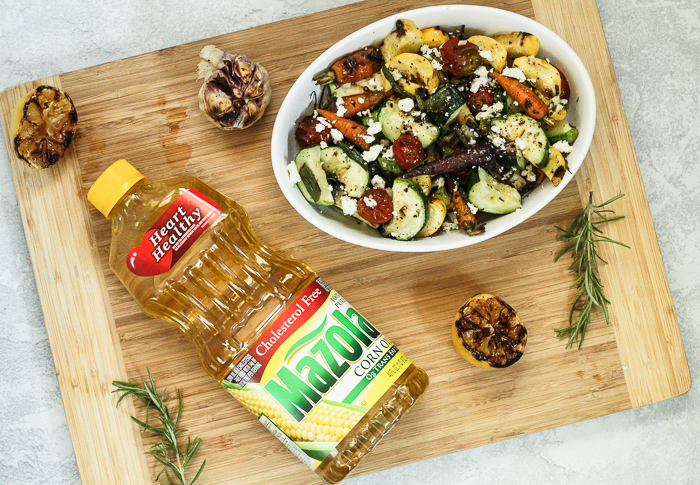 During the warmer days of Spring and Summer, one of my absolute favorite meals to have is a grilled vegetable salad and top it with a citrus vinaigrette. Instead of using olive oil, I love using Mazola® Corn Oil — for both brushing the veggies and for my vinaigrette as well. A clinical study showed Mazola Corn Oil reduces cholesterol 2x more than extra virgin olive oil. To learn more about this claim, see Mazola.com.
This salad is super light and so good for you. And they say that when you eat the rainbow (meaning all the colorful vegetables you can add, the better the salad is for you.
So — let's talk about how I actually make this salad.
Oh — and before I share this with you, let me tell you about a $1 rebate you can get!
Text MAZOLA to 79495 between 6/20/19 – 9/26/19 to receive $1.00 back on your purchase of Mazola 40oz Corn Oil! Limit 1 rebate per household. PayPal account required. By texting, you expressly consent to receive multiple automated text messages on this offer. Consent not required as a condition of purchase. Message & data rates apply. Text HELP or STOP to 79495 at any time. Full terms: http://cbi.as/a38tw.
How I Make My Grilled Vegetable Salad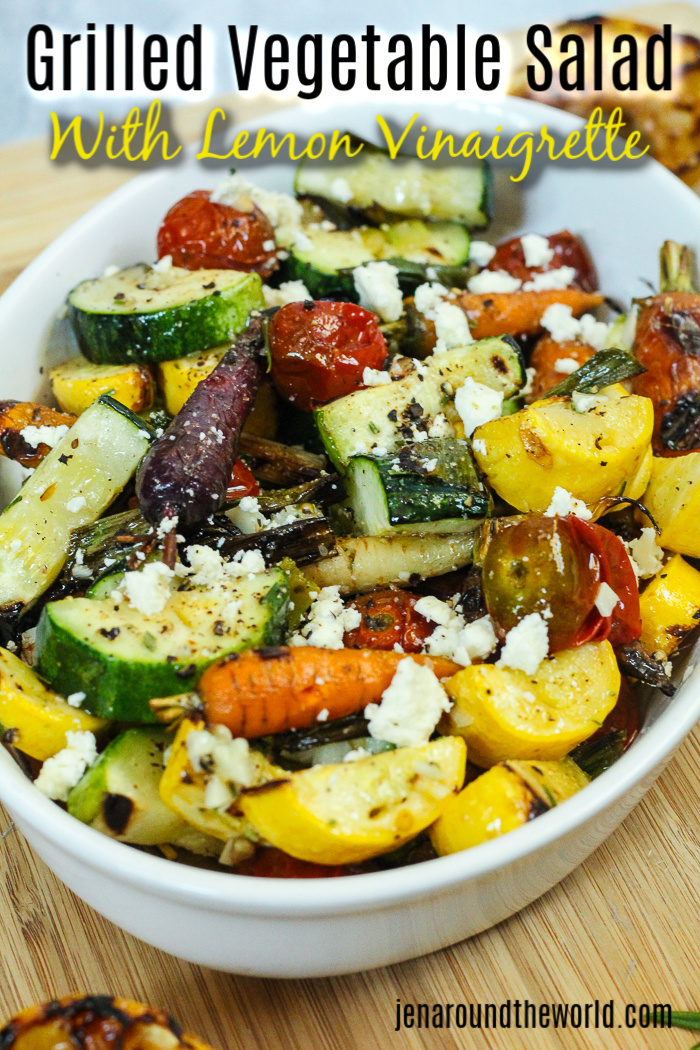 To start with, I take all my vegetables and chunk them up into good size pieces. Chunkier veggies tend to stay whole when grilled and they don't lose their shape and shrivel away when grilling.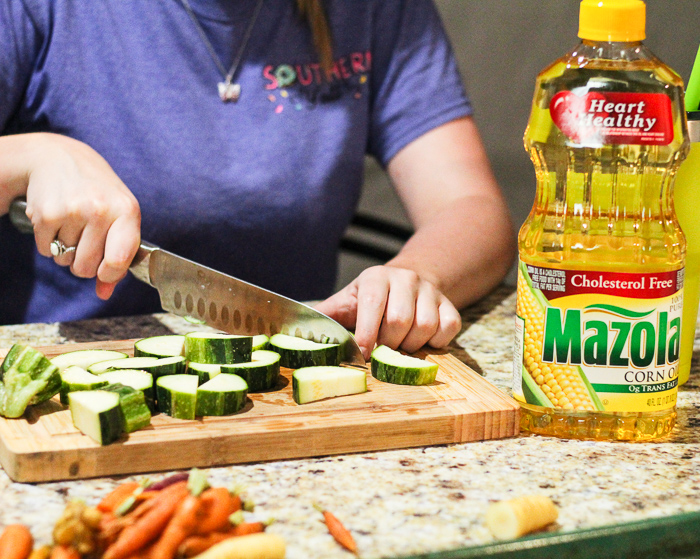 Then I add them on skewers. By putting them on the skewers, this keeps the veggies all in one place without rolling around on the grill. It makes it easier to take them on and off as well.
Then, before putting them on the grill, I brush on the Mazola Corn Oil. This keeps the veggies from sticking when they are on the grill. A lot of people use butter, but butter is high in saturated fat which can raise your cholesterol, so I use corn oil instead. It does the exact same thing for my veggies.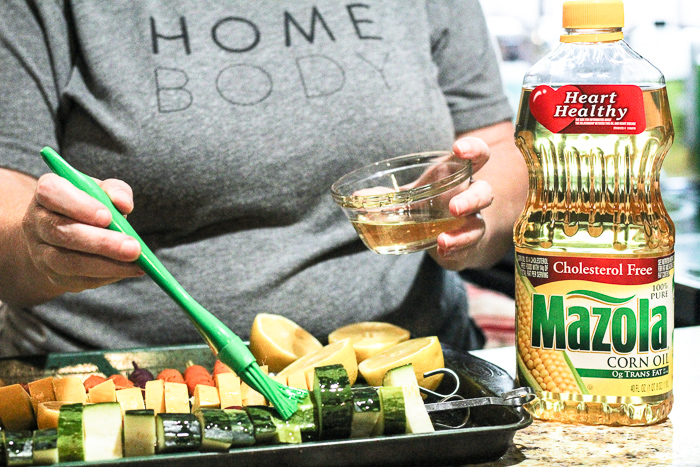 Mazola Corn Oil is an all-purpose, cholesterol-free cooking oil that is a smart heart-healthy choice for me and my family. See Mazola.com for more information on the relationship between corn oil and heart health. You can do so much with it such as baking, grilling, sautéing, stir-frying, or mixing up a marinade or dressing.
Now, once the veggies are brushed with corn oil, I place them on the grill and let them get a nice char on them. The corn oil offers a smoke point higher than 450 degrees making it great for grilling. Instead of getting a negative flavor because the smoke point has been surpassed, corn oil really lets the flavor shine through!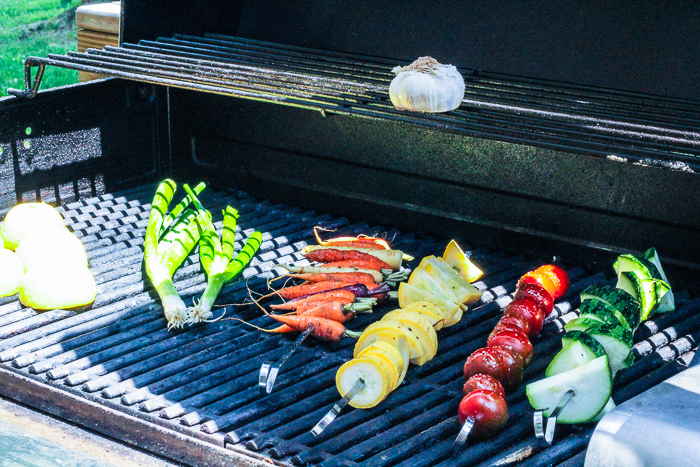 There is no real way to say when the veggies are done — it's totally by your preference. I like my veggies to have a little bite left to them, so I don't cook them for a long period of time — just until they get the perfect amount of char.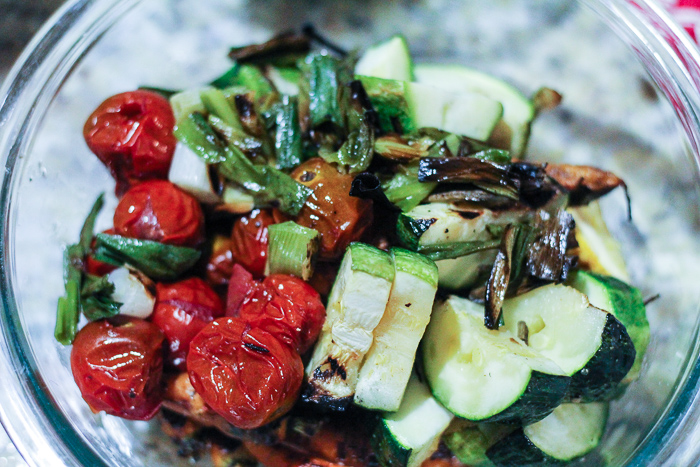 Making the Citrus Vinaigrette
Because this is a light salad, we are going to skip the creamy dressings and make a delicious Citrus Vinaigrette. To make the citrus vinaigrette, all you need is lemon juice (fresh is best), corn oil, salt, pepper and a sprig of rosemary.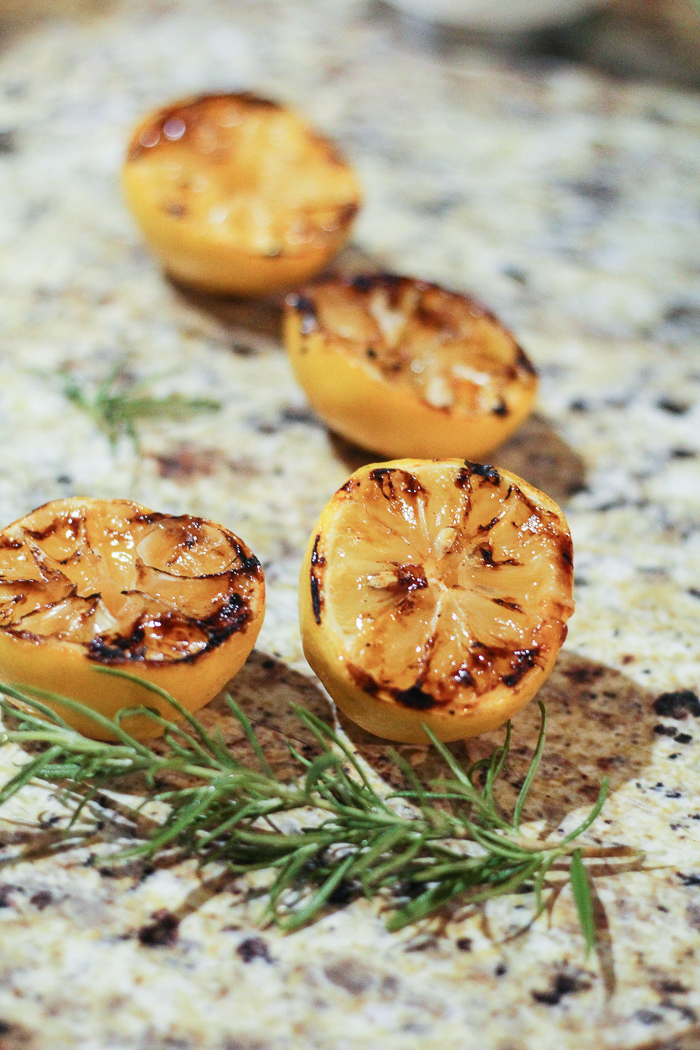 Most people like using olive oil for their dressings, but I like using corn oil because it has a neutral flavor which allows the lemon to shine through. For this vinaigrette, you are going to measure out 1/2 cup of corn oil.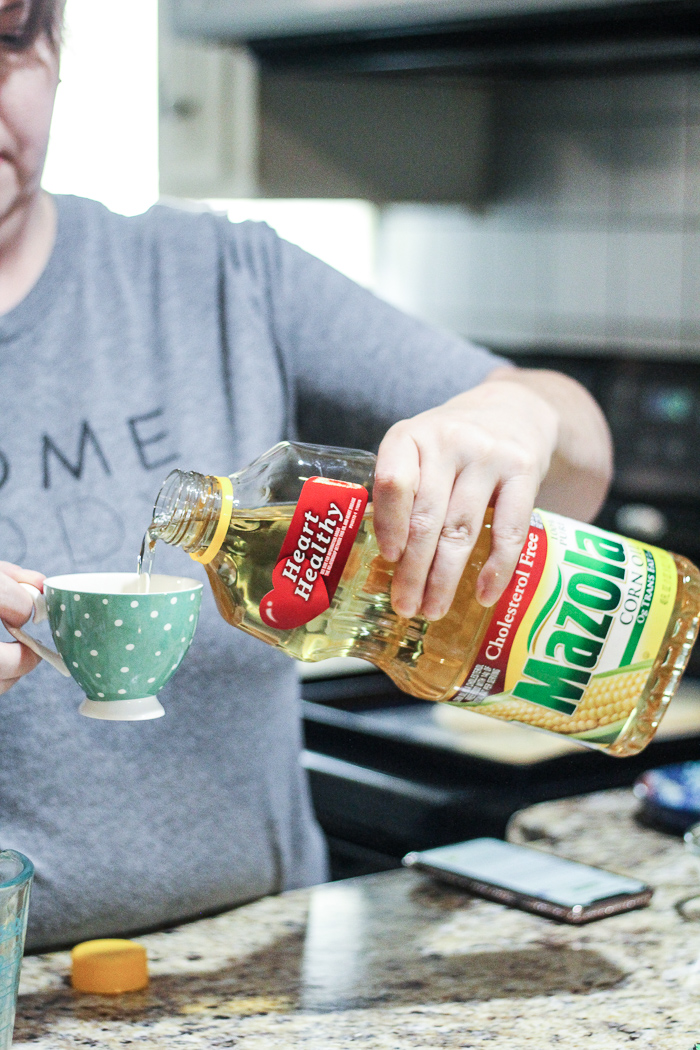 Now, in a measuring cup, add all your ingredients and mix together with a small wire whisk to emulsify it together. That just means you are making everything come together so that your oil and lemon juice blend well.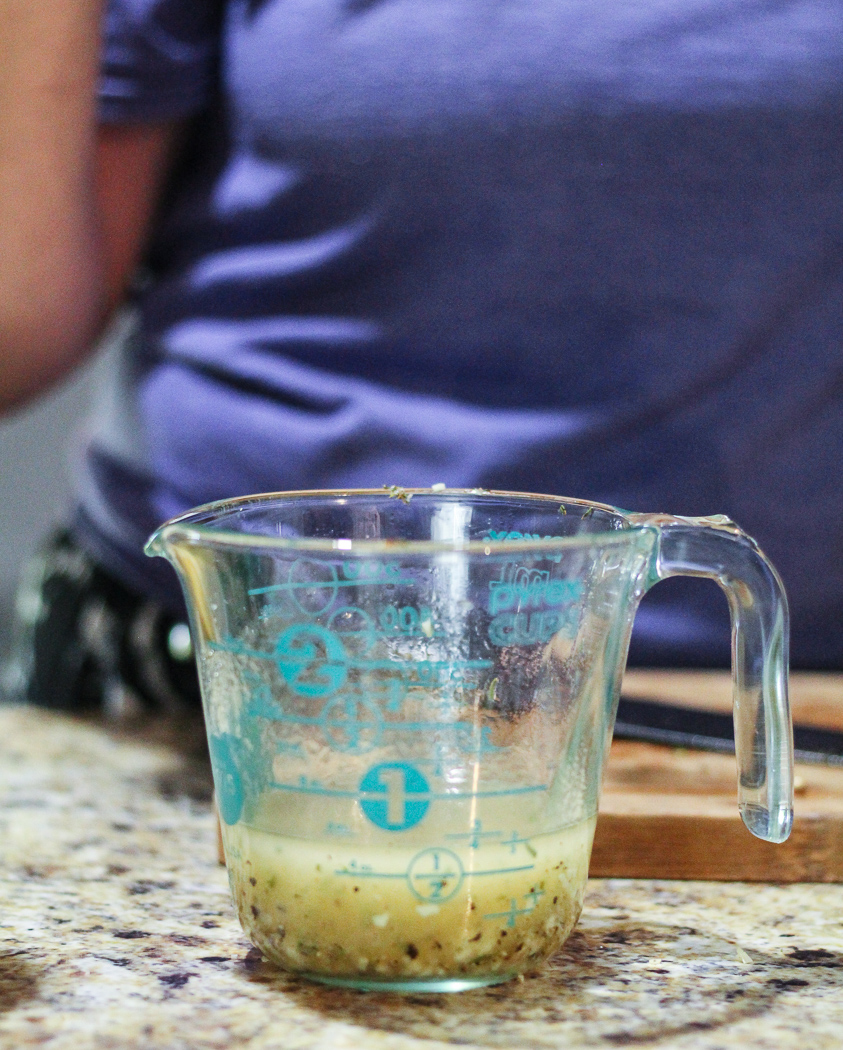 Now — we are ready to assemble the salad!
Grilled Vegetable Salad with Citrus Vinaigrette
In a bowl, pull all your veggies off the skewers and mix them together. Now — you are going to crumble some Feta cheese and add it to the bowl. Take your vinaigrette and pour over the veggies.
Now mix together and sprinkle some salt and pepper and serve hot or room temp. It is perfect for any occasion!
If you want to lighten up your dishes this summer, grab a few bottles of Mazola Corn Oil and start experimenting with making some changes to your heavier dishes. You will be surprised at the difference!
Yield: 6 servings
Grilled Vegetable Salad with Citrus Vinaigrette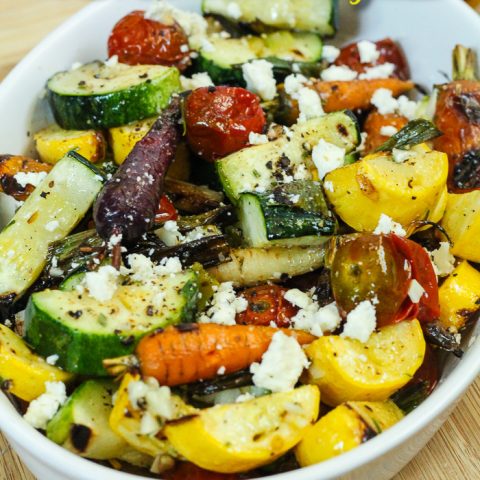 This easy grilled salad makes the perfect dish to go alongside your grilled protein of choice.
Ingredients
2 medium zucchini​, chunked
2 yellow squash, chunked
1 pint of cherry tomatoes
1 bunch of fresh baby carrots
3 scallions
2 lemons, halved
Crumbled Feta Cheese
For the Citrus Vinaigrette
1 sprig of fresh rosemary, minced
1/4 cup freshly squeezed lemon juice
1/2 cup Mazola Corn Oil
1 teaspoon kosher salt
1/2 teaspoon freshly ground black pepper
Instructions
Preheat grill to medium high heat.
Using skewers (metal ones are my favorite) skewer all your vegetables on each one. Load them on from top to bottom.
Using your Mazola Corn Oil, brush the veggies so that they won't stick when you place them on the grill.
Place veggies on the grill and allow them to char on all sides. Be sure to turn every few minutes. Veggies are done when they are to your specification. I like mine with a little bite still so I don't grill them for long periods.
Remove veggies from the grill and set aside.
To Make the Vinaigrette
Combine all your ingredients in a 2 cup measuring cup. Use a fork to emulsify it all together until the oil and lemon juice combine.
Pour the vinaigrette over the veggies and then top with fresh crumbled Feta Cheese.
Sprinkle on salt and pepper and enjoy!
Nutrition Information:
Yield:
6 cups
Serving Size:
1/2 cup
Amount Per Serving:
Calories:

237
Total Fat:

20g
Saturated Fat:

3g
Trans Fat:

0g
Unsaturated Fat:

16g
Cholesterol:

4mg
Sodium:

419mg
Carbohydrates:

14g
Fiber:

5g
Sugar:

8g
Protein:

4g