Hocus Pocus Macarons have to be one of my favorite flavor combinations I have made yet. Beautiful purple vanilla-flavored macaron shells filled with chocolate ganache and my homemade blackberry jam. The top is decorated with green drizzle and fun Halloween sprinkles.
If you love watching the movie Hocus Pocus, then you need to find a way to make all kinds of fun movie-themed treats on social media to go with it. Last year for Halloween I created a fun Hocus Pocus Potion, which is a non-alcoholic drink for the kiddos. Serve that alongside these macarons for a great movie snack.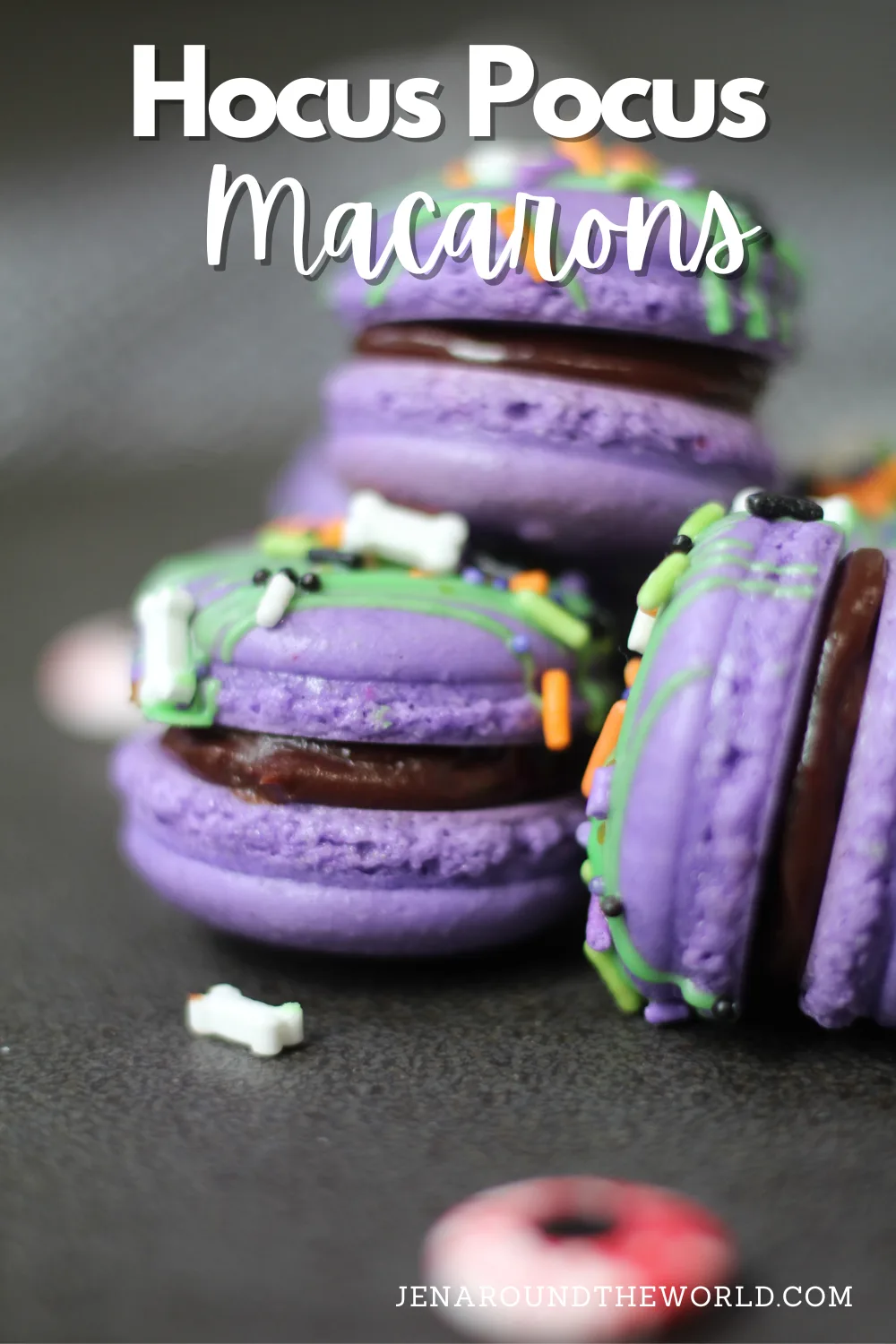 How to Make Hocus Pocus Macarons
We have been working to perfect our macaron making lately and I think we have finally mastered it. My first batch of macarons bombed, but now we have a foolproof recipe that works every time.
If these cookies seem too daunting for you, check out this recipe for Hocus Pocus Cookies.
These French cookies have a beautiful purple-colored shell and are filled with chocolate ganache and my homemade blackberry jelly. It is a delicate cookie which makes them so amazing in flavor.
There are a few tips and tricks that will have you making the perfect French macarons in any flavor. We have tested and tried a few techniques and we think these work the best.
For this spooky cookie, you will need —
1 cup of finely sifted almond flour. I like the Blue Diamond that I get from Amazon
1 1/2 cups of powdered sugar
1 tablespoon of egg white powder
Purple or pink and blue food coloring
chocolate ganache
Blackberry jam
3 egg whites
1/2 cup of sugar
Measure the confectioners' sugar, egg white powder, and almond flour into a large mixing bowl. Use a whisk and combine.
In your bowl of a stand mixer, beat the egg whites on medium speed until frothy. Now add the 1/2 cup of sugar. Beat until stiff peaks form and the whites are shiny, about 5 more minutes. Add your food coloring to the egg whites.
Transfer the beaten egg whites to the bowl with the almond flour mixture. Draw a rubber spatula halfway through the mixture to the bottom of the bowl and fold until incorporated, giving the bowl a quarter turn with each fold. Do this until the batter flows consistently to make a figure 8.
Pipe the Macaron Cookies
Grab a piping bag that is fitted with a 1/4″ round tip.
Add the macaron batter to the pastry bag.
Holding the bag vertically and close to the baking pan, pipe 1 1/4-inch circles (24 per sheet)onto a silicone mat or parchment paper. Firmly tap the baking sheets three times against the counter to release any air bubbles.
Let the cookies sit at room temperature until the tops are no longer sticky to the touch. This will take about 20 minutes. The top should be dry and not sticky.
Bake the first batch at 315 degrees until the cookies are shiny and rise 1/8 inch to form a "foot," about 10-12 minutes. Transfer to a rack to cool completely. You will know the cookies are done when you touch them and there is not much give.
Once the cookies are cooled, peel them off and flip half of the shells over. Match cookies by size. Then, sandwich it with a thin layer of ganache. Fill the center with the jam.
Top each cookie with another cookie to make a sandwich.
Decorate the tops with colored melting chocolates and Halloween sprinkles. For other Halloween macarons, you can use candy eyes and make monster cookies, spider web macarons, and more. Any of these would be perfect for a Halloween party.
Make Macaron Recipes Like a Pro with These Supplies
If you like making macarons or want to try your hand at them, here are some supplies you might want to invest in.
How to Store These Delicious Macarons
To store macaron cookies, place the cookies in an airtight container and leave them in the fridge for up to a week. Store them for up to three months in the freezer.
Check Out Another HalloweenTreatsWeek Recipe Below
More Amazingly Wicked Halloween Treats
HAPPY HALLOWEEN!!!
Welcome to 2023's #HalloweenTreatsWeek event!
If you're new here, Welcome! If you're a returning haunt, welcome back!
#HalloweenTreatsWeek is a yearly Halloween blogging event that is hosted by Angie from Big Bear's Wife . You'll find that this fun and spooky event is an online, week-long event that is filled with some frightfully fun Halloween treats and recipes from some fantastic Halloween loving bloggers!
For this years 6th annual #HalloweenTreatsWeek event we have 18 hauntingly talented bloggers that are sharing their favorite Halloween recipes throughout the week! You can following the hashtag #HalloweenTreatsWeek on social media to collect all of these frightful recipes to use at your own Halloween parties and events!
Make Sure to check out all of the fun Halloween recipes that we're sharing this week!
Today's Halloween Offerings:
Yield: 30 servings
Hocus Pocus Macarons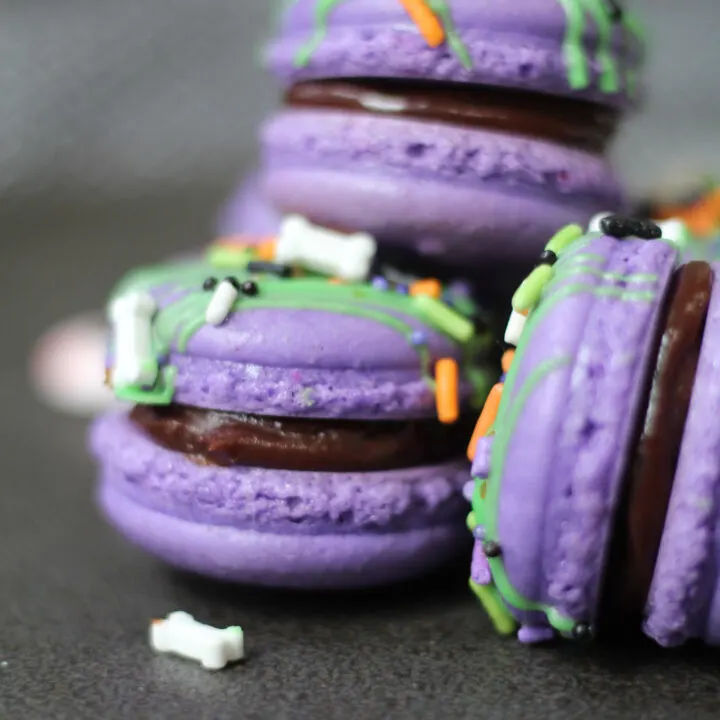 Hocus Pocus macarons are filled with chocolate ganache and blackberry jam. The purple color is intense giving off hocus pocus vibes.
Ingredients
FOR THE MACARON SHELL:
1 1/2 cups of powdered sugar
1 cup of almond flour
1 tablespoon of egg white powder
3 egg whites
1/2 cup of granulated sugar
Purple Food Coloring
FOR THE CHOCOLATE GANACHE
1 cup of chocolate chips
3/4 cup of heavy cream
For the jam center
Instructions
Prepare two baking sheets by placing two macaron baking mats on each sheet. Set baking sheets aside.
Place the oven rack in the lower half of the oven, but not all the way to the bottom. Preheat oven to 315 degrees.
Add powdered sugar, egg white powder, and almond flour to the large mixing bowl. Process the ingredients for about 30 seconds so that the mixture is super fine.
In the bowl of a stand mixer with a whisk attachment, add egg whites and beat on medium-high until it begins to foam. Once it starts to get foamy, begin to slowly sprinkle the granulated sugar into the egg whites until it's all been incorporated. Increase the speed to high to whip the meringue into stiff peaks.
While the meringue is whisking, add in the purple food coloring.
Once the meringue is done, add it to the bowl of the flour mixture. Do this step very carefully and slowly, cutting the mixture down the middle and swooping around.

Mix just until it's incorporated. Do not over-mix. The consistency should be like slow-moving lava. To check for consistency, the batter should flow from your spatula like thick lava and hold a ribbon for a couple of seconds. If it falls into clumps and doesn't fall slowly, it is not mixed enough.

Keep mixing slowly so that the batter deflates a bit and the proper consistency is reached.
Transfer the batter to a piping bag fitted with a smooth, round 1/2-inch tip. Holding the bag in two hands directly over the parchment, pipe a small amount of batter into the first circle stencil. Stop pipping right as the batter reaches the edge of the circle. The batter will spread so don't add too much. Move on to the other circles until all the batter is gone.
After you've pipped all the circles, smack the baking sheets on the counter a couple of times to release air bubbles. Use a toothpick to pop all the air bubbles. If you don't do this step, the air bubbles will release steam while baking and crack the shells.
Let them sit to dry out until the tops are smooth to the touch, about 30 minutes. They are done when you rub your finger over the top and your finger doesn't stick.
Bake macarons in the preheated oven, one sheet at a time for 10-12 minutes. Make sure to rotate the sheet halfway through, for even baking. Remove from oven and let them cool for 5 minutes before transferring parchment sheet to a wire rack to finish cooling.
While the macarons are baking, make the ganache. Place the chocolate chips in a bowl.

Add the heavy cream to a glass measuring cup and heat in the microwave for 2 minutes. Pour over the chocolate chips once heated. Use a whisk to mix the chocolate chips and heavy cream together until everything has blended well.

Cover with plastic wrap and place in the fridge for 45 minutes. Remove from the fridge after that time and put the ganache in a piping bag.
Lay half of the macarons flat side up on a baking sheet. Pipe a ring of ganache around the shell making sure to leave the center empty.
Fill the center of each shell with blackberry jam.
Top with the other shell and gently press just enough to push the filling out to the edges. Do this for all the macaron shells until done.
Once filled, macarons can be refrigerated in an airtight container for up to three days or frozen for 3 months.

Decorate with chocolate drizzle and fun Halloween sprinkles.
Nutrition Information:
Yield:
30
Serving Size:
1
Amount Per Serving:
Calories:

108
Total Fat:

6g
Saturated Fat:

3g
Trans Fat:

0g
Unsaturated Fat:

3g
Cholesterol:

7mg
Sodium:

11mg
Carbohydrates:

14g
Fiber:

1g
Sugar:

13g
Protein:

2g