If you have never had a classic beignet, then you are in for a real treat. Beignets are simply an easier form of donuts. They are pillowy, deep fried, and then dusted with powdered sugar! If you want to bump up the flavor, dip them in a homemade hot fudge sauce or caramel sauce.
If you have never made beignets at home, they are easier than you think. The dough comes together quickly and the hardest part is letting it rest.
Once you fry them, they are puffed and a little hollow on the inside. This makes them light and airy, which means you will definitely be eating more than one!
This recipe makes a lot which makes it a great dessert to serve. Since Mardi Gras is coming up soon, invite some friends over and have the perfect Mardi Gras spread with these little babies for dessert.
How to Make Beignets
I have always wanted to visit the French Quarter and eat all the yummy cajun and french food I can. Making these delicious beignets really made me crave traveling to New Orleans.
Just in case you didn't know, beignets originate from France and can be translated in English to mean fritter. They are extremely popular in New Orleans.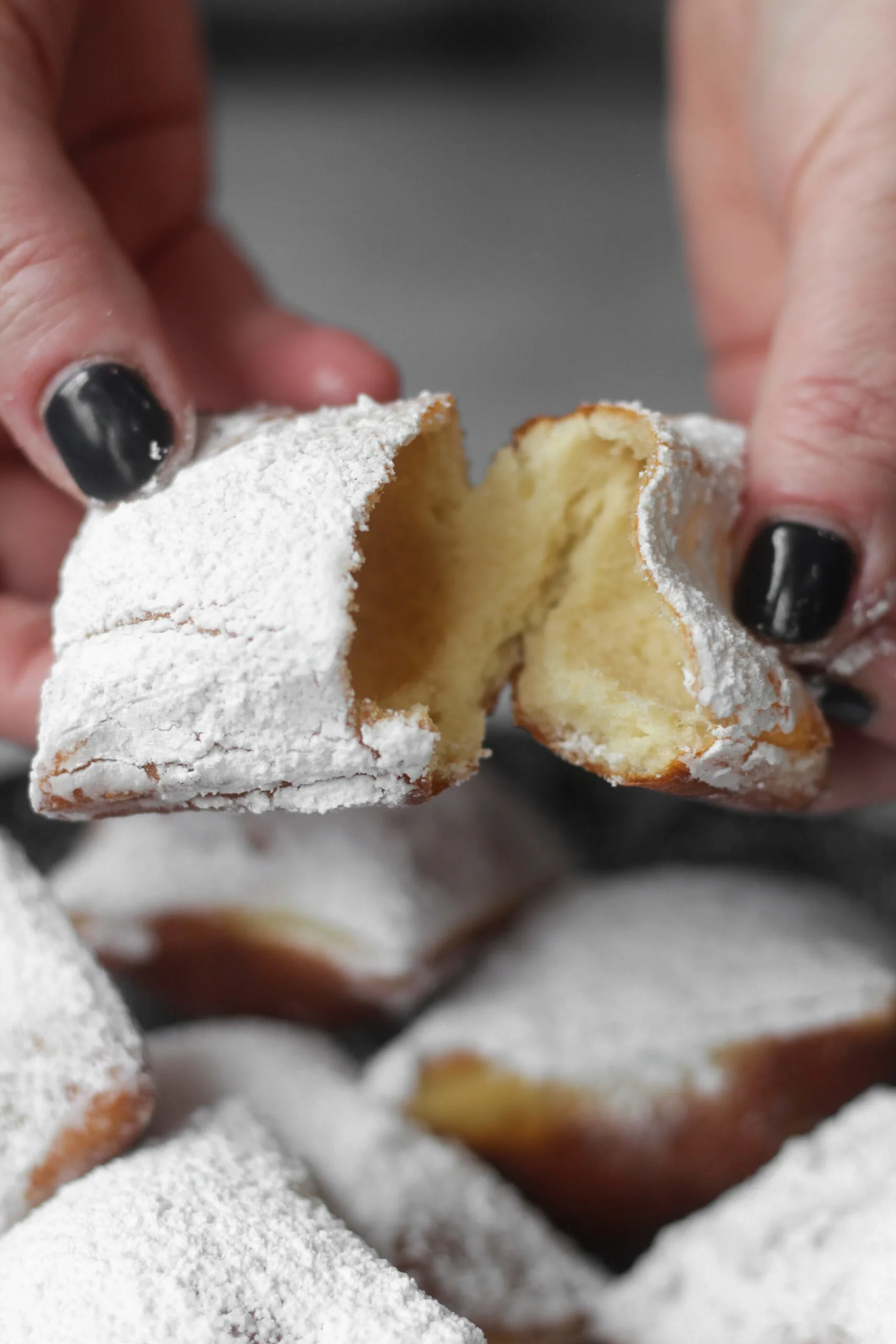 Once you make the dough and let it rest, then roll it out, cut it, fry it, and dust it with powdered sugar.
That is it.
Can you imagine a treat so tasty but only takes a hot second to make?
What do Beignets taste like?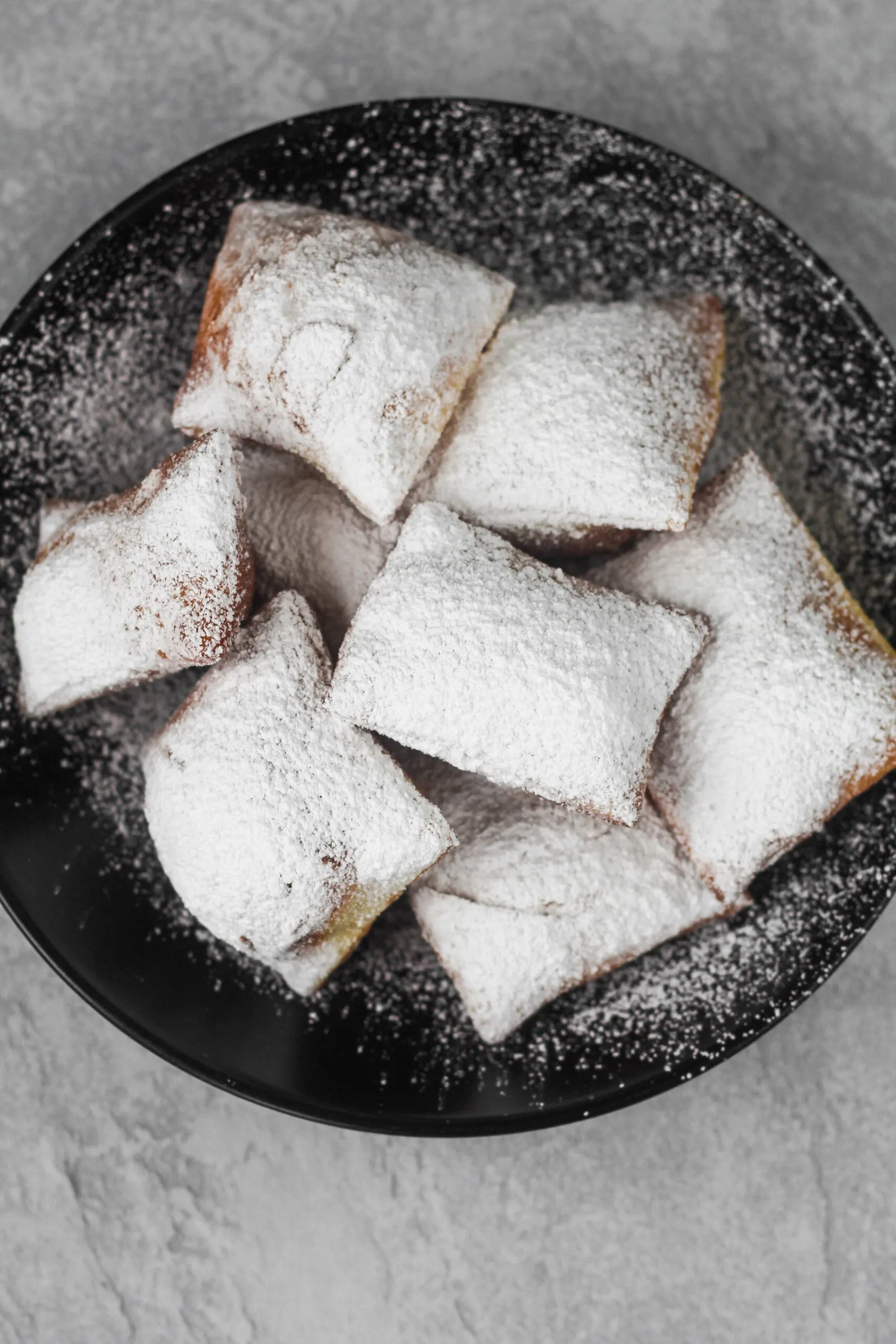 Beignets taste like a light, pillowy fried bread dough. They don't have a ton of flavor on their own, but when paired with powered sugar, it adds the perfect amount of sweetness.
These are best served warm. Once they get cooled off, they are still good, but it's like a cold donut. They are better warmed.
Check out these other delicious desserts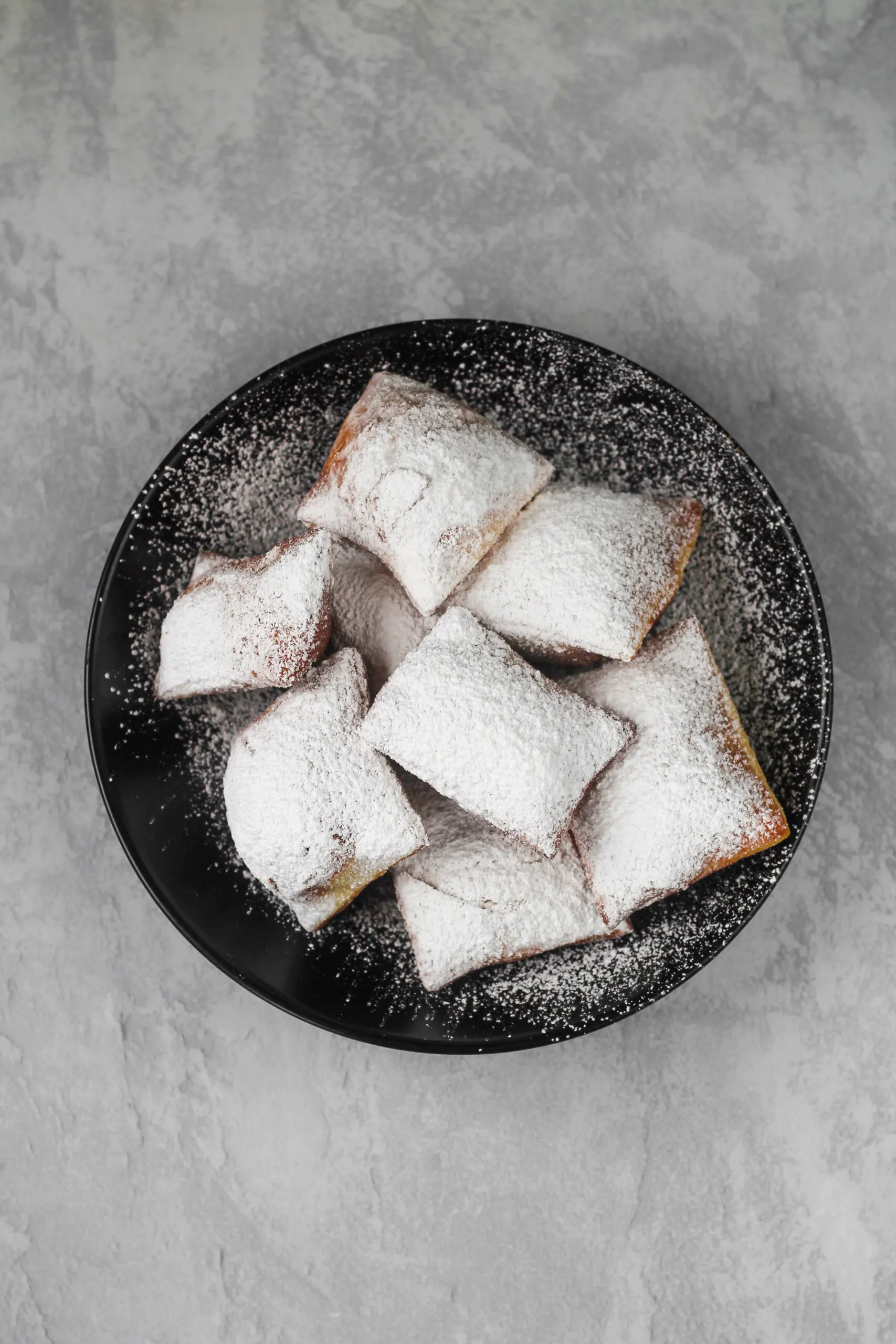 Zombie Cocktail by A Day in the Life on the Farm
King Cake Cupcakes by Hezzi-D's Books and Cooks
Homemade Beignets by Jen Around the World
Bananas Foster Bread by Jolene's Recipe Journal
Ramos Gin Fizz by Our Good Life
Cajun Pasta Carnivale by Palatable Pastime
Mardi Gras Mini Tarts by The Freshman Cook
King Cake Bundt Cake by The Redhead Baker
Yield: 24 beignets
Homemade Beignets
Check out this classic New Orleans beignet recipe. Beignets are pillowy, deep fried dough, dusted with powdered sugar, and oh so delicious!
Total Time
1 hour
40 minutes
Ingredients
For the dough
1 cup warm water around 110F
1 tablespoon rapid-rise yeast
3 tablespoons granulated sugar
2 large eggs
2 tablespoons vegetable oil
3 cups all-purpose flour
¾ teaspoon salt
For the sprinkle
1 cup of powdered sugar
oil for frying
Instructions
Combine all of the ingredients into a large bowl and mix and knead them together until you've made a soft, smooth dough.
Allow the dough to rise, covered, for 1 hour, or until it's puffy and doubled in size.
Remove the dough from the bowl and place it on a lightly greased or floured work surface.
Roll it into a 14" x 10" rectangle, squaring off the corners.
Cut the dough into 2" squares.
Pour the oil to a depth of at least 3/4" in a 10" electric frypan (first choice), or a deep, heavy-bottomed 10" frying pan set over a burner.
Heat the oil to 360°F, and drop 5 or 6 squares of dough into the hot oil. They'll sink to the bottom, then after about 5 seconds or so, rise to the top.
Fry the beignets for 1 minute, then use a pair of tongs to turn them over. Fry for another minute, until the beignets are puffed and golden brown all over.
Remove from the oil and drain on paper towels.
When the beignets are cool, sprinkle them heavily with confectioners' sugar.
Nutrition Information:
Yield:
24
Serving Size:
1
Amount Per Serving:
Calories:

104
Total Fat:

2g
Saturated Fat:

0g
Trans Fat:

0g
Unsaturated Fat:

2g
Cholesterol:

16mg
Sodium:

73mg
Carbohydrates:

18g
Fiber:

1g
Sugar:

6g
Protein:

2g