This grilled steak alfredo dish is a super quick and easy recipe that is perfect for those weeknights when you need a fast meal.
In an effort to clean out my pantry which seems to be completely overloaded in every area, I have been trying to create my own versions of meals that sound appealing to me.
I made a delicious Grilled Steak Alfredo this week.
This post was originally published in 2011 and has recently been updated.
How to Make Grilled Steak Alfredo
Y'all know I love me some Olive Garden chicken alfredo, but I am out of chicken—ACK! I know, right? I never run out of chicken! But I refuse to buy anything else until we eat up what we have 🙂
That is how this meal came to be! I picked up a markdown steak from the meat counter, which happened to be on sale for $3.59, a box of pasta noodles that I purchased on the markdown shelf for .29, and a delicious and easy alfredo sauce burning in my mind. So I decided to create the perfect steak alfredo pasta dish!
If you remember, back in November I shared a recipe for making your own homemade alfredo sauce. It tastes delish on this steak pasta!
The sauce is simple and easy — heavy cream, garlic, lemon, and Parmesan cheese. This recipe literally takes about 15 minutes to come together. And — if you did not want to use steak, you could totally do grilled chicken breast instead.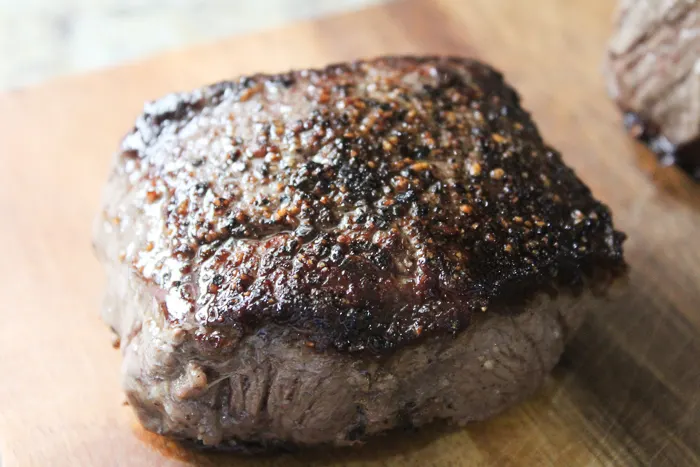 I don't know about you, but anytime I can come home from eating at Olive Garden and find a way to recreate a dish from something I ate there, I am all about it, right?
This is one of those dishes that you memorize and keep handy in your mind because you know that you are going to make it over and over and over again.
Whenever I go to the grocery store, I always make sure to check the markdown meats to see if they have any inexpensive cuts of meat laying around. I buy those up and keep in the freezer for when I want to make this delicious grilled steak alfredo dish.
Looking for Other One-Pan Pasta Recipes?
What is your favorite pasta dish?
Yield: 8 servings
Grilled Steak Alfredo
This delicious pasta dish comes together in 15 minutes.
Ingredients
1 8-10 ounce ribeye steak (or steak of your choice)
1 box of penne pasta
McCormick Montreal steak seasoning
1 clove of garlic minced
2 tablespoons of olive oil
1/2 cup of butter
1/2 lemon squeezed
3/4 cup grated parmesan​ cheese
1 cup of heavy cream
Shredded cheese for garnish (my favorite is the 5 cheese blend)
Instructions
When you are ready to begin cooking your steak, remove from the packaging and sprinkle on the Montreal Steak Seasoning.
Get out your grill pan and turn heat to medium high. Drizzle the steak with a little olive oil to keep steak from sticking.
Sear both sides of the steak until the preferred color and doneness of steak occurs. I like my steak medium so I do mine to 145-150 degrees.
While the meat is cooking, make your alfredo sauce using the butter, parmesean cheese,garlic, lemon and heavy cream.
In a medium sauce pan, add butter and garlic and let heat for about a minute. Then add in heavy cream. Heat until it is all melted.
Add Parmesan cheese and continue to stir until sauce just starts to thicken. Squeeze in the lemon juice and remove from heat.
When the noodles have finished cooking, drain almost all the water from the pan, leaving about a 1/4 of the cup in the bottom. This will allow your sauce to stick to the noodles
Slice the steak against the grain into thin slices and throw in the pan with the noodles. Pour the alfredo sauce over the noodles and steak and mix together to combine.
Serve with garlic bread and a salad for a complete meal!
Recommended Products
As an Amazon Associate and member of other affiliate programs, I earn from qualifying purchases.
Nutrition Information:
Yield:
8
Serving Size:
1 cup
Amount Per Serving:
Calories:

255
Total Fat:

6.3g
Saturated Fat:

3.0g
Cholesterol:

56mg
Sodium:

612mg
Carbohydrates:

21g
Fiber:

2.5g
Protein:

20g