Blueberry Watermelon Pupsicles are the perfect sweet icy treat for your fur baby this summer.
We have been having so much fun making Milo his own treats. We have made Banana Pumpkin Dog Treats and then compiled a list of the best homemade dog treats.
Now, we are sharing with you Milo's favorite frozen treat. These Blueberry Watermelon Pupsicles are super easy to make and are only 2 ingredients.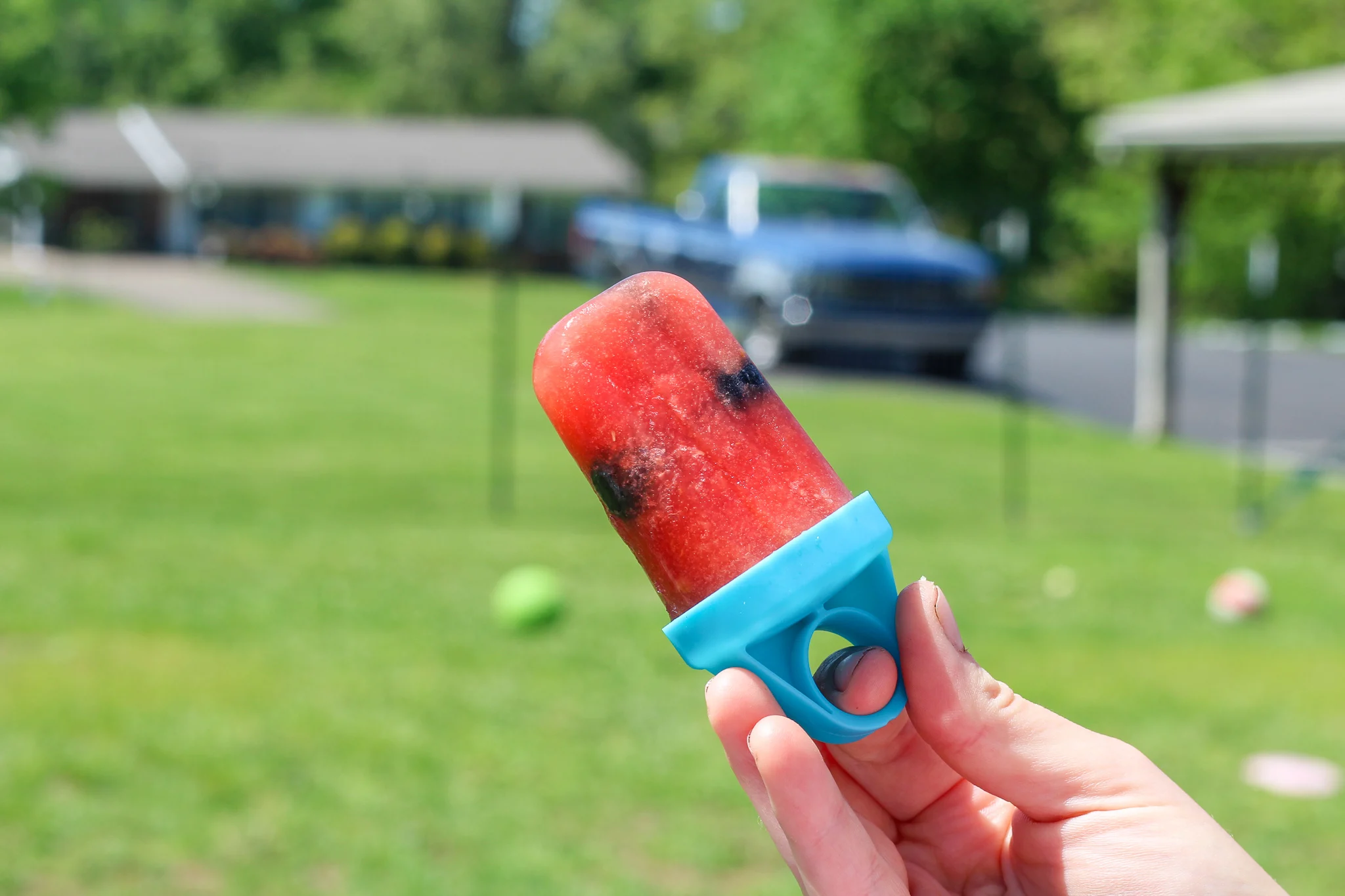 How to Make Blueberry Watermelon Pupsicles
To make this fun frozen treat for your puppy, you will need a popsicle mold, a watermelon, and a pint of blueberries.
Simply cut up the watermelon into chunks. You will not have to use the whole thing to make these. You can either freeze the remainder, or serve it to your family.
In a blender or a food processor, puree about 1-2 cups of watermelon. This will depend on how many molds your popsicles have.
Then, fill the molds full, leaving about 1/2″ headspace at the top.
Then, add about 3-4 blueberries into the molds. You can add more if you want. Blueberries are great for doggies.
Then, place the lids on the molds and let them set up in the freezer until they are all the way solid.
Take Your Pup Outside and Enjoy His Pupsicle
Milo definitely approves of his delicious frozen treats that he can enjoy on hot summer days. Being an Australian Shepherd, they get super hot because they have so much hair. Lots of icy treats are perfect for him!
As you can tell, we spoil our fur babies. From making cat birthday cakes, peanut butter dog biscuits and more. There is nothing we wouldn't do for our sweet fur friends!
Health Benefits of Blueberries and Watermelon for Dogs
Blueberries are a great low-calorie treat for dogs. They also contain antioxidants, fiber and vitamins C and K. These nutrients support the immune system and contribute to overall health. Adding blueberries to your dog's diet is a great way to help keep him happy and healthy.
The fleshy pink fruit of a watermelon is loaded with healthynutrients that are as beneficial for humans as they are for our canine companions. Watermelon is rich in potassium and vitamin C, and it's also a great source of vitamins A and B6.
Coming Soon!
Since we love making treats so much for our fur babies, hopefully this month we will be launching our special line of homemade dog treats to the world! We have been working hard for the past couple of months with recipe testing, and more.
We are waiting on our approval and once we have it, we will let you all know!!
If you are looking for more homemade dog treats recipes vet approved check out the list below.
Best Ever Homemade Dog Treats
Yield: 8 popsicles
Blueberry Watermelon Pupsicles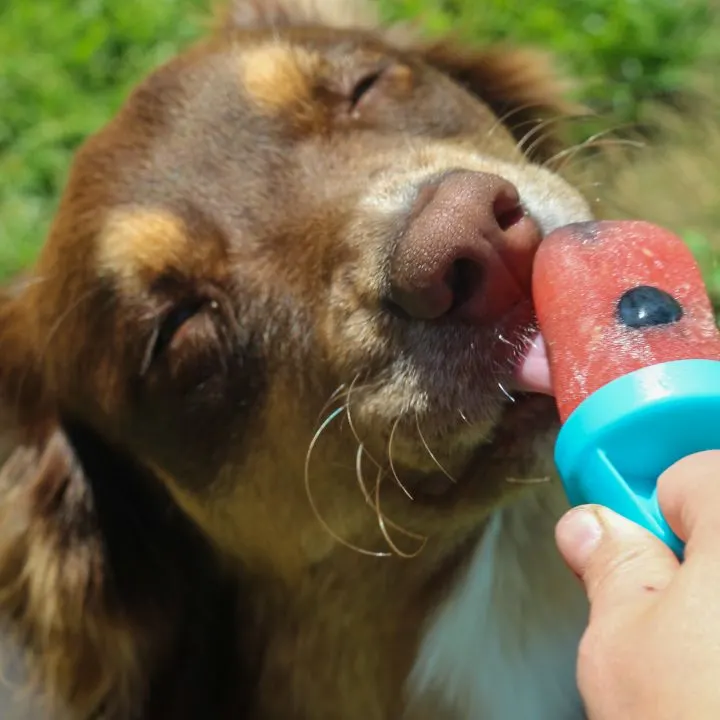 These blueberry watermelon pupsicles will be your fur babies favorite new treat this year!
Freeze Time
6 hours
4 seconds
Total Time
6 hours
5 minutes
4 seconds
Ingredients
1-2 cups of watermelon, cubed
1 pint of blueberries
Popsicle Mold
Instructions
Puree the watermelon in a blender or a food processor.
Take your popsicle mold and fill each mold with the watermelon puree. Leave about 1/2" of space in the top.
Add 4-5 blueberries into each one.
Put the tops on and put in the freezer for 4-6 hours.
Give to your pup with supervision and let them enjoy!
Nutrition Information:
Yield:
8
Serving Size:
1
Amount Per Serving:
Calories:

38
Total Fat:

0g
Saturated Fat:

0g
Trans Fat:

0g
Unsaturated Fat:

0g
Cholesterol:

0mg
Sodium:

1mg
Carbohydrates:

10g
Fiber:

1g
Sugar:

7g
Protein:

1g