Learn how to make a birthday cake for your dog! The recipe and instructions are below.
Milo turned one recently and we made a huge deal about it! We pulled out all the stops including making him a birthday cake.
Read on to learn how you can make a birthday cake for your dog too!
If you are like us, you love to spoil your dog. he has more toys than any of my kids had, and don't get me started on all the pet treats we make for him.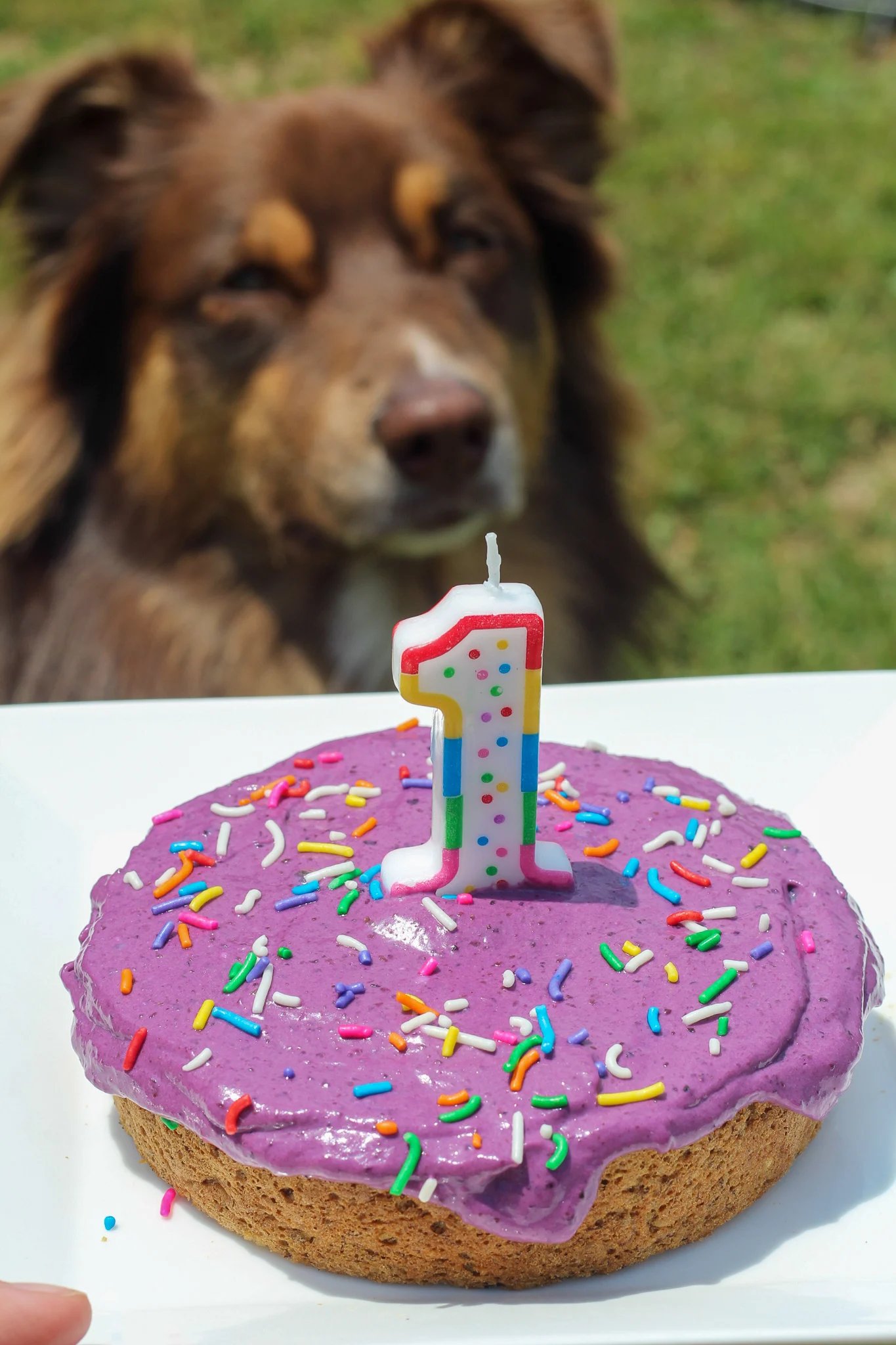 How to Make a Birthday Cake for Your Dog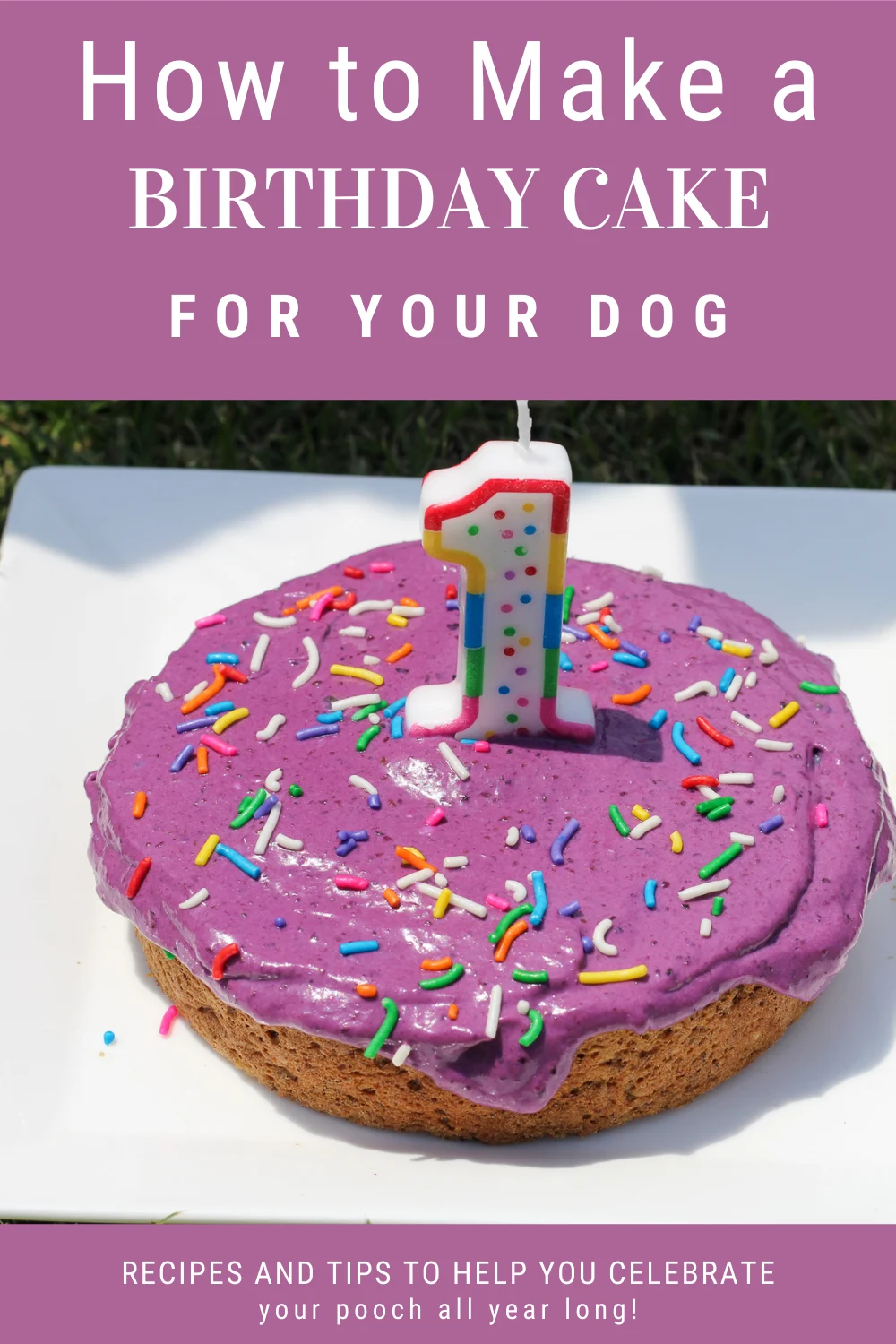 For starters, you need to find the right size pan for your dog. For this recipe, we chose to use a 6″ round cake pan. You can also use this bone-shaped cake pan if you like.
For the actual cake, we used —
flour
peanut butter
Cinnamon
eggs
applesauce
bananas
For the icing, we used yogurt and blueberries. When you make the icing, if you find it is a little too runny, simply pop it in the freezer for about 20 minutes to allow it to set up some.
Once the cake was done and cooled, we put it on the wire rack to finish cooling it off completely. You want to make sure your cake is completely cooled off before adding the frosting to it.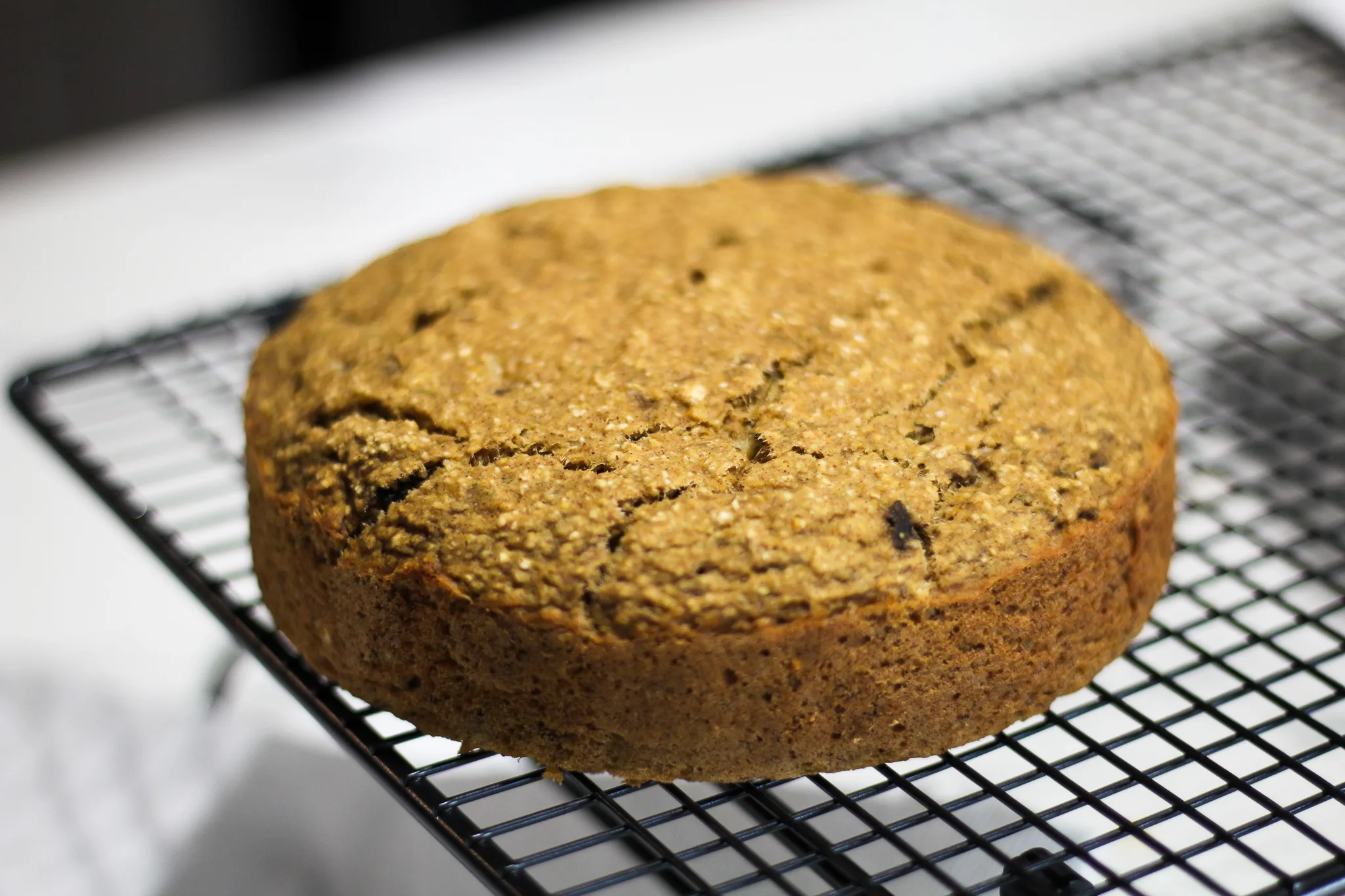 For the icing decorations, we mixed together the blueberries and yogurt. we frosted the cake and then used these fun Jimmie sprinkles from Nuts.com to decorate the top.
Milo LOVED his cake and it really turned out great. Not only have we made dog birthday cakes, but we have also made birthday cake for cats as well.
If you are looking for more homemade dog treat recipes vet approved check out the list below.
Check out these other fun treats for your pets as well
Yield: 4 servings
How to Make a Birthday Cake for Your Dog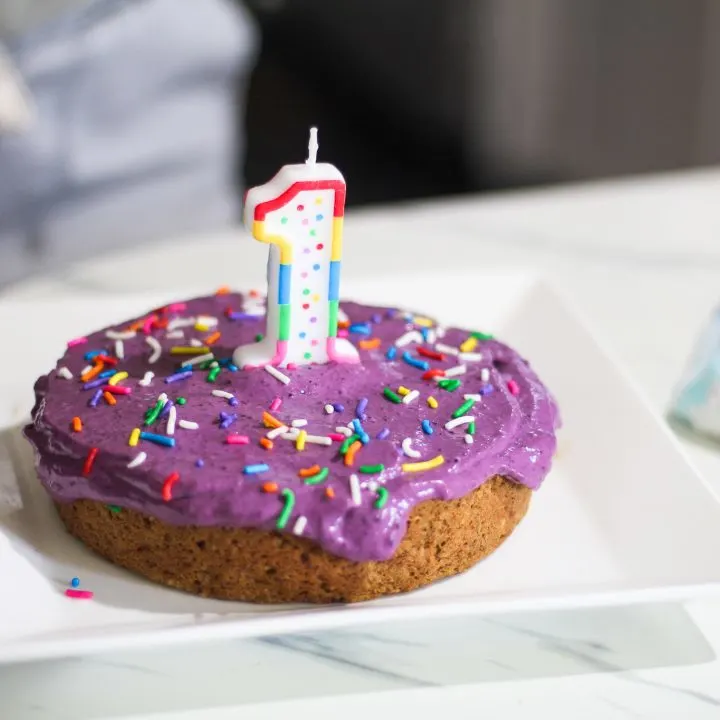 This is the perfect birthday cake for your sweet poochie!
Ingredients
3/4 cup flour
1/2 teaspoon baking soda
1/4 teaspoon baking powder
1/2 teaspoon of cinnamon
1 large egg
2 tablespoons peanut butter
1/4 cup applesauce unsweetened
2 tablespoons honey
2 bananas mashed
For the icing
1 cup of plain yogurt
1/2 cup of blueberries
Jimmie Sprinkles for decoration
Instructions
Preheat oven to 350°F. Line a 6-inch round cake pan with parchment paper and spray with nonstick cooking spray.
In a large mixing bowl, mash two bananas well.
Next, add in the flour, baking soda, baking powder, cinnamon, peanut butter, applesauce, egg, and honey.
Pour into your pan. You may have enough batter to make two cakes.
Bake 20-30 minutes, until browned and a toothpick inserted in the center comes out clean.
Cool completely before frosting.
To make the frosting: add the yogurt and the blueberries to a blender and blend until mixed together.
Frost the cake as desired.
Store covered in the refrigerator for up to 3 days.
Nutrition Information:
Yield:
4
Serving Size:
1
Amount Per Serving:
Calories:

294
Total Fat:

7g
Saturated Fat:

2g
Trans Fat:

0g
Unsaturated Fat:

4g
Cholesterol:

50mg
Sodium:

285mg
Carbohydrates:

52g
Fiber:

3g
Sugar:

24g
Protein:

10g