Love the strawberry cream cheese from the store? If you do, then you will LOVE this recipe for making your own at home. It tastes even better than the store-bought stuff.
Cream cheese is my favorite condiment when I am eating bagels. Since I have been making my own at home, I have yet to buy any more from the store. So — here's my simple and easy recipe for making Homemade strawberry cream cheese.
How to Make Homemade Strawberry Cream Cheese
Now — if you are not comfortable making your own cream cheese from scratch, you can totally use store-bought cream cheese. To make this the strawberry version though, you will need my recipe for Homemade strawberry jam. That is the star of this amazing recipe.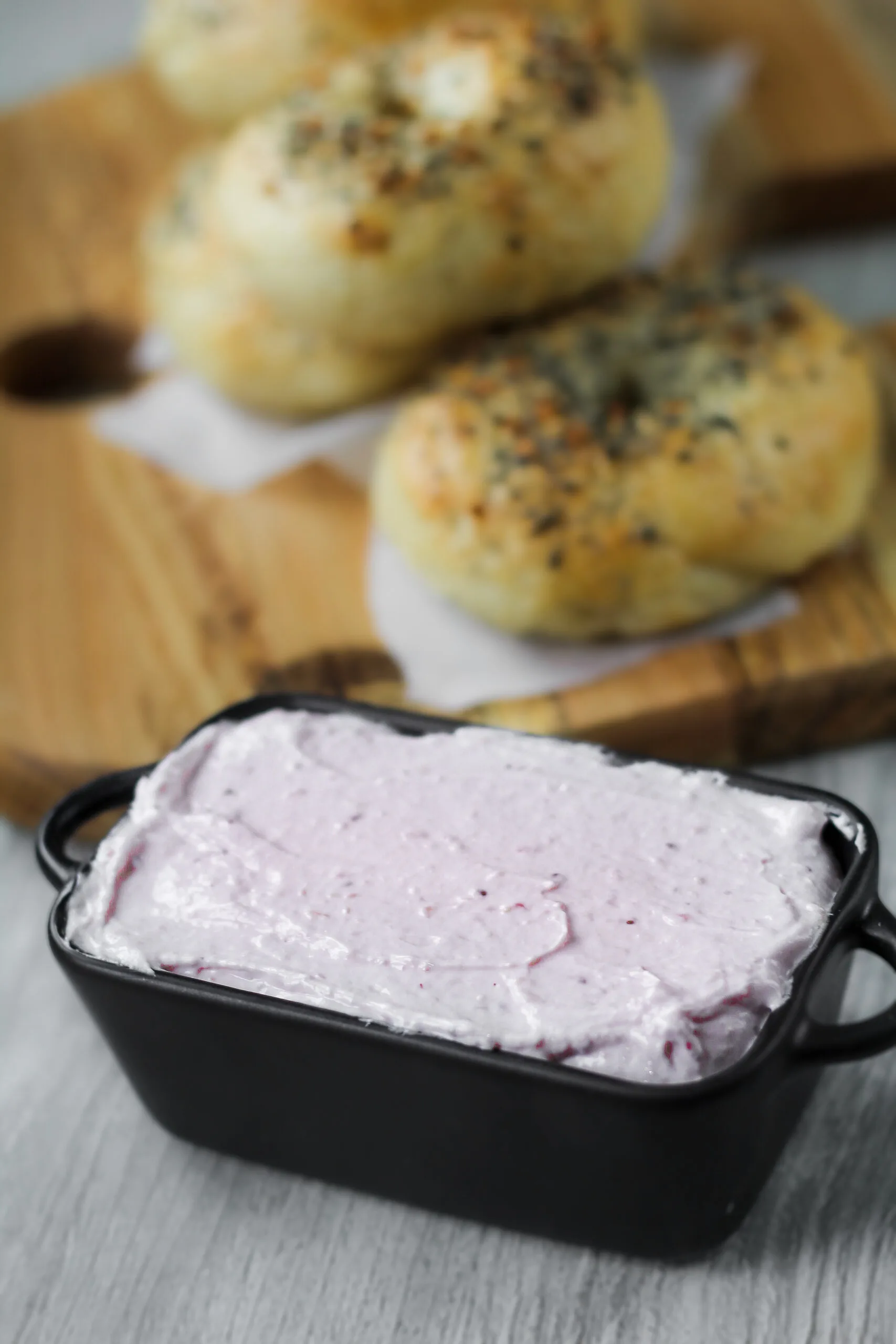 To make homemade cream cheese, all you need is 4 cups of whole milk and some lemon juice. At first, you will be making homemade ricotta cheese. Once you get it drained and you are left with the ricotta, then take that, add it to a food processor, and whip it until it turns creamy and delicious.
Add a little salt and a splash of heavy cream and continue whipping until it is nice and creamy. Then add in the strawberry jam until you get the flavor and consistency you want.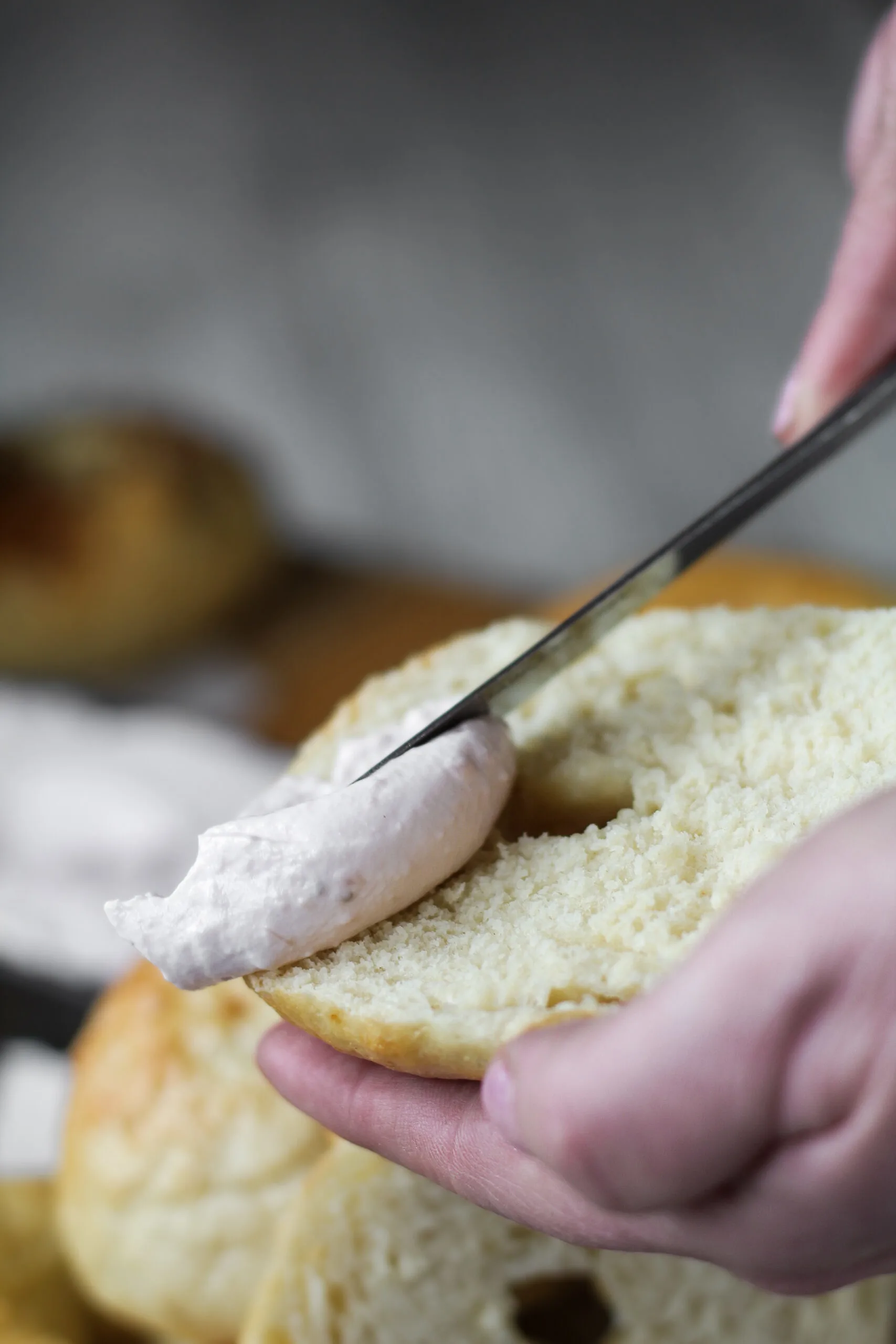 There is really no way to mess this up. It's more of a "add until you feel right about it" kind of recipe — which is my favorite.
Store the cream cheese in these fun butter dishes and keep them in the fridge. You can make any flavors you want!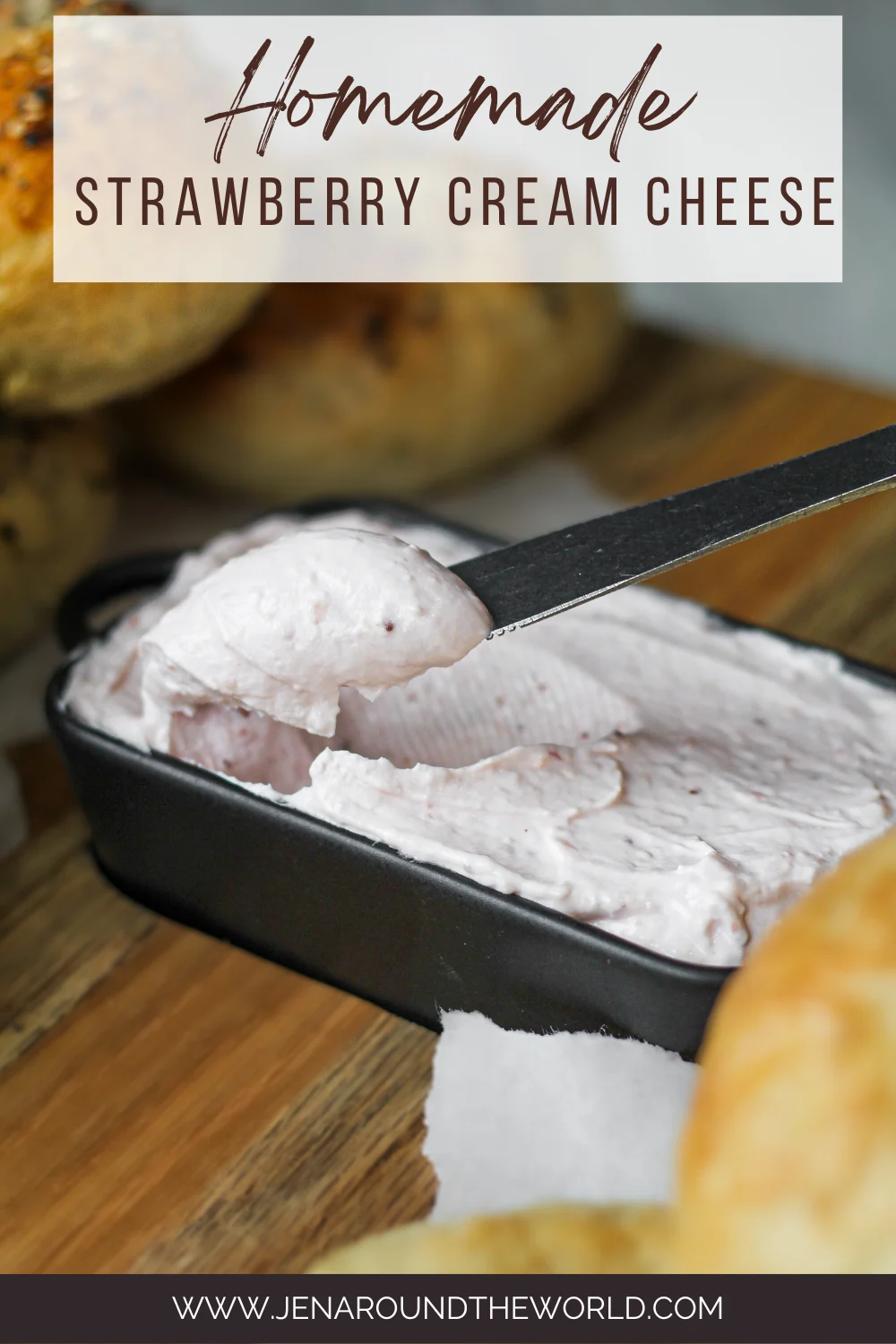 Supplies Needed for Making Homemade Cheese at Home
Check out these other delicious homemade condiments!
Yield: 2 cups
Homemade Strawberry Cream Cheese
Make your own strawberry cream cheese with this simple and easy recipe.
Ingredients
4 cups of milk
4 cups of heavy cream
juice of one large lemon
1/4 cup (give or take a bit) homemade strawberry jam
salt
Instructions
Pour the milk and heavy cream into a saucepan. Heat and bring it to a boil over medium-high heat.
As soon as it boils, add the lemon juice and then turn off the heat.
Set aside for a few minutes while the milk curdles. You'll notice curds forming and a yellowish liquid being left behind.
Within a few minutes, all of your curds should have formed.
Place a cheesecloth over a strainer. You can place a large measuring glass under the strainer to catch the whey. You can use that in other recipes.
Now, pour the curdled milk into the cheesecloth. Let most of the whey drain off.
Rinse the curds with cold water. This will help to get rid of any extra whey, clinging to the curds.
Once it has finished draining, squeeze the curdled milk as much as possible to drain any last drop of the liquid whey.
Put the curds into a food processor/blender and add the salt. Now, add in the strawberry jam and process on medium for 1-2 minutes. Store in an airtight container in the fridge until ready to use.
Store the cream cheese in the fridge for up to 7 days. You can freeze cream cheese, but the texture upon thawing is more crumbly and is best used where you're cooking it into something like a dip or sauce.
Nutrition Information:
Yield:
12
Serving Size:
1
Amount Per Serving:
Calories:

324
Total Fat:

30g
Saturated Fat:

19g
Trans Fat:

1g
Unsaturated Fat:

9g
Cholesterol:

96mg
Sodium:

120mg
Carbohydrates:

10g
Fiber:

0g
Sugar:

9g
Protein:

5g