I am so excited to share this tutorial with you on how to make your own ricotta cheese. I love finding ways to create things from home that cut the cost in the grocery store. This is SO simple and takes less than 30 minutes to make.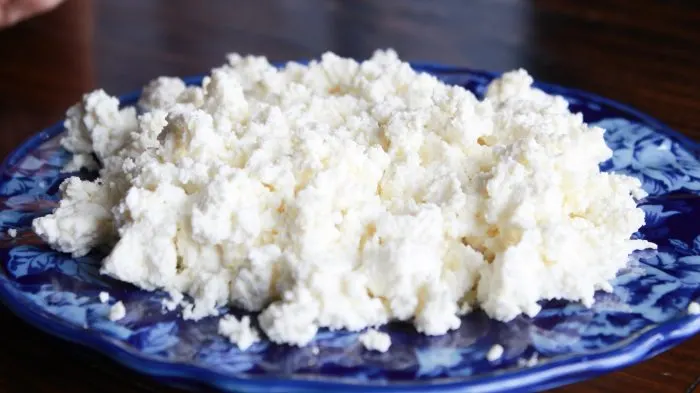 Seriously — just 3 simple ingredients is all it takes to create this amazing pantry staple.
The thing that I love about ricotta cheese, is that you can do so much with it. For instance –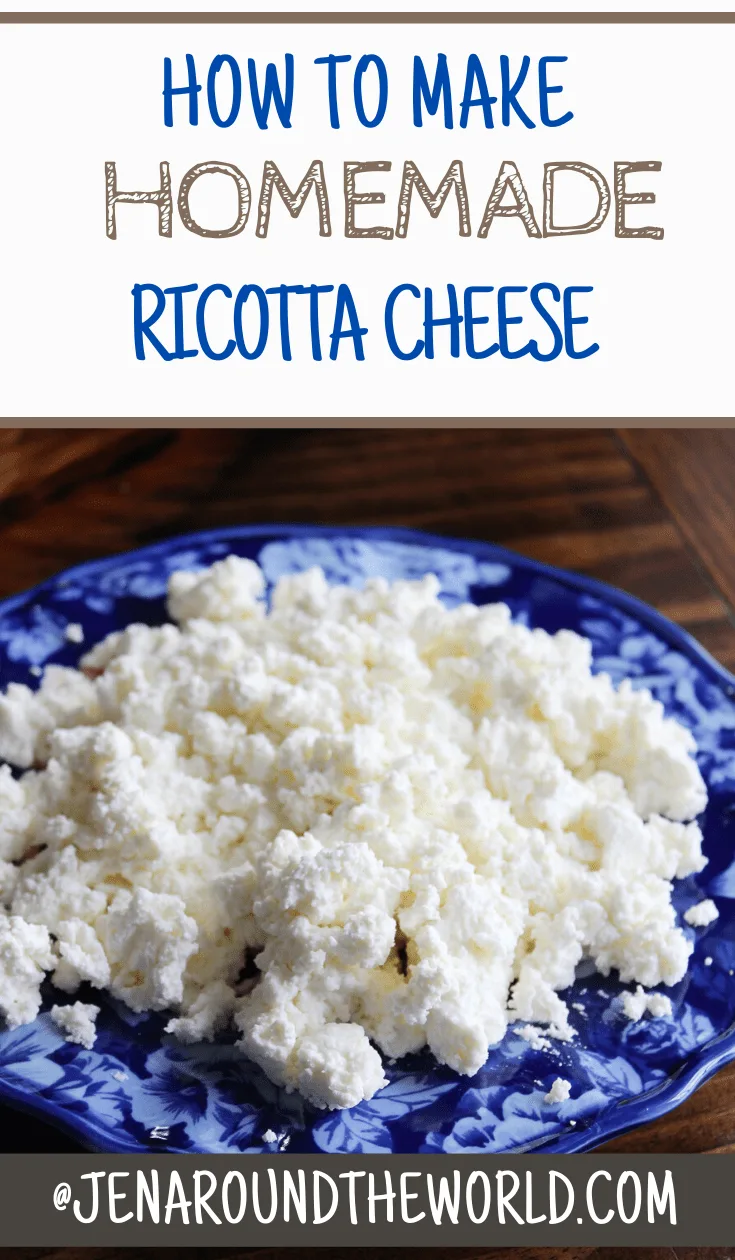 I use it in my crockpot lasagna recipe. I have also used it in my baked spaghetti recipe.
You can also use ricotta as a topper for crackers or like we did for this herbed ricotta toast. I recently saw where someone had wheat crackers, then topped them with ricotta, lemon zest, blueberries, and a drizzle of honey.
It is the perfect pairing for any dish — whether you go savory or sweet.
So here is how you can make your own ricotta right in the comfort of your own home.
How to Make Your Own Ricotta Cheese
First — start with 1/2 gallon of whole milk. Put it in a pot on the stove and pour in 1/3 cup of fresh-squeezed lemon juice (about 2 lemons). Sprinkle in about a teaspoon of salt.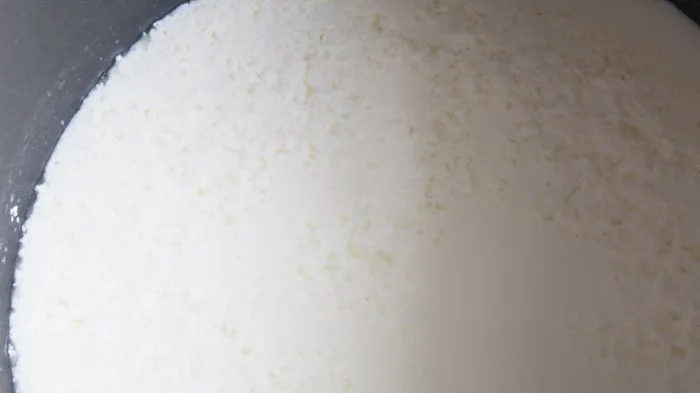 Then, turn the heat on medium-high and let it do the rest. You don't have to really do anything but watch it.
You want to bring it up to a slow heat — you don't want it to boil. You want to get it right to about 200 degrees. Then once this happens, check your curds by swishing a spoon back and forth in the mixture.
If it seems like there are not enough curds, simply add just a bit more lemon juice until it starts curdling — but I had plenty of curds after 1/3 cup.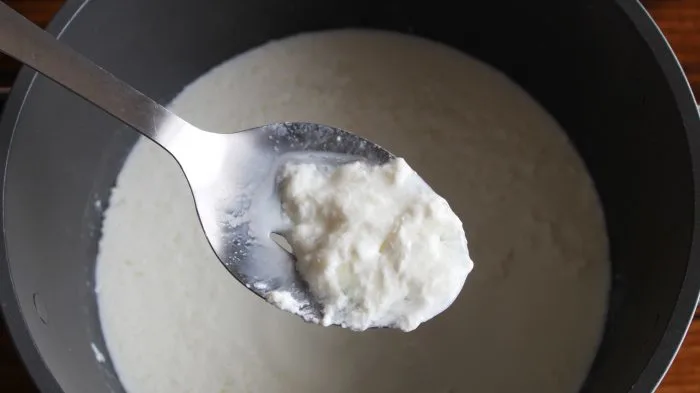 Then with a slotted spoon, you are going to transfer your curds to a strainer set over a bowl and let it strain.
Now, every recipe I read said you had to use a cheesecloth, but Ina Garten from Food Network does not use one when she makes ricotta so I did not either.
It is totally not needed.
Once I got all of my ricotta in my strainer, I moved it around a little bit to release any liquids that pooled while I transferred it.
Then I took my spoon and pushed some more of the liquid out.
Then I placed it in the refrigerator for an hour to let it finish draining.
When I came back and poured it on a plate, this is what I had —
I was so excited because I love ricotta cheese, but have you seen how much it costs at the store? Holy moly!
It can get expensive. But now, for the price of half of gallon milk and 2 lemons I can make my own!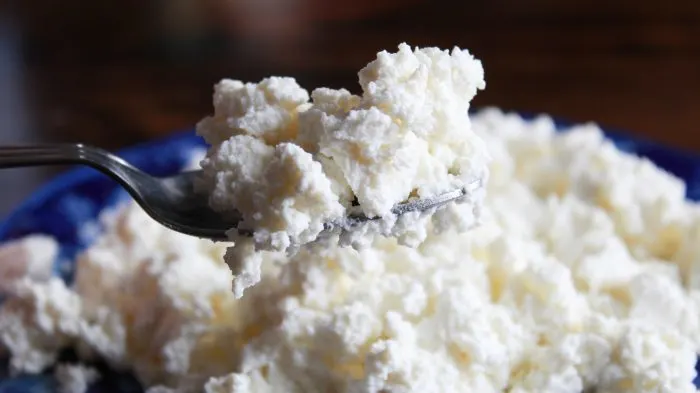 Here is the printable recipe for you! Let me know if you decide to make this. I would love to hear your thoughts.
Looking for other homemade goodies? Check these out
Yield: 2 cups
How to Make Your Own Ricotta Cheese
This easy ricotta cheese recipe will cut the cost on your grocery bill and enhance all your recipes! It's super easy to make!
Ingredients
1/2 gallon whole milk
1/3 cup of lemon juice, approx. 2 lemons
1 tsp kosher salt
Instructions
In a pot, put the whole gallon of milk in. Squeeze in the lemon juice and add 1 tsp of kosher salt. Mix together.
Turn the heat to medium-high and leave it alone. Just make sure it does not boil.
Bring it to a slow heat of 200 degrees.
Once it reaches 200 degrees, move it around with a slotted spoon and transfer the curds to a strainer set over a bowl.
Place in a refrigerator for an hour and then remove and enjoy.
Sprinkle with pepper and enjoy on crackers or use in your favorite Italian dishes.
Nutrition Information:
Yield:
4 cups
Serving Size:
1
Amount Per Serving:
Calories:

312
Total Fat:

16g
Saturated Fat:

9g
Trans Fat:

0g
Unsaturated Fat:

5g
Cholesterol:

49mg
Sodium:

796mg
Carbohydrates:

28g
Fiber:

1g
Sugar:

26g
Protein:

16g
What is your favorite homemade convenience food?