I used condensed milk in many recipes and it can get very expensive if you use much of it. Here is a homemade version that tasted even better than the canned stuff!
This is CRAZY good and goes great in recipes like my delicious Butterfinger Cake. Why do you want to spend money buying storebought things when you can take just a little bit of extra time and create something delicious in your own kitchen?
Homemade Sweetened Condensed Milk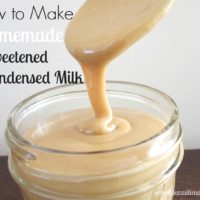 Ingredients
1/2 cup hot water
1 cup powdered milk
1 cup sugar
1 tbsp butter
Instructions
Blend in a blender very well. Store in the refrigerator or freeze.