Freezer Parmesan Acorn Squash is a simple side dish that you can make in bulk and serve any time of the year.
During the fall and holiday seasons, I tend to bake and cook a lot. The weather is cooler, we have more parties, and don't get me started on the spread I make during Thanksgiving and Christmas. It's during these months that all my kitchen gadgets get used to the max.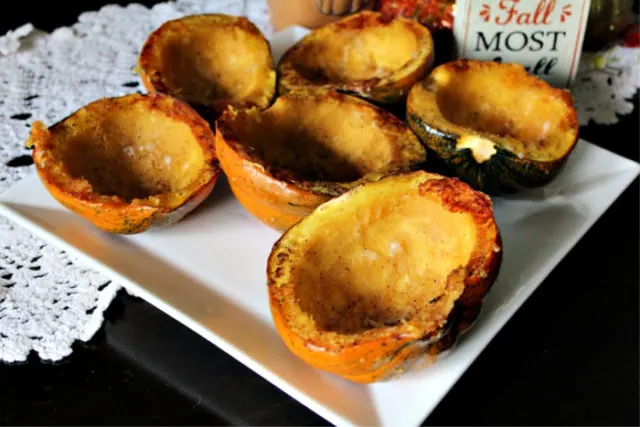 I love stocking my freezer with easy-to-cook meals and sides. By doing this, I eliminate a lot of the time I have to be in the kitchen. This allows me to not only stock up for the upcoming holidays, but it affords me the time to be able to hang out with my family and friends, instead of being stuck in the kitchen in front of the stove.
I used the Foodsaver to cook and freeze my Roasted Parmesan Acorn Squash. This recipe usually takes from start to finish about 45 minutes to an hour to prepare. But, with my easy time-saving tips, you can cut that time down in half, not to mention all the money you will save in the long run.
The Money-Saving Tip
I love to stock up on meats, fruits, and vegetables when the supermarket has them on sale. However, I will be the first to tell you that I will let something go bad quicker than anyone I know. I tend to forget about what I buy because our refrigerator is so full and everything gets pushed to the back.
I use the vacuum sealing system to make sure that my fruits and veggies no longer go bad! It's a win-win for everyone.
During the fall holiday season, life can get busy — with ball schedules for the kids, school performances, and even when family comes over.
If you need to put together an easy meal, let the FoodSaver® Vacuum Sealing System help you do that. And the perfect side item to make is my Freezer Parmesan Acorn Squash.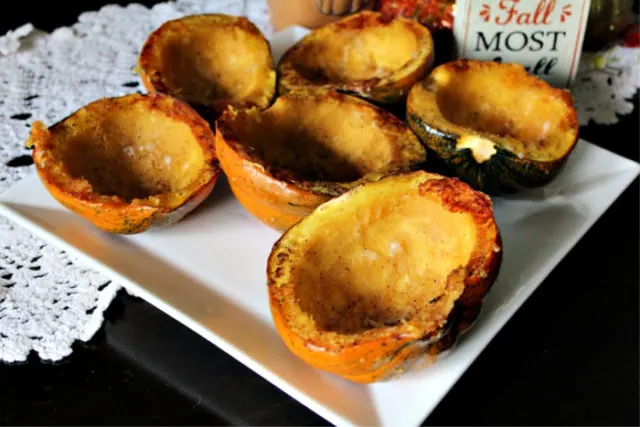 How to Make Freezer Parmesan Acorn Squash
There are 3 actual ways you can make this side dish —
1) you can freeze them before cooking them at all
2) You can par-bake them and freeze them cutting down on the cooking time
3) You can cook them all the way and then freeze them for later use.
Start by slicing all your acorn squash in half. Normally I only buy one of these at a time, but they had them on markdown to .50 each, so I knew I had to buy in bulk here.
You clean these out just like you would a pumpkin. Take a spoon and scoop all the seeds and pulp out making for a clean cavity inside your acorn squash.
Now at this point, you can put them freeze them for later use.
When you are ready, take the bag from the freezer and cut open and remove the squash from the bag. Place the cut side up on a sheet pan. Drizzle them with olive oil and sprinkle on some salt and pepper. Grate some fresh Parmesan and sprinkle all over the acorn squash.
Now roast in a 400-degree oven for 15 minutes. Remove from oven and place cut side down to brown the Parmesan and roast for an additional 30 minutes. Remove from oven and serve alongside your favorite meat of choice.
What is your favorite foods to stock in the freezer?
Check out these other delicious veggie recipes
Yield: 8 servings
Roasted Parmesan Acorn Squash
This delicious roasted Parmesan Acorn squash can be made ahead of time and frozen until ready to use.
Ingredients
4 large acorn squash
1/4 cup Grated Parmesan Cheese
1/4 cup olive oil
salt and pepper to taste
Instructions
Preheat oven to 400 degrees
Cut squashes in half, remove seeds, place on a baking sheet cut side up. Drizzle with olive oil and sprinkle on salt and pepper
Sprinkle on Parmesan Cheese and bake for 15 minutes.
After 15 minutes, place cut side down, and bake for an additional 15 minutes or until soft. Serve with a favorite meat of choice.
Nutrition Information:
Yield:
8
Serving Size:
1
Amount Per Serving:
Calories:

130
Total Fat:

8g
Saturated Fat:

1g
Trans Fat:

0g
Unsaturated Fat:

6g
Cholesterol:

3mg
Sodium:

98mg
Carbohydrates:

15g
Fiber:

5g
Sugar:

0g
Protein:

2g