Parmesan Butternut Squash Gratin — Beautiful butternut squash, sliced and roasted with a panko-crusted Parmesan cheese topping. This is a great side dish for your holiday meal plan.
The holidays are upon us so we have to start thinking about delicious side dishes to go with our perfectly roasted turkey.
The normals are things like mashed potatoes and green bean bundles as well as sage cornbread dressing. But, one of my new favorite side dishes is this Parmesan Butternut Squash Gratin.
How to Prepare Butternut Squash
To prepare this butternut squash for roasting, you have to slice it in half. Then, scoop all the seeds out like you would a pumpkin.
Once you do that, slice off the round part. Using a sharp knife or a vegetable peeler, remove the skin from both pieces.
Then slice into half-moon shapes.
Butternut squash on its own is delicious, but butternut squash with cheese recipes is my favorite. Parmesan pairs well with this hearty winter vegetable and just happens to be my favorite.
Spray a baking dish with non-stick cooking spray. Once you have the squash cut, place it in the baking dish in a fan pattern.
Mix together the bread crumb mixture ingredients and sprinkle on the butternut squash. Roast in a 400-degree oven for about 30 minutes.
Check out these other delicious side dish recipes
Here's more Side Dish recipes:
Check out these other delicious Thanksgiving side dishes
Yield: 8 servings
Parmesan Butternut Squash Gratin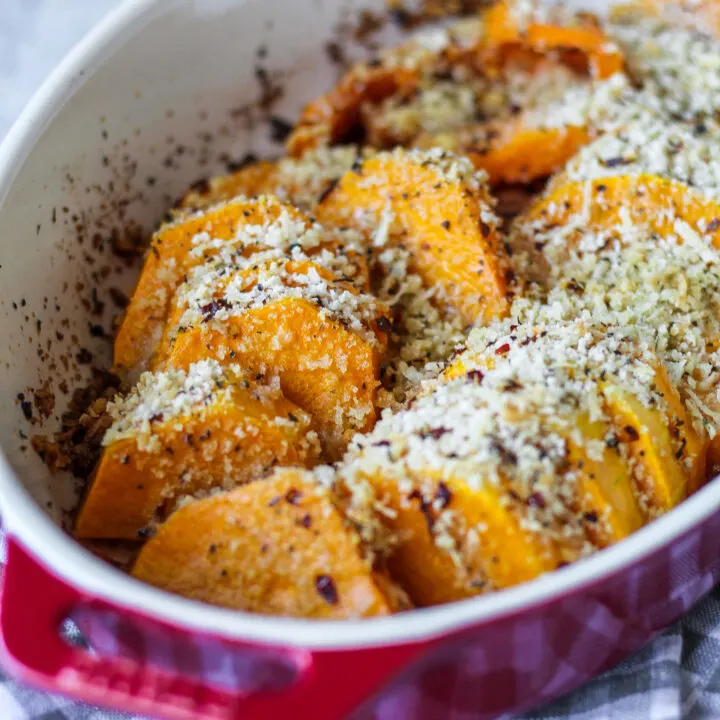 Wonderful winter veggie all dressed up for the holidays with a Parmesan panko bread topping.
Ingredients
2 tablespoons of olive oil
1 butternut squash
salt and pepper
1/2 cup of panko bread crumbs
1 teaspoon of garlic powder
1/2 cup of grated Parmesan Cheese (fresh is best)
1 teaspoon of dried basil
1/2 teaspoon of dried oregano
1/2 teaspoon of onion powder
1 teaspoon of red chili flakes
2 tablespoons of butter, melted
Instructions
Preheat the oven to 400 degrees.
Spray a baking dish with nonstick cooking spray and set it aside.
Take the butternut squash, slice it in half and clean the seeds out.
Slice the bottom portion off and then use a sharp knife or a veggie peeler to remove the skin.
Slice the butternut squash into 1" thick slices.
Arrange the slices in two rows in the dish, overlapping each other like a fan.
Season with salt and pepper.
Drizzle the butter over the top.
In a small bowl, combine the panko, garlic powder, Parmesan, dried basil, oregano, onion powder, chili flakes, and salt and pepper.
Sprinkle the bread crumb mixture over the top of the squash, evenly coating each piece.
Bake for 30 minutes until tender and the breadcrumbs are slightly browned on top.
Nutrition Information:
Yield:
8
Serving Size:
1
Amount Per Serving:
Calories:

122
Total Fat:

8g
Saturated Fat:

3g
Trans Fat:

0g
Unsaturated Fat:

4g
Cholesterol:

13mg
Sodium:

224mg
Carbohydrates:

9g
Fiber:

1g
Sugar:

1g
Protein:

3g