This recipe for how to grill the perfect pork chops has been sponsored by the Ohio Pork Board. All opinions listed are 100% my own.
Even though we are just a couple of weeks into fall, my grill has still been working overtime around here! The south is known for its humid fall weather. In fact, we are pushing close to 86 degrees just about every single day, and because of that, I still have my grill fired up.
I am just not quite ready to give it up just yet.
One of my favorite cuts of meat to grill are pork chops. However, if you don't do it just right, you can quickly overcook them and cause them to dry out. Today, I am going to teach you my secret weapon on how to grill the perfect pork chops.
Do you want to know what the secret is to grilling the perfect pork chop? You know the kind that when you cut into it, it has so much juice running through it that each bite is full of moist, juicy flavor?
It's simple — brine those babies!
But of course, you have to start with premium pork. As you may remember, I told you awhile back how much I love cooking with pork!
My favorite cut is boneless center cut pork chops, but you can use bone in, end cut — whatever you like.
Now, you are going to mix up your brine in a ziplock back. You will place the bag in a plastic bowl to kind of give it some stability so that your pork can rest in the brine juices.
Brining sounds really intimidating, but it's just a mixture of sugar and salt water that your chops set in. They act like a sponge, soaking up extra flavor and juiciness so that when they cook, everything gets grilled inside. This makes for an extra juicy pork chop!
The brine is —
2 cups of water
1/3 cup of kosher salt
1/3 cup sugar
1/4 cup chopped parsley (or cilantro — whatever you have on hand)

2 cloves of garlic smashed

1 tablespoon of peppercorns (or 1 teaspoon of ground black pepper)
All you will do is mix together the water, salt, and sugar and let the hot water melt the sugar and salt. Then add in all your other herbs and spices and mix together.
Let the liquid cool down before using it. You can add ice to the bag to cool it down instantly.
Now, place all your chops into the ziplock bag and add in your brine. Let it rest for about 30 minutes to an hour. After that time, remove from the brine, season with salt and pepper and throw them on the grill.
The reason that I am SO in love with using pork these days is that I found out that a 3 ounce serving of pork such as a tenderloin, for example, is an "excellent" source of protein, thiamin, vitamin B6, phosphorus and niacin, and a "good" source of potassium, riboflavin and zinc, yet contributes only 6% of calories to a 2,000 calorie diet. Fresh pork is naturally low in sodium.
How to Grill the Perfect Pork Chops
There are some steps to take when grilling pork chops that will ensure you make flavorful and juicy pork chops every single time.
Searing
If you want a really juicy pork chop, you need to make sure and sear your chops really good on both sides. This means that when your chop is on the grill — don't mess with it! If it does not come off easily when you try to turn it, that means it is not ready yet and you need to leave it alone!
Get a good sear on it and what that does is trap the juices inside instead of oozing out while they are cooking.
Temperature
Another thing is the temperature of the meat. Now long ago, people said you need to cook pork chops to the temperature of 165-170. Y'all — that meal will be dry as dust if you do that!
According to Food Network, pork should be cooked to an internal temperature of 145-150 degrees for the ultimate tasting porkchop — and I tend to agree with them.
So — get you a meat thermometer — because you cannot read minds.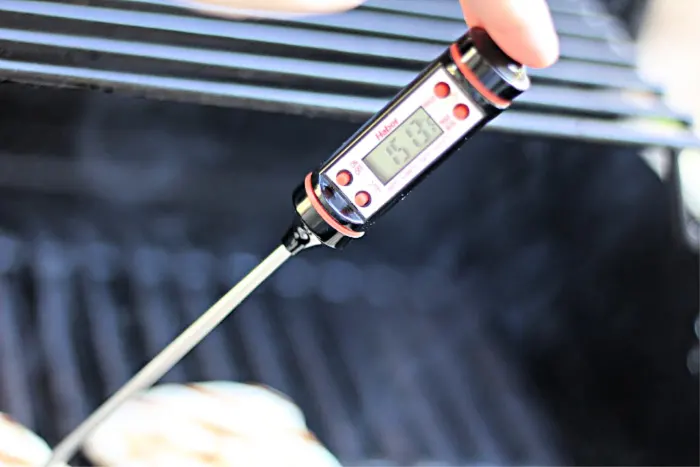 Once the meat has reached the perfect temperature — pull it off the grill. And this brings me to the final tip for grilling the perfect pork chops.
Resting
You need to let your meat rest once you pull it off the grill. A good resting time is about 15 minutes. You don't want the meat so hot you can't eat it anyway.
This gives those juices time to redistribute through the chops making your meat moist and flavorful. If you cut into them right as they come off the grill, all those beautiful juices you worked so hard to sear inside the meat, will come running out onto your plate.
Be patient and wait.
When you're done, you will have pork chops that are out of this world!
Yield: 4 people
How to Grill the Perfect Pork Chops
This recipe will show you how simple and easy it is to make perfect grilled pork chops every single time!
Ingredients
4 each Center cut pork chops boneless (or your favorite cut of pork chop)
2 cups water
1/3 cup salt
1/3 cup sugar
2 cloves garlic smashed
1 tablespoon peppercorns
1/4 cup fresh chopped parsley or cilantro
Instructions
For the Brine
To make the brine, combine water, salt, sugar, garlic, and peppercorns in a medium saucepan over medium heat. Stir until salt and sugar have dissolved completely.
Remove from the heat and let cool. Add the parsley. Once the brine has cooled, place the pork chops in a gallon size zip-top bag or sealable container and pour the brine over them. Seal and refrigerate for 30 minutes up to overnight.
To Grill Pork Chops
When ready to grill, heat the grill to medium-high heat. Remove the pork chops from the brine. Discard the brine.
Pat the pork chops dry with paper towels. Grill 4 to 5 minutes on each side or until a meat thermometer reads between 145°F and 155°F.
Remove from the grill and allow the chops to rest for about 15 minutes before serving.
The Ohio Pork Council and the Ohio Hog Farmers are doing their best to educate readers on the beauty that is pork. Believe me when I say that if pork is cooked right, you will fall in love with the taste.
And I love that the Ohio hog farmers really take care of their pigs. They are treated humanely and do not give their animals added hormones. To learn more about the cuts of pork available and what each label means, you can visit here.
What is your favorite pork recipe? I would love to know!
Enter to Win
One lucky reader is going to win this adorable Le Creuset baking dish.
Use the Giveaway Tools form below to enter.