This Mint Mocha Iced Coffee is one of the best drinks we have ever made!
Our mint bush has been growing crazy this summer. We have been using it in everything from Watermelon Cucumber Feta Salad to this amazing drink using our Cold Brew Coffee Concentrate.
Making this Mint Mocha Iced Coffee is simple and easy and one of the most refreshing drinks you will make all summer long.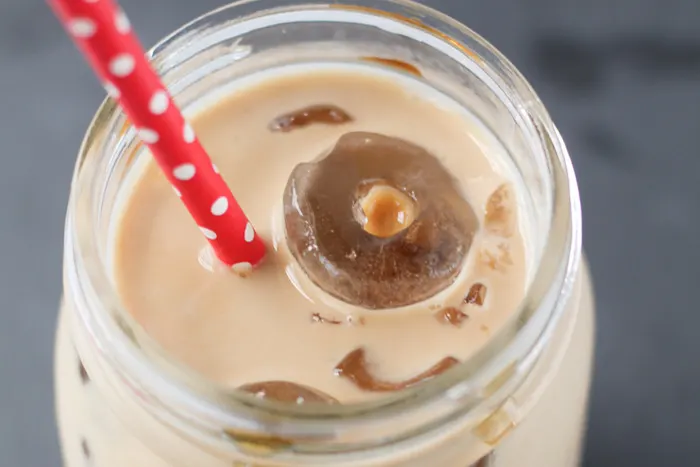 How to Make a Mint Mocha Iced Coffee
To start with this drink, you need to make sure to have some cold brew coffee concentrate on hand. We make our own and keep it in the fridge, but you can totally use what you get from the store.
The first step you need to do is to bruise your mint leaves a little. This is going to release those delicious oils into your glass.
In the bottom of our glass add some mint leaves — we use about 5 or 6.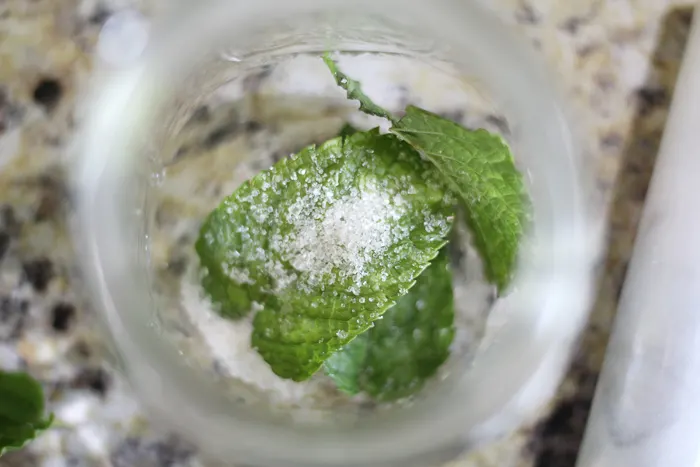 Then top it with some sugar. This is more or less to taste. If you like your coffee really sweet, use more sugar. If not, use less sugar.
Now, with a wooden spoon handle or a pestle, stab at your leaves allowing the sugar to penetrate them. Just a few stabs will be all you will need. Your leaves should look like this when they are bruised well.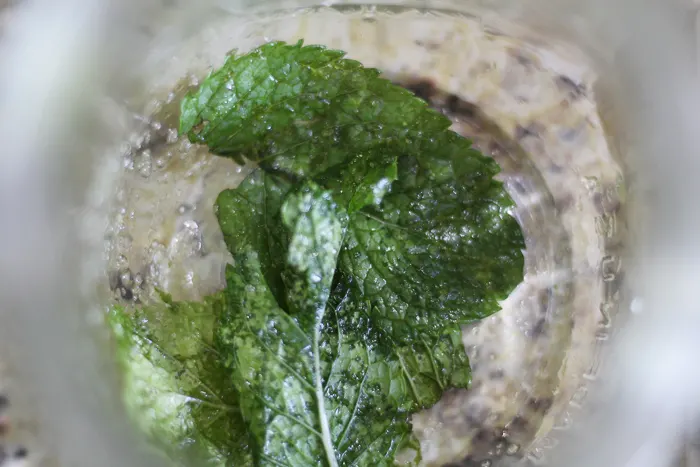 Now, top your glass off with some ice.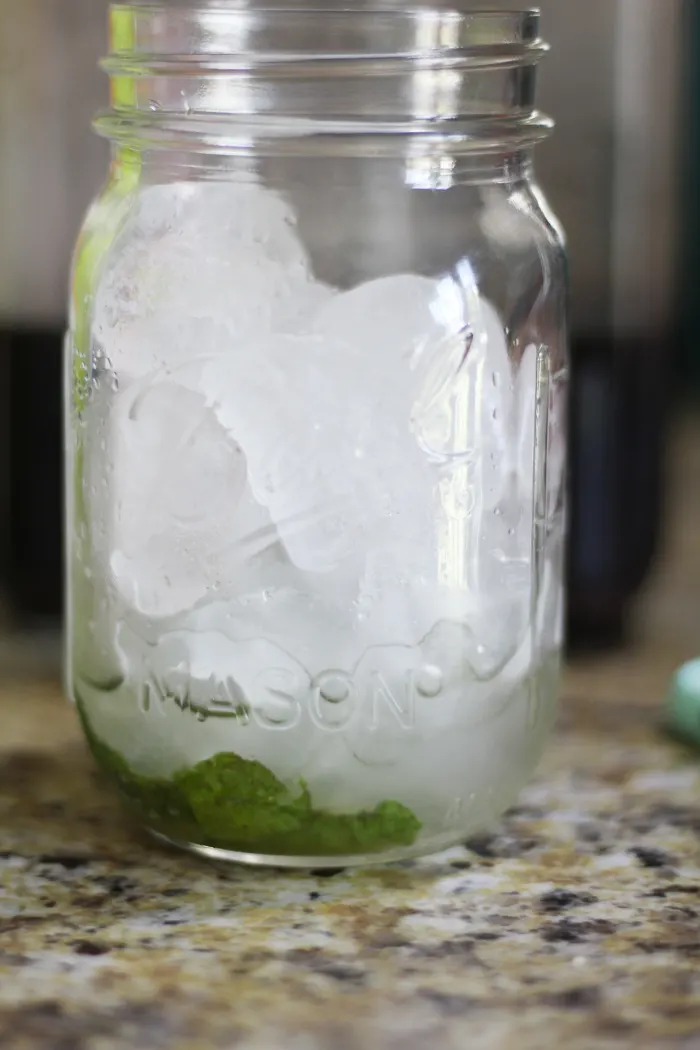 It's ok that the mint leaves stay in the bottom of the glass. They will continue to infuse your coffee.
Now, fill your mason jar 1/4-to 1/2 full with the coffee concentrate. If you do not like super bold coffee, you might want to add in a bit of water here to water it down. We like full-bodied flavor coffee so we leave our full strength.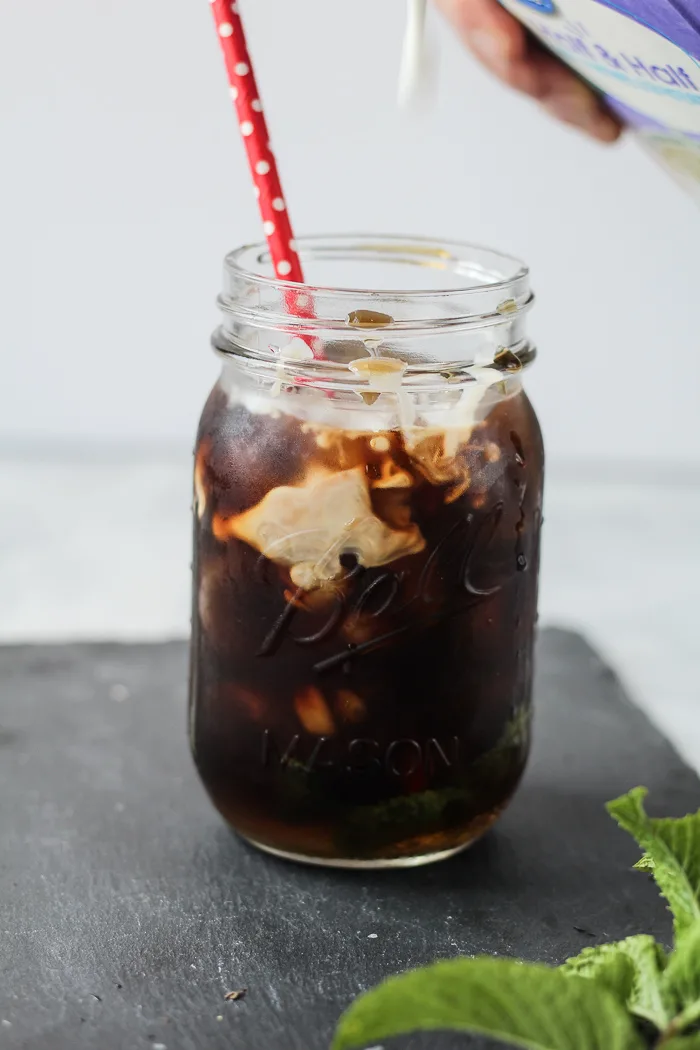 Now, add to your coffee a couple of teaspoons of chocolate sauce. We make this homemade too, but you can totally use what is at the store.
Then, pour in your half in half to top it off.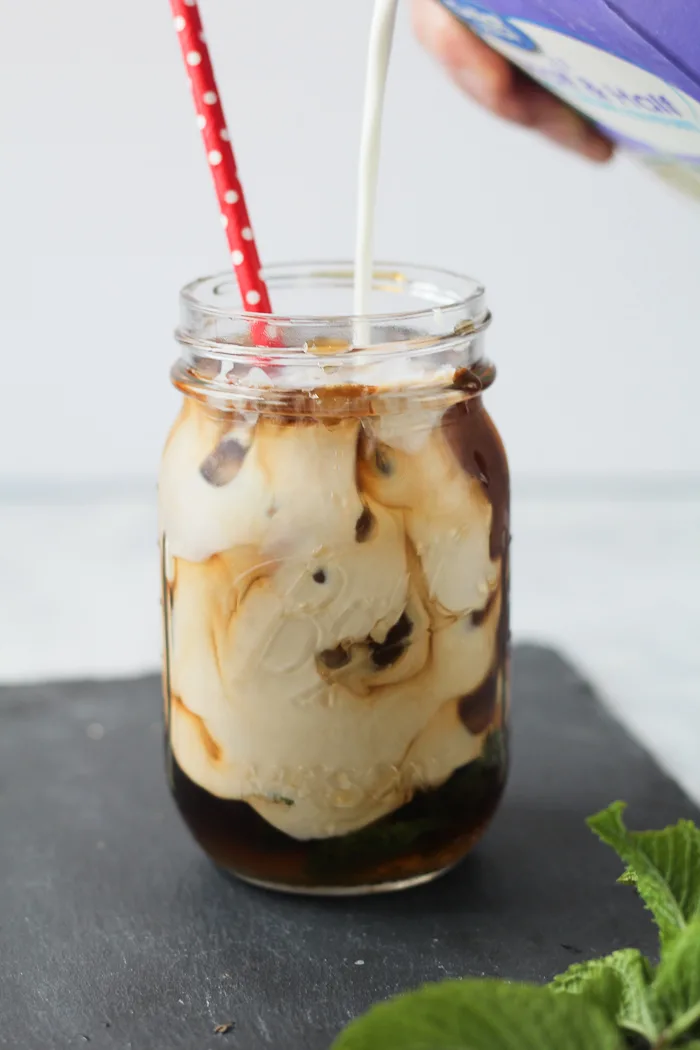 Mix everything together and enjoy!
Seriously — this has become our go-to coffee drink of the summer. The fresh taste of the mint in the coffee is simply refreshing!
Looking for more coffee recipes? Check these out!
Also, be sure to visit the Best Coffee Recipes page on my blog for more inspiration. I even have a list of some of my favorite coffee accessories.
Yield: 4 cups
Mint Mocha Iced Coffee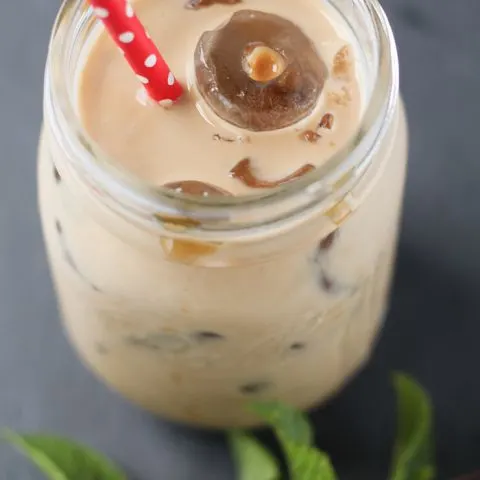 This Mint Mocha Iced Coffee will become your new favorite drink of the summer
Ingredients
Ice
5 or 6 mint leaves
Sugar to taste
Cold brew coffee concentrate
Water (optional)
half and half (to top off your coffee)
Instructions
In a masoon jar, combine your sugar and mint leaves. Muddle them until they are bruised.
Add in 2 teaspoons of chocolate sauce.
Top off your glass with ice.
Fill your glass with 1/2 or 1/4 with cold brew coffee concentrate. To mellow out the coffee flavor, add some water if you would like.
Top the coffee off with half and half and stir together.
Enjoy!
Nutrition Information:
Yield:
8
Serving Size:
1
Amount Per Serving:
Calories:

8
Total Fat:

0g
Saturated Fat:

0g
Trans Fat:

0g
Unsaturated Fat:

0g
Cholesterol:

1mg
Sodium:

6mg
Carbohydrates:

1g
Fiber:

1g
Sugar:

1g
Protein:

0g