I have a new found love for vegetables right now. One of my new favorites is roasted butternut squash.
It can be a hard veggie to maneuver, but if done right and cooked right you will find it to be the most delicious thing you have ever put into your mouth.
This veggie goes from being one of the hardest and weirdest looking pieces of food, to an amazing succulent side dish.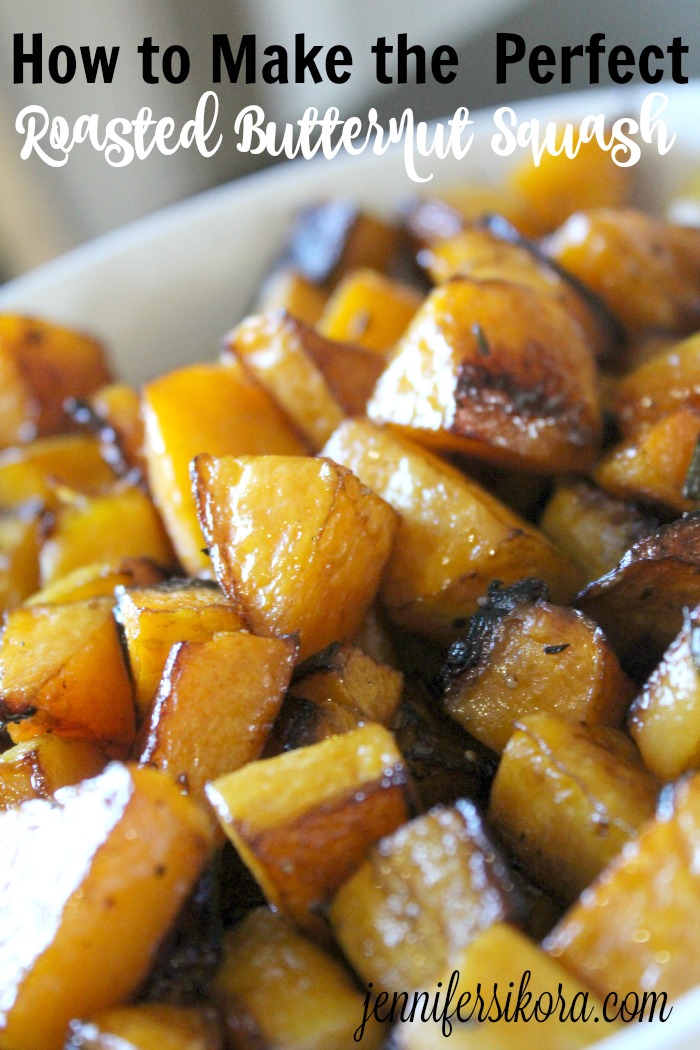 To start, just buy you a butternut squash from the store. Bring it home, wash it and put it on your cutting board.
Then cut off the top, because who needs that little stem anyway, right? Be sure to also remove any stickers that you might find on it because you will be peeling this.
Then, with a knife work on cutting your butternut squash in half. It will take some doing but just wiggle your knife back and forth until you get to the bottom.
Once you get to the bottom and you cut it in half, then you will need to scoop out the little seeds and pulp in the round section like a pumpkin.
Then with a vegetable peeler, flip your butternut squash over to the skin side and begin to peel of the outer layer. This step is really easy and shouldn't take anytime to do. Don't use a knife. Just get you a peeler — they work best for things like this.
Once you get it all peeled, the flip it back over where your hole is face down. Then with a knife begin to slice it into about 2″ strips.
Then, just cube it up. I try to make 2″x2″ pieces. Or if that is too big, you can do 1″ pieces.
Once you get it all cubed up, now the magic happens!
Take your butternut squash and place it on a pan and drizzle with olive oil. Season with salt and pepper and then take some fresh herbs and chop up to sprinkle on the squash.
I still has some fresh rosemary and thyme so I used those. While it is cooking, it will smell amazing. I also drizzle on a little balsamic for some tang.
Once you sprinkle on the rosemary, toss to coat and then cook in a 400 degree oven for about 20 minutes making sure to flip it and then cook it for an additional 20 minutes until it starts getting soft, brown, and caramelized.
Then, put it in a serving bowl and enjoy! I used mine as a side dish with Brussel sprouts when I made this amazing Pomegranate BBQ Basted Cornish Hens and my Coca-Cola Soaked Ham. And for dessert, I served my Pioneer Woman Lemon Bars.
Yield: 3 cups
Perfect Roasted Butternut Squash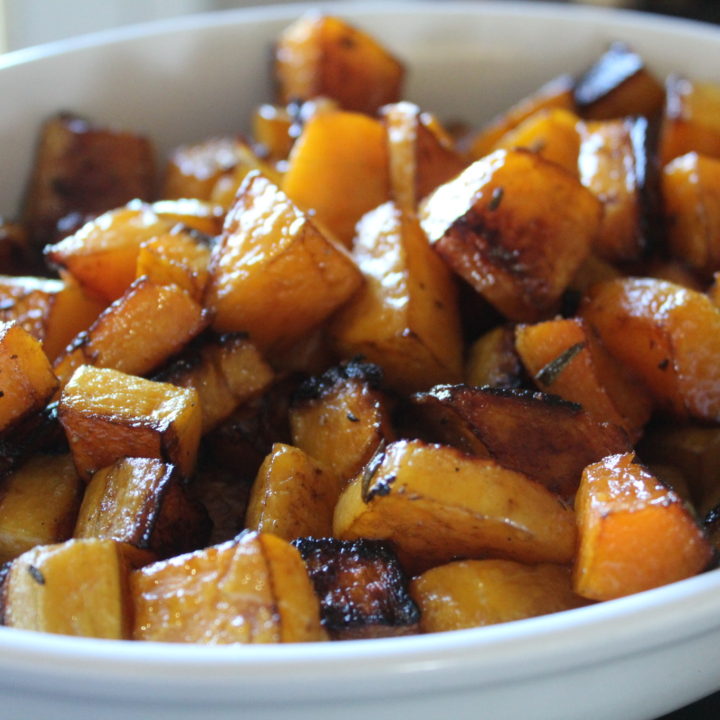 This roasted butternut squash is simple and easy to make and so full of flavor.
Ingredients
2 lbs. butternut squash cubes, about 6 cups
2 tablespoons of extra virgin olive oil
1 tablespoon + 1-2 teaspoons of balsamic vinegar
1 teaspoon very finely chopped fresh rosemary
kosher salt to taste
fresh ground black pepper to taste
Instructions
Preheat oven to 400 F. Mix together the olive oil, 1 T balsamic vinegar, and rosemary, then toss squash cubes with the mixture.
Arrange the squash on a cookie sheet or dish large enough to hold it in a single layer. Roast 20 minutes, then turn squash and roast about 20 minutes more, or until squash is very soft and starting to get slightly caramelized.
Remove from oven and toss squash with additional 1 tsp. balsamic vinegar, kosher salt, and pepper.
Nutrition Information:
Yield:
6
Serving Size:
1
Amount Per Serving:
Calories:

124
Total Fat:

5g
Saturated Fat:

1g
Trans Fat:

0g
Unsaturated Fat:

4g
Cholesterol:

0mg
Sodium:

61mg
Carbohydrates:

22g
Fiber:

7g
Sugar:

4g
Protein:

2g