This recipe for Spaghetti Squash Fritters with Tomato Basil Salad is the perfect breakfast or brunch dish. It's light and healthy and so filling!
A couple of weeks ago Kayla was in the kitchen experimenting with spaghetti squash and came up with this amazing recipe. She is so good at taking food and throwing it together and out comes a gorgeous recipe.
The tomato basil salad that covers the spaghetti squash fritter is so fantastic. The flavors meld so well together! Since our basil bush is going so crazy we are trying to use it in just about every dish we create these days.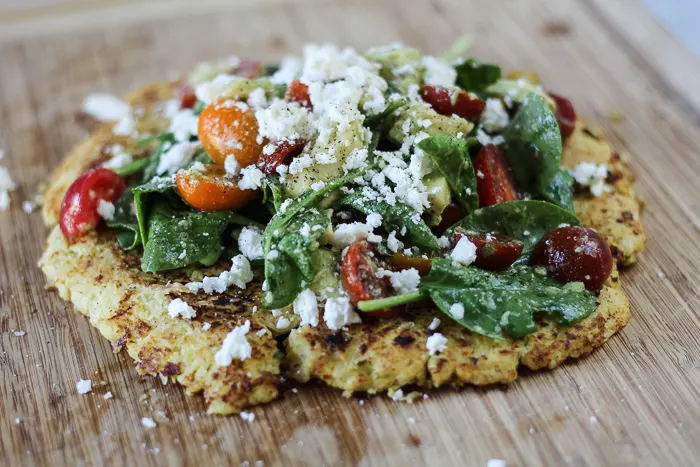 How to Make Spaghetti Squash Fritters
To start with, you will want to cook your spaghetti squash. I like cooking mine in the Instant Pot because it cuts down on the time by 60%!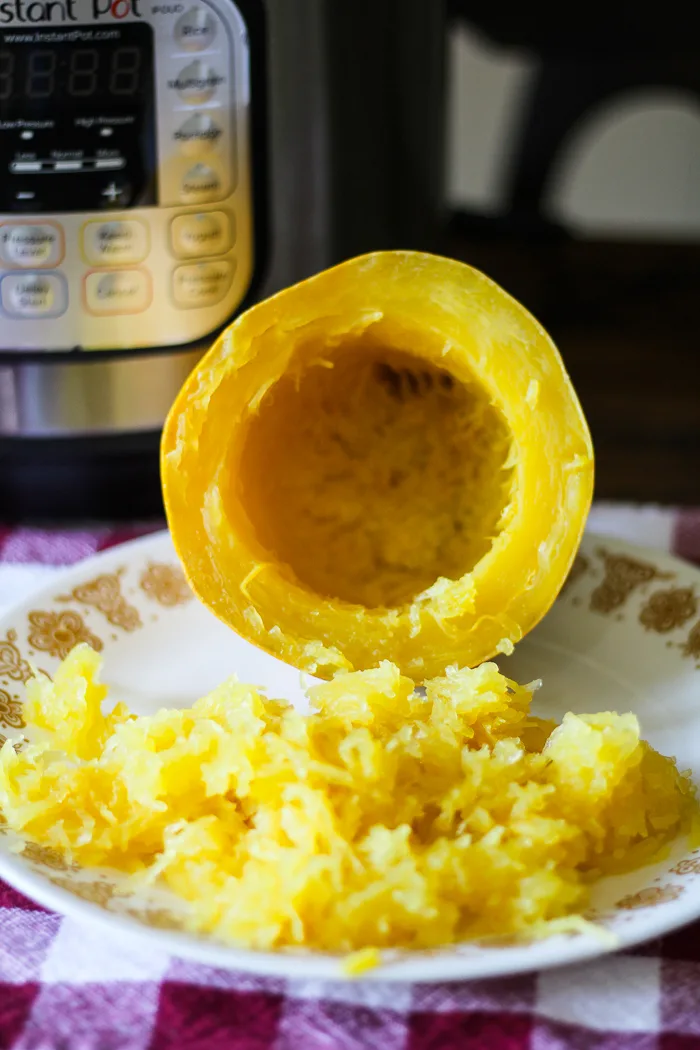 Once your spaghetti squash gets done cooking, you will take half of it and scoop it out into a bowl. Add to that 2 eggs, salt, pepper, 2 garlic cloves minced, 1/2 cup of fresh grated Parmesan Cheese, and some chopped green onions.
Mix all together.
Heat a skillet over medium high heat and place all the spaghetti squash into the pan. Press down with a spatula like you are making it a pancake.
Once the side is brown and toasted, use a plate on top of the skillet and invert onto the plate and then slide back into the skillet to brown the other side.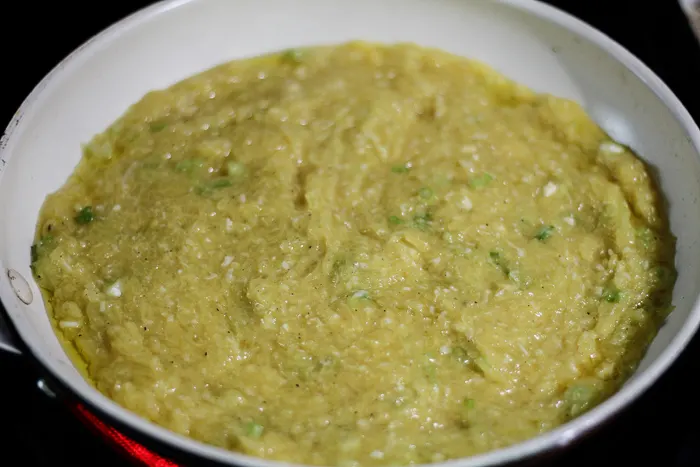 Once it is brown, slide the fritter onto a plate or you can use a cutting board like we did.
How to Make a Tomato Basil Salad
Combine 1/2 of an avocado diced, 1/3 cup of cherry tomatoes sliced in half, 3 tablespoons of olive oil, juice of half of a lemon, 2 basil leaves, chopped, salt and pepper.
We decided to add into our salad a handful of spinach and arugula mix as well as top it with a sprinkling of Feta cheese. If you want to find another great recipe using tomato and basil together, check out this delicious Healthy Creamy Tomato Basil Chicken Meal Prep recipe.
That's it! This is one of the most perfect and delicious brunch ideas that Kayla has ever come up with.
You can serve it whole to the table and let everyone take a slice, or you can sllice it and serve it to your guests just like a piece of pie.
Yield: 8 slices
Spaghetti Squash Fritters with Tomato Basil Salad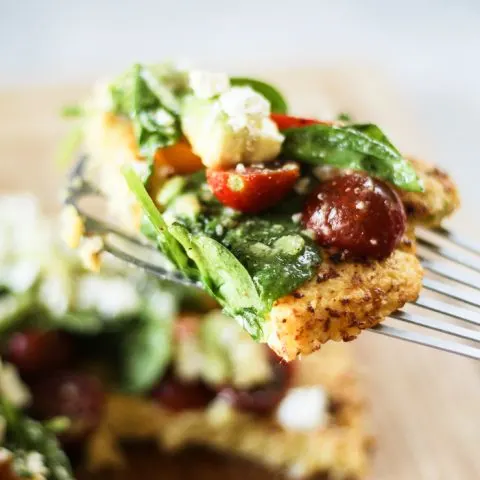 This spaghetti squash fritter is the perfect addition to any brunch meal you are going to prepare this year.
Ingredients
For the Fritter
1/2 of a cooked spaghetti squashed removed from the ​hull
2 eggs, beaten
1/4 cup of Parmesan Cheese
2 garlic cloves, minced
2 tablespoons of green onion chopped
salt and pepper to taste
For the Tomato Basil Salad
1/2 of an avocado diced
1/3 cup of cherry tomatoes sliced in half
juice of 1/2 a lemon
2 basil leaves chopped
3 tbsp olive oil
Garnish (Optional)
Feta Cheese
Spinach and Arugula mix
Instructions
In a bowl, mix together all the ingredients for the spaghetti squash fritter.
In a skillet on medium, add in a tablespoon of oil and pour your fritter mixture into the pan.
Let it cook for about 7 minutes or until golden brown.
Take a plate and invert it onto the skillet. Flip the fritter out onto the plate and then slide it back into the frying pan so that the other side can brown as well.
Cook for about 3-5 minutes on the other side until it is nice and crispy.
Slide out onto a plate and set aside.
In another bowl combine all the ingredients for your tomato basil salad. You can add in the optional ingredients if you want at this point.
Sprinkle with Feta Cheese and enjot!
Nutrition Information:
Yield:
8
Serving Size:
1
Amount Per Serving:
Calories:

131
Total Fat:

10g
Saturated Fat:

2g
Trans Fat:

0g
Unsaturated Fat:

7g
Cholesterol:

52mg
Sodium:

180mg
Carbohydrates:

8g
Fiber:

2g
Sugar:

4g
Protein:

4g
For More Delicious Brunch Ideas, check out these recipes:
What is your favorite way to use Spaghetti Squash?