Want a delicious and Irish inspired bread to have with your St. Patrick's day dinner? This Irish Soda Bread will fit the bill perfectly!
If you are like me and love to bake around any holiday, St. Patrick's Day is no different.
Most people are making a huge batch of corned beef and cabbage, and while that is the case, they are going to need good bread like this Irish Soda Bread recipe.
What is Irish Soda Bread?
Irish Soda Bread is a quick bread that does not require any yeast. Instead, all of its leavenings comes from baking soda and buttermilk.
This gorgeous bread has a beautiful golden-brown crust. It also has a dense, tight crumb.
For me, this is the most tender and super soft bread. The crust is nice and crisp when it comes out of the oven and it is SO good.
A traditional loaf of Irish Soda Bread is made without raisins so those are optional. If you use raisins, then you might hear someone refer to it as a "spotted dog".
This recipe uses just a couple of tablespoons of sugar, so it's not overly sweet. It's goes great with savory dinners like my Slow Cooker Beef Stew or you can serve it with my homemade blackberry jam.
What really puts this bread over the top is the secret ingredient — buttermilk! Buttermilk reacts with the baking soda to provide the bread's leavening. It also adds wonderful flavor!
Here's a couple of tips you need to know —
Do not overwork the dough. When you are mixing together, don't use a mixer — do it manually. I use a wooden spoon with mine and it works great.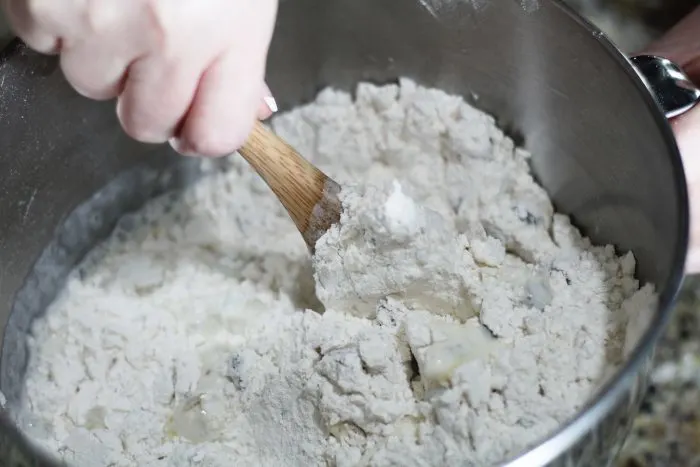 Score the top of the dough with an "X" before baking. This helps the center bake through.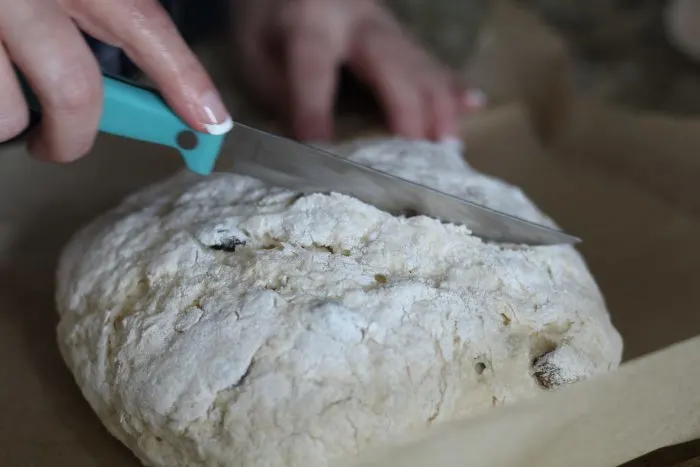 So there ya go! A simple and easy bread recipe that is perfect for St. Patrick's Day!
Looking for other fun bread recipes to make? Check these out
Yield: 1 loaf
Irish Soda Bread- A St. Patrick's Day Recipe
This Irish Soda Bread is perfect for soups, stews, and St. Patrick's Day!
Ingredients
4 to 4 1/2 cups flour
2 Tbsp sugar
1 teaspoon salt
1 teaspoon baking soda
4 Tbsp butter, cubed
1 cup raisins
1 large egg, lightly beaten
1 3/4 cups buttermilk
Instructions
Preheat the oven to 400 degrees.
Whisk together the 4 cups of flour, sugar, salt, and baking soda in a large mixing bowl.
Using a pastry cutter, work the butter into the flour, mixing until it resembles a coarse meal
Gently stir in the raisins.
Make a well in the center of the flour mixture. Pour the beaten egg and buttermilk into the well, and combine with a wooden spoon until the dough is too stiff to stir.
Dust your hands with flour, then gently knead the dough- just enough to form a rough ball.
If the dough is too sticky to work with, add in a little more flour.
NOTE: Do not over-knead! Your bread could become tough if you over-work it.
The dough will be a little sticky, like biscuit dough.
Transfer the dough to a floured baking sheet or a baking stone (unfloured) and shape it into a round loaf. Using a serrated knife, score the top of dough about an inch and a half deep in an "X" shape.
Bake until the bread is golden and the bottom sounds hollow when tapped, about 45 minutes. Check for doneness by inserting a long, wooden skewer into the center of the loaf. If it comes out clean, it's done.
To keep your bread from getting too dark, be sure and tent it during the last 10 minutes of cooking.
Serve your bread warm with a healthy size portion of corn beef and roasted veggies.
Nutrition Information:
Yield:
20
Serving Size:
1
Amount Per Serving:
Calories:

470
Total Fat:

4g
Saturated Fat:

2g
Trans Fat:

0g
Unsaturated Fat:

1g
Cholesterol:

16mg
Sodium:

234mg
Carbohydrates:

94g
Fiber:

3g
Sugar:

7g
Protein:

13g
What will you be fixing for St. Patrick's Day this year?