I was invited to attend Clay Cooper's Country Express as part of a media trip to Branson. This is in partnership with Stone Castle Hotel while I attended the #BloggingBranson Event in exchange for my coverage.
No other compensation was provided and all additional expenses were my own. All views shared are 100% my own.
We were invited on a press trip to Branson, Missouri. I had no idea what to expect this time around. I got the itinerary and immediately started checking out all the shows and attractions we were going to visit.
Of course, I wanted badly to see Dolly Parton's Stampede. However, the first show that caught my attention was Clay Cooper's Country Express. This is a show that is full of entertainment, laughter, and just plain old good music.
The name of this Live Branson Show may fool you because it says "country" in the name. While they do perform some of THE BEST country music, they also do tributes to some of my favorite eras and bands. They sang songs from Queen, Boy bands, girl power, today's top hits, and more!
Clay Cooper's Country Express – Get Up Close and Personal with this #1 Branson Theater Show
The Comedy Will Leave You In Stitches
Being able to visit a show and leave with your stomach hurting because you laughed so much is one of the ways that I can tell if it's worthy of being seen over and over again.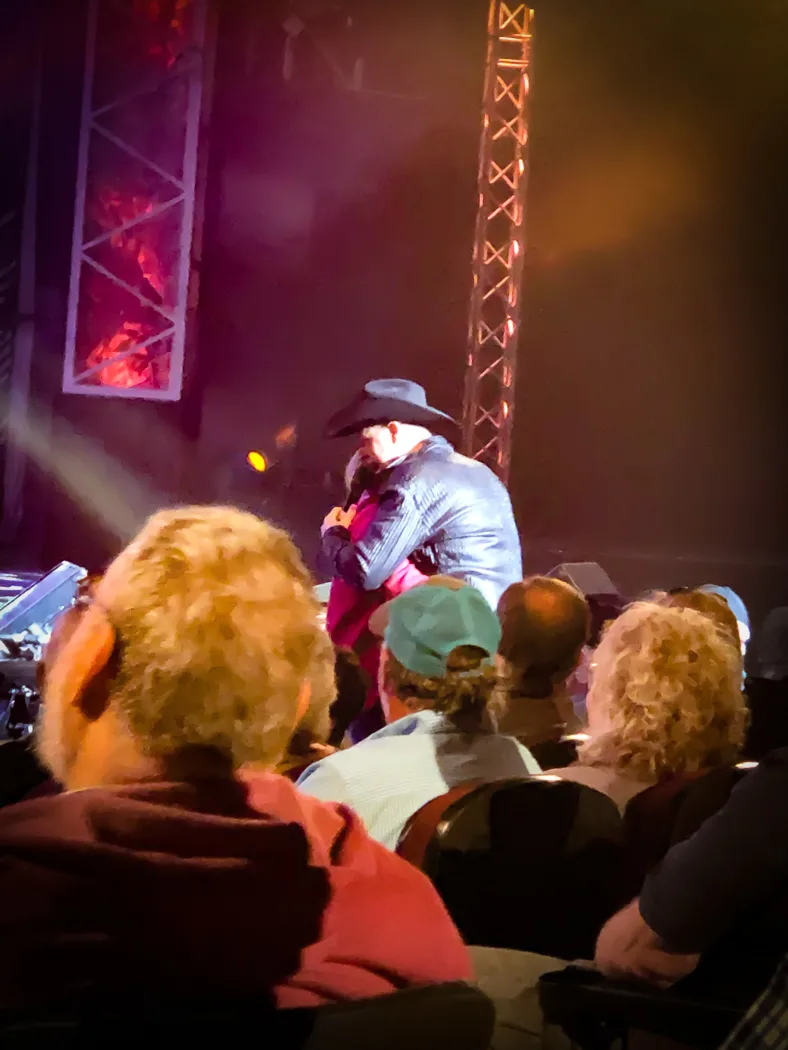 After watching Clay's show, I wanted to go back again and again and again. We had the best time watching Clay. He is just as hilarious off stage as he is on stage.
The show starts with Matt Gumm and his movie-making act.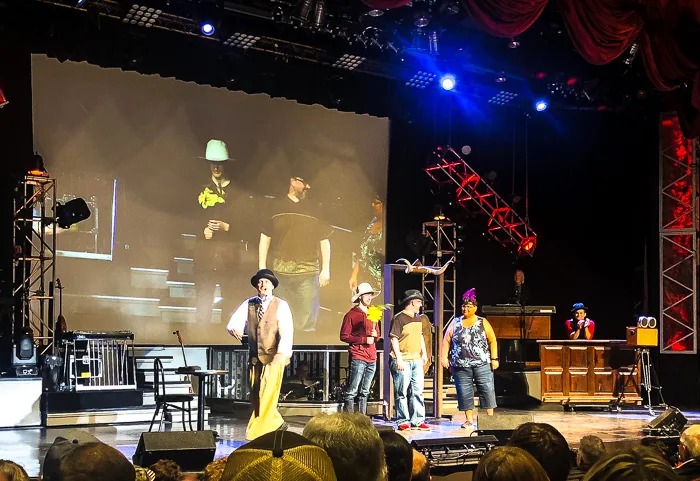 He is so hilarious and will keep you laughing from the beginning of this act to the end. What's even funnier is that he pulls up audience members (from young ones to old ones) and gets them interacting with each other to really bring home the laughter.
Not only that but all throughout the show, Clay connects with his audience and really gets in there to make their experience one to remember. For instance, Pat and Cal Parkenfarker will forever be engrained in my mind.
Clay had so much fun giving it to ol' Cal, but the best part and that's what made this so hilarious, is that Cal was giving it right back!
The audience roared with laughter at Cal's new nickname — Stud Muffin. He even has the "draws" to prove it!
This Branson Show is For Everyone
When I say that this show is for everyone, I mean it. I have been to a lot of theatre shows before, but this was THE FIRST time that I have seen a group of high school students — over a hundred of them — so excited about a show before.
They were hooping and hollering and made me even more excited to see them getting in on the action as well.
I looked around at the audience — at the faces — at the smiles and laughter — at all the different age groups represented and it made me excited to share about all that Clay and his family do to make this show an excellent fun-filled adventure for everyone involved!
The Music is So Amazing that You Won't Be Able to Sit Still
I loved every single piece of music that was included in this entertaining show. They did tributes to George Strait, David Allen Coe (this brought me wayyyyy back to my childhood), The Judds, Bruno Mars — and NSync.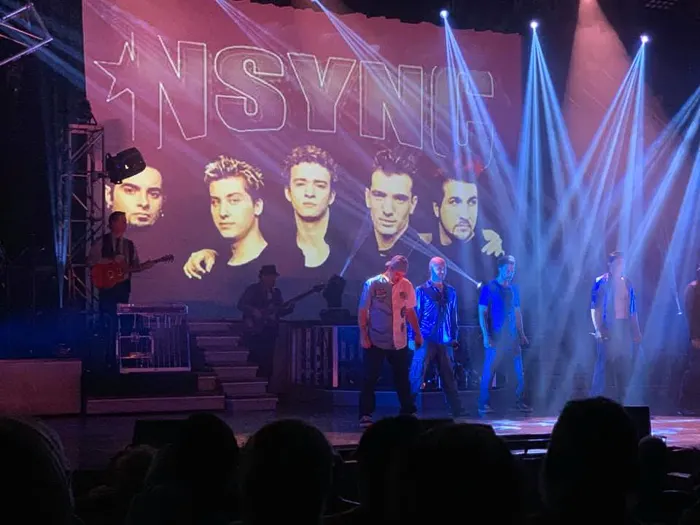 If you are a mover and a shaker like me, when NSync's "Bye, Bye, Bye" comes on, there is NO WAY you can sit still. You can always tell the women in the group who grew up on those boy bands because let's face it — we were all doing those moves together!
Comfy Seats and a Great View No Matter Where You Sit
The way that the theatre is laid out, there is a great view no matter where you sit! And my hubby and I were pleasantly surprised with how big the seats were, making it super comfortable for him to enjoy every part of the show — even the dancing acts which blew me away!
It Truly is a Family Affair
All throughout the show, you will see Clay, his wife Tina, and both of their boys — Caden and Colten — who also perform. But not only that, you will see other people who have joined their team — but to Clay and his wife, everyone is family and you can tell that by the way that they talk about each other.
When intermission comes, you may notice that many of the performers are out running concessions, selling tickets, cd's and more.
Like I said, it is truly a family affair and everyone gets involved!
Stick Around and Meet Clay and the Cast!
I've been to a lot of shows where many of the acts duck off back stage once the show is over and you never see them again. Not Clay and the other 23 cast members.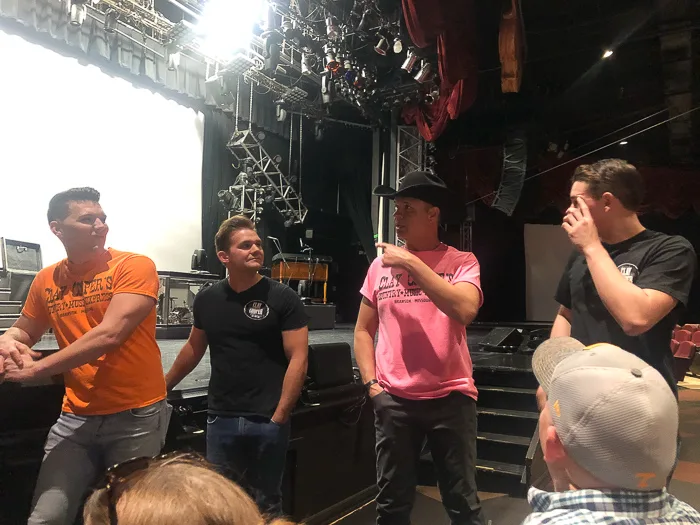 They love to meet the audience and fans, so after the show if you stick around, you can go down front and talk to Clay and Tina and the rest of the cast.
We got to ask them questions about the business and their personal life and it just really made it a more personal connection for me to learn more about him and the people in the show.
The one thing I learned above all else is that Clay Cooper is a one of a kind stand up guy. He oozes authenticity and love for what he does and you can tell it. He is passionate about his work. His wife is one amazing woman (I still don't know how she does it all!) and you will simply fall in love with them and Clay Cooper's Country Express from beginning to end.
Grab Your Tickets to Clay Cooper's Country Express
Adult tickets run $40 each, teen tickets are $20, kids age 4-12 are $18 and 3 and under are free. If you see a show, be sure and save your stub. You can present it at the box office for $7 off another show that is held at the Clay Cooper Theatre.
They have SO MUCH to see here! I cannot wait to go back again.
Stay At Stone Castle and Save
When we visited Branson this time around, we stayed at the Stone Castle Hotel and Conference Center. What I loved more than anything about this hotel is that it is literally minutes from everything — including Clay Cooper's Country Express.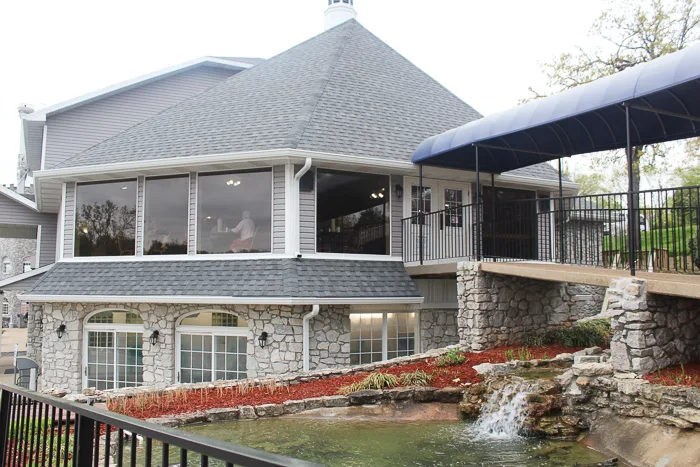 Stone Castle always has a great deal bundle going on with tickets to shows as well as lodging — and the prices are already amazing to begin with!
If you love Clay and his family as I do, be sure and request the themed room that is all about Clay Cooper. It is decorated with a special "ahem" theme that will help you "bathitate" just like Clay!
Of course, this will really help you get into the mood for an amazing Branson show!
Check Out These Other Branson, MO Attractions!