I received product samples from sponsor companies to aid in the creation of this On the Go Granola Pouches for #BacktoSchoolTreats week. All opinions are mine alone.
School mornings can be very hectic, especially if everyone is running around looking for shoes, backpacks, sweaters, or more.
I remember when my kids were little and we overslept. Those mornings trying to get everyone ready and out the door on time were so hectic.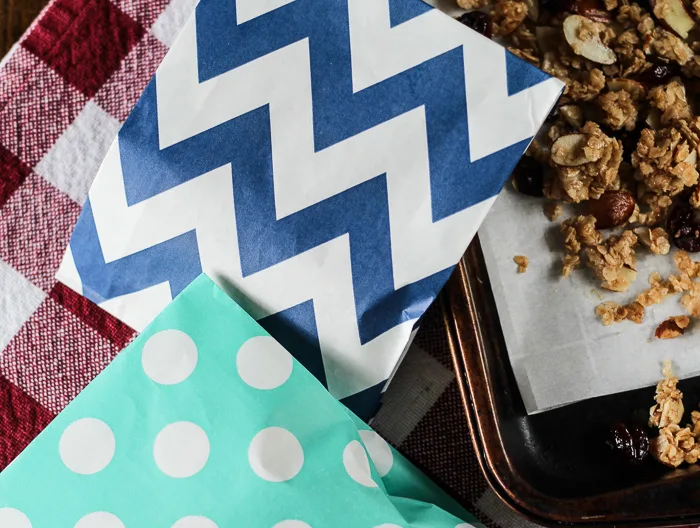 Of course, once we got in the car, it was then that I remembered I forgot to feed my kids breakfast. Yes — I was that mom. I felt SO bad because they were destined to ransack the vending machine to find something to tide them over until lunch.
Thankfully — if you have my delicious On the Go Granola Pouches handy, your kids can snack on these on the way to school — making it a much easier commute for everyone.
How to Make On the Go Granola Pouches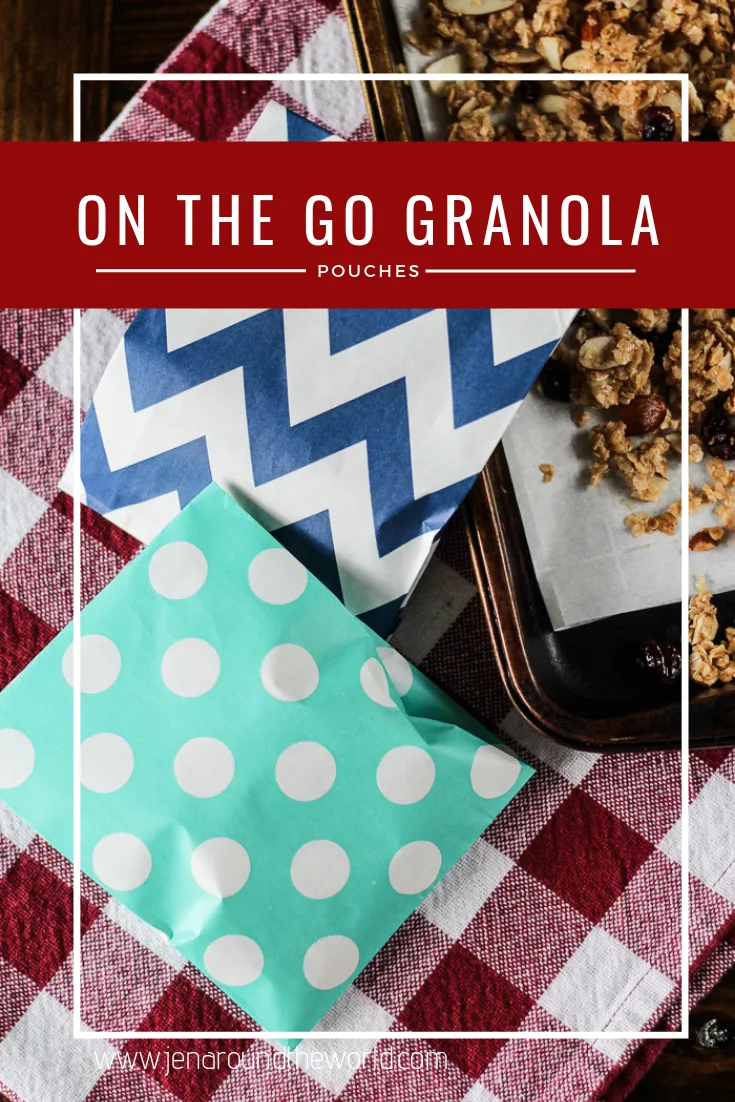 Making your own granola at home is not hard at all. In fact, it is one of the easiest things I have ever made. From start to finish, you can make a huge batch in under an hour and it lasts for weeks!
Start by mixing together your wet ingredients — oil, honey, cinnamon, and salt.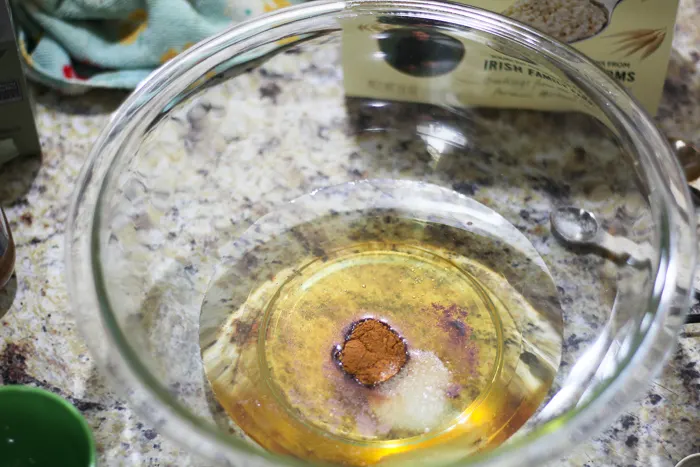 Once that is all combined, add in your oats and sliced almonds. I used Flahavan's Steel Rolled Oats. They source their oats from local growers in small batches making sure the flavor and sustainability of their oats are 100% intact.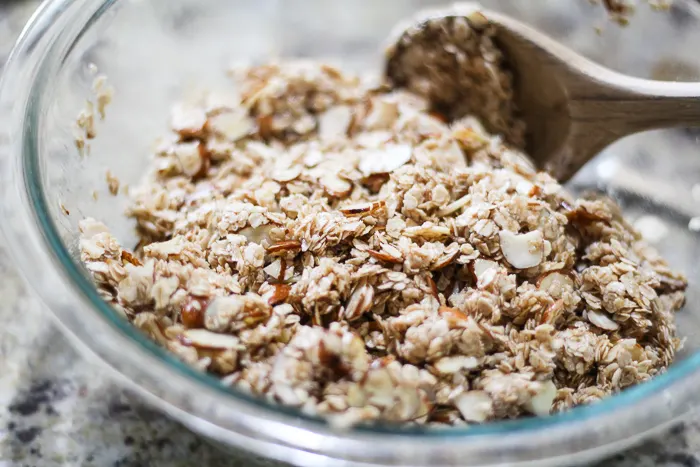 Mix everything together in a bowl. It's ok if you add a little more oats/almonds to the mix. There really is no exact measurements here.
This basic granola recipe will teach you the how to make a base for granola by cooking the oats with a little honey, some spices, and just a few additions so you end up with simple granola to eat by the handful, put in a pouch for the kiddos or in a bowl with yogurt or milk.
Once you get the granola all mixed up, put some parchment paper down on a baking sheet and spread it out evenly. Bake in a 300-degree oven for 25 minutes.
After 10 minutes of baking, remove from the oven and mix again. Then place back in the oven for the remaining 15 minutes. The granola is ready when golden-brown and the almonds have toasted — it will still feel wet coming out of the oven but will dry as it cools.
Remove from the oven and press in your dried fruit. I chose Apple Cinnamon Cranberries for mine. Then, just let it cool completely.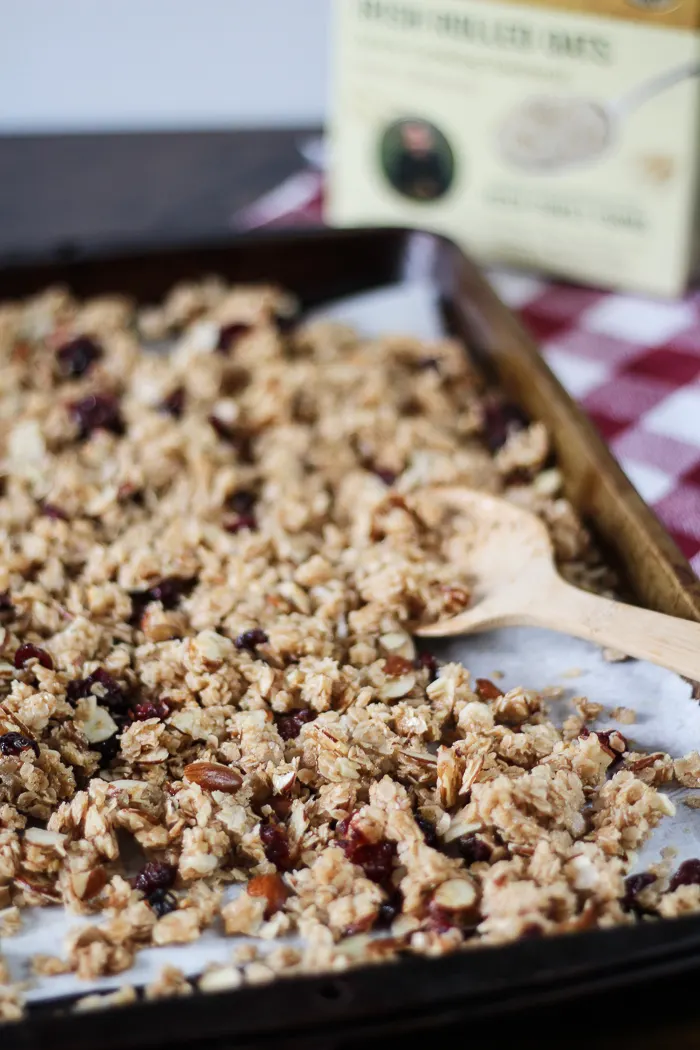 You can scoop it up or break it up to create clusters, or you can really break it up good so that there are no clumps at all. Granola can be stored in an airtight container at room temperature for up to 1 month.
Once it is done, I use little fun bags like these goodie bags from Sweets & Treats. I just fill the bags full of granola and take it with me on the go.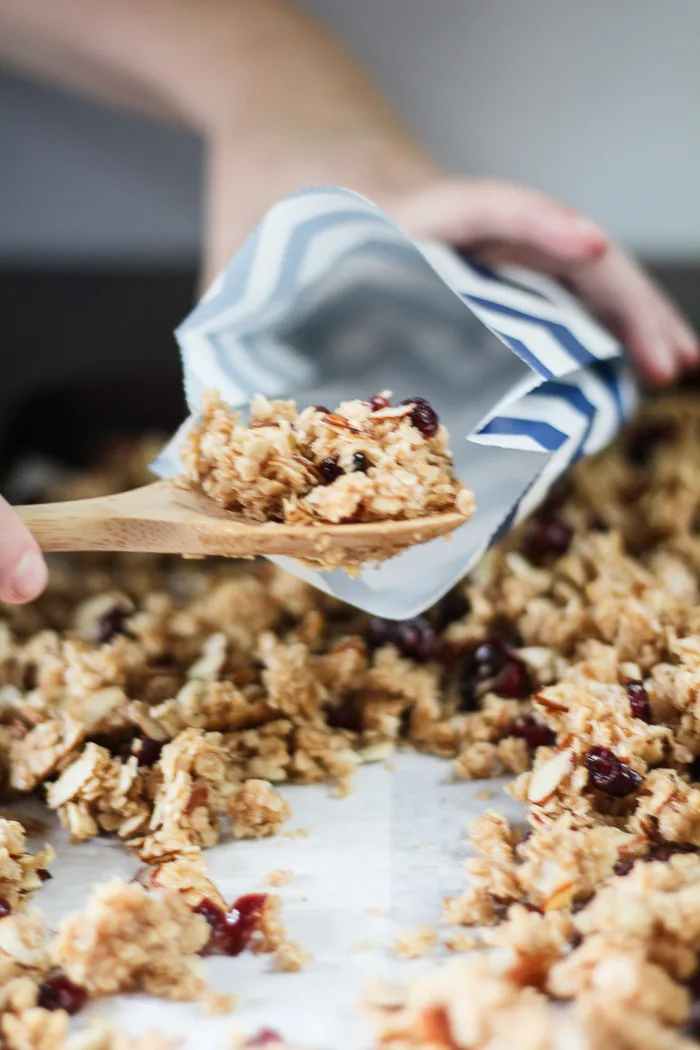 They hold up well for the day. You can get them ready right before walking out the door. Or — if you want, you can have these ready for the kids when they get off the bus.
It's a great brain food snack while they work on homework.
This granola can be bumped up with extra fruits or nuts like chia seeds, flax seeds, pumpkin seeds, quinoa, and more. The possibilities are endless!
Check out these other delicious breakfast options
Yield: 4 cups
On the Go Granola Pouches
This granola recipe is the perfect base for a classic homemade granola.
Ingredients
1/2 cup canola oil
1/2 cup honey
1/2 teaspoon ground cinnamon
1/2 teaspoon salt
3 cups Flahavan's Steel Rolled Oats
1 cup sliced almonds
1 cup dried cranberries
Instructions
Heat the oven to 300°F and line a baking sheet with parchment paper.
Whisk together in a large bowl the oil, honey, cinnamon, and salt. Place the oil, honey, cinnamon, and salt.
Add the oats and almonds right into the oil mixture and then stir to coat well.
Transfer the mixture to the prepared baking sheet and spread into an even layer. If the granola is clumpy, use a spatula to press it into the pan.
Bake, stirring halfway through, for about 20 minutes total. The granola is ready when golden-brown and the almonds have toasted — it will still feel wet coming out of the oven but will dry as it cools.
Sprinkle on the dried cranberries. To make clusters in your granola, press and tamp it down before it cools, which will help it stick together. Cool completely before storing.
When ready to take on the go, simply add some granola to paper goodie bags to take on the go.
Store in an air tight container for up to a month.
Nutrition Information:
Yield:
1
Serving Size:
1
Amount Per Serving:
Calories:

393
Total Fat:

20g
Saturated Fat:

2g
Trans Fat:

0g
Unsaturated Fat:

18g
Cholesterol:

0mg
Sodium:

121mg
Carbohydrates:

51g
Fiber:

5g
Sugar:

29g
Protein:

6g