Looking for a simple way to incorporate more fruit into your morning breakfast meals? Check out this delicious recipe for Blueberry Quinoa Breakfast Bowls.
Blueberries are so good for you and are really fun to eat. We usually add them to salads, muffins, and even sometimes in our main dishes, but they are really just as good eaten by the handful.
One cup only has 80 calories and also contains 3.6 grams of fiber per serving. Because they grow blueberries around the world, they are now available year round.
My daughter loves blueberries and because she likes them, it makes me want to make better food choices for my family, and one of the best ways to do this is through purchasing fresh produce, like these high bush variety.
Some of my favorite recipes I have made with blueberries so far are these delicious homemade blueberry muffins.
Of course, nothing tops my lemon blueberry bread. And, if you want the perfect topping for ice cream, this homemade blueberry sauce only takes 5 minutes to make.
How to Make Blueberry Breakfast Quinoa Boals
So here is what you need to make this delicious recipe!
Cook your quinoa according the package directions and set aside. I usually just go ahead and plate some in my bowl so that it is ready to go when my milk gets done.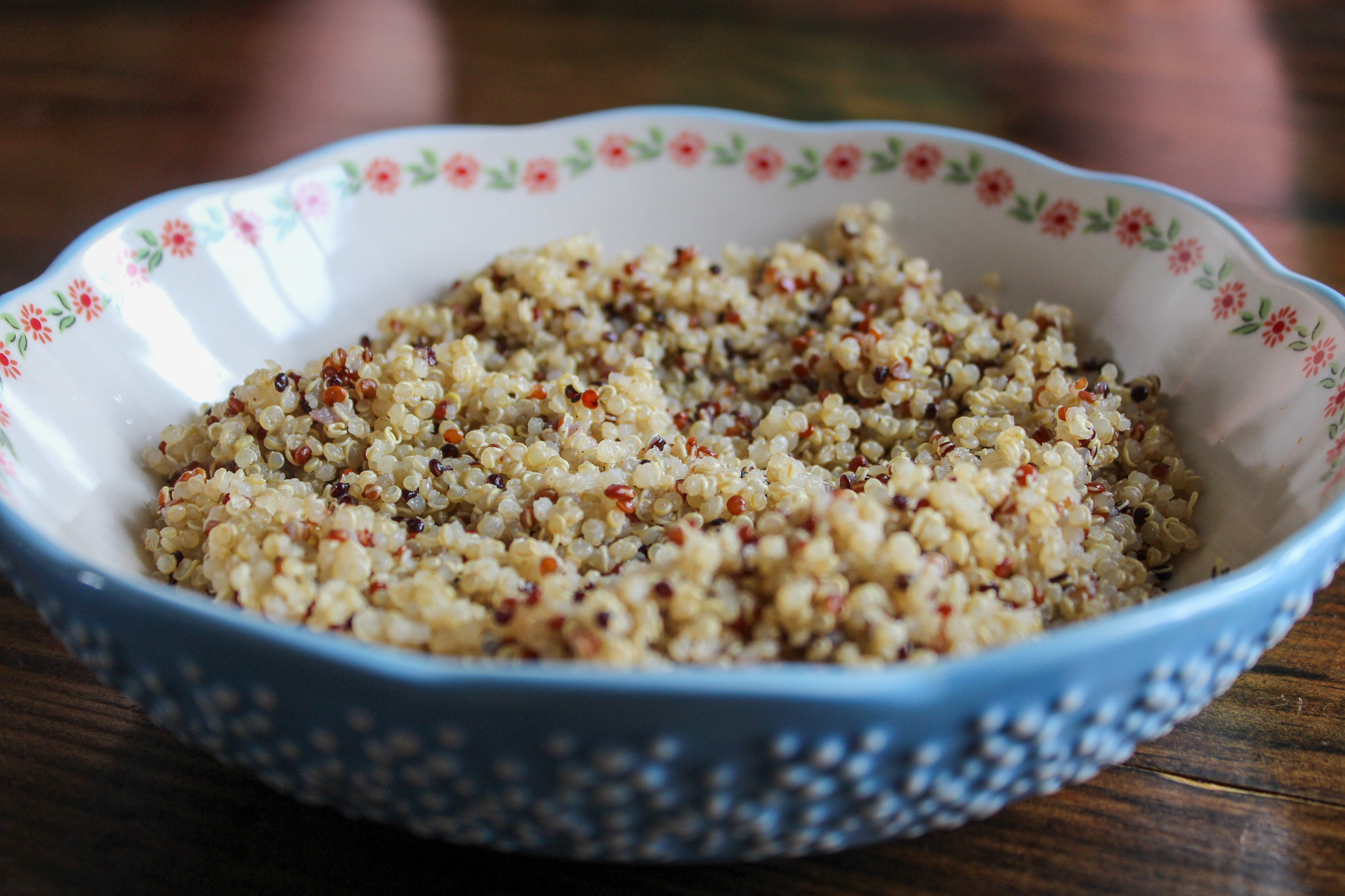 In another pot, add in your milk, cinnamon, and vanilla bean seeds from the pod until the milk is heated and warmed through.
Pour the milk over your quinoa and let it set for a minute or two.
Top with blueberries, slivered almonds, and drizzle with honey.
It is absolutely amazing! The best thing about this quinoa breakfast bowl is that if blueberries are not your favorite, just switch that out for whatever fruit is your favorite.
Check out These Other Blueberry Recipes On the Blog
How do you incorporate Blueberries into your meals? What is your favorite way to eat them?
Yield: 2 cups
Blueberry Quinoa Breakfast Bowls
These breakfast bowls are full of healthy vitamins and minerals and has the absolute best flavor out there.
Ingredients
1 cup whole milk
1/4 teaspoon cinnamon
1 vanilla bean, seeded
1 cups cooked quinoa
1/2 cup blueberries
1/4 cup sliced almonds
3 tablespoon honey
Instructions
In a sauce pan, whisk together milk, cinnamon and vanilla bean seeds. Heat until warm and heated through.
Cook quinoa according to package directions. Scoop the quinoa evenly into serving bowls. Serve immediately with heated milk mixture, topped with blueberries, almonds and a drizzle of honey.
Nutrition Information:
Yield:
2
Serving Size:
1
Amount Per Serving:
Calories:

383
Total Fat:

13g
Saturated Fat:

3g
Trans Fat:

0g
Unsaturated Fat:

9g
Cholesterol:

12mg
Sodium:

61mg
Carbohydrates:

60g
Fiber:

5g
Sugar:

37g
Protein:

11g