Green Bean Bundles are a classic Thanksgiving side dish that everyone is going to fall in love with!
My first taste of green bean bundles came about 6 years ago at a women's luncheon I attended. These things are delicious! They are wrapped in bacon and make a beautiful side dish for your holiday table. It is a favorite recipe for my whole family and we make it every year.
They are also festive and make a great appetizer as well if you don't want to use them as a side item.
However, I am serving them alongside my taters and gravy this year for Thanksgiving! It's the perfect addition to any Thanksgiving menu.
How to Make The Best Green Bean Recipe
For this recipe you will need —
2 pounds of green beans, trimmed (or 3 cans of whole green beans)
8 tablespoons of melted butter
1 1/2 tablespoons of brown sugar
3/4 teaspoon of dry mustard powder
3/4 teaspoon of Worcestershire sauce or Soy Sauce
2 cloves of garlic, minced (you can also use a teaspoon of garlic salt or garlic powder)
1/2 teaspoon of salt
1 teaspoon of ground black pepper
10 pieces of bacon strips (do not use thick-cut bacon — regular bacon is fine)
The first thing you are going to do is to blanch your fresh green beans in a boiling water bath. This helps them to get tender and keep their bright green color. Once you are done blanching the beans, blot them with a paper towel.
Of course, you can also use the whole canned green beans. The cooking process is the same, which means you can skip the blanching part. Do not use French green beans. It should be whole canned green beans.
Next, marinate the green beans in a mix of butter, brown sugar, Worcestershire sauce, garlic powder, salt, and pepper. You can make the marinade on the stove in a small saucepan or you can just do it all in one pan.
You will find that the marinade clings to the beans so that when you go to wrap them in a piece of bacon, all your spices and such stick to them.
Wrap the Beans
After the beans have been marinated, wrap them in bacon and then bake them in the oven for the perfect, delectable side dish. Make sure you get crispy bacon on the outside. This adds to the flavor.
You can add about 8-10 green beans in each bundle. Any bigger and your slice of bacon doesn't wrap as well around the beans.
You can use toothpicks to hold the bacon-wrapped green beans together, but I just did mine seam-side down and it worked perfectly without the toothpicks.
Place the little bundles in the baking dish and bake in a 400-degree oven until the bacon is crispy and cooked through. I usually bake mine in a 9×13 oven-safe dish. It works perfectly.
This green beans bundle recipe will be very tender and have amazing flavor from that delicious marinade you seasoned them with.
Also — just do everything in one pan. That way, your marinade continues to cook into the beans giving it the perfect flavor combination.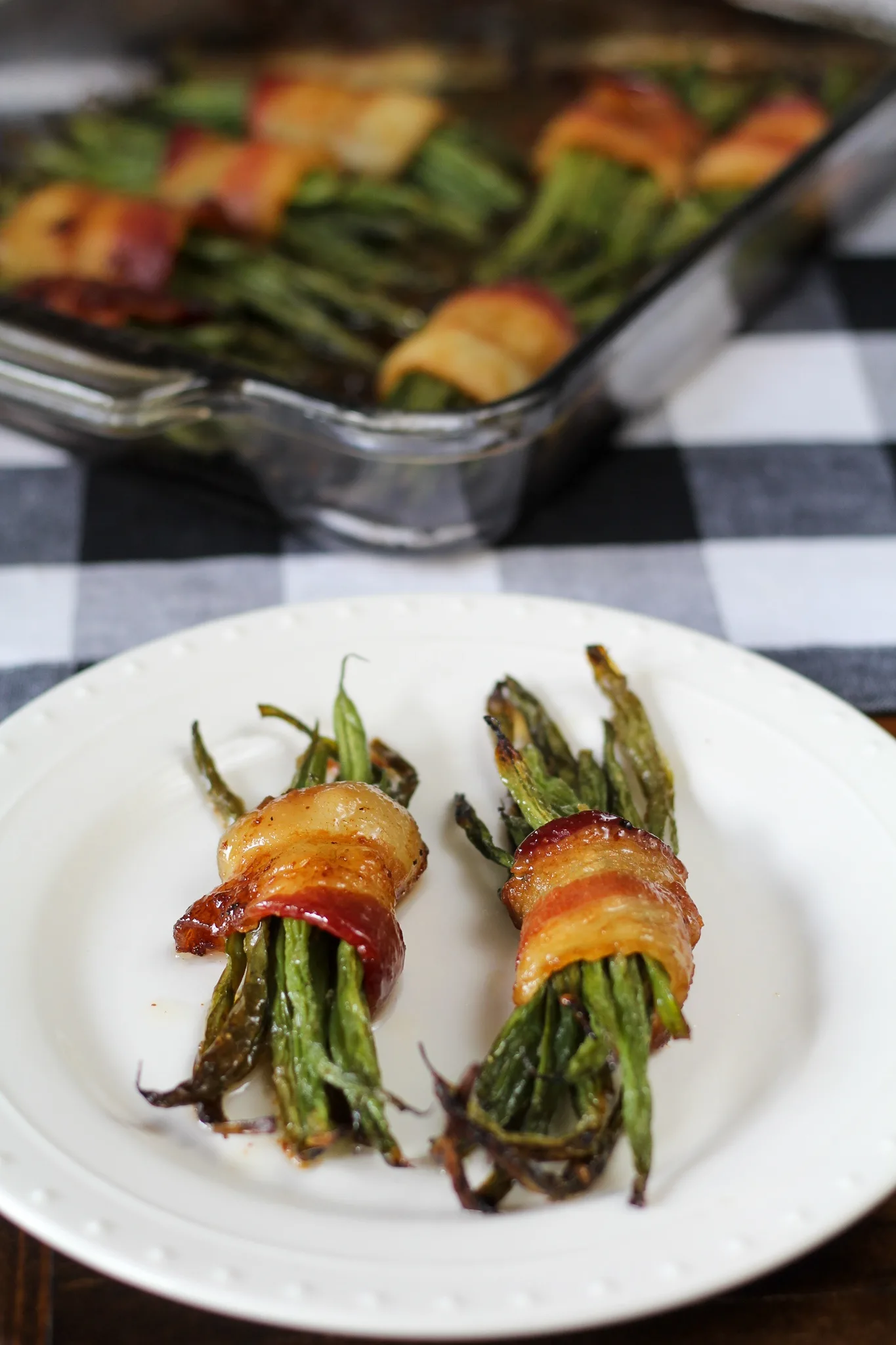 In our home we have several Thanksgiving traditions that we want to pass down on to our kids — and that includes the love of cooking and family. These green beans as well as some of our other family favorites should be in your holiday meal plan this year.
I love to serve this side dish along with my yummy Hashbrown Casserole. It is THE ultimate Thanksgiving meal. Together with these green bean bundles – you cannot go wrong. We are skipping the classic green bean casserole dish and making these instead.
This recipe is the perfect side dish for any Thanksgiving meal. In fact, I think I might even make this for Christmas too!
Storing Green Bean Bundles
Once the dish is done, let it cool to room temperature and cover with plastic wrap. Store in the fridge and eat it within a couple of days.
Additions and Substitutions
Add some pine nuts on the top for some crunch– or change out the vegetables. Make asparagus bundles instead of green bean bundles. Serve them for Christmas dinner for the ultimate side dish.
Looking for other delicious side dishes? Check these out
Yield: 10 bundles
Green Bean Bundles
Green Bean bundles wrapped in bacon make the perfect side dish for any holiday dinner or get together with family and friends.
Total Time
2 hours
40 minutes
Ingredients
2 pounds of green beans, trimmed
8 tablespoons of butter
1 1/2 tablespoons of brown sugar
3/4 teaspoon of dry mustard powder
3/4 teaspoon of Worchestershire sauce
2 cloves of garlic, minced
1/2 teaspoon of salt
1 teaspoon of ground black pepper
10 slices of bacon
Instructions
Fill a large pot with water and add get the water to boiling. Add the green beans and cook for 3 minutes.
Remove the green beans from the water and dry them off well with a paper towel or cloth. Place the beans in the 9x13 dish.
In a small saucepan, melt together the butter, brown sugar, dry mustard, Worchestershire sauce, garlic, salt, and pepper. Once it is melted, stir it all together and drizzle over the beans.
Using your hands, toss the beans to make sure everything gets covered well.
Cover the pan with some plastic wrap and place in the refrigerator for a couple of hours, or you can leave it overnight as well.
Preheat the oven to 400 degrees when you are ready to cook them.
Using the same 9x13 pan, wrap 8 green beans with a piece of bacon. You can secure it with a toothpick if you want, but I just put mine seam side down.
Bake for 20 minutes. After 20 minutes, flip the beans and bake for an additional 20-25 minutes or until the bacon has crisped up.
Serve with your favorite meat for the perfect side dish.
Nutrition Information:
Yield:
10
Serving Size:
1
Amount Per Serving:
Calories:

176
Total Fat:

14g
Saturated Fat:

7g
Trans Fat:

0g
Unsaturated Fat:

5g
Cholesterol:

36mg
Sodium:

377mg
Carbohydrates:

10g
Fiber:

3g
Sugar:

5g
Protein:

6g