My first taste of green bean bundles came about 6 years ago at a women's luncheon I attended. These things are delicious! They are also festive and make a great appetizer as well if you don't want to use them as a side item. However, I am serving them alongside my taters and gravy this year for Thanksgiving!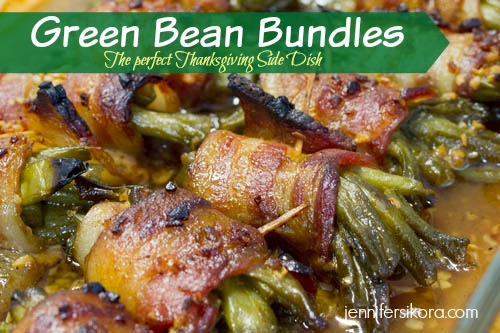 In our home we have several Thanksgiving traditions that we want to pass down on to our kids — and that includes the love of cooking and family. In fact, here are 10 ways that we love to celebrate Thanksgiving together as a family.
I love to serve this side dish along with my yummy Hashbrown Casserole. It is THE ultimate Thanksgiving meal. Together with these green bean bundles – you cannot go wrong.
Green Bean Bundles - The Perfect Thanksgiving Side Dish
Ingredients
2 cans 15 oz whole green beans
15-16 slices of bacon cut in half
1 cup brown sugar
2 sticks butter, melted
½ tsp garlic salt, can substitute 1 to 2 tbsp minced garlic
Dash of soy sauce
Instructions
Drain green beans. Take 6 to 7 beans, roll them in a half bacon slice and secure with toothpick. Repeat with remaining beans and bacon. Place in baking dish.
Mix brown sugar, melted butter, garlic salt, and soy sauce. Pour over green bean bundles and let sit overnight in the fridge.
Bake uncovered at 350 degrees for thirty minutes.
This recipe is the perfect side dish for any Thanksgiving meal. In fact, I think I might even make this for Christmas too!
Be sure to include menu planning when you are working on your Thanksgiving meal. So much stress and panic can be eliminated if we just take the time to plan.