Everyone needs to have mashed potatoes with turkey on Thanksgiving, right? Here is my tried and true recipe and it is SO darn good!
Thanksgiving is in just a few days and let me tell you that I am SO ready for the big bird turkey day!! One of our favorite dishes is Mashed Potatoes, and I have gotten to where I skip those instant ones in the box and make homemade. They taste SO much better and I can make a ton for my potato loving family.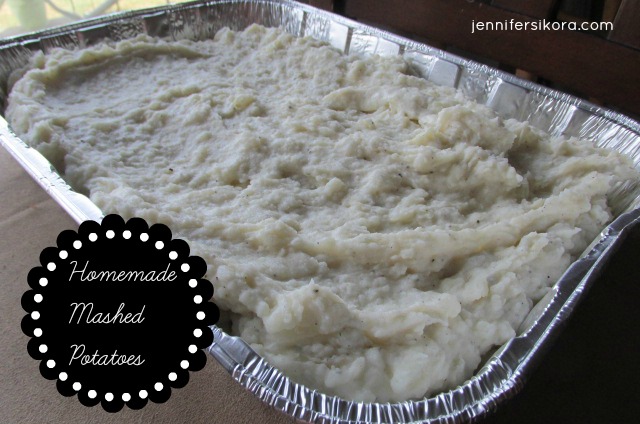 Making these takes NO time. In fact, the longest part of this process is just boiling the potatoes and getting them tender. The rest is quick and easy.
I love that these can be made up a day ahead of time and left in the refrigerator until the big turkey day.
Here is the super easy recipe! I hope you enjoy making these for your delicious Thanksgiving dinner.
Start with potatoes and chunk them up.
Once you get all your potatoes chopped up, add them to a pot with cold water (start with cold — it makes the best potatoes). Turn your burner on medium high heat and let the potatoes cook until they are fork tender.
Once they are fork tender, take your colander and pour your potatoes out and let them drain completely. You do not want ANY water in them.
While your potatoes are draining, rinse and dry your pot out and place it back over the heat. Throw your potatoes back in and start to mash them with a potato masher.
Now I have made these both with an immersion blender and with the potato masher and they are best made with a potato masher. The immersion blender makes them more like paste and you do not want that.
By the time you get done mashing your potatoes, they should look something like this —
Once you get to this point, add in your cubed up butter and cream cheese and keep mashing and mashing and mashing until you get it all incorporated.
Add in your milk and mix with a spoon. Season with salt and pepper and taste. This is the best time to add more spices. I added a few sprinkles of Lawry's Garlic salt to make it have a slight garlic flavor.
Once you get it all mixed together, place in a 9×13 pan and top with more butter. At this point, place in the oven for about 15 minutes to let the butter melt and the potatoes heat through, or you can cover with aluminum foil and place in refrigerator until the next day.
You will LOVE these mashed potatoes for the holiday season! Nothing goes better with turkey and dressing than a big ole pile of mashed potatoes and gravy.
Delicious Mashed Potatoes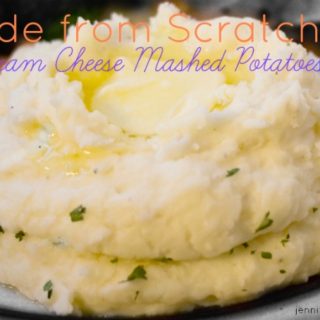 Ingredients
5 pounds Russet Or Yukon Gold Potatoes
2 sticks of Butter, plus 1/2 more stick for the topping
1 package, 8 Oz. Cream Cheese, Softened
1/2 cup milk
1/2 teaspoon Lawry's Garlic salt
1/2 teaspoon black pepper
salt to taste
Instructions
Peel and cut the potatoes into pieces that are around the same size. Add potatoes to a cold pot of water. Bring to a boil and cook for 30 to 35 minutes. When they're cooked through, the fork should easily slide into the potatoes with no resistance, and the potatoes should almost, but not totally, fall apart.
Drain the potatoes in a large colander. When the potatoes have finished draining, place them back into the dry pot and put the pot on the stove. Mash the potatoes over low heat, allowing all the steam to escape, before adding in all the other ingredients.
Turn off the stove and add 2 sticks of butter, an 8-ounce package of cream cheese and about ½ cup of milk. Mash those potatoes like crazy! Next, add about ½ teaspoon of Lawry's Garlic Salt and ½ a teaspoon of black pepper.
Stir well and place in a 9x13 baking dish. Throw a few pats of butter over the top of the potatoes and place them in a 350-degree oven and heat until butter is melted and potatoes are warmed through.
Note: When making this dish a day or two in advance, take it out of the fridge about 2 to 3 hours before serving time. Bake in a 350-degree oven for about 20 to 30 minutes or until warmed through.