I love making fun foods for the kiddos. My Rainbow Fruit Salad has a fun surprise treat at the end.
When my kids were little I always looked for ways to get them to eat fruits and veggies.
It seemed that when I placed them in fun and funky shapes, they always seemed more eager to eat them — which is how I came up with this Rainbow Fruit Salad recipe many years ago.
Basically you chop up a ton of fresh fruit in a variety of colors and shape them in the style of a rainbow and kids go crazy for it. Who knew??
How to Make a Rainbow Fruit Salad
You just follow the colors of the rainbow —
Red
Orange
Yellow
Green
Blue
Ingido
Violet
I don't know about you, but the ONLY way I can ever remember the colors of the rainbow is by doing the ROY G BIV acronym we learned in school.
Do you remember learning that?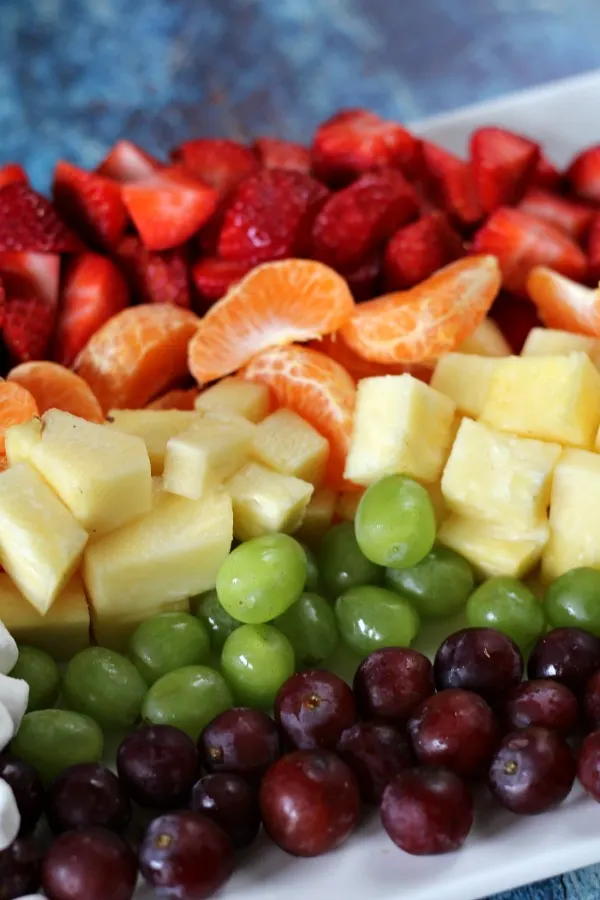 Here is a list of fruit that would go perfect for this!
Red
~Red Apples
~Cherries
~Strawberries
~Raspberries
Orange
~Orange Slices
~Tangerine Slices
Yellow
~Bananas
~Pineapple
Green
~Grapes
~Apples
~Kiwi
Blue
~Blueberries
Indigo and Violet
~Purple Plums
~Black Grapes
~Purple Grapes
You could totally do this with vegetables as well
Red — Cherry Tomatoes
Orange — Carrots
Yellow — Corn
Green – Broccoli
Blue/Indigo/Violet: Purple Cauliflower
Then once you get that portion made, you get to add the fun additions. For this one, we used Mini Marshmallows on one end to resemble a cloud.
Then on the other end, I bought a bag of Rolos for another craft that I was doing. Once I was done with that, I added them to the end of the salad for a perfect surprise treat!
I mean, there is always a pot of gold at the end of the rainbow, right?
This is a fun way to get the kids involved and also to get them to eat their daily fill of fruits and veggies. When kids are allowed to help in the kitchen, they are more likely to eat what is cooked and created.
Hope you enjoy this fun St. Patrick's Day Rainbow Fruit Salad!!
What is your best tip for getting picky eaters to eat their fruits and veggies?
Check out these other Saint Patrick's Day recipes
Yield: 8 servings
Rainbow Fruit Salad
This Rainbow Fruit Salad is simple to throw together and everyone will LOVE it.
Ingredients
1 pint of strawberries, hulled and sliced in half
4 mandarin oranges, peeled and sectioned
1 pineapple, peeled, cored, and diced
1 pint of green grapes
1 pint of red grapes
Mini marshmallows
Rolo candies
Instructions
Assemble the fruit in the rainbow colors RED - ORANGE - YELLOW- GREEN - PURPLE
At one end of the rainbow, pile the mini marshmallows and at the other end pile the Rolo candies.
Enjoy!
Nutrition Information:
Yield:
8
Serving Size:
1
Amount Per Serving:
Calories:

156
Total Fat:

2g
Saturated Fat:

1g
Trans Fat:

0g
Unsaturated Fat:

0g
Cholesterol:

1mg
Sodium:

15mg
Carbohydrates:

37g
Fiber:

4g
Sugar:

30g
Protein:

2g