These chocolate crinkle cookies will become one of your family's favorite cookies for Christmas — or any time of year. They are super easy to make.
When you find a cookie that sings and shouts Christmas from the rooftops, you stick with it and make it every single year from then on.
This delicious cookie is simple and easy to make (my favorite kind, right??)
I use this recipe any time I am doing a cookie exchange with the ladies, and I have even been known to serve them warm and gooey at my yearly holiday party. Another great option is to make Chewy Molasses Crinkle Cookies. They taste just like gingerbread!
Even if you are letting the kids leave these for Santa, they will be a hit no matter what!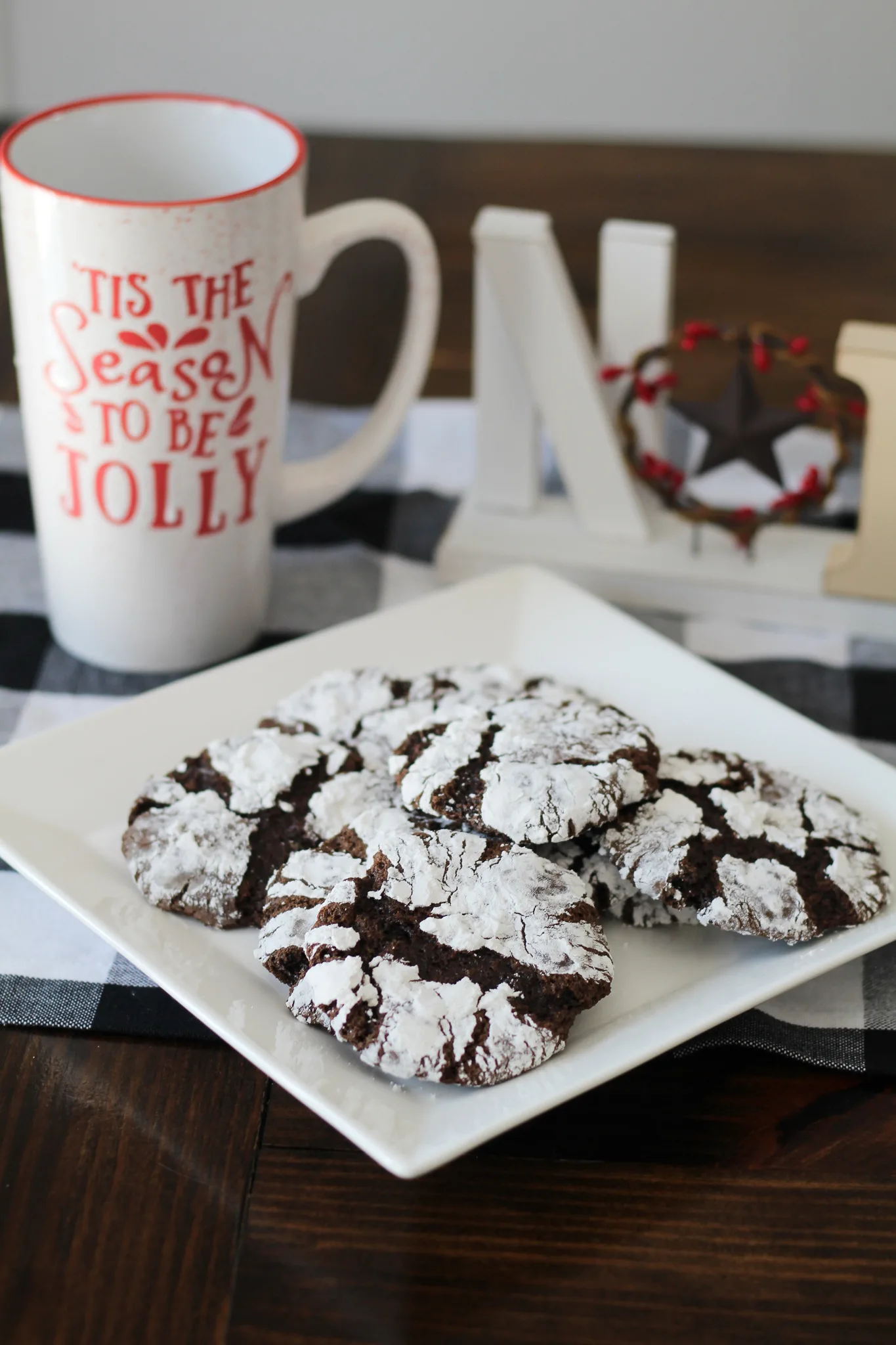 The cookie batter itself is very straightforward, and quick and easy to whip up. Once it is chilled in the fridge, rolling them in the perfect powdered sugar will make these a definite hit with the kiddos!
Here's how to make them!
How to Make Chocolate Crinkle Cookies
All of the items used in this Chocolate Crinkle Cookie recipe should already be in your pantry.! You will need:
Flour: I use all-purpose
Unsweetened cocoa powder: (try using dark chocolate cocoa powder for a different taste)
Baking powder, salt, sugar, eggs, vanilla extract: The basics for any cookie, right?
Oil: I usually use vegetable or canola.
Powdered sugar: For rolling the cookie dough. I love using the Florida Crystals brand.
To make crinkle cookies, simply…
Whisk together your dry ingredients. Flour, cocoa powder, baking powder, and salt.
Prep your dough. In a medium-sized mixing bowl, mix together the sugar and oil. Next, add in the eggs and vanilla, followed by the dry ingredients.
Chill the dough. Wrap the bowl tightly in plastic wrap and refrigerate for at least 2 hours, or until completely chilled.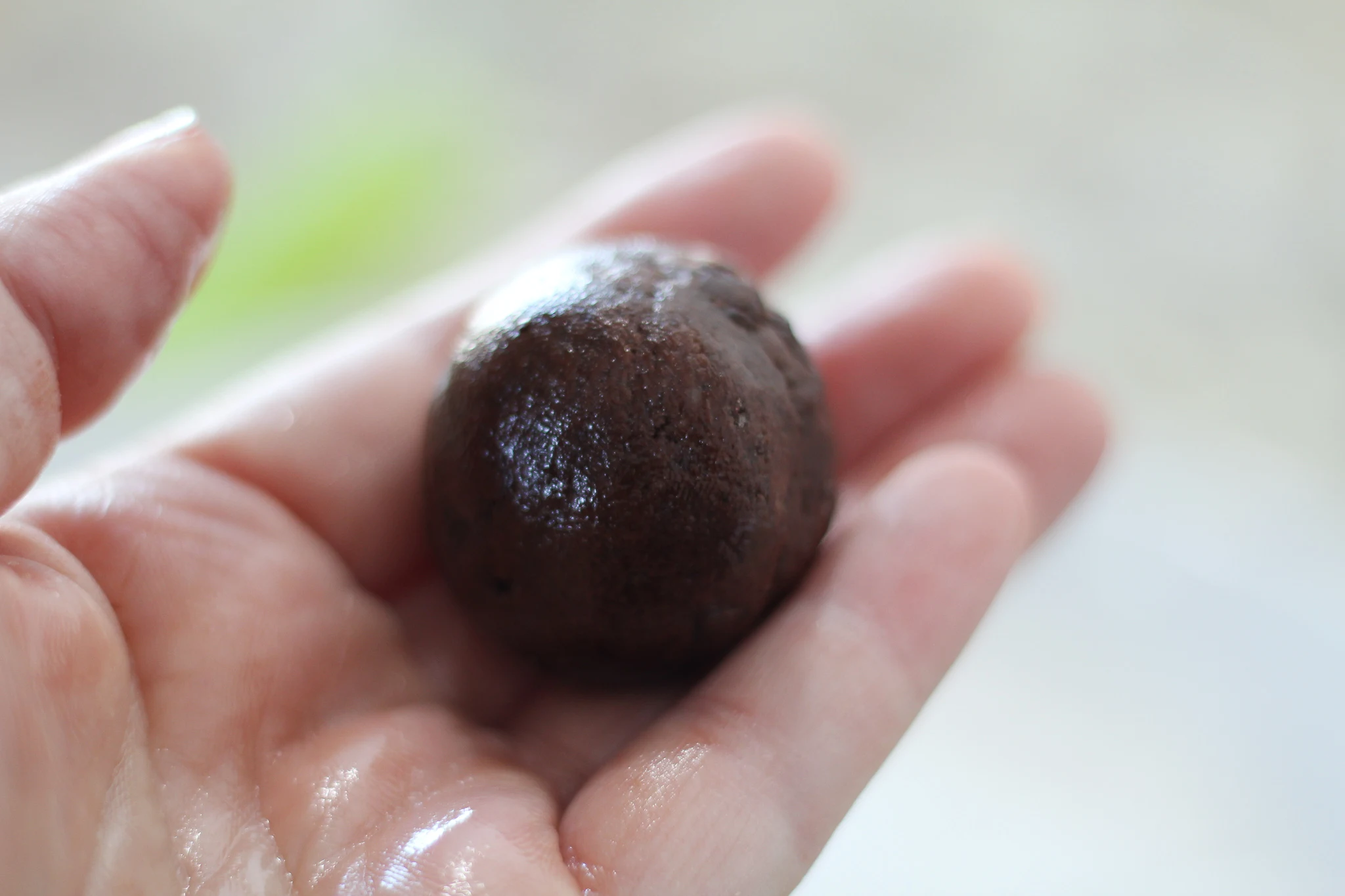 Prep your dough balls. Form the dough into 1-inch balls, and roll them in powdered sugar until completely coated. Be extremely generous with your powdered sugar. Place them on a silicone lined baking sheet.
Bake. Then bake then at 350°F for about 10 minutes. Let the cookies cool for a bit afterward.
Now, enjoy them! We've already eaten all of ours. They are absolutely delicious when you eat them warm out of the oven.
You can store them in an airtight container for almost a week. You can also store them in the freezer for up to 3 months.
Looking for more festive Christmas desserts? Check these out!
Yield: 24 cookies
Chocolate Crinkle Cookies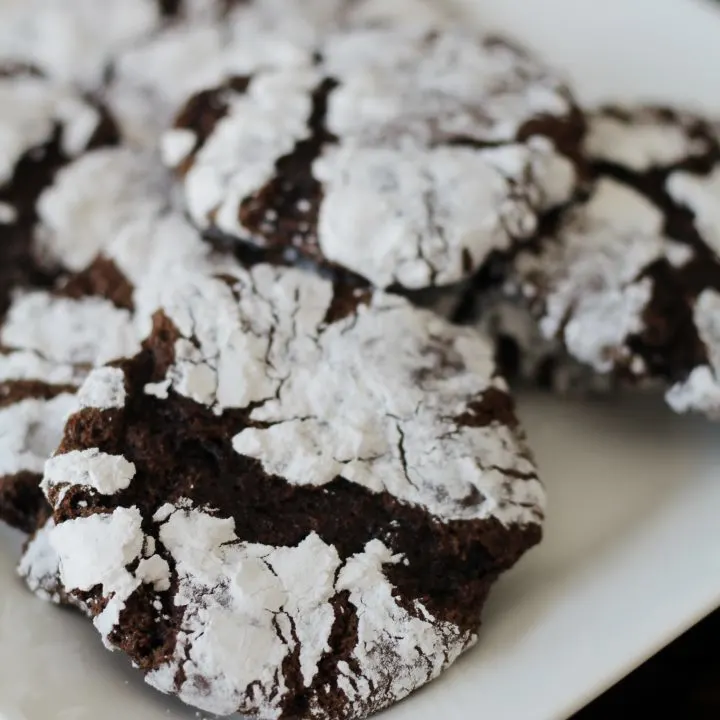 This classic Chocolate Crinkle Cookies recipe is fun to make, super delicious, and perfect for the holidays!
Cook Time
12 minutes
10 seconds
Total Time
2 hours
22 minutes
10 seconds
Ingredients
1 cup all-purpose flour
1/2 cup unsweetened cocoa powder
1 teaspoon baking powder
1/4 teaspoon salt
3/4 cup granulated sugar
1/4 cup vegetable oil
2 large eggs
1 teaspoon vanilla extract
1 cup powdered sugar, for coating the cookies
Instructions
In a medium bowl, whisk together the flour, cocoa powder, baking powder and salt until combined. Set aside.
In another medium bowl, add the granulated sugar and oil. Using a hand mixer, beat on medium-high speed for 2 minutes, or until the mixture is light and fluffy.
Add in the eggs and vanilla, beating on until combined.
Then gradually fold in the flour mixture, and beat on medium-low speed until combined.
Wrap the bowl in plastic wrap and refrigerate for at least 2 hours until the dough is chilled completely through.
Once you're ready to bake the cookies, preheat the oven to 350°F. Line a large cookie sheet with parchment paper or a silicone mat.
Fill a small bowl with the powdered sugar.
Removethe dough from the fridge.
Using a cookie scoop, form the dough into 1-inch round balls.
Dip each dough ball in the powdered sugar until it is completely covered on all sides(make sure to cover it generously), and then place them least 2 inches apart on the prepared baking sheet.
Bake for 10-12 minutes. Then remove the baking sheet from the oven, and let the cookies cool on the baking sheet for 3 minutes.
Transfer the cookies to a wire rack, and let them cool until they reach room temperature.
Serve immediately, or store in a sealed container for up to 1 week or freeze for up to 3 months.
Nutrition Information:
Yield:
24
Serving Size:
1
Amount Per Serving:
Calories:

101
Total Fat:

3g
Saturated Fat:

0g
Trans Fat:

0g
Unsaturated Fat:

2g
Cholesterol:

16mg
Sodium:

52mg
Carbohydrates:

17g
Fiber:

1g
Sugar:

11g
Protein:

1g