If you are looking for a great breakfast or snack idea, this Cinnamon Apple Baked Oatmeal is perfect!
All my life the only oatmeal I had ever eaten for breakfast was just a bowl of quick cinnamon and brown sugar before school.
I discovered this recipe recently for Cinnamon Apple Baked Oatmeal and my whole world of knowing what oatmeal was has completely changed.
We made a huge batch of this yesterday and plan on freezing these squares for quick breakfasts on the go!
How to Make Cinnamon Apple Baked Oatmeal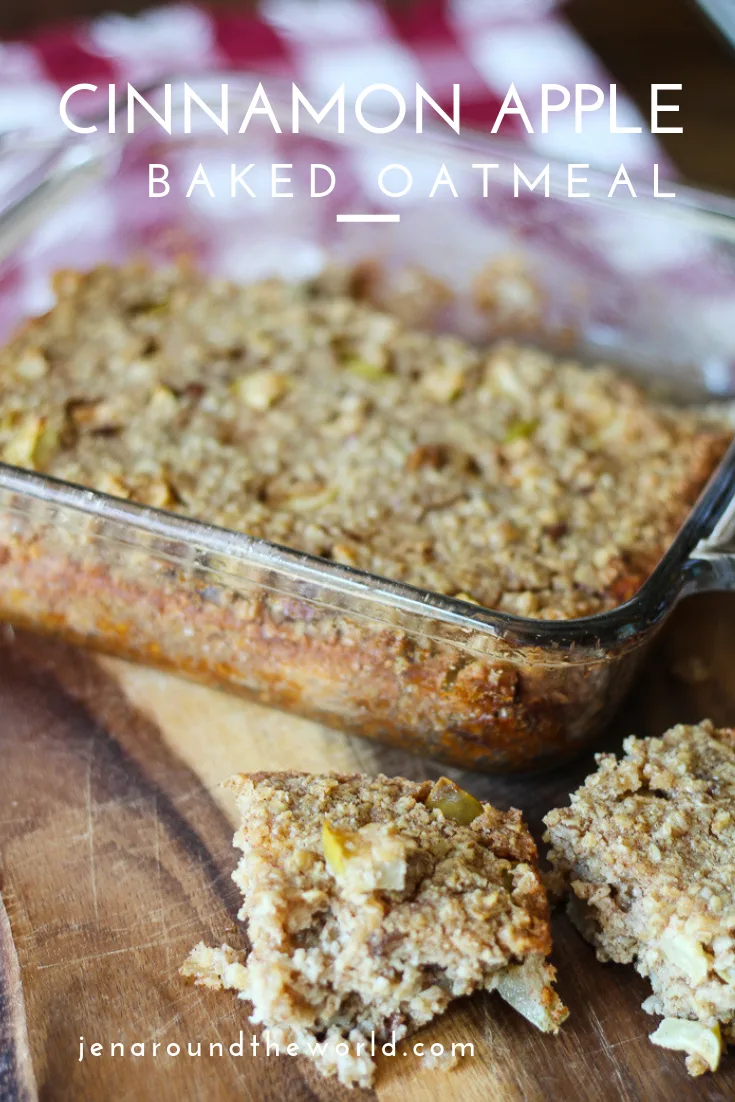 After making a batch of this yesterday, I am totally keeping this on hand at all times.
It's the simplest recipe I have ever put together. Chop your apples, add in your oats ( I love the Flahavan's brand) add in your spices and don't forget that delicious vanilla bean paste from Taylor and Colledge (you can also use vanilla extract).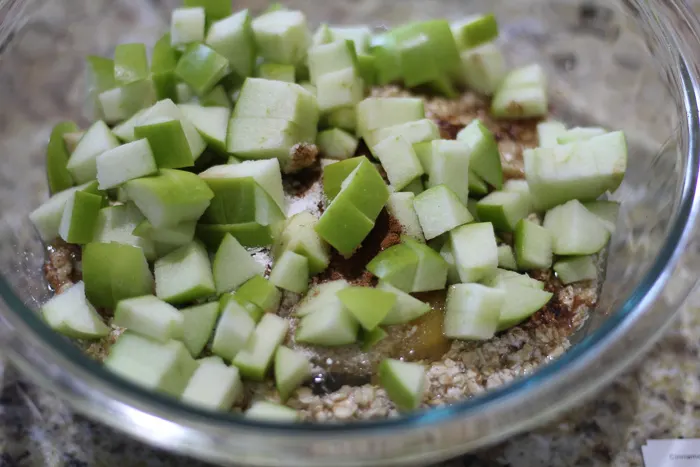 Once you get it all in a bowl, mix together. It will look soupy but that is totally ok. The wetness gets soaked up by the oats to keep it moist and not dry.
Once you get it all mixed up, pour it into an 8×8 baking pan. I like my bars thicker so I opted for the 8×8 pan, but you can use a bigger pan if you want. Be sure to adjust your cooking time accordingly.
Preheat the oven to 350 degrees and bake your oatmeal for 40 minutes.
When it comes out, be sure and give it time to cool before you cut into it. That way, your squares stay together. They may fall apart if it is too hot coming straight from the oven.
This is the perfect breakfast when you need something quick and easy. It would also make a great lunch box snack or after school snack as well!
Looking for other apple recipes? Check these out!
Yield: 12 bars
Cinnamon Apple Baked Oatmeal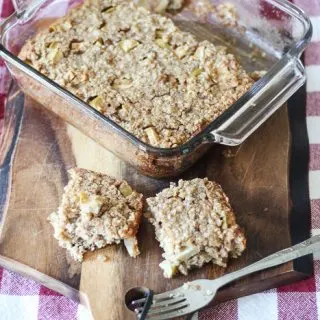 This easy baked oatmeal is perfect for those on the go mornings when you need a quick breakfast on the go.
Ingredients
2 cups of steel-cut​ instant oats (I used Flahavan's)
3/4 cup of milk
1 cup of unsweetened applesauce
1/4 cup of chopped pecans
2 large eggs
3 tablespoons of sugar (I used Dixie Crystals)
2 tsp​ vanilla bean paste (I used Taylor and Colledge)
2 tsp cinnamon
1/2 tsp baking powder
1/4 tsp salt
2 cups of Granny Smith Apples, chopped
Instructions
Chop your Granny Smith apples into 1/2" diced cubes.
Preheat the oven to 350 degrees.
In a bowl combine all the ingredients list above. Mix well.
Spray an 8x8 pan with non stick cooking spray. Spread the mixture into the pan making sure it is level.
You can cover the dish and put it into the refrigerator until the next morning.
Or -- you can bake right away. Place in the oven and bake until golden brown, about 40 minutes.
Let the baked oatmeal cool for about 15 minutes before cutting into squares.
To Freeze -- cut into squares and place in a ziplock bag. Freeze for up to two months.
Nutrition Information:
Yield:
12
Serving Size:
1
Amount Per Serving:
Calories:

121
Total Fat:

4g
Saturated Fat:

1g
Trans Fat:

0g
Unsaturated Fat:

3g
Cholesterol:

32mg
Sodium:

90mg
Carbohydrates:

19g
Fiber:

3g
Sugar:

7g
Protein:

4g