This Tuscan Chicken Pasta recipe is one you will want to add on your to make list again and again.
The last couple of weeks have been rough around here — if I am honest, the last month has been rough.
My mother-in-law has been in and out of the hospital and when that happens, life gets super busy for me. I run back and forth visiting her, cleaning my home, taking care of everything — and honestly by the end of the day I am wiped out.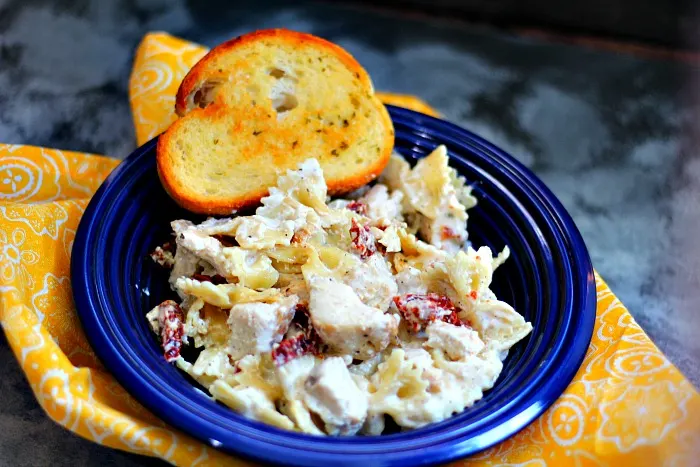 When that happens, I am thankful for meals like this one — my Tuscan Chicken Pasta dish. It comes together so quick and is super easy to make.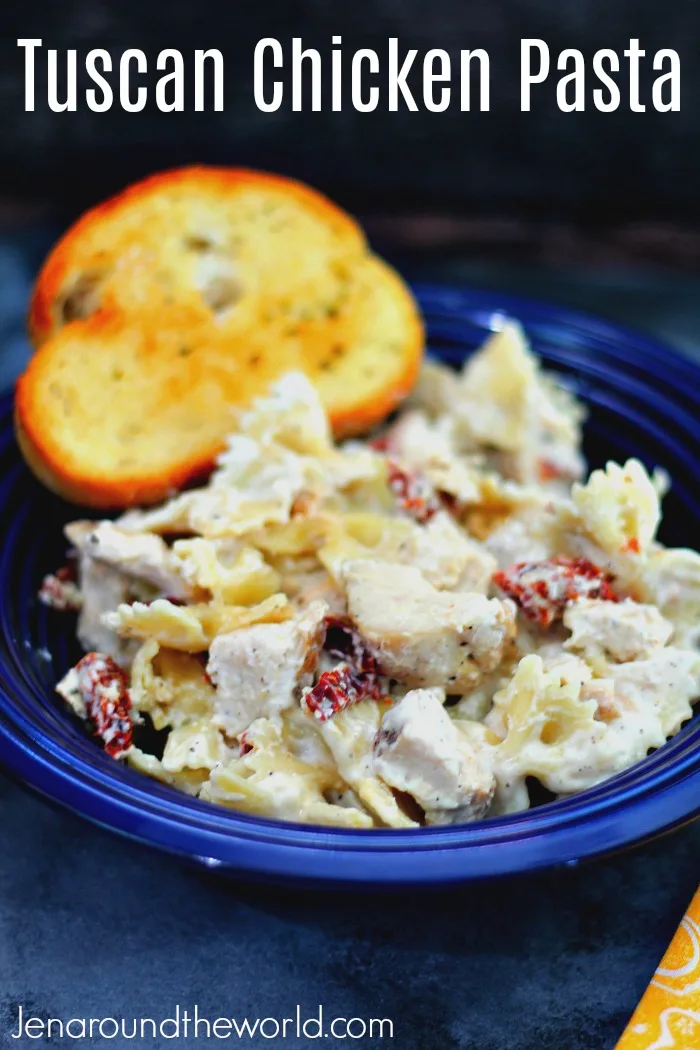 This is one of those dishes you come across when you are working on cleaning out the pantry and refrigerator. It's kind of like a throw together meal — and happens all in the span of 20 minutes.
How to Make Tuscan Chicken Pasta
To make this dish, I roasted off two chicken breasts earlier in the day. I season 2 whole boneless skinless chicken breasts with Salt, pepper, and garlic powder.
I sear them in an iron skillet on both sides and then put in a 350 degreee oven for about 15 minutes — or until juices run clear and the themometer reads 160.
Then I make the sauce, cook the noodles, and put everything together in my big skillet for the perfect comfort food meal. It's quick and easy.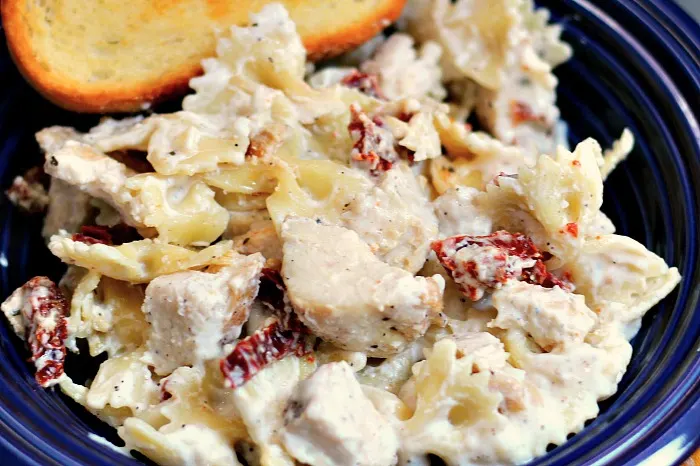 The added sun dried tomatoes really kicks the flavor of this pasta dish up about 10 notches. It is superb! This one is a definite 5 star dish according to my family.
This Tuscan Chicken Pasta dish is definitely one of those meals you want to make when you need something quick and comforting.
What is your favorite comfort food meal?
Check out these other quick pasta meals
Yield: 6
Tuscan Chicken Pasta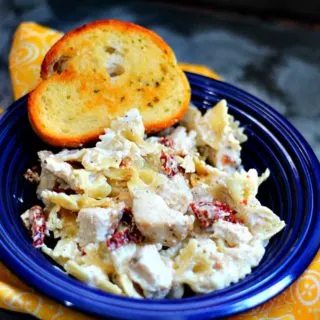 This recipe for Tuscan Chicken Pasta is super quick and easy to make. If you want dinner on the table in 20 minutes or less -- this is it!
Ingredients
1 16 ounce box of bow tie pasta
4 tbsp butter
4 cloves garlic minced
4 ounces cream cheese, cubed
1/4 cup Sun Dried Tomatoes with Italian Seasonings
2 Cups milk
2 Cups Shredded Parmesan Cheese (I prefer Fresh)
1/2 tsp pepper
1/2 tsp salt
2 each boneless skinless chicken breasts, cooked and cubed
Instructions
Season chicken breasts with salt, pepper and garlic powder. Sear on both sides in cast iron skillet and then place in the oven at 350 degrees and bake for about 15 minutes or until juices run clear and temp reaches 160 degrees. Remove from oven and let rest.
In a medium skillet, melt the butter over medium heat. Add the garlic and cook for about 2 minutes, stirring the whole time to make sure it does not stick and burn.
Add the cream cheese, stirring with a whisk until the mixture is smooth. Don't worry if it looks weird at first. It might look curdled, but just continue to whisk and it will come together and get super creamy.
Stir in the sun-dried tomatoes. Keep cooking over medium heat and add the milk and whisk quickly and constantly until it is blended into the sauce. Stir in the Parmesan cheese, pepper and salt. Cook over medium heat, stirring until the cheese is melted and the sauce is the desired consistency, 5-10 minutes.
While sauce is coming together, boil your noodles according to package directions and cube up your cooked chicken breasts. Set those aside.
Add the chicken into the sauce and mix together (or you can leave the chicken out altogether). Serve over top of bow tie pasta and top with extra shredded Parmesan Cheese.
Nutrition Information:
Yield:
6
Serving Size:
1
Amount Per Serving:
Calories:

484
Total Fat:

25g
Saturated Fat:

15g
Trans Fat:

0g
Unsaturated Fat:

8g
Cholesterol:

99mg
Sodium:

842mg
Carbohydrates:

32g
Fiber:

2g
Sugar:

2g
Protein:

32g