During the holidays there is only ONE kind of turkey I like and that is the best-fried turkey ever. We have a secret to making it juicy and moist. Once you have had this fried turkey — you will not want to go back to making it the same way ever again.
I love it when Thanksgiving and Christmas roll around. That means it's time to pull out the Butterball Indoor Turkey fryer and make a delicious deep-fried turkey! I love this electric turkey fryer. It has a deep-fry thermometer on it making it almost a foolproof way to make the best fried turkey ever.
Indoor turkey fryers are the best tool and they make the best fried turkey ever. It's my secret to moist and juicy turkey. Whether it's Thanksgiving or Christmas, you are going to want to make this year round!
My Favorite Way to Make Turkey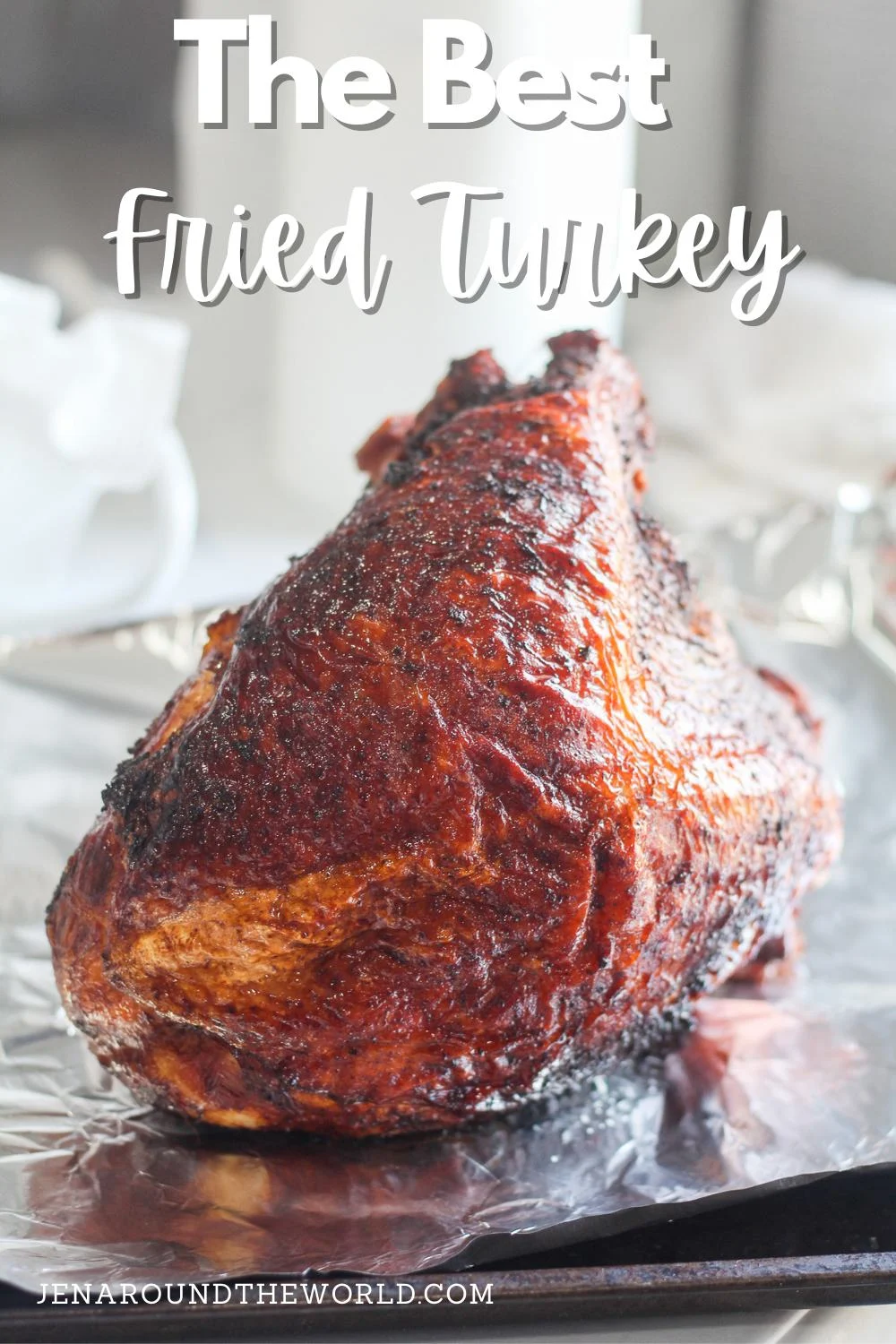 Start with a frozen or fresh turkey breast — bone in and thawed. Do not use a frozen turkey in a fryer. If you would rather do a whole turkey, that is fine too. We just don't eat dark meat, so I usually just get the breast meat. Take the turkey breast and pat dry with paper towels.
Add your favorite dry rub seasoning. For me, we always choose my homemade cajun seasoning that is chocked full of brown sugar. IT IS SO GOOD! Cover the whole turkey breast in it the night before and let it sit in the refrigerator, covered. This will give you juicy results when frying your bird.
Now, fill the deep fryer with oil up to the fill line. I buy the oil that has 3 gallons of peanut oil. There is always excess oil leftover so make sure to pay attention to how much you fill it.
If you put too much oil, you will cause issues, so never overfill past the max line. Let the temperature of the oil rise to where it needs to be before frying. If you put the turkey in too soon, the seasoning will come off.
About an hour before frying, pull the turkey out of the fridge and let it come to room temperature.
Inject it with some butter and then place turkey in the fry basket and lower it into the hot oil. Fry the turkey until it is golden brown. The cooking time should be around 45 minutes to an hour. The cooking time will vary on the pound of turkey you have. Use the book to determine the cooking time.
The oil temperature should be around 375 to 400 degrees.
A good rule of thumb to follow is that if you are deep-frying turkey always keep a fire extinguisher handy just in case you have issues like grease fires that need to be put out.
For the best oil, choose peanut oil or a mixture of peanut oil and another kind that creates a frying oil. It has the best smoke point. You can find that mixture at places like Sam's. Never use vegetable oil or canola oil for drying in deep fryers.
Check for the doneness of the turkey with an instant-read thermometer. The internal temperature of the thickest part of the breast should be 165 degrees since it is poultry. You can also a regular meat thermometer if you don't have an instant-read kind.
Once it's done, pull it out and let the turkey rest for about 20 minutes before slicing it. Trust me when I tell you that this is the most amazing turkey you will ever put in your mouth. The crispy skin from frying the bird is my favorite part!
Use a cutting board to remove each breast side from the turkey and then slice it into pieces. Place on your favorite serving tray. Top the flavorful turkey meat gravy or leave it plain. No matter how you serve it, it makes for a great holiday meal.
Use the leftover turkey to make dishes like my Turkey Orzo Soup or a Moist maker Thanksgiving Leftovers Sandwich topped with homemade cranberry sauce.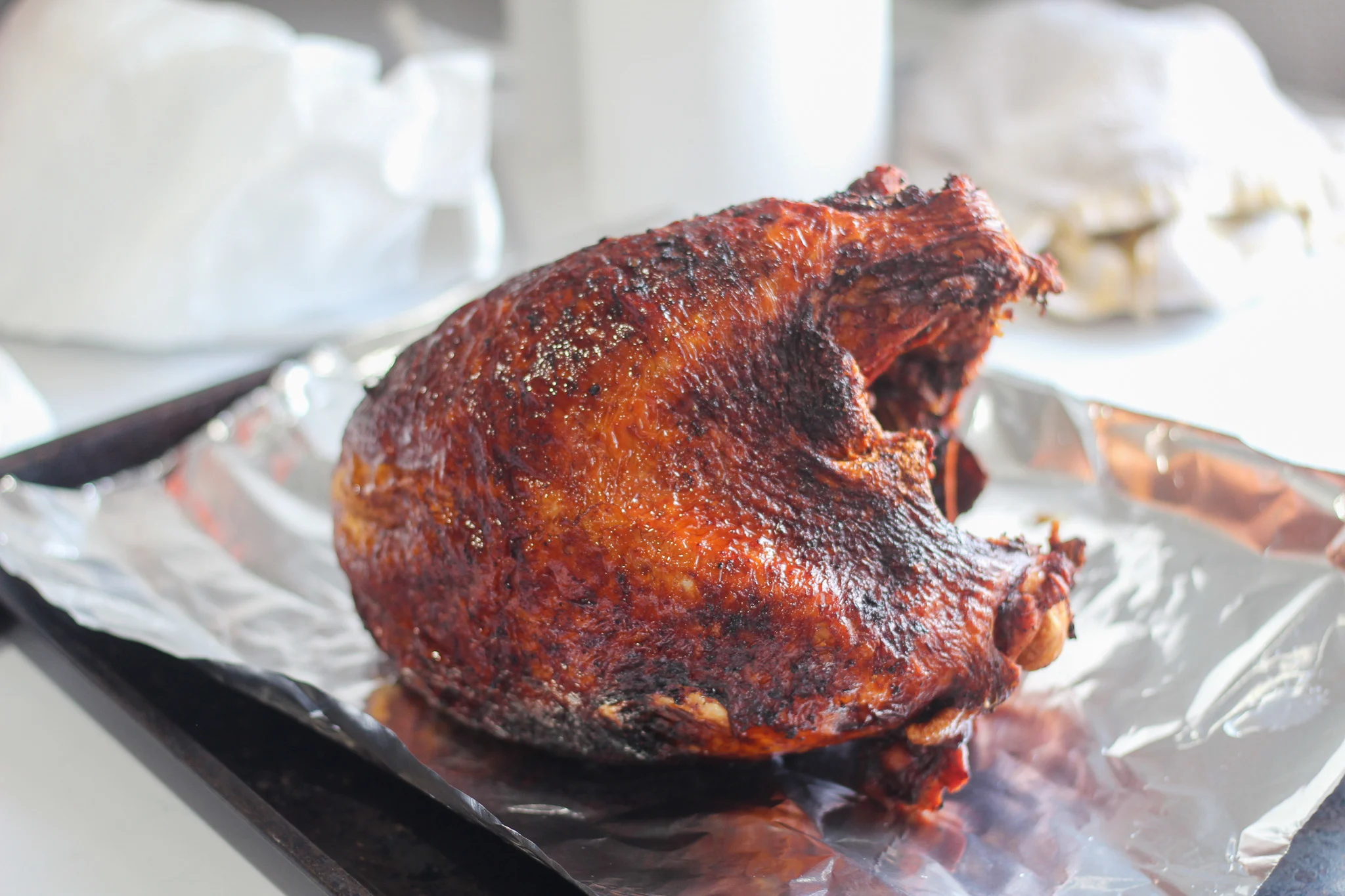 Storing Leftover Turkey
Slice the turkey off the bone and allow it to come to room temperature. Store cooled turkey in an airtight container in the fridge. This deep-fried turkey recipe should stay good for up to a week.
I like to use leftover turkey in a lot of recipes. That way, no one tires of eating the same meal over and over again. My husband, however, could eat turkey every single day of his life.
If you don't think you will use all the turkey, feel free to freeze some of it to use later for sandwiches. Turkey should hold up in the freezer for 3 to 6 months.
Check Out These Other Turkey Inspired Recipes
Yield: 10 servings
The Best Fried Turkey Recipe
Make the best-fried turkey this holiday season. Delicious flavor, moist and juicy. You will not want to make turkey any other way again.
Ingredients
1 7-8 pound turkey breast
Cajun seasoning
1 stick of butter
3 gallons of peanut oil
Instructions
The night before, remove your turkey from its packaging. Pat it dry with paper towels and season it generously with cajun seasoning.
Melt the stick of butter. Add the butter to an injector.
Using an injector, poke the turkey and inject the butter inside the turkey breast.
Place the turkey breast in the fridge. About an hour before cooking, remove the turkey from the fridge and let it come to room temperature.
Place the oil inside the turkey fryer to the max line and heat to 375 degrees. Once the oil comes to temperature, use the fry basket and lower the turkey carcass slowly into the oil.
Set the time for 45 minutes and let the breast fry until done. A thermometer should read 165 when the meat is cooked through.
Remove the breast carefully from the oil and allow it to rest for 20 minutes before slicing.
Enjoy!
Nutrition Information:
Yield:
10
Serving Size:
1
Amount Per Serving:
Calories:

9781
Total Fat:

1054g
Saturated Fat:

183g
Trans Fat:

0g
Unsaturated Fat:

818g
Cholesterol:

315mg
Sodium:

759mg
Carbohydrates:

0g
Fiber:

0g
Sugar:

0g
Protein:

109g