This homemade cranberry sauce only uses 3 simple pantry ingredients. You can ditch the can of cranberry sauce this holiday season and make your own in less than 15 minutes.
When it comes to cranberry sauce, we are a house divided around here. My husband is all about that canned jellied kind. It is what he grew up on and what he prefers at Thanksgiving.
Me on the other hand, I prefer homemade. The flavor tastes more like Thanksgiving to me and not like just straight-up mush. To be fair though, I have never been a fan of cranberry sauce at all.
That was until I started making it homemade, and now, I cannot get enough of this delicious stuff!
How to Make Homemade Cranberry Sauce
To make homemade cranberry sauce, all you need is 3 simple ingredients — 1 12 ounce bag of fresh cranberries, 1 cup of sugar, and 1 cup of orange juice.
For me, I love this recipe because it is literally a dump and go kind of recipe.
Put it all in a saucepan and then just let it go. From there, you watch and wait for those delicious cranberries to pop, releasing all their fruity goodness into the orange juice and sugar.
It takes about 5 minutes for them to start popping. Once they do, turn the heat on medium and stir occasionally for the next 5-8 minutes. In the end, you will end up with this gorgeous, thick, and glistening whole berry cranberry sauce.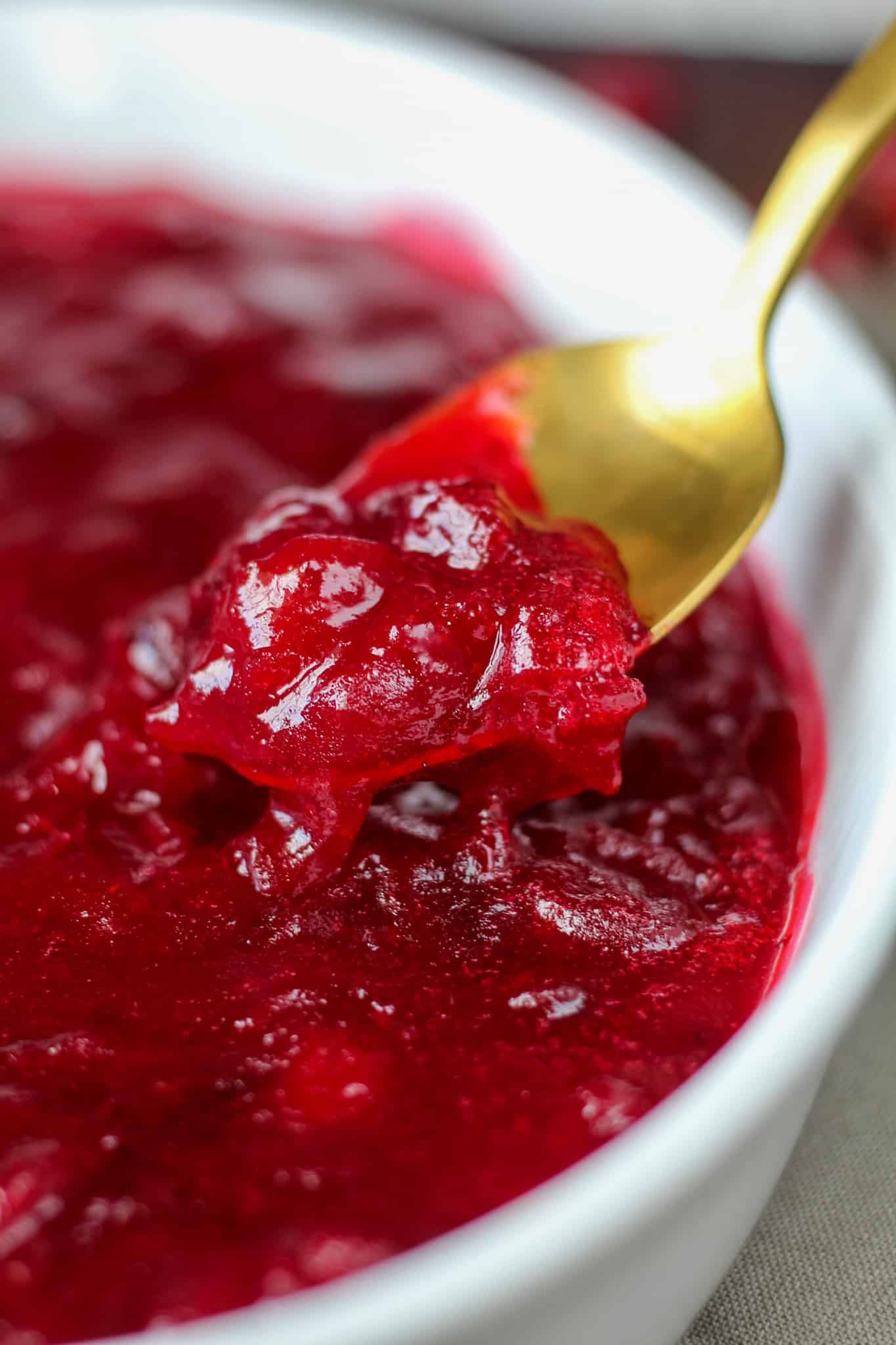 After 10 minutes, your berries should be completely broken down and resemble whole berry cranberry sauce. At this point, you have made your whole berry cranberry sauce.
Be sure to place it in the refrigerator for about an hour to let it cool and get the consistency you are wanting.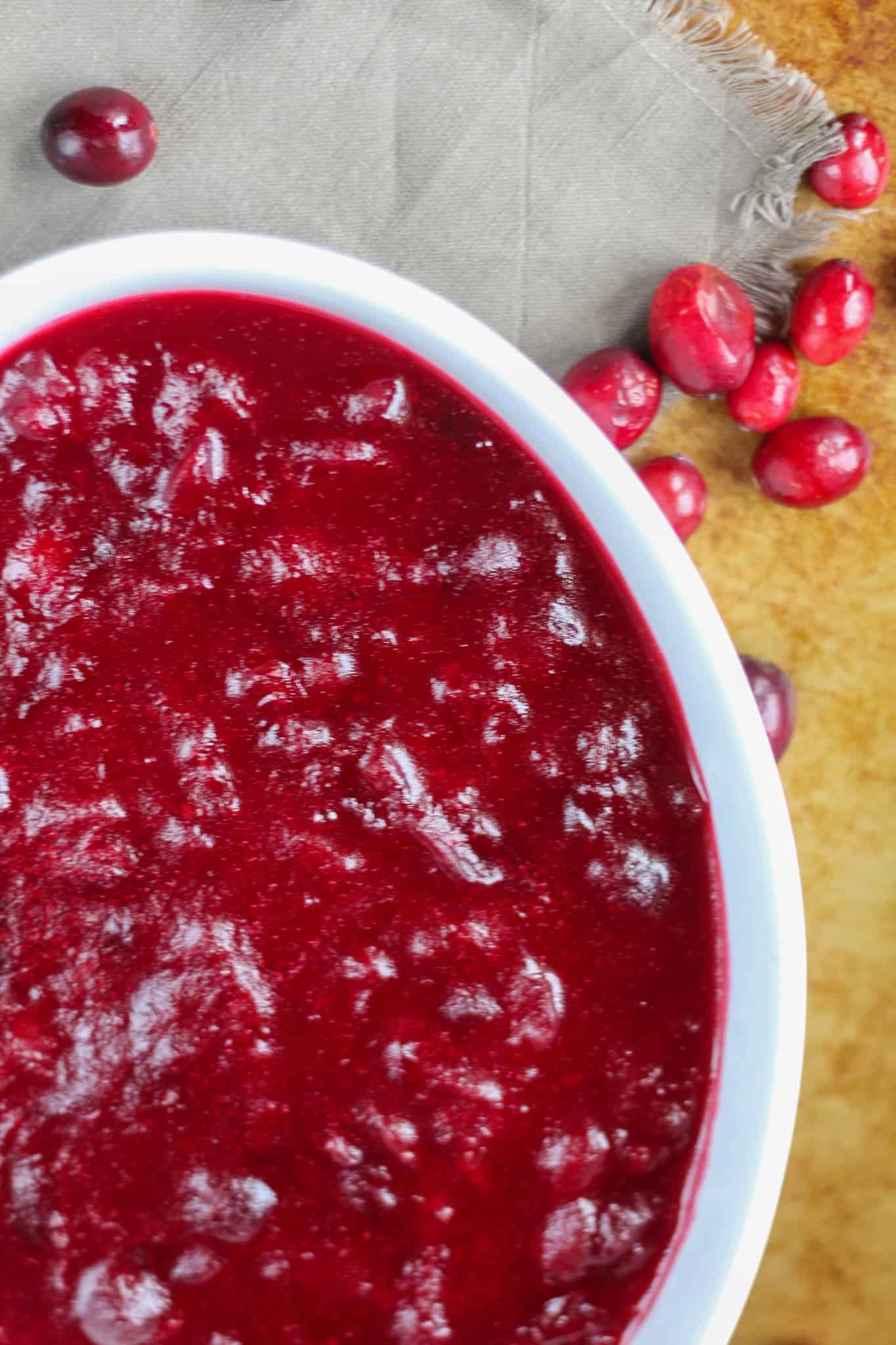 The great thing about making this homemade is because once it is done, you can freeze it until you are ready to use it. Mine is already made up and ready for Thanksgiving.
How to Make Homemade Jellied Cranberry Sauce:
If you are not a fan of whole berry cranberry sauce, you can make it jellied instead. To do this, you will need to strain the berry skins out of your whole berry cranberry sauce.
Grab a fine-mesh strainer and place it over a medium bowl. Spoon your cranberry sauce into the strainer and begin to press the sauce through the strainer with the back of a large wooden spoon.
Do this until all of the sauce is in your bowl and the skins are left behind in the sieve.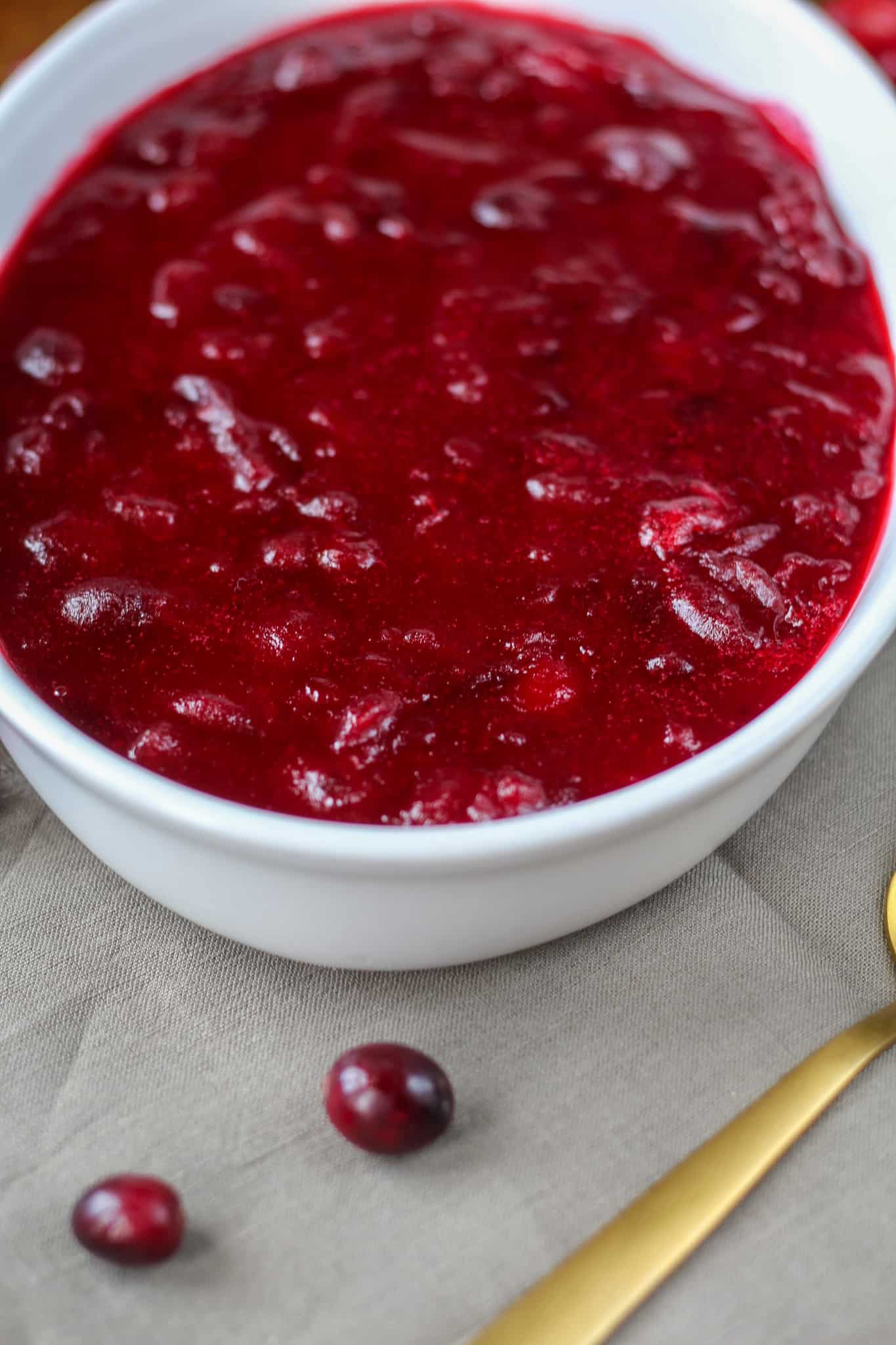 That's it! Now you have your choice of whole berry or jellied cranberry sauce. Either way, the flavor of this sauce is phenomenal. You will never go back to store bought cranberry sauce ever again.
Looking for Other Thanksgiving Inspiration? Check Out These Recipes –
Yield: 2 cups
Homemade Cranberry Sauce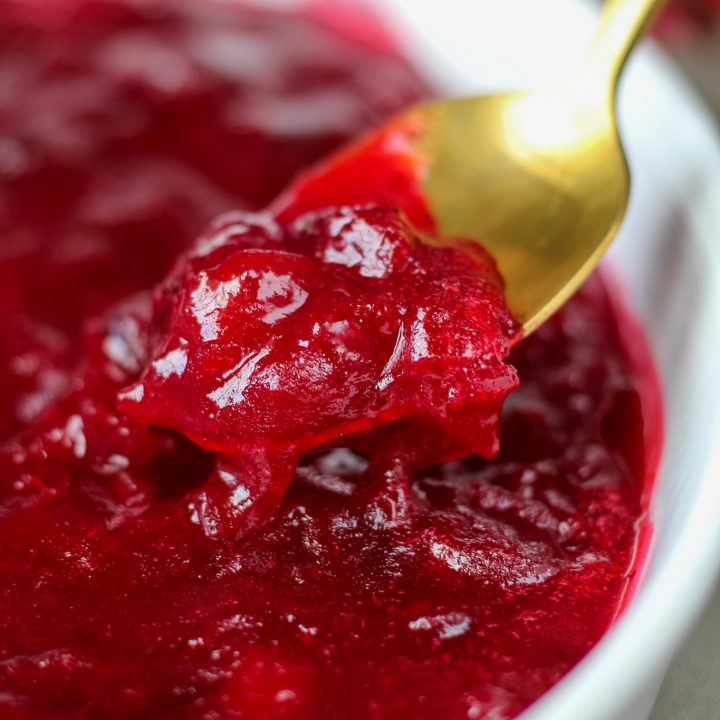 This easy homemade cranberry sauce will become your favorite Thanksgiving dish.
Ingredients
12-ounce bag of fresh cranberries
1 cup of sugar
1 cup of orange juice
Instructions
Combine all of your ingredients in a medium saucepan. Start on high heat for 5 minutes until it comes to a boil.
Turn heat down to medium and let it simmer for about 10 minutes, stirring occasionally at first, then constantly once the berries start to burst.
When the berries have burst, and everything starts looking saucy and thick, remove from heat.
Let cool slightly, about 10 minutes. Now, refrigerate for 1 hour.

Strain to make jellied cranberry sauce
Place a fine-mesh strainer over a bowl. Pour the sauce into the strainer, and press the sauce against it with a large wooden spoon or spatula.
Continue doing this until all of the berry skins are all that remains and the jelly portion has been strained into the bowl.
Pour into your desired serving container and refrigerate for at least 1 hour.
Nutrition Information:
Yield:
8
Serving Size:
1
Amount Per Serving:
Calories:

130
Total Fat:

0g
Saturated Fat:

0g
Trans Fat:

0g
Unsaturated Fat:

0g
Cholesterol:

0mg
Sodium:

1mg
Carbohydrates:

33g
Fiber:

2g
Sugar:

29g
Protein:

0g