Making your own pickled jalapeños is easier than you think. With a few simple ingredients and a couple of mason jars, you can easily make this recipe any time!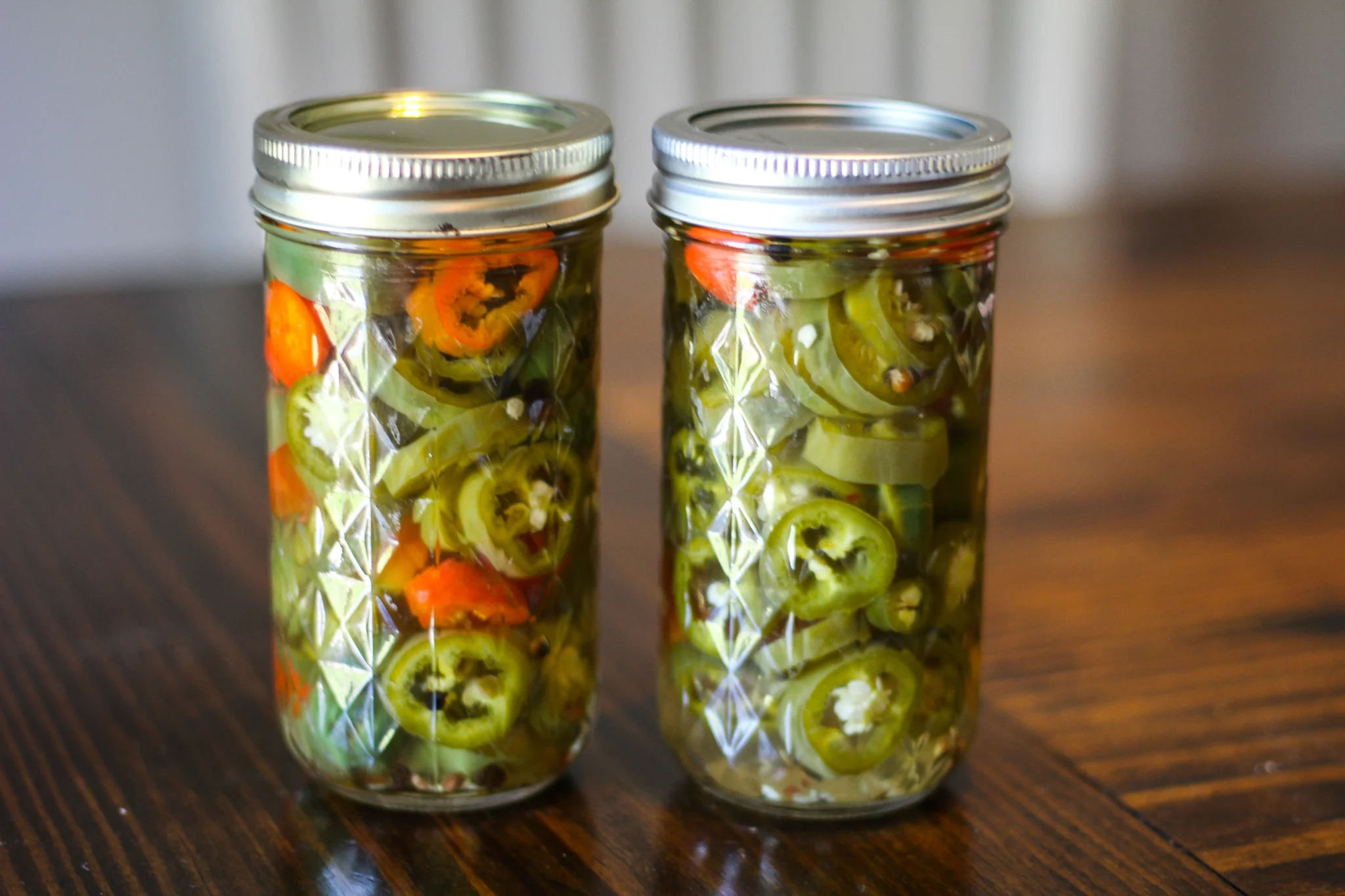 I love hot and spicy anything. If you have known me for any length of time, then you know that Nashville Hot Chicken is my favorite chicken dish, and my favorite coffee is a Spicy Cowgirl coffee from the Pioneer Woman.
I eat hot sauce on everything, including my spicy chicken sandwich from Chick-Fil-A and my eggs, and whenever I have tacos, I top them with fresh pickled jalapeños that I make in the comfort of my own home!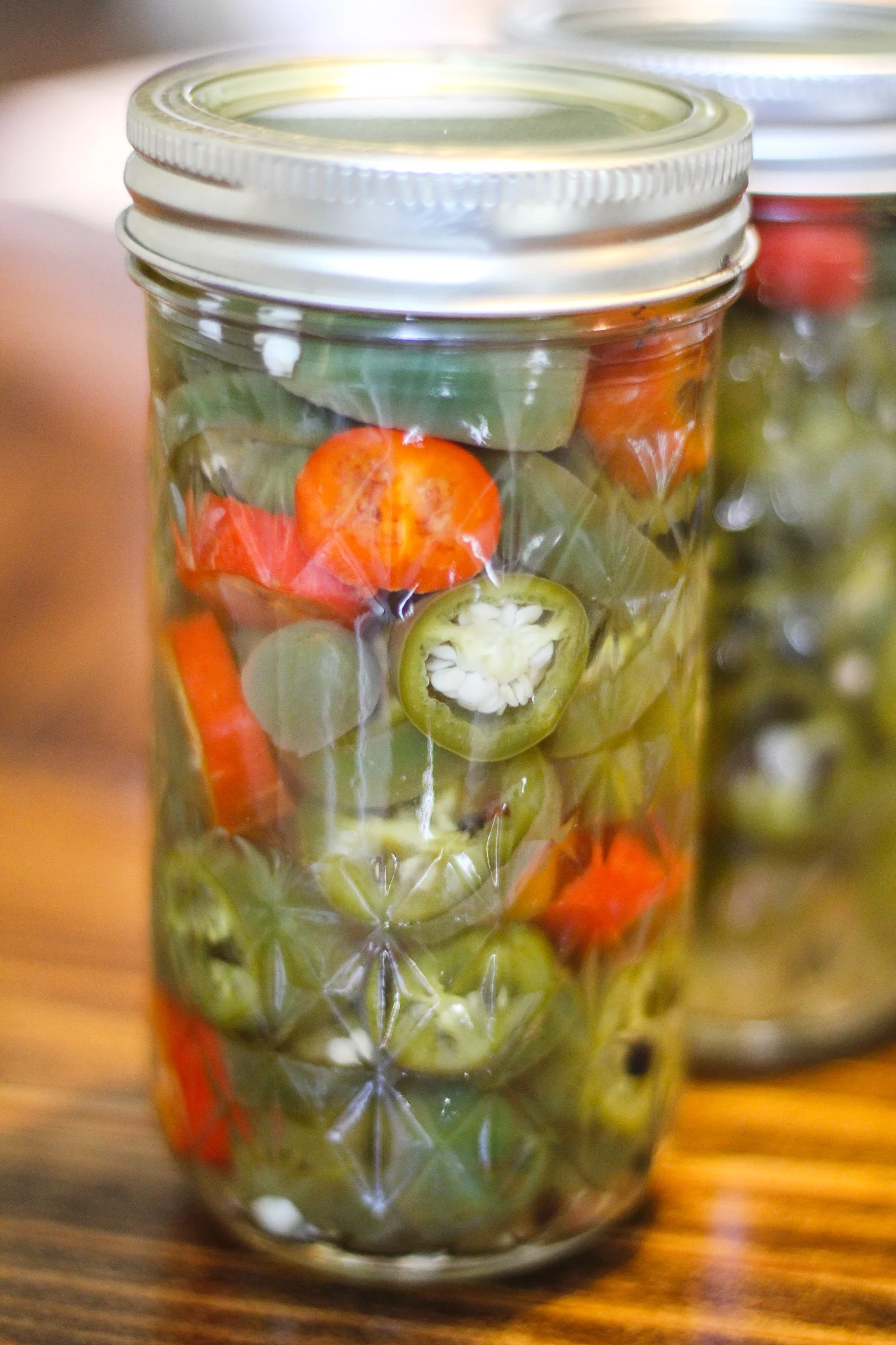 These pickled jalapeños are one of the easiest recipes I have ever made. After learning how simple it is to make these, I don't think I will be buying them in the store again. The flavor is packed full of tangy vinegar and is far superior to any I have ever had before.
How to make Your Own Pickled Jalapeños
The spice level for these pickled jalapeños really depends on the peppers themselves. You might end up with a super spicy batch, and then, you might also have a mild batch. Either way, they are so delicious.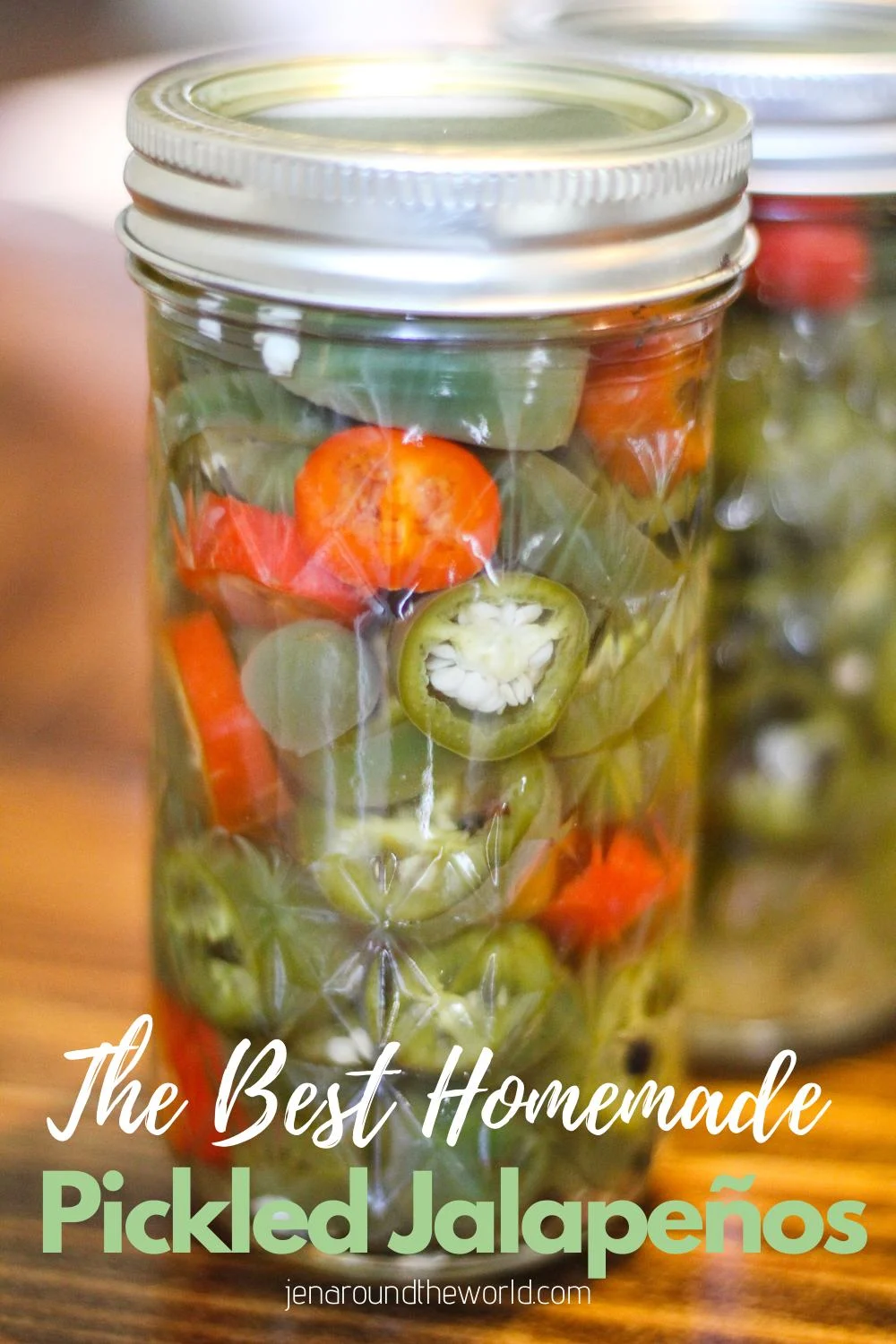 To start, you are going to first and foremost, wash and thinly slice 1 pound of jalapeño peppers, discarding the stems.
Please make sure to wear plastic gloves when handling this many sliced jalapeños. Touching your face or eyes after touching hot chiles is VERY painful, and needs to be avoided. This is where gloves can help.
To a pan, add water, distilled white vinegar, sugar, kosher salt, and a couple of peeled garlic cloves to a medium saucepan. Bring to a boil, stirring to dissolve the sugar and salt.
Once the mixture begins to boil, remove it from the heat. Add your sliced jalapeños, pressing occasionally to submerge them in the liquid. Let them steep for 10 to 15 minutes in the hot brine, mixing once or twice to ensure all the jalepeño slices spend time submerged.
After about 20 minutes, the jalapeños will begin to change color from bright green to a more muted green.
Some of the slices will still have some green color and that is ok. As they sit in the jar, they will continue to pickle.
Use a large lotted spoon to transfer your jalapeños into your mason jars. Pack them in, but make sure to leave a 1/4″ headspace at the top.
Using a strainer, take the pickling liquid and strain it from the saucepan through a small fine-mesh strainer into each of the jars to cover all the jalapeños with the brine. I do this to remove a few of the seeds.
Allow the jars to cool to room temperature, then cover with lids and refrigerate.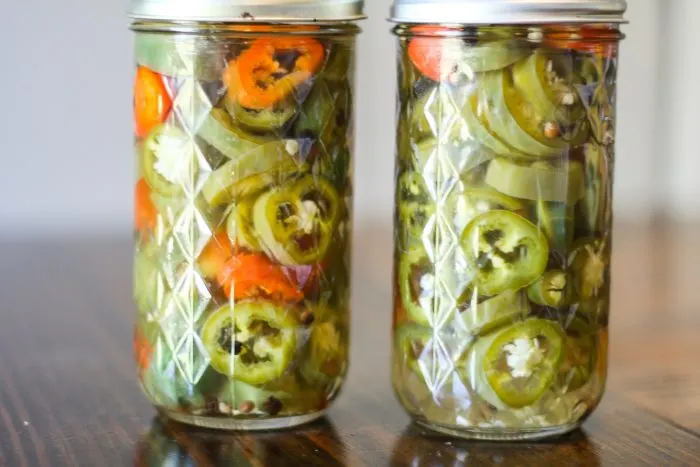 These pickled jalapeños will store in the fridge for months!
Use Your Homemade jalapeños in these recipes —
Yield: 2 pints
The Best Homemade Pickled Jalapeños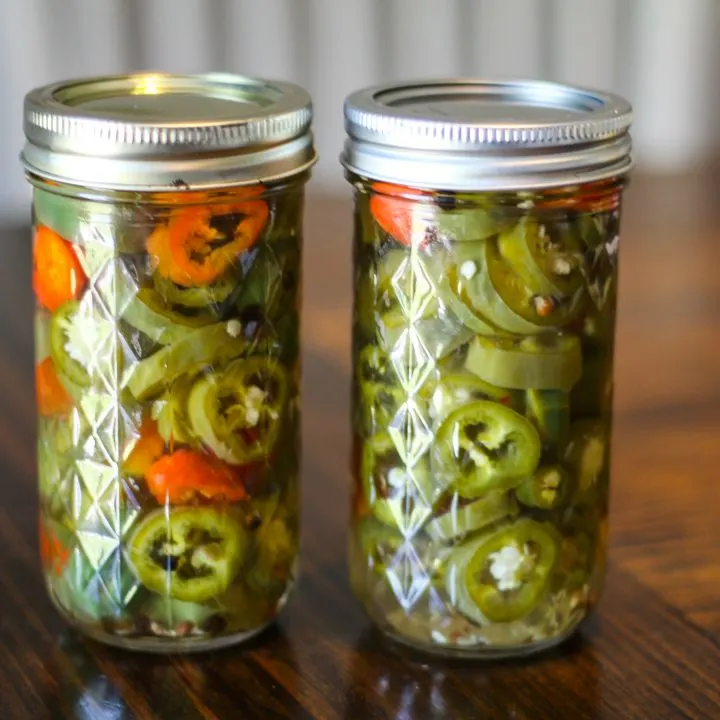 These are the easiest homemade pickled jalapenos you will ever make.
Ingredients
1 pound jalapeños stems removed and thinly sliced
2 garlic cloves smashed and peeled
1 cup distilled white vinegar
1 cup water
¼ cup granulated sugar
2 tablespoons kosher salt
Instructions
In a large saucepan combine the garlic, water, vinegar, sugar and salt.
Slice jalapenos. Make sure to use gloves so that you don't get the hot and spicy on your fingers!
Heat to a boil, stirring to dissolve the sugar and salt. Once the mixture comes to a boil, add the sliced jalapeños making sure to press hem down so they are in the brine.
Remove the pot from the heat and let it sit for 10 to 15 minutes, occasionally stirring and pressing the jalapeños into the brine.
Transfer the jalapeños to 2 pint-size jars using a slotted spoon.
Strain the brine using a fine mesh strainer.
Ladle the pickling brine over top until the jar is full making sure to leave a 1/4" headspace.
Let cool at room temperature before putting the lid on.
Place in the rrefigerator and enjoy!
Nutrition Information:
Yield:
50
Serving Size:
1
Amount Per Serving:
Calories:

8
Total Fat:

0g
Saturated Fat:

0g
Trans Fat:

0g
Unsaturated Fat:

0g
Cholesterol:

0mg
Sodium:

254mg
Carbohydrates:

2g
Fiber:

0g
Sugar:

1g
Protein:

0g