An easy recipe on how to make homemade pasta from scratch.
When my husband and kids purchased a Kitchenaid Stand Mixer for me for Christmas one year, I knew I was going to want all of the attachments that come along with it. For years, I have wanted to make homemade pasta, and so just a few short months ago, I purchased the pasta roller attachment and set out to learn how to make homemade pasta. I never in a million years realized how simple it is — so I decided to share with you my step-by-step tips.
You start with just a couple of simple ingredients — eggs and flour — which should be right in your pantry! Then add in a little salt and water and you will have delicious pasta.
How to Make Homemade Pasta
If you want to make a small batch of pasta for say — one or two people, simply use about two eggs per cup of flour and you should have enough for a small dinner.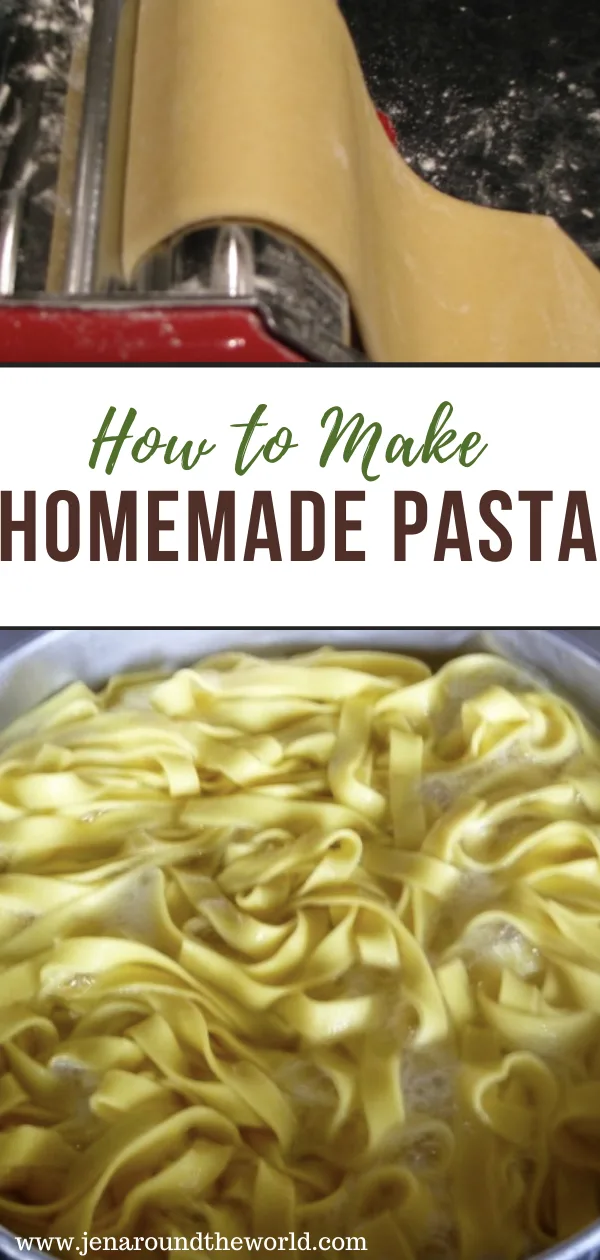 Now, make a well in the center of your flour and crack in your eggs. If you would rather do it right on the cutting board instead f in a bowl you can, but I like using my pyrex clear mixing bowls. They make great photo props for my pictures.
Slowly mix together with your hands or a big spoon. Turn it out onto a floured surface and knead by hand for just a bit, until the dough becomes smooth and pliable. If you need to add more dough to the board or your work surface, it is totally okay.
Let your lump of dough rest for a bit — about 20 minutes.
When you come back, cut your dough into fourths –small enough to work through the pasta attachment on your mixer.
Time to Roll Your Dough
Set up your mixer with the flat pasta roller. It is the one that has no teeth and has a dial on it. You will start with the roller attachment set to #1. From there you will make your dough piece just wide enough to fit through the rollers. Then begin the process of rolling it out.
If the dough comes through torn or holey, simply fold it together again and run it back through. I have to run it through about 5 or 6 times before I get it like I want it.
Once you get it to the point that it is coming through without ripping or tearing, increase the number on your roller attachment to #2.
Run it through and then move on down to #3 doing the same thing. Repeat this process until you get to #4. Once you get here, turn off the mixer and flour your surface so that you can lay out your sheets of pasta (and yes — at this point, they are long sheets). Be sure to cut them down to the size of noodles you want. If not, you are going to have really long noodles.
At this point, remove the roller attachment and choose which of the pasta cutter attachments you want to use. In this 3 piece set I got, I have the option to choose spaghetti or fettucini, so for this particular post, I made fettucini noodles.
Once you get it secure, take each of your pasta sheets and start running them through the cutter. Just set your plate on the counter underneath your stand mixer and it will catch all the noodles as they come off.
Cooking Your Dough
You can buy a drying rack like this one I found on Amazon and allow your noodles to dry so you can store them, or you can do it like me and cook them right up to enjoy with my famous Homemade Chicken Fettucini Alfredo recipe.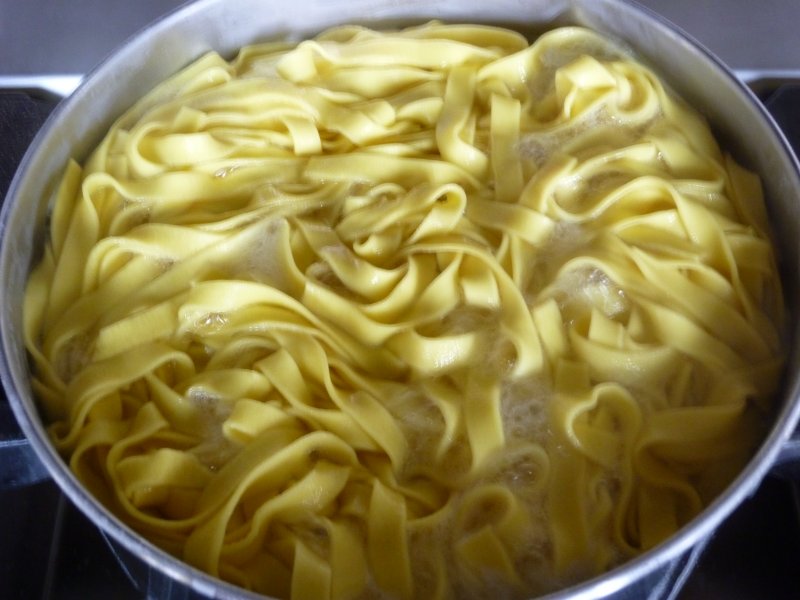 Now that you have a step-by-step process on how to make homemade pasta, are you ready for the adventure?
Have you ever made homemade pasta? What did you do to make yours?
Check out these other pasta recipes
Yield: 8 servings
How to Make Homemade Pasta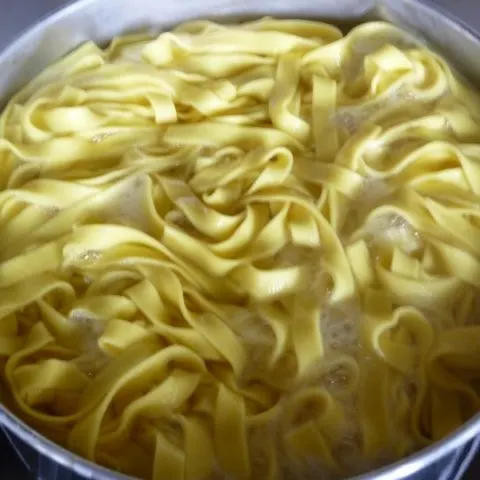 Make your own pasta at home with this simple recipe
Ingredients
3 1/2 cups all-purpose unbleached flour, sifted (plus extra flour for preparing)
1/2 teaspoon salt
4 large eggs, beaten
2 Tablespoons water
Instructions
Mix the above ingredients together and place in a bowl. Mix together and then pour out onto a floured surface. Knead for a couple of minutes and then let dough rest for 20 minutes.
Cut dough into four pieces before processing with pasta sheet attachment. Take one piece and flatten into a rectangular shape. Adding flour to both sides. Be sure to cover the other pieces. Attach the pasta sheet roller to your stand mixer and set it to #1. Turn on the stand mixer to speed 2 and run the pasta dough through the pasta sheet roller. While on #1, fold the dough in half and run it through again. I do this several times.
Adding a little bit of flour on each side of the dough again, change setting to #2 and pass the pasta dough through the sheet roller. I do this twice and then twice each on #3 and then #4.
Once again, add flour to each side of your long pasta sheet. Change the attachment to your spaghetti or fettuccine cutter and turn on to speed 2.
Before running your pasta through the cutters, cut each sheet to the size of the pasta you want.
Run the pasta sheet through and with your left hand, hold on to the pasta as it comes through the cutter.
Allow pasta to dry for a few minutes before boiling.
When boiling your pasta, it only needs 3 to 7 minutes to boil. To your boiling water, add some salt and then boil your pasta.
Nutrition Information:
Yield:
8
Serving Size:
1
Amount Per Serving:
Calories:

93
Total Fat:

3g
Saturated Fat:

1g
Trans Fat:

0g
Unsaturated Fat:

1g
Cholesterol:

93mg
Sodium:

168mg
Carbohydrates:

12g
Fiber:

0g
Sugar:

0g
Protein:

5g