These are the 10 Best Places to eat in Nashville, TN. Spend a girls' weekend in Music City and visit the shops and restaurants below. You will not be disappointed!
I live about 2 hours from Nashville, Tennessee — The home of Country music.
I have been countless times for concerts, family outings, and more. But my favorite? Spending a girls' weekend in Nashville — eating all the things and shopping at all the best places!
There is more to Nashville than just the mall. If you have never been, I have the lowdown for you on some of THE BEST places to eat in Nashville, as well as a few hidden gem shopping locations you need to hit upon your weekend there.
Need a place to stay for the night? Hotel Preston has you covered. They are about a mile from the airport and offer shuttle service as early as 4 am — which works great if you have a super early flight.
Of course, you have to make sure you take a tour of the city and look up all the famous Nashville murals you'll find there.
If you need some inspiration for a day out or a weekend in Nashville, here are our favorites!
What to do during a weekend in Nashville?
#1 Book lovers will fall for McKay's!
At the top of my list is taking a trip to McKay's Bookstore. If you have never been, this is one of the largest used bookstores in America and it is my all-time favorite place to visit.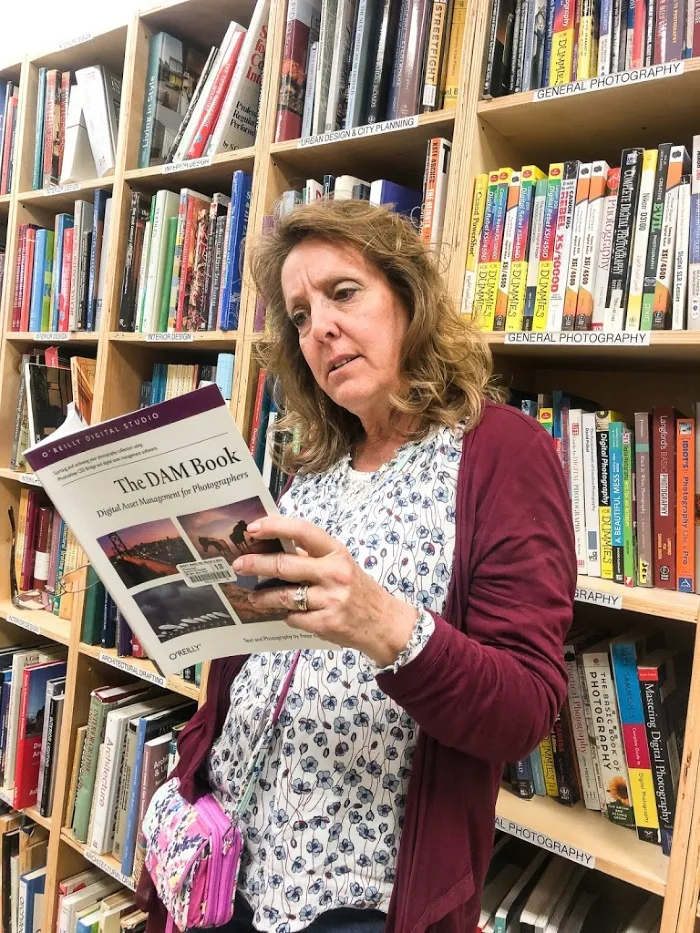 I spend countless hours here when I go. I take all my older books that I want to trade in and they give me credit for those to spend on other books I am wanting. Their prices are amazing — so definitely go here! They have more than just books — movies, music, toys, and so much of all the good stuff. It is a definite must-visit place when you go to Nashville.
#2 Seeing All the Murals in Nashville
One of my favorite things is driving all over Nashville and checking out their amazing murals.
The city is known for its artistic murals like the wings that can be found in the Gulch — and it's right near one of the most amazing restaurants ever (you'll hear more about that below).
#3 Great Shopping All-Around
Nashville has some amazing places to shop — from Opry Mills to downtown by the Bridgestone area (we love going down there and parking and then walking the street visiting all the shops!)
Of course, when in Nashville, one must try on cowboy boots. Found the perfect pair at a discount!
Another great shopping experience in Nashville is the antique shops that are located all over the place. If you search the internet for Nashville Tennesse antique shops, you will find many that are filled to the brim with beautiful trinkets.
#4 The Nashville Flea Market is a Must
This year I finally got my taste of the Nashville Flea Market and it is AMAZING! On the 3rd or 4th weekend of every month, vendors come together all under one roof for the flea market.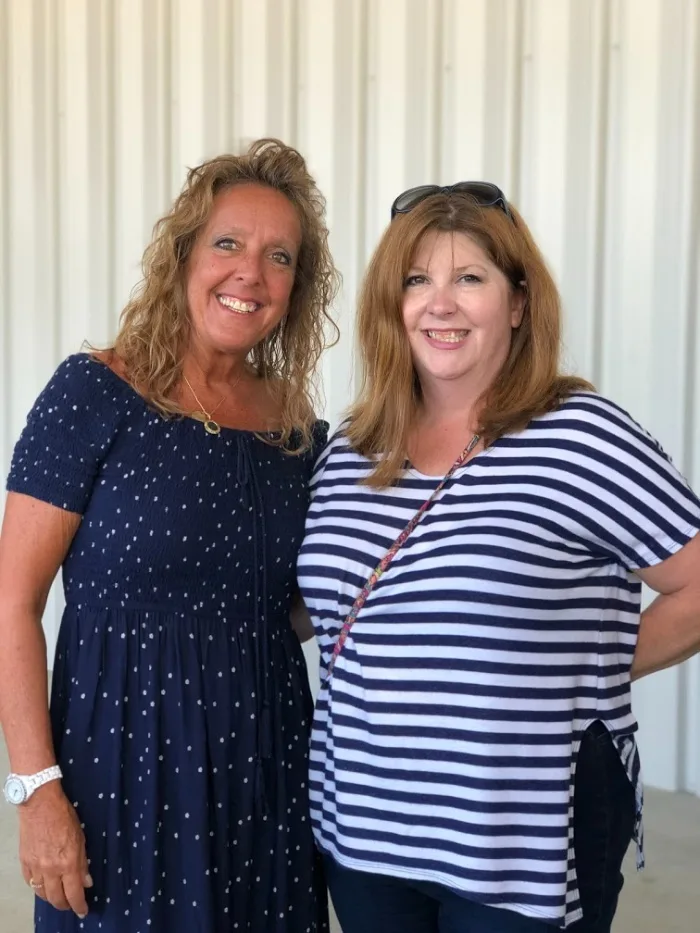 It can be overstimulating, but I promise if you just take it one building at a time, you will love visiting here. So much to do and see and all it costs is just the fee for parking.
Okay — so now that you know a little bit about what to do in Nashville, let's talk about these amazing restaurants!
10 Best Places to Eat in Nashville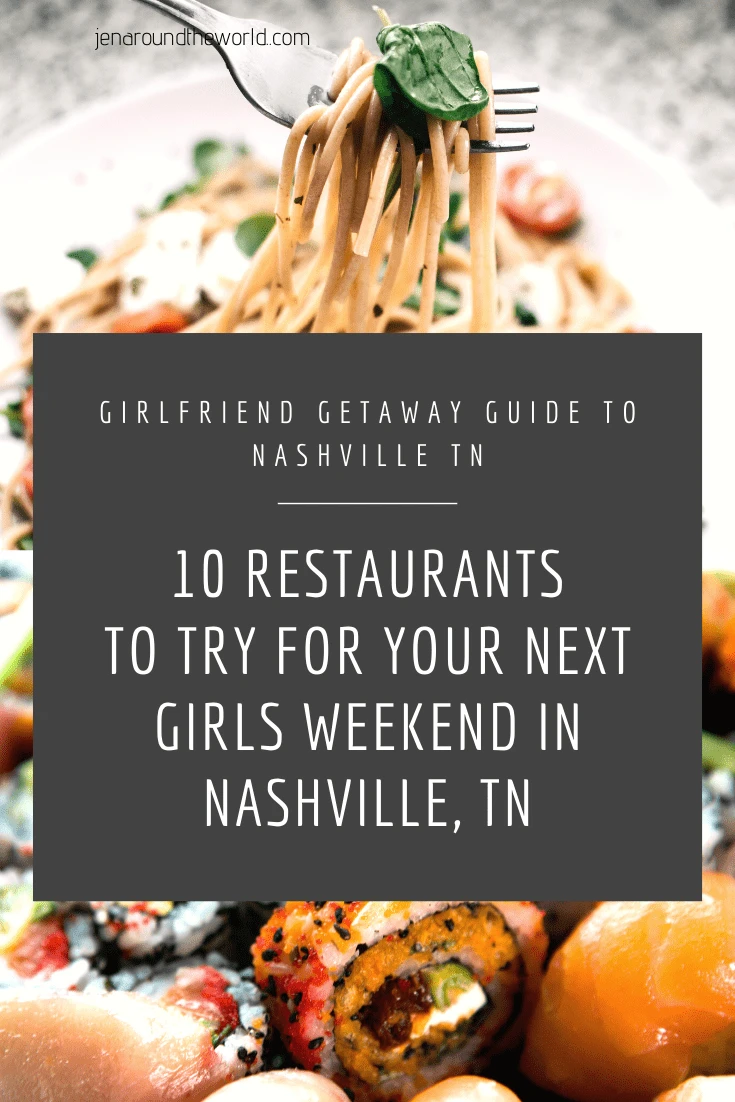 #1 Hattie B's Hot Chicken
Out of all the restaurants in Nashville, Hattie B's is my ultimate favorite — but just because Nashville Hot Chicken is MY FAVORITE chicken on the planet.
Anytime I am headed to Nashville, Hattie B's is definitely on the list of places to visit.
#2 Biscuit Love in the Gulch
Biscuit Love has 3 locations but I went to the one in the Gulch when I was taking pictures of the murals.
They have the best biscuits out there and the food flavor combos are phenomenal.
#3 Martin's BBQ Joint
If you want delicious bbq — then Martin's is where it's at! They smoke whole hogs every single day and each location that they have is unique. It is definitely a must-visit bbq joint on your trip to Nashville.
#4 Five Daughters Bakery
This bakery has 3 locations and has the ultimate donuts — including a 100 layer donut. No. I am not kidding.
Their donuts are made from scratch and feature no chemical preservatives, no- GMO, no hydrogenated oils, no soy, no artificial colors or flavors.
Their treats are made daily from scratch, sourcing locally and fresh and they offer a vegan and a paleo donut as well!
#5 The Grilled Cheeserie
I am all about a good grilled cheese (like I had when I was in Atlanta a little while ago) — so when I heard about this restaurant, I knew it was going to make it on my list of the best places to eat in Nashville.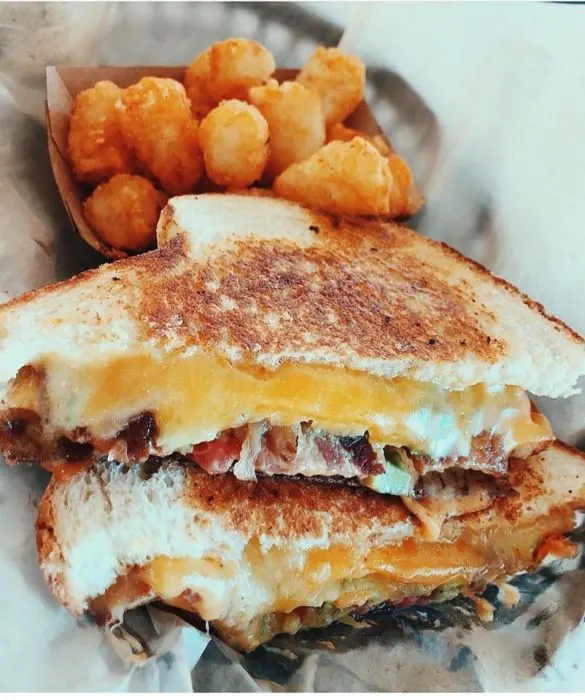 The Grilled Cheeserie offers a different spin on the classic grilled cheese sandwich and cup of tomato soup.
If you really want something amazing, be sure and grab an order of their cheesy tots or any one of their shakes from the Milkshake Bar.
#6 The Pharmacy
I love a good burger, and The Pharmacy Burger is where it's at in Nashville.
This is not only a burger parlor but a beer garden as well. They make their own sausage in house and they offer some of the best burgers out there. The atmosphere is uplifting and the beer garden is always packed — so they must be doing something right.
#7 Moto Nashville
Moto is hands down one of the best Italian restaurants that you will find in Nashville. If you are looking to eat light, then you should get ready to splurge.
They offer here a creative and fresh new twist on classic Italian meals, with an award-winning wine list.
This would make the perfect date night place if you ask me. I do love me some Italian food!
#8 Mas Tacos
Now you know I am not going to give you a list of best restaurants without first making sure there is a Mexican joint — right? I mean, tacos are my love language.
At Mas Tacos you will find the most authentic Mexican food on the market and the atmosphere at this restaurant cannot be beaten.
#9 Arnold's Country Kitchen
If you are looking for authentic country cooking, then Arnold's Country Kitchen needs to be your choice of restaurant.
They have been in business since 1982 and offer true home-cooked food served on bright red trays.
As you walk down the serving line, you'll choose from-scratch staples like roast beef, meatloaf, and fried catfish, to go along with sides like long-cooked turnip greens, fried apples and, mac and cheese.
#10 Nicky's Coal Fired
Some of the best pizza out there comes from Nicky's Coal Fired. They have a pizza oven named Enrico that makes the best artisanal pizzas, and also cooks up a collection of small plates and pastas including chicken thighs and brussels sprouts.
The pizzas are made with either a red or white sauce and topped with all kinds of toppings like anchovies, capers, potatoes, cured egg yolk, and mozzarella.
This is definitely a place you want to eat at — especially if you are a pizza lover like me!
Conclusion
So there you have it — my list of some amazing places to eat on your girl's weekend getaway to Nashville. Don't forget that you can it up the Nashville Zoo or the Parthenon for a fun-filled weekend away.
What is your favorite Nashville, Tennessee restaurant?