Freight House restaurant, the first farm to table restaurant in Paducah, KY is definitely worth a visit y'all! Check out my dining experience below.
On a recent outing with my best friend Michele to celebrate her birthday, I wanted to surprise her and take her somewhere special to eat.
I had heard about Freight House Restaurant in Paducah KY — the first and only farm-to-table restaurant in this area, so I knew this would be exactly what we were looking for!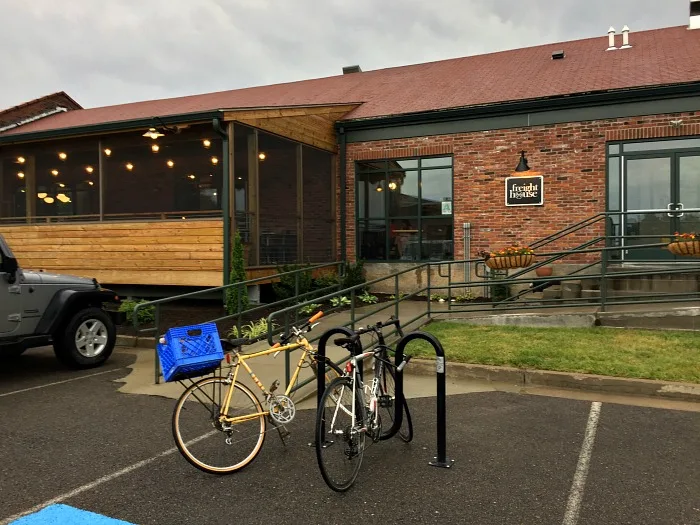 Michele and I love to get out and go antique shopping (which we recently did on an outing in Harrodsburg, KY) — and we have also been doing the same thing here in Paducah. We have a LONG list of shops to visit. We also love to visit the Paducah, KY restaurants as well. There are many to choose from!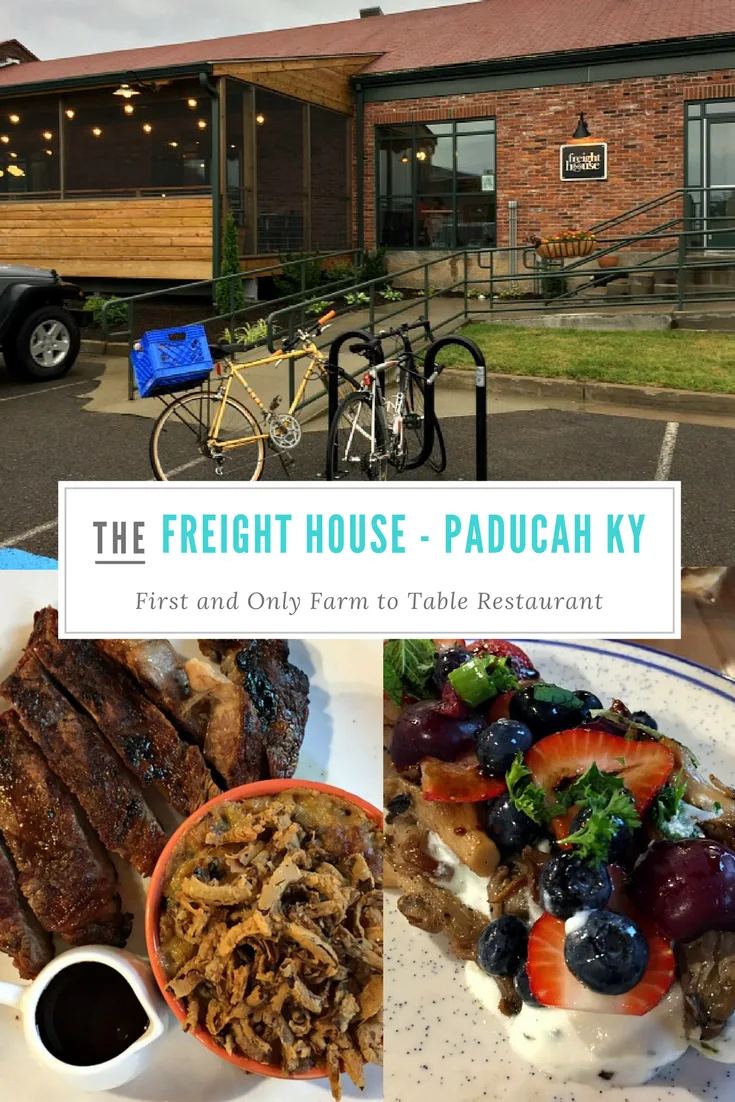 On this day, we ventured out to a store that I thought was a nursery, but turned out to be much more. The eclectic farmhouse feel of the store left me wanting to visit a restaurant with that same touch and feel.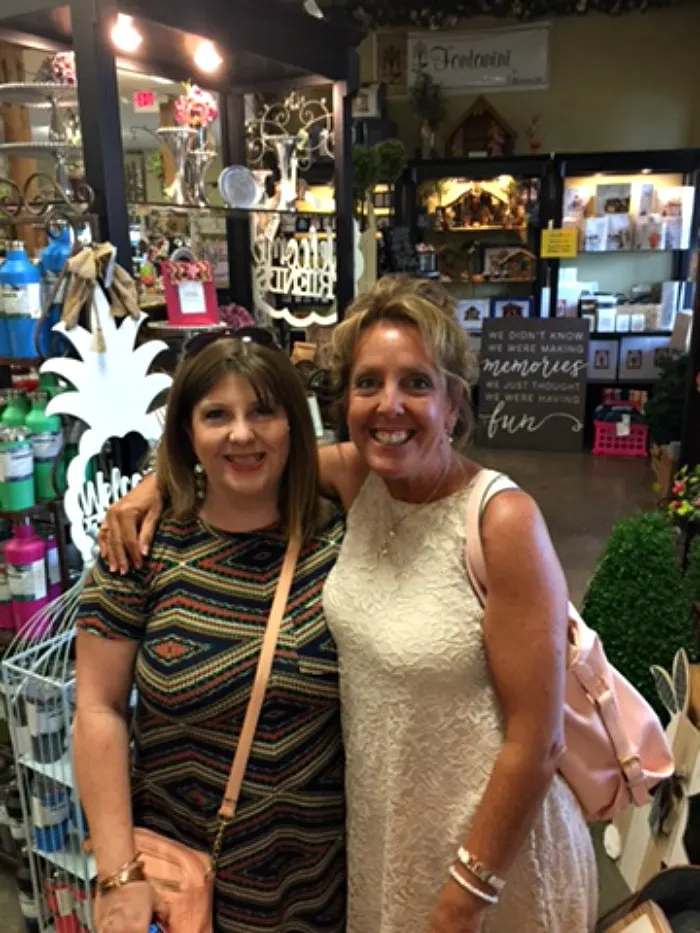 When we go out, we always dress up. We are both stay at home wives, so putting on a dress, makeup and jewelry and making ourselves feel like a princess — that is always a plus to our outing day.
Okay — so let me tell you about the Freight House Restaurant.
Freight House Restaurant
From the moment you drive up, you are already being transformed into an upscale dining experience. The outside is tastefully decorated, with cute lighting, an outdoorsy feel, beautiful flowers and more.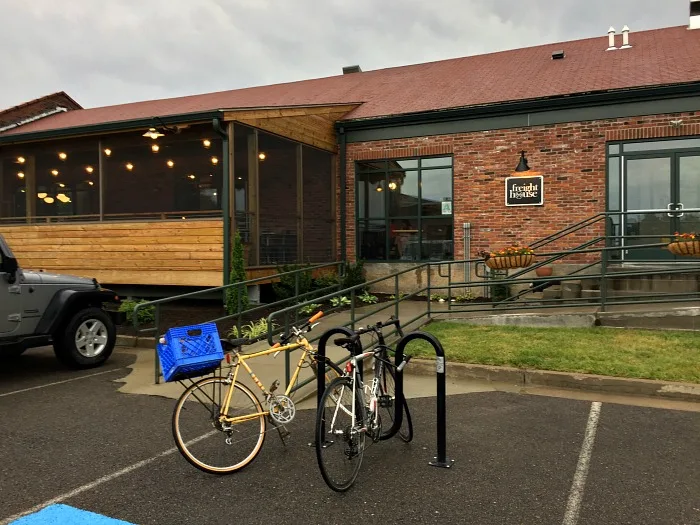 Inside, the restaurant is equally and tastefully decorated. The staff was simply amazing and very attentive, especially when we told them that it was Michele's birthday.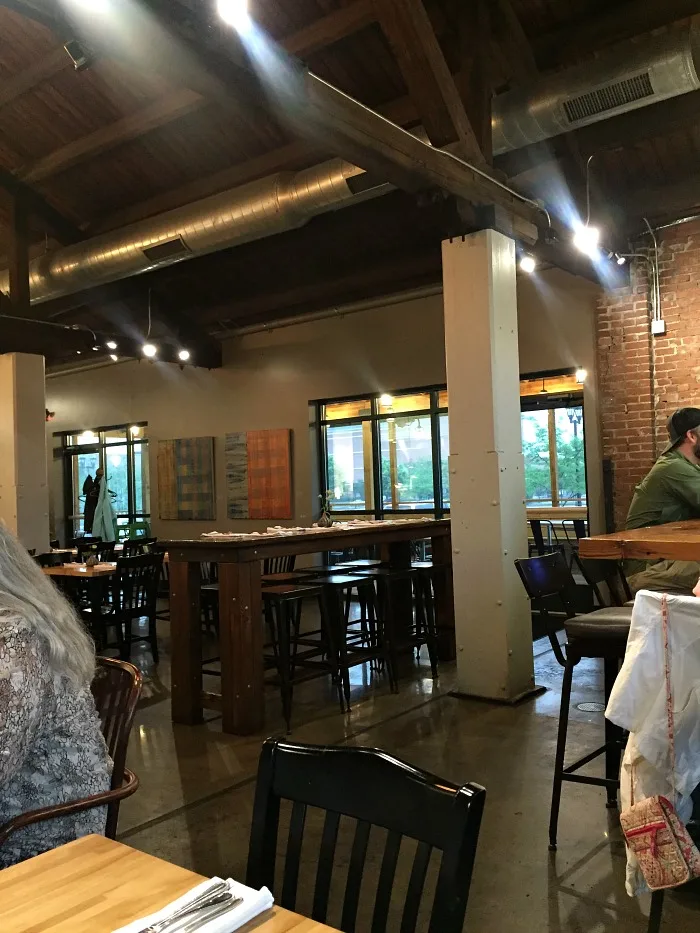 I loved how when you sat down, you could see right into the kitchen. The bar area was right behind us, so our waitress gave us the wine and cocktail menu. She helped Michele pick out the perfect red — not too sweet, not to pungent. Just the perfect blend.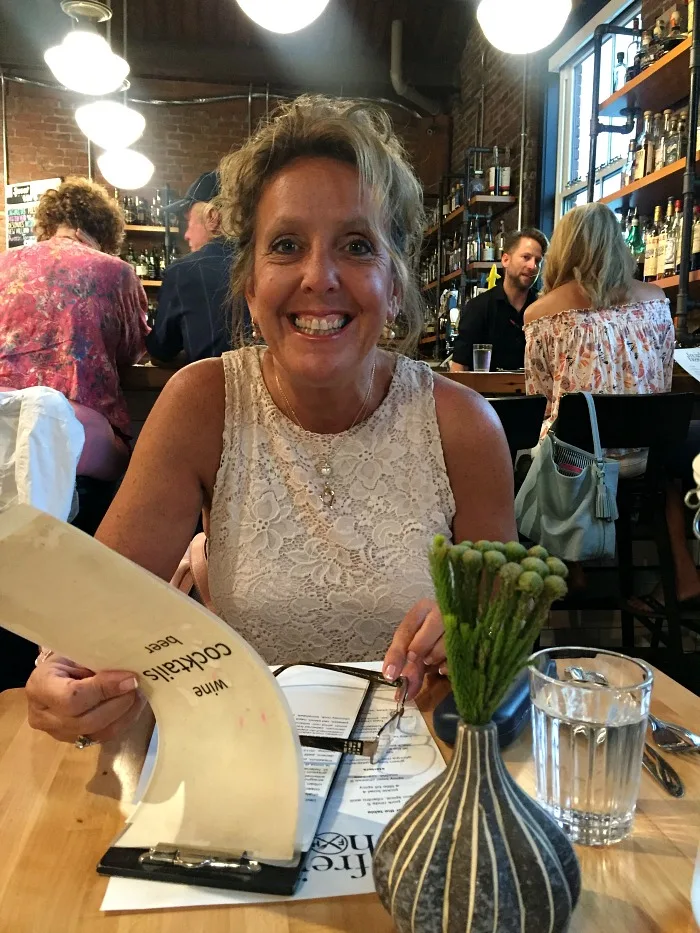 When it came time to order, Michele and I could not make up our minds. There were so many delicious choices on the menu.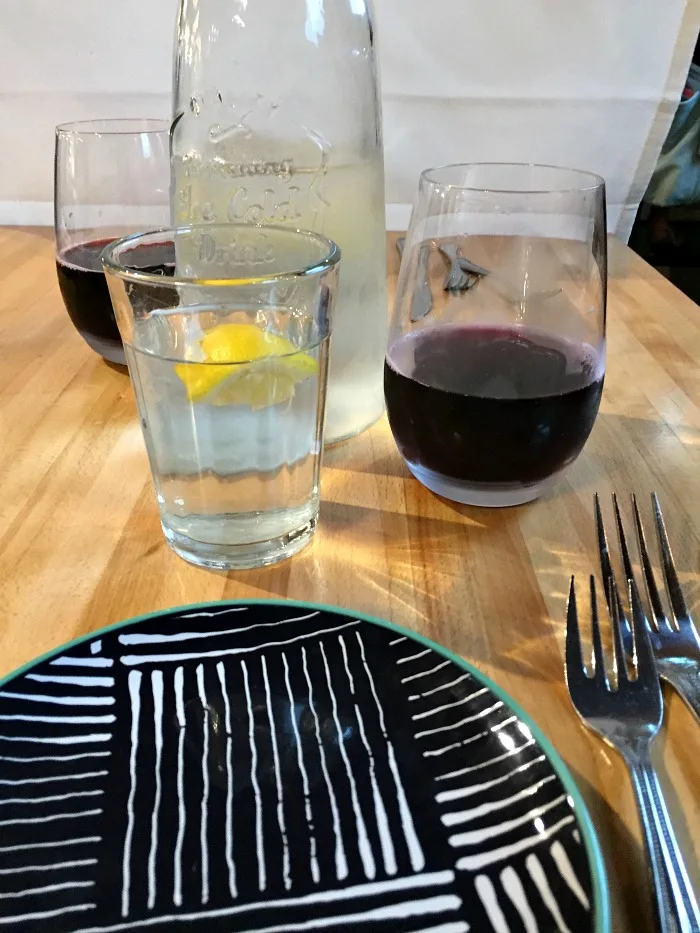 Most of all the food is made by Chef Sara Bradley, who has studied under Chef John Fraser of Dovetail in New York, as well as David Posey and Paul Kahan from Blackbird in Chicago.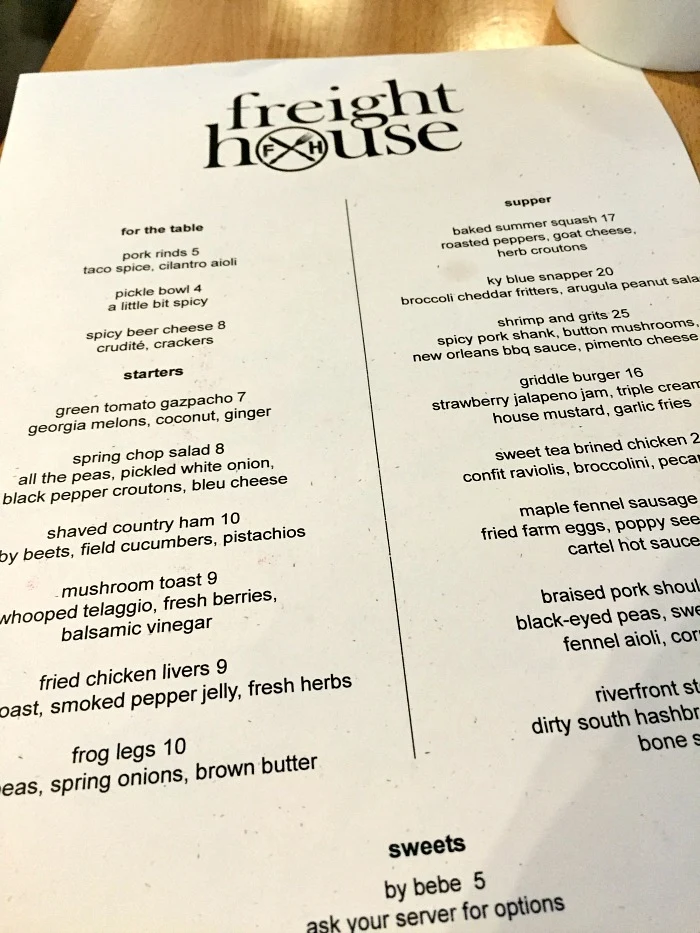 The Appetizers
We asked our waitress what some of the most popular appetizers were — and she led us to two — the Spicy Beer cheese with Crudite and homemade crackers.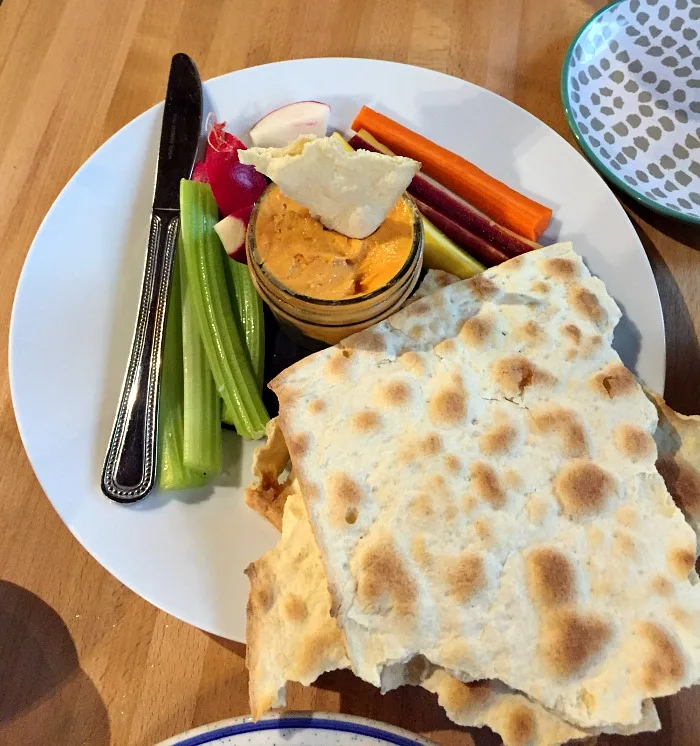 And the mushroom toast, with fresh berries, whipped telaggio, and balsamic glaze. All I can say about this is — OH MY GOODNESS! It was SO good y'all!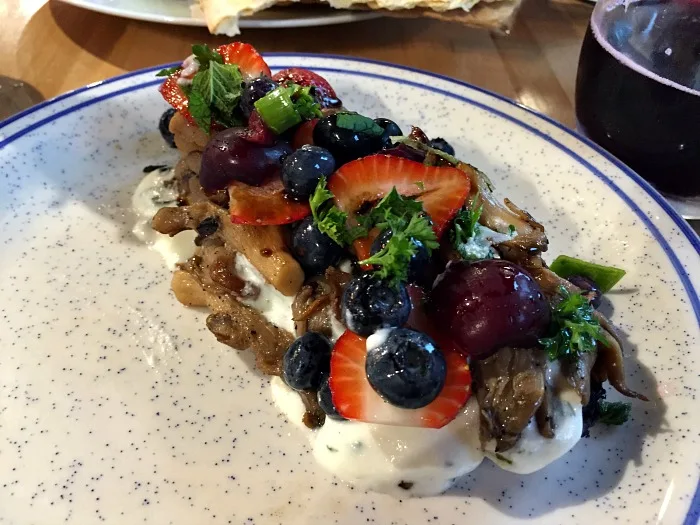 I know it sounds like a weird combo, right? But the foodie in me just had to try it. I am so glad I did because every bite was so delicious.
I think that is one of the things I love about this restaurant — the chef and her team only use the freshest ingredients from around the area.
The Main Course
When it was time for the main course, being Michele's birthday, she opted for the steak with dirty south hashbrowns and a bone sauce to pour over the steak.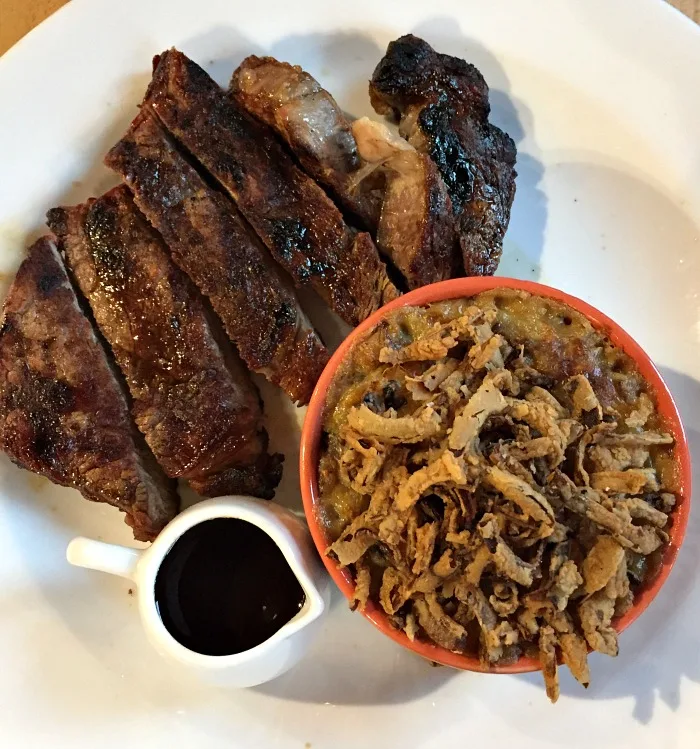 This steak was SO tender and delicious and that bone sauce? THE BEST sauce I have put in my mouth in a very long time.
For myself, I chose the griddle burger. That strawberry jalapeno jam was calling my name. Everything about this burger was extreme perfection. And, if burgers are your thing, be sure to check out this post I wrote about some of the Best Burger Joints in Kentucky.
Brie Cheese, whole ground mustard, garlic fries — I could have eaten this entire burger all by myself. Oh wait — I did!
Michele captured a photo of me snapping my burger 🙂 My face is priceless.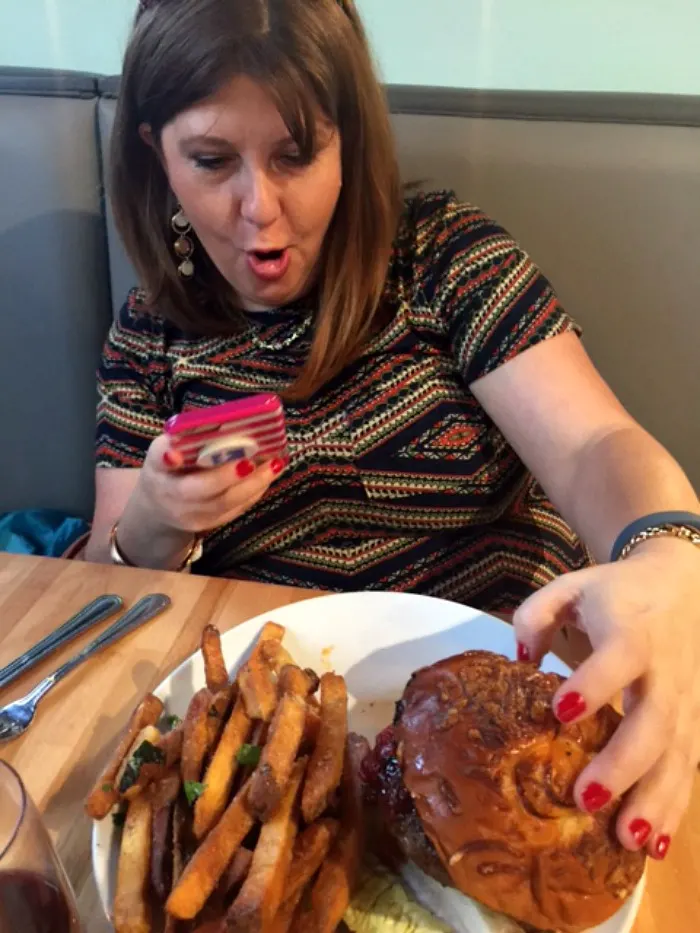 This was probably the best meal I have had in a very long time. Eating here reminded me why I love cooking at home for my family. Fresh ingredients, friends and family, long conversations. It makes it all worth it.
Are the Prices High?
The prices here are fairly decent — especially since it is a farm-to-table restaurant experience. The steak was market price, but if you are used to an upscale experience like this, then that will not deter you from eating here.
If you have never eaten somewhere like that, you need to — at least once. The menu changes seasonally, so I am looking forward to the fall when pumpkins are in season. Can you taste those fresh ingredients?
My family and I will be definitely coming back here soon. I cannot wait to show them the beauty of the Freight House Restaurant in Paducah and brag about their farm-to-table experience.
Looking for other fun Western, Ky restaurants to eat at? Click that link and find my favorite list.