If you are a person who loves Southern cooking, you will love this easy recipe for Slow Cooker Pinto Beans with Ham Hock. In the South, or at least in my house, we refer to them as brown beans. Either way, they are delicious!
When I was a kid, my momma always had a pot of beans going on the stove. Whether they were white beans, brown beans, lima beans, or green beans. That woman never had dinner without some kind of bean to serve. Beans and ham were, also, some of the best MRE meals people could have in a war.
I never ate them because I do not like beans. At all. Unless they are in something like my Black Bean Brownies or my Everything Bagel Hummus.
Then, I married a man who loves any kind of bean. So I had to make it my mission to learn how to cook them. I think I have done pretty well learning, so I thought I would share with you too just in case you need an easy recipe for making Pinto Beans. My secret is my slow cooker.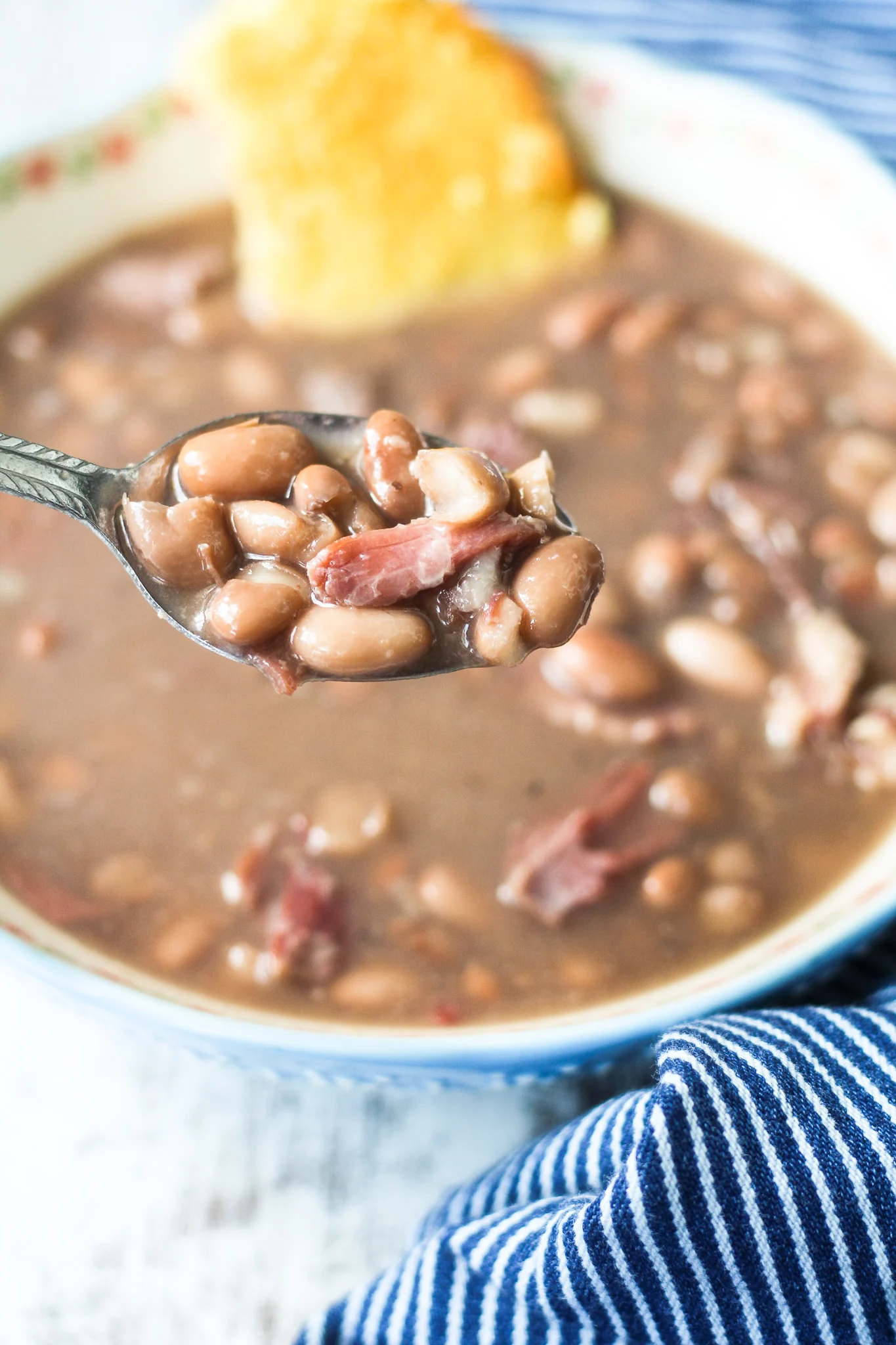 How to Make Slow Cooker Pinto Beans with Ham Hock
This recipe could not be easier to make.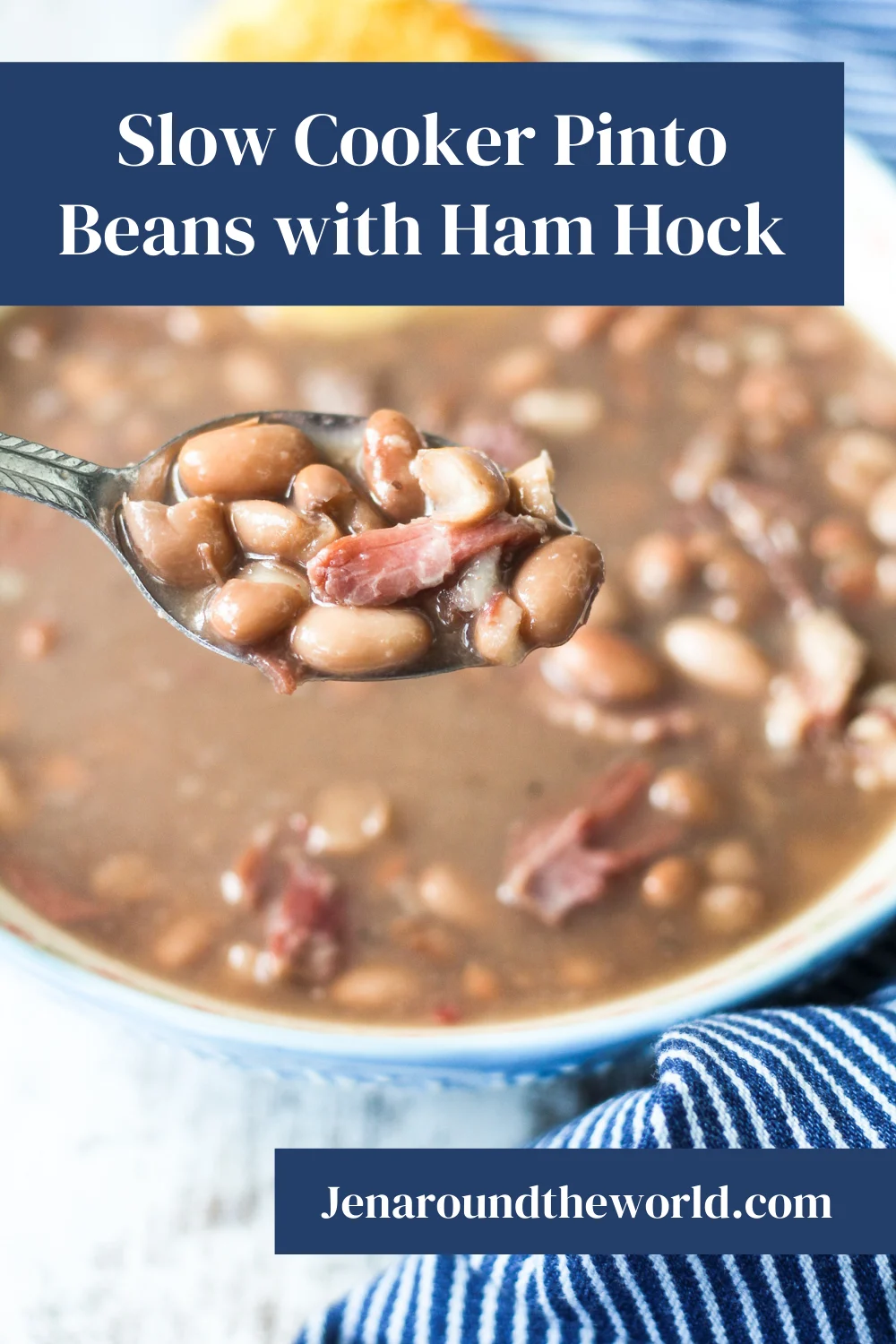 To start with, you need a 16-ounce bag of dried pinto beans from the store. Keep in mind that dry beans need to be sorted, and washed prior to cooking. You need to do this because occasionally you will have rotten ugly beans in your bag and you will need to remove them.
I also let my beans soak in a water bath in the fridge overnight. This softens them and cuts down on the cooking time tremendously. You do not have to do this though. You can go straight from the bag to the slow cooker.
Pour your beans into the crockpot.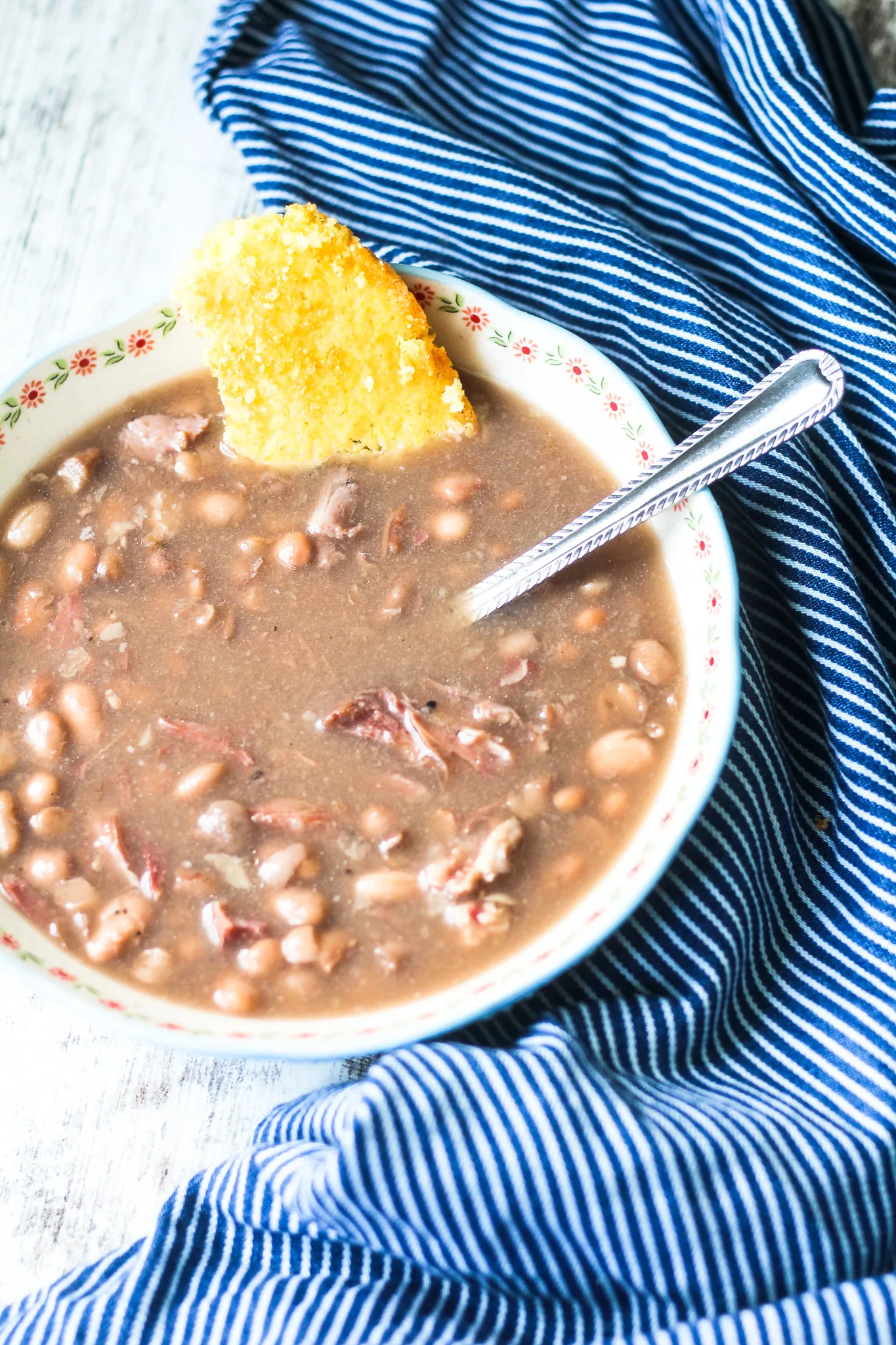 Next, you are going to get a smoked ham hock and nestle it right into the dried beans. Smoked ham hocks can usually be found in the grocery store where the bacon and sausage are located.
My grocery store offers a two-pack for around $4. They are super cheap and add a ton of flavor to your beans.
Once you get the ham hock nestled, add in one teaspoon each of garlic powder and onion powder. Then, 1/2 teaspoon of salt and black pepper.
Cover the beans with water. There should be about 2 inches of water above the beans. Put the lid on and cook on low for 8 hours or on high for about 5 hours. You may need to add more water to your beans if you don't soak them in a water bath overnight.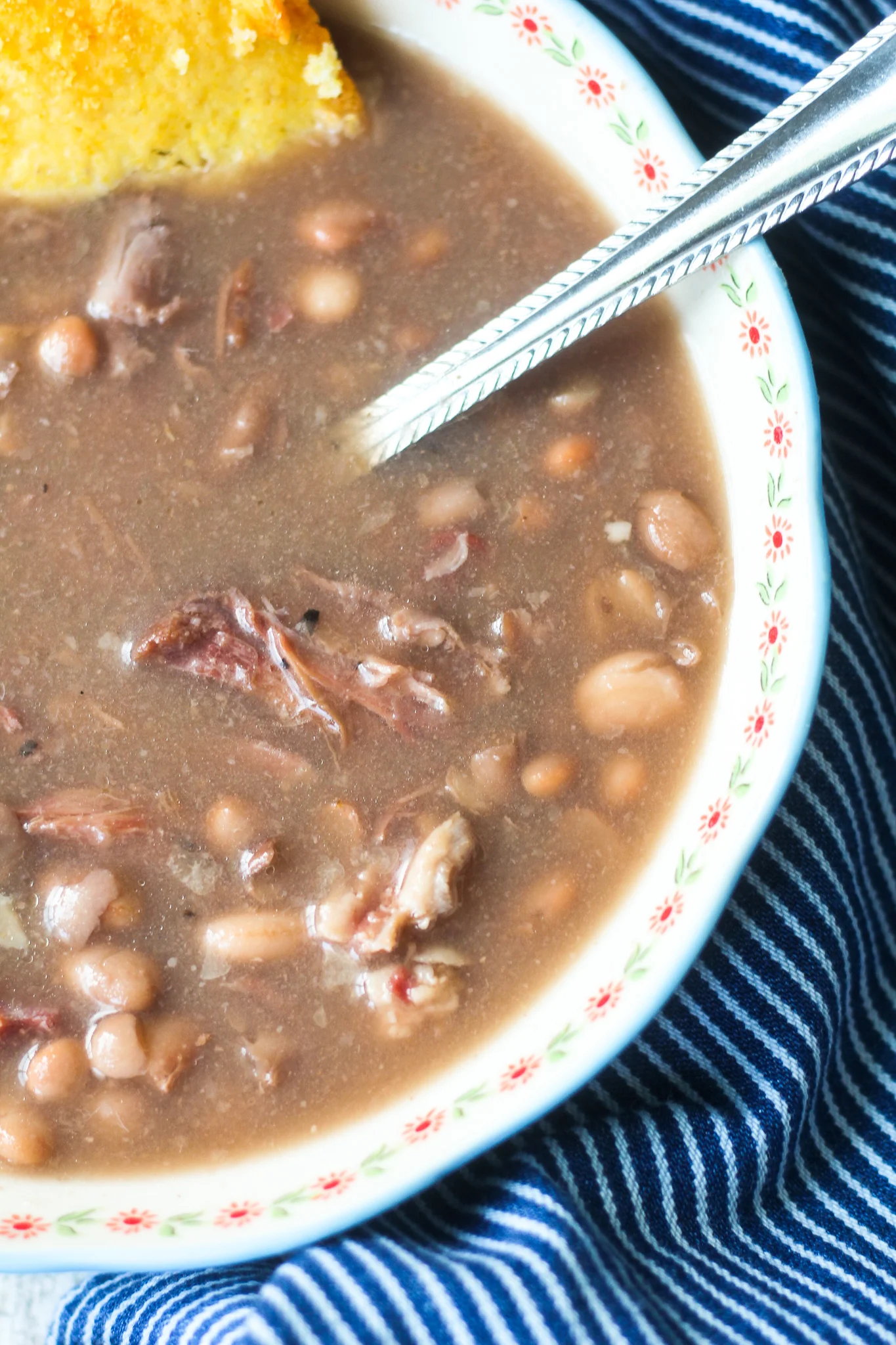 Once the beans are soft, remove the ham hock from the beans. Take the fatty portion off and shred the meat with a fork. Put the meat back in and mix in with the beans. Give it a taste and season with a little more salt and pepper if needed.
Serve these delicious beans with a side of my Classic Skillet Cornbread and top with pickled chilies for the perfect weeknight dinner idea. You can use this as a side dish if you want, but my husband loves to just eat it as his main meal sometimes.
Looking for other bean recipes? Check these out
Yield: 6 servings
Slow Cooker Pinto Beans with Ham Hock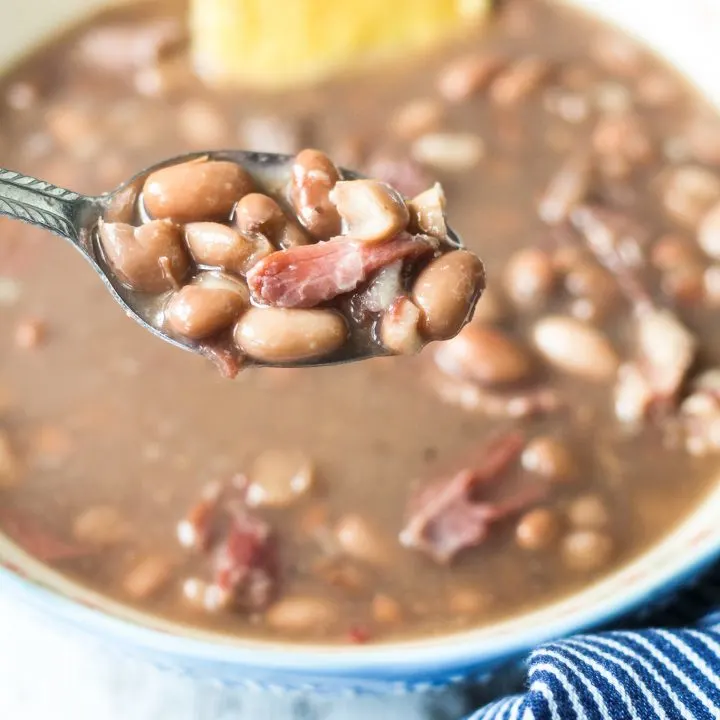 This is a foolproof and easy recipe for Southern Pinto Beans. Tender beans and flavorful ham hocks slow-cooked together for a delicious, hearty meal.
Total Time
6 hours
5 minutes
Ingredients
16 ounce bag of dry pinto beans sorted and washed
1 large ham hock or substitute
1 teaspoon of garlic powder
1 teaspoon of onion powder
1/2 teaspoon of salt
1/2 teaspoon of pepper
7 Cups Water if you are doing dry version or 4 cups of water if you did a water bath overnight
Instructions
After sorting and washing the beans, put them in the crockpot.
Add in the ham hock.
Season with garlic powder, onion powder, salt, and black pepper.
Pour in the water.
Cover the Crock-Pot, then set in on high for 6 hours.
Once the beans are done, remove the ham hock. Take off the fatty portion of the hock and throw it away. Shred the meat and throw it back into the beans. Stir to mix in and then serve with a side of cornbread.
Nutrition Information:
Yield:
6
Serving Size:
1
Amount Per Serving:
Calories:

286
Total Fat:

2g
Saturated Fat:

1g
Trans Fat:

0g
Unsaturated Fat:

1g
Cholesterol:

8mg
Sodium:

212mg
Carbohydrates:

48g
Fiber:

12g
Sugar:

2g
Protein:

19g