There is nothing better than an old-fashioned pot of Southern-style white beans and ham served with a piece of buttery cornbread.
I grew up in a house where my mom and dad grew their food, shot their meat, fished for dinner and we ate a lot of beans and cornbread growing up. In fact, my mom used to call this white bean soup.
Fast forward to 26 years of marriage and I am married to a man who loves all those same things, so getting the perfect pot of Southern Style White Beans and ham is important.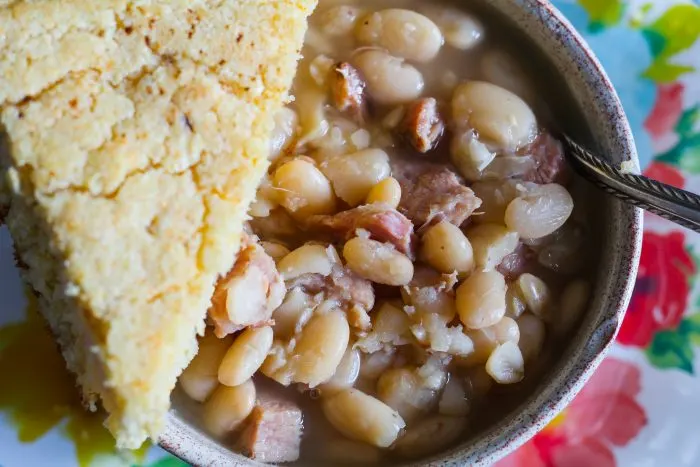 This recipe is usually made with a ham bone or smoked ham hocks and Great Northern Beans. It adds a great smoky flavor to the beans. You can find the ham hocks for sale in the meat aisle at the grocery store, or just ask the butcher if they have any leftovers.
If you are not a fan of Great Northern beans, you can use navy beans or cannellini beans instead.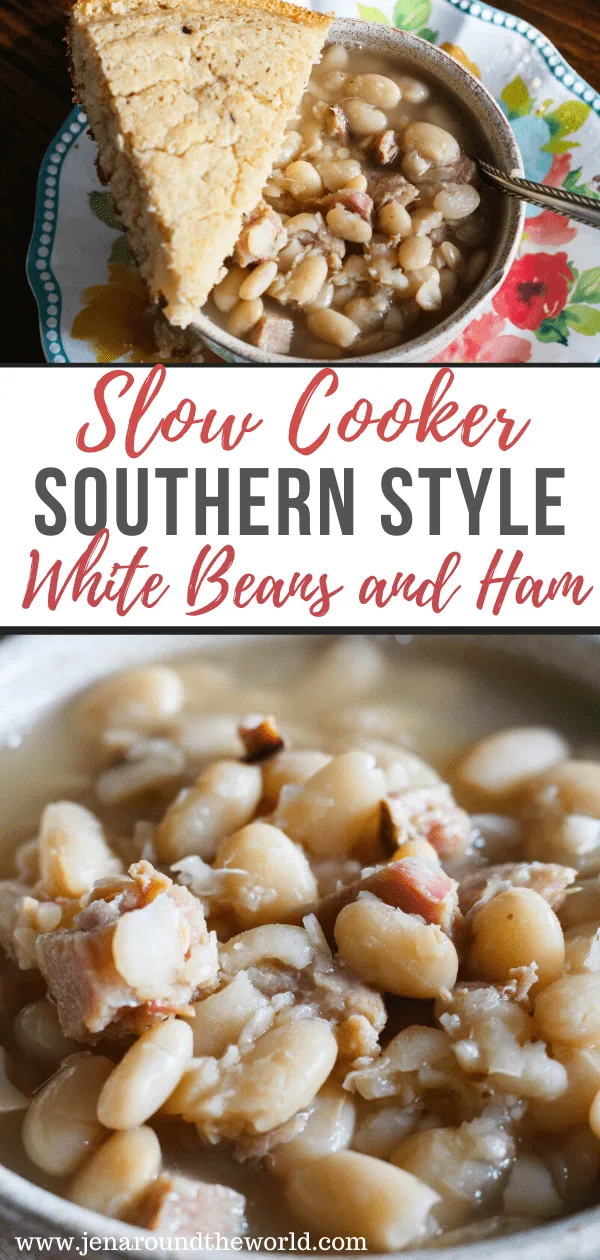 Of course, if you are like me, you save yours from the Christmas ham you had so you can use leftover ham and make this delicious pot of beans. You can also make my favorite leftover ham recipe — Everything Bagel Ham and Cheese Sliders.
There are so many ways to use leftover holiday ham and serving this pot of beans is a great way to do that.
This budget-friendly meal can feed a family just about all week long. The best part is that it is a low-cost meal that you can make in the crock pot with simple pantry ingredients as well.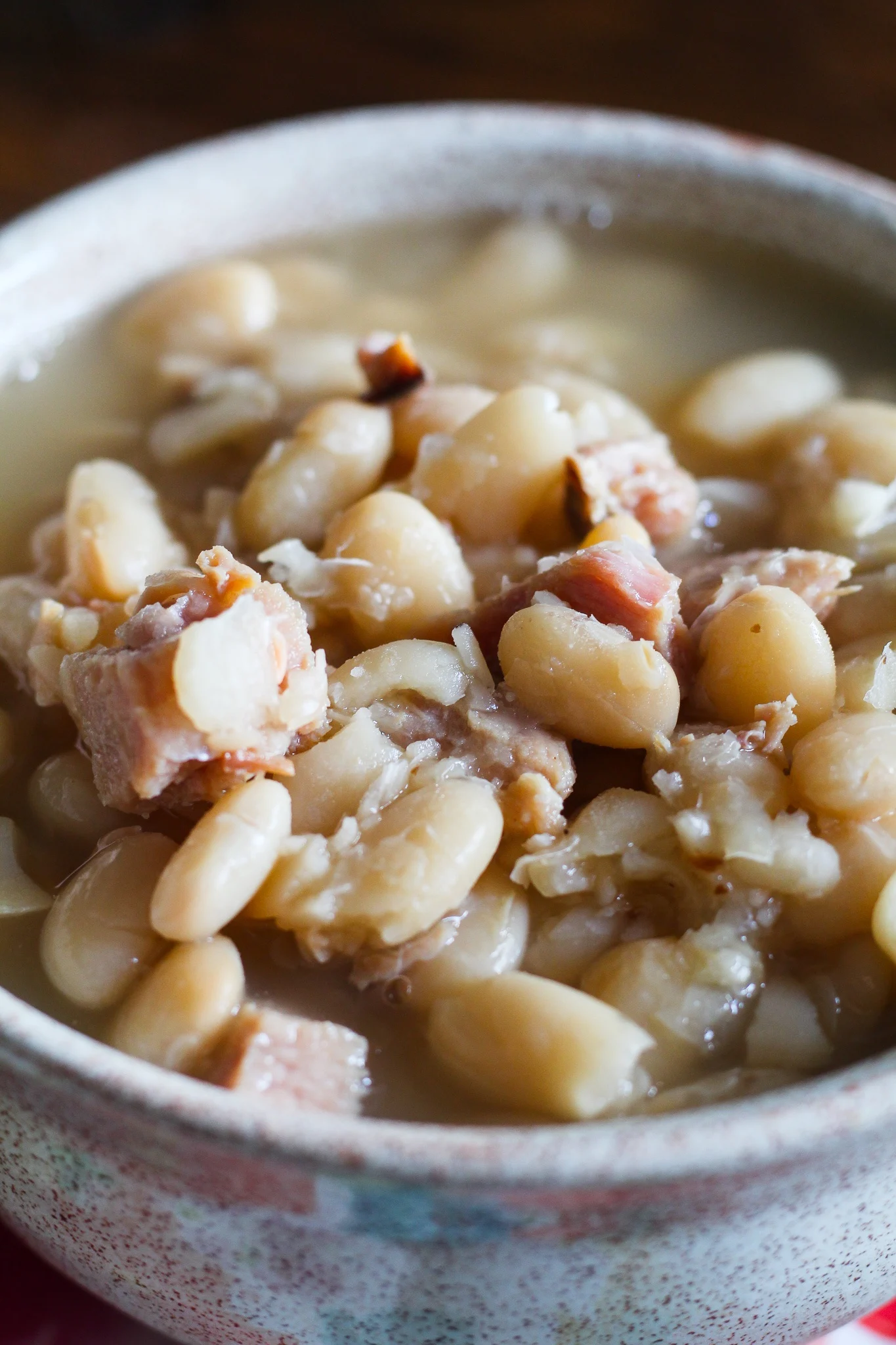 How to Make Slow Cooker Southern Style White Beans and Ham
The first thing to do is to soak those dry beans overnight in the fridge. If you skip this step and go right to cooking your beans, they will not taste all that well. Add enough water to the bowl to cover the beans. Do not use hot water. Use cold water instead.
They will taste like dirt if I am honest. Beans need to be soaked, so in a bowl, add your bag of beans — usually about 16 ounces, and then add 8 cups of water.
Let them soak overnight. In the morning, drain them and then place them in your slow cooker. Cover with water (or chicken stock), add the ham shanks, bay leaf, and other ingredients. Set the cooking time to low for 10-12 hours or on high for 7-8. You can also try cooking these in the Instant Pot.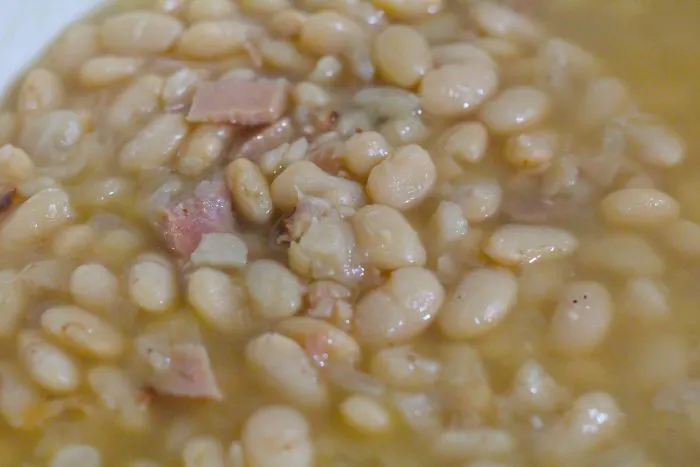 The beans are so tender and so full of flavor. My momma was the best Southern cook on the planet and her beans are the best in this world. I still have not mastered her recipe (who knows — she probably put lard in them because she put lard in everything!)
But these beans are as close to an old Southern mom's recipe as any. If you do not have white beans on hand (Great Northern Beans), then you can use any dried beans you have on hand. They all pretty much cook the same method.
Serve this with some cornbread, green onions, and bell pepper on the side.
Can I Make This on the Stovetop instead of a slow cooker?
Yes. I made my latest batch on the stovetop in my Dutch oven and they turned out amazing.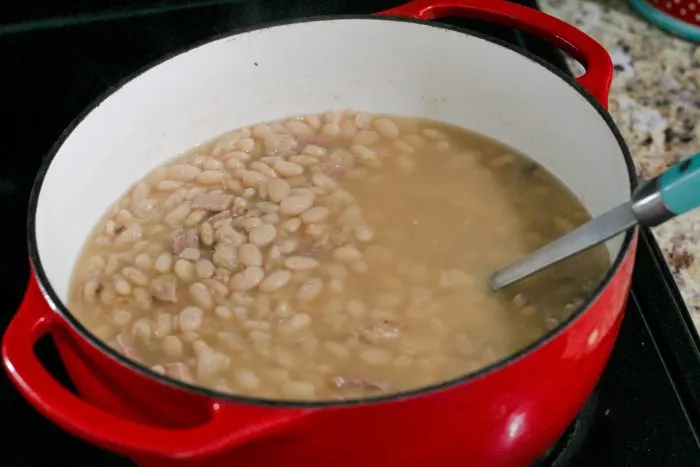 After soaking the beans overnight, rinse and drain the beans well. In the Dutch oven or a large pot, cover the beans with water or chicken broth. Add the ham bone and bring it to a boil.
Combine the beans, diced onions, granulated garlic, bay leaves, sugar, black pepper, and Cajun seasoning. The cook time should be about 2 hours on simmer or until the beans are tender. For added flavor, try using creole seasoning.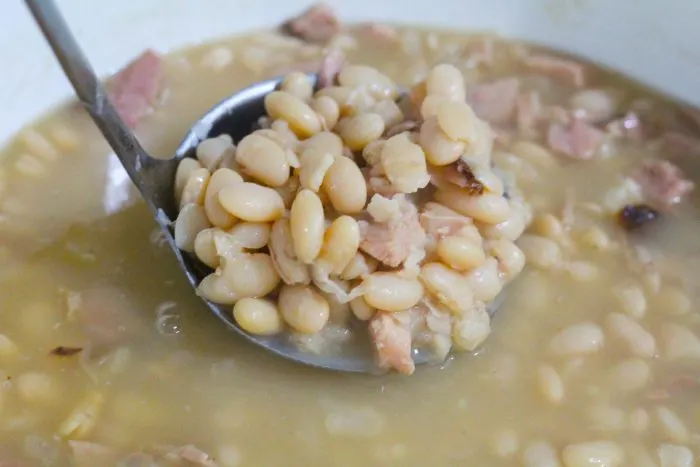 My momma used to serve her white beans and ham with a side of green onions straight out of the garden and a big slab of this Old Fashioned Skillet Cornbread.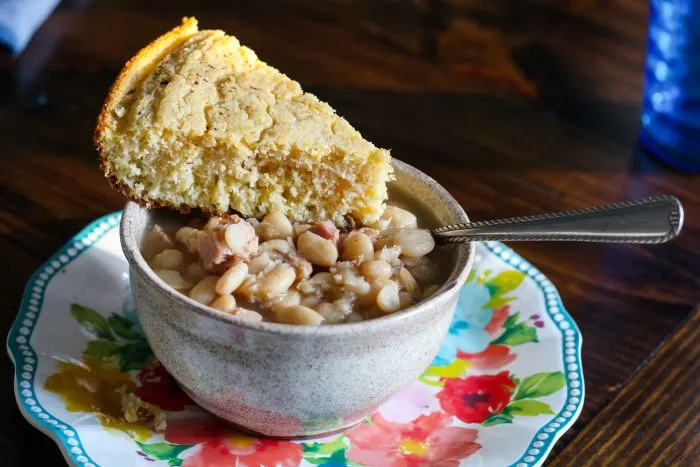 If you are a fan of white beans, then you also need to try my White Chicken Chili. It is a great recipe with a little kick.
How to Store Leftovers
When the beans have cooled to room temperature, I store them in an airtight container. I leave some in the fridge for leftovers and the rest I freeze until I need them again. Honestly, these taste even better the next day. The flavors have had time to really develop.
That makes for a super quick dinner. Remove from the freezer and place in a pot on the stove over medium heat. Allow them to thaw and reheat.
Check Out These Other Delicious Slow Cooker Recipes
Yield: 14
Slow Cooker Southern Style White Beans and Ham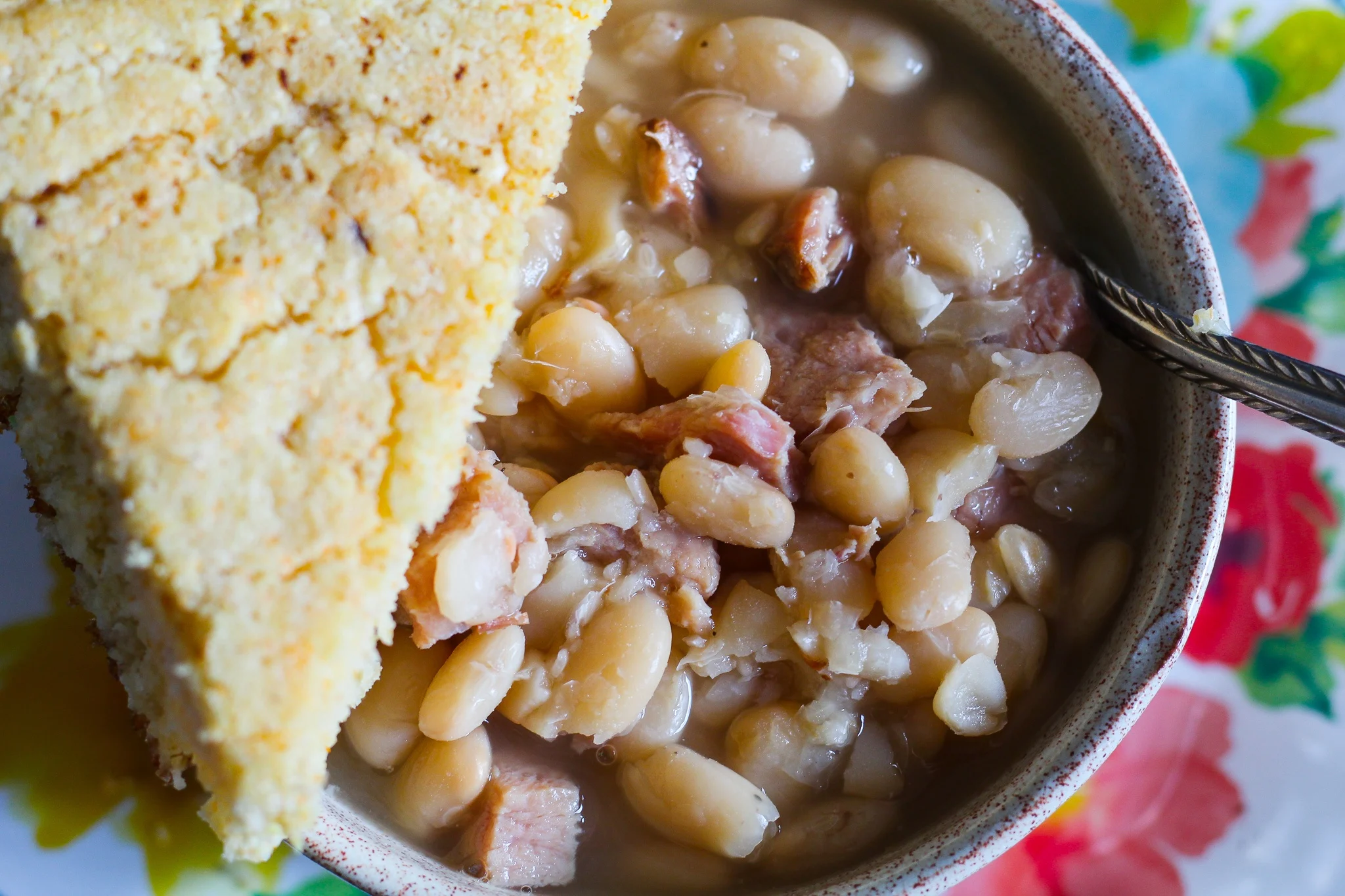 This classic Southern Style White Beans and ham recipe will be the perfect budget-friendly meal for your family during hard times.
Total Time
2 hours
22 seconds
Ingredients
16 ounces dried Great Northern Beans
1 onion diced fine
1 ham bone or ham pieces from a leftover ham. You can also use bacon or a ham hock
10+ cups of water (fill the crockpot up with water
1 teaspoon garlic powder
1 teaspoon of salt
1 teaspoon sugar
2 bay leaves (remove before serving the beans)
1 teaspoon pepper
1 tablespoon Cajun seasoning
Instructions
The night before you cook your beans -- cover with water and soak the beans overnight in 8 cups of water – The water should cover the beans about an inch
After soaking the beans overnight, drain the water and rinse them well.
Add the ham bone, beans, onions, and seasonings to the slow cooker. Cover with water all the way to the top of the slow cooker.
Cook on high 5 hours or on low for 10-12.
If you are cooking your beans in a dutch oven -- Add the water and the ham bone and bring it to a boil.
Combine the beans, onions, and seasonings.
Cover and simmer for 2 hours until beans are tender.
Nutrition Information:
Yield:
14
Serving Size:
1
Amount Per Serving:
Calories:

105
Total Fat:

3g
Saturated Fat:

1g
Trans Fat:

0g
Unsaturated Fat:

2g
Cholesterol:

25mg
Sodium:

717mg
Carbohydrates:

9g
Fiber:

2g
Sugar:

1g
Protein:

11g