This easy Spanish Tortilla is filled with all kinds of good things like eggs, potatoes, cheese, and delicious jalapeño pesto. This recipe comes from the cookbook Brunch at Bobby's.
I have so many cookbooks in my kitchen. It is one of my favorite things to buy whenever I visit a bookstore, and I have even been known to scrounge at the discount stores to find one as well.
I read cookbooks like other people read novels. I devour them from cover to cover. The stories that are ingrained in the recipes speak to me and help me feel what the cookbook author is portraying.
One of my favorites happens to be Bobby Flay. I have 3 of his cookbooks, but my favorite is his newest one, Brunch at Bobby's.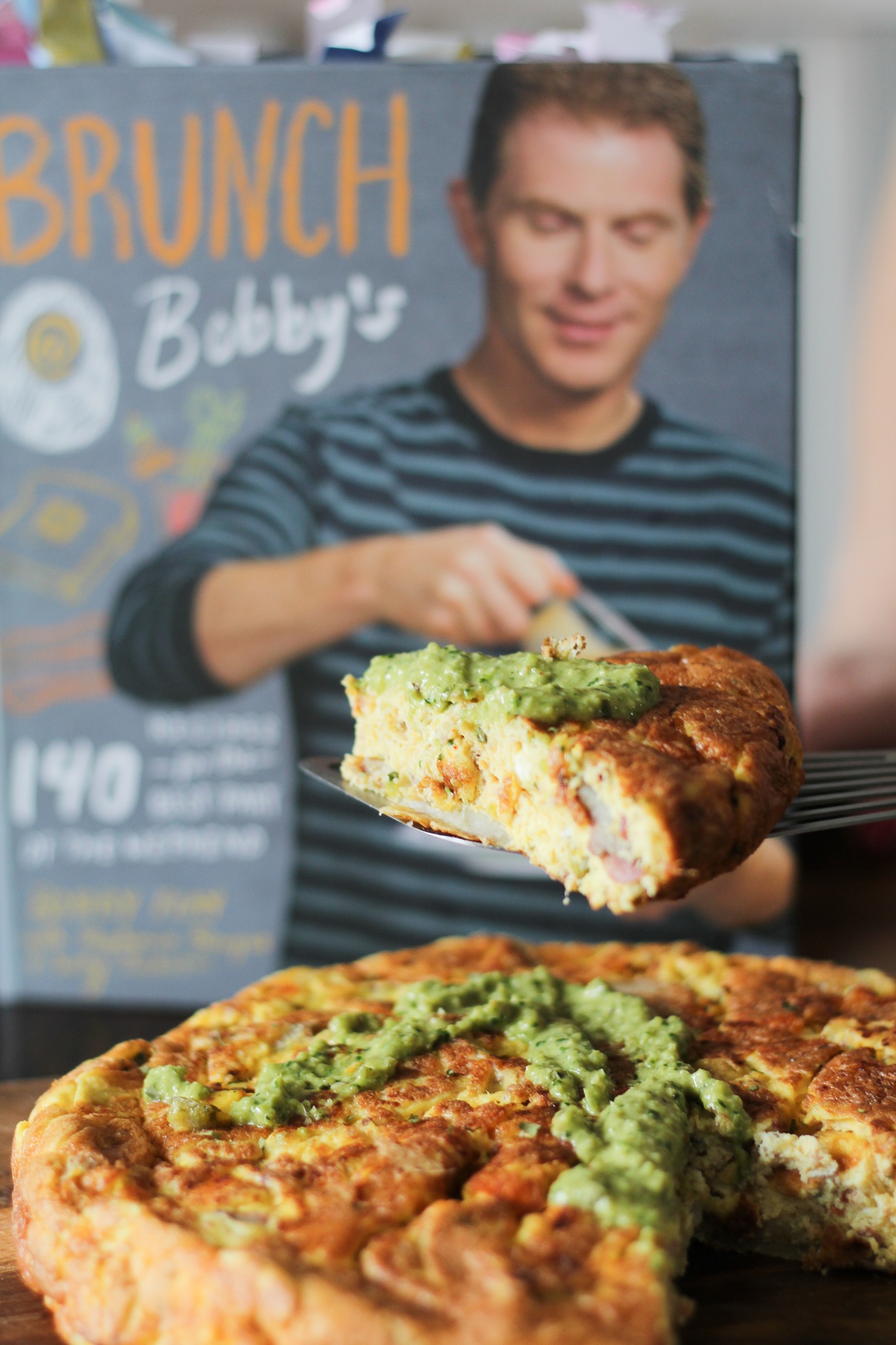 Since I have so many cookbooks, I have decided that each month, I am going to be cooking at least 2 or 3 new recipes that come straight from the pages of all the books I have. That is how I discovered this recipe for a Spanish Tortilla.
How to Make a Spanish Tortilla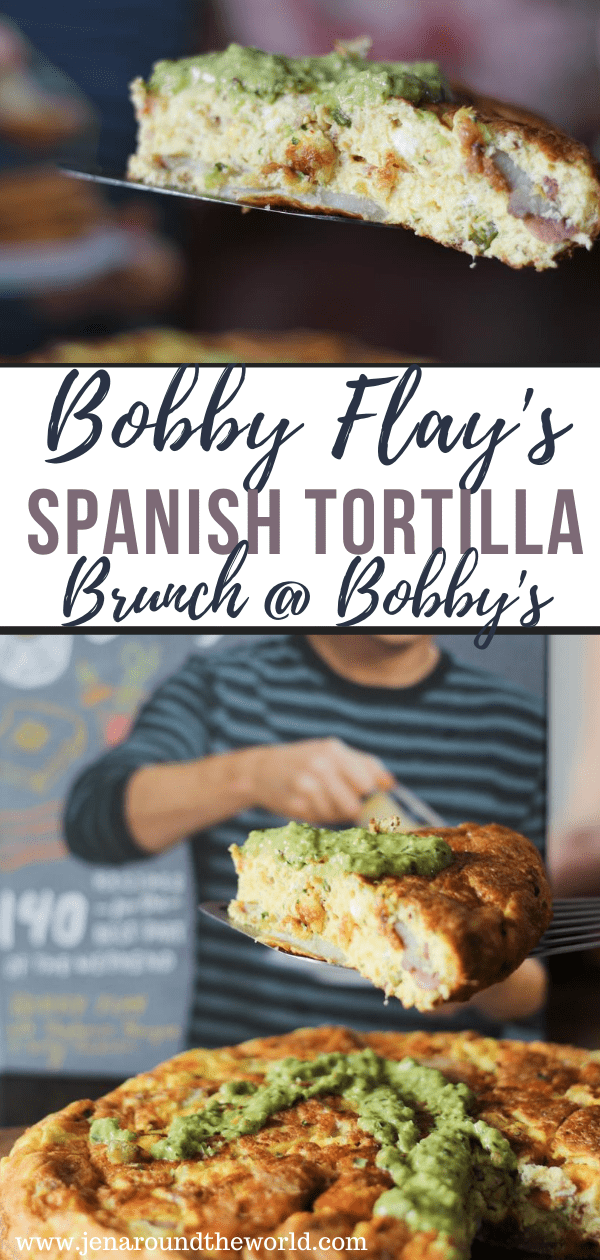 Basically this is an open faced potato omelet. The potatoes are the bottom layer and it is filled with spicy chorizo, yummy fresh eggs, cheese, peppers and more making this a very delicious recipe you can eat for breakfast, lunch, or dinner.
And, it is amazing as a leftover the next day. I think Kayla and I ate on this for a few days.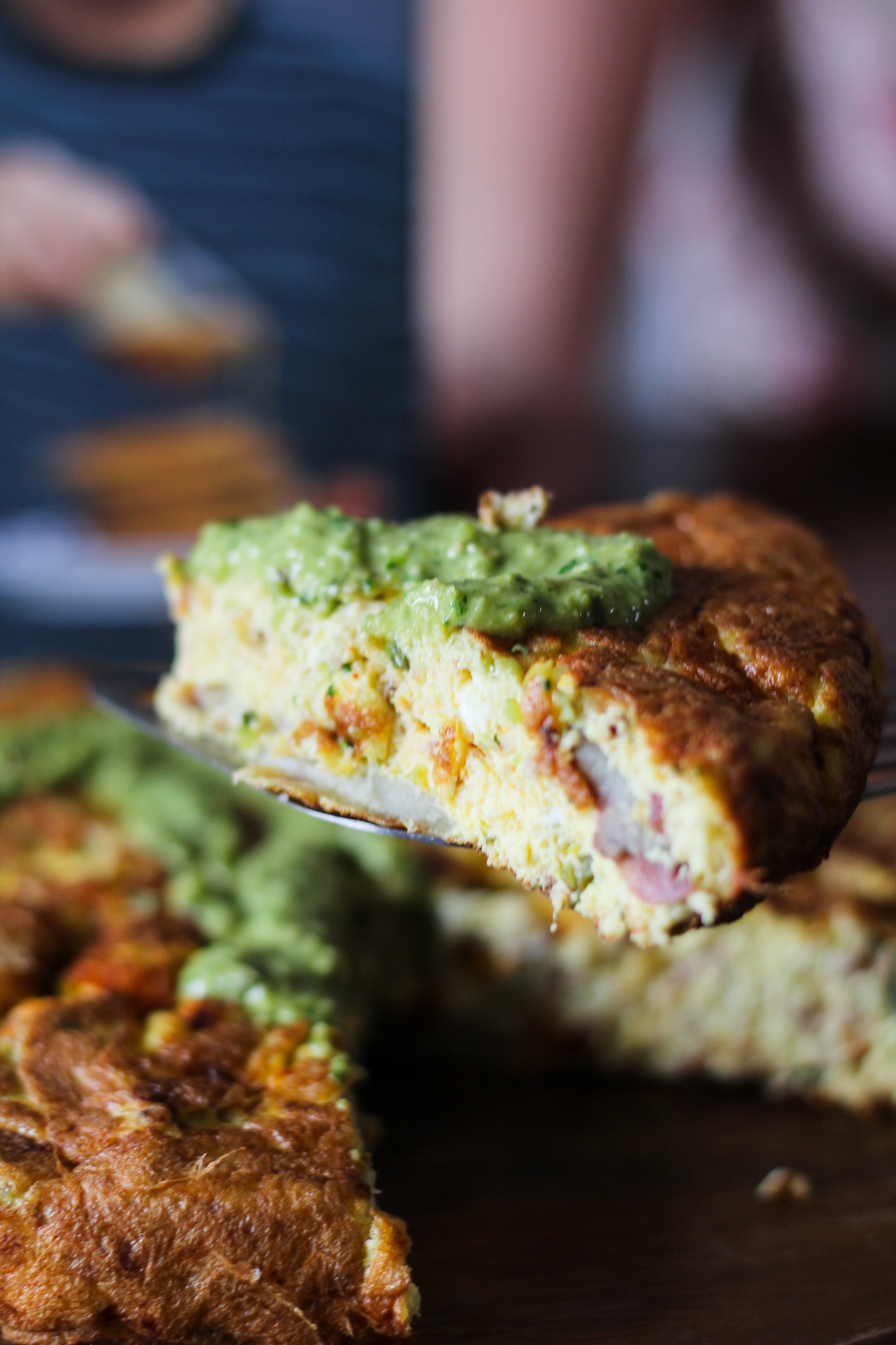 This recipe is a little time consuming, so if I were going to make this, I might choose to make this on the weekend. It is not a dish you want to try making on a morning when you have no time.
You will really only need two pans for this recipe — a skillet to cook your tortilla in and a pot to boil your potatoes.
If you are looking for a little adventure in the kitchen, this recipe is perfect for that. You will learn how to flip a recipe out onto a dish to transfer back to the skillet (this made me nervous but I did it!).
About Brunch at Bobby's Cookbook
The recipes in Brunch at Bobby's are some of his easiest recipes that are full of delicious flavor. If you watch his show, some of the recipes might seem familiar to you, and some are brand new and have never been seen before.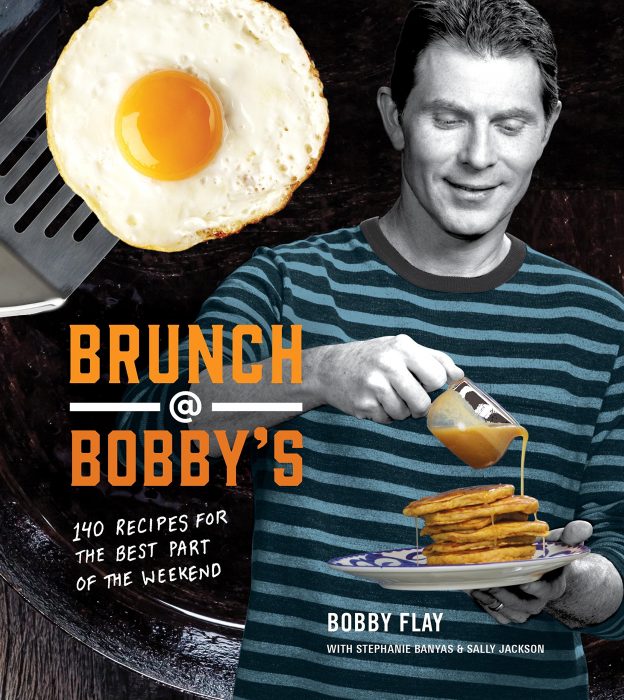 The book contains 140 different recipes from cocktails and mocktails to delicious pancakes, breads and salads, French toast and more — anything and everything you can imagine brunch would be.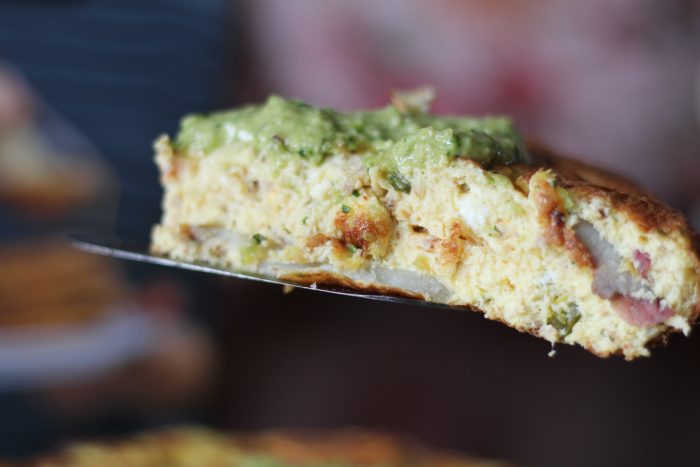 You can grab a copy of the cookbook by clicking here.
Check out these other cookbook recipes —
Yield: 8 servings
Bobby Flay's Spanish Tortilla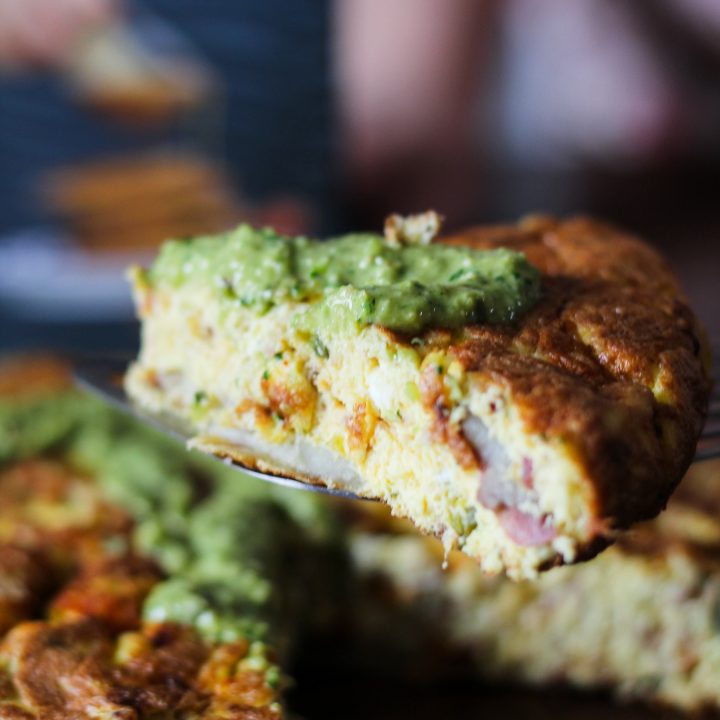 This Spanish tortilla is full of delicious brunch flavor with chorizo, cheese, potatoes, eggs, and topped with a fresh jalapeno pest.
Ingredients
4 small new potatoes
Kosher salt
freshly ground black pepper
3 tablespoons of canola oil
1/2 pound of fresh chorizo
1 dozen large eggs
1/4 cup of heavy cream
6 jarred piquillo peppers, cut into a small dice
4 ounces of Monterey jack cheese, grated
1/4 cup of chopped fresh flat-leaf parsley
For the jalapeno pesto
8 jalapenos
canola oil
Kosher salt and ground black pepper
1 1/4 cups of fresh cilantro leaves packed tight
1 garlic clove chopped
3 tablespoon of pine nuts
1/2 cup of extra virgin olive oil
1/4 cup of fresh Parmesan Cheese
Splash of red wine vinegar
Instructions
Preheat the oven to 400 degrees.
Put the potatoes in a small saucepan. Add enough cold water to cover by an inch. Be sure to season with salt and bring to a boil over medium heat.
While the potatoes are cooking, get your jalepnos and toss with olive oil and season with salt and pepper. Place them on a baking sheet and roast in the oven for 15 minutes. Remove from the oven and place the jalapenos in a bowl and cover with plastic wrap. Let it sit for 15 minutes. Remove the stems and seeds but leave the skin intact.
Cook until the potatoes are tender when pierced with a knife, 15 minutes. Drain the potatoes, allow them to cool and then slice 1/4 inch thick.
In a large nonstick saute pan or cast-iron skillet, heat 2 tablespoons of canola oil. Add the chorizo and cook until golden brown, about 5 minutes.
Remove with a slotted spoon to a plate lined with paper towels.
Add the remaining tablespoon of canola oil to the pan and heat until it shimmers. Add the potatoes and cook until lightly golden brown, about 5 minutes.
In a large mixing bowl, whisk together the eggs and cream until pale and fluffy. Add the peppers, cheese, parsley, and chorizo. Season with salt and pepper.
Pour the egg mixture over the potatoes in the saute pan. Be sure to move it around so the eggs get under the potatoes.
Cook stirring occasionally until the bottom is lightly golden brown and set, about 5 minutes.
Place a large plate over the pan and carefully flip the tortilla onto the plate. Slide the tortilla back into the saute pan and cook the other side until golden brown, about 3 minutes.
Slide it out onto a cutting board once cooked and allow it to cool.
While the tortilla is cooling, make your pesto. Combine the jalapenos, cilantro, garlic, and pine nuts in a food processor and process until coarsely chopped.
While the motor is running, add the oil and process until smooth. Add the cheese, season with salt and pepper, and then pulse a few times to combine.
Transfer to a bowl and add the vinegar. The pesto can be served over the tortilla or it can be saved in the fridge for up to 24 hours.
If the mixture is too thick, just add a bit more oil to thin it out.
Enjoy!
Nutrition Information:
Yield:
8
Serving Size:
1
Amount Per Serving:
Calories:

627
Total Fat:

49g
Saturated Fat:

14g
Trans Fat:

0g
Unsaturated Fat:

32g
Cholesterol:

328mg
Sodium:

760mg
Carbohydrates:

24g
Fiber:

3g
Sugar:

4g
Protein:

24g