This recipe for Hot and Spicy Pot Stickers comes from the cookbook, Half Baked Harvest Super Simple by Tieghan Gerard. I was sent the cookbook to review and all opinions listed are 100% my own.
I love getting in new cookbooks to check out. Tieghan Gerard from Half Baked Harvest has a new book Super Simple and I have to tell you that her recipes have me drooling over every page.
I always like to take a cookbook like this and try a couple of recipes from it and then share one with you and give my honest opinion about it. So — let's check out this recipe!
How to Make Hot and Spicy Pot Stickers
This recipe makes 18 to 20 potstickers and would be great for a night when you are having friends or family over.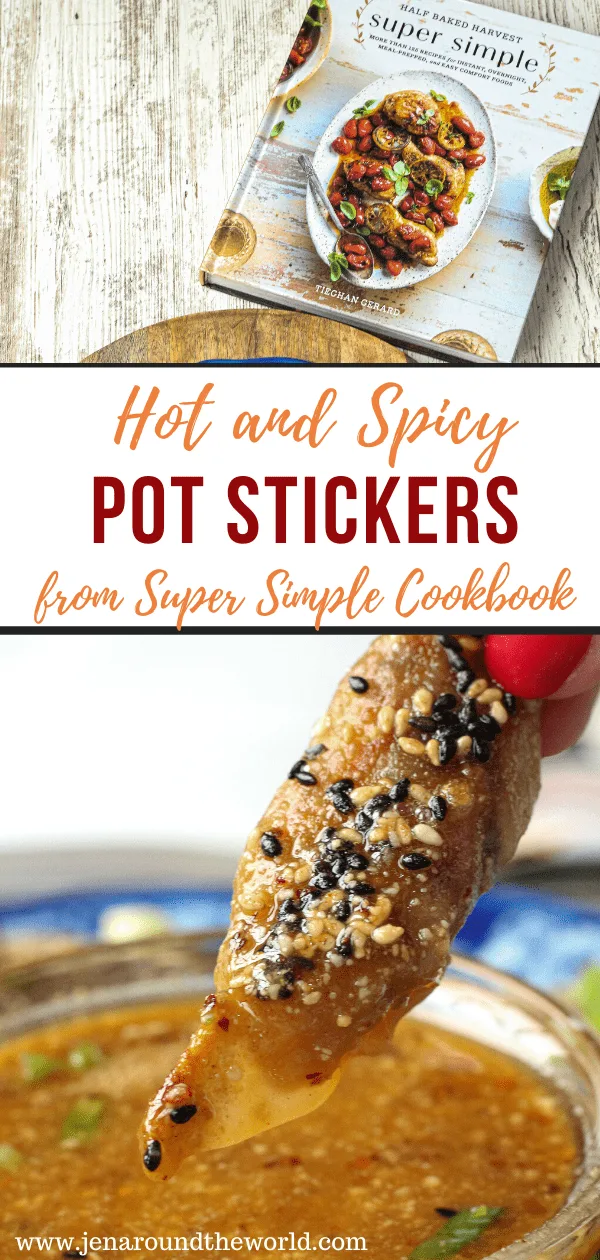 I will tell you upfront that if you are not a fan of sesame oil, you will want to skip this recipe or adjust the amount of oil used because it has a very strong sesame oil flavor.
That aside, these were really yummy.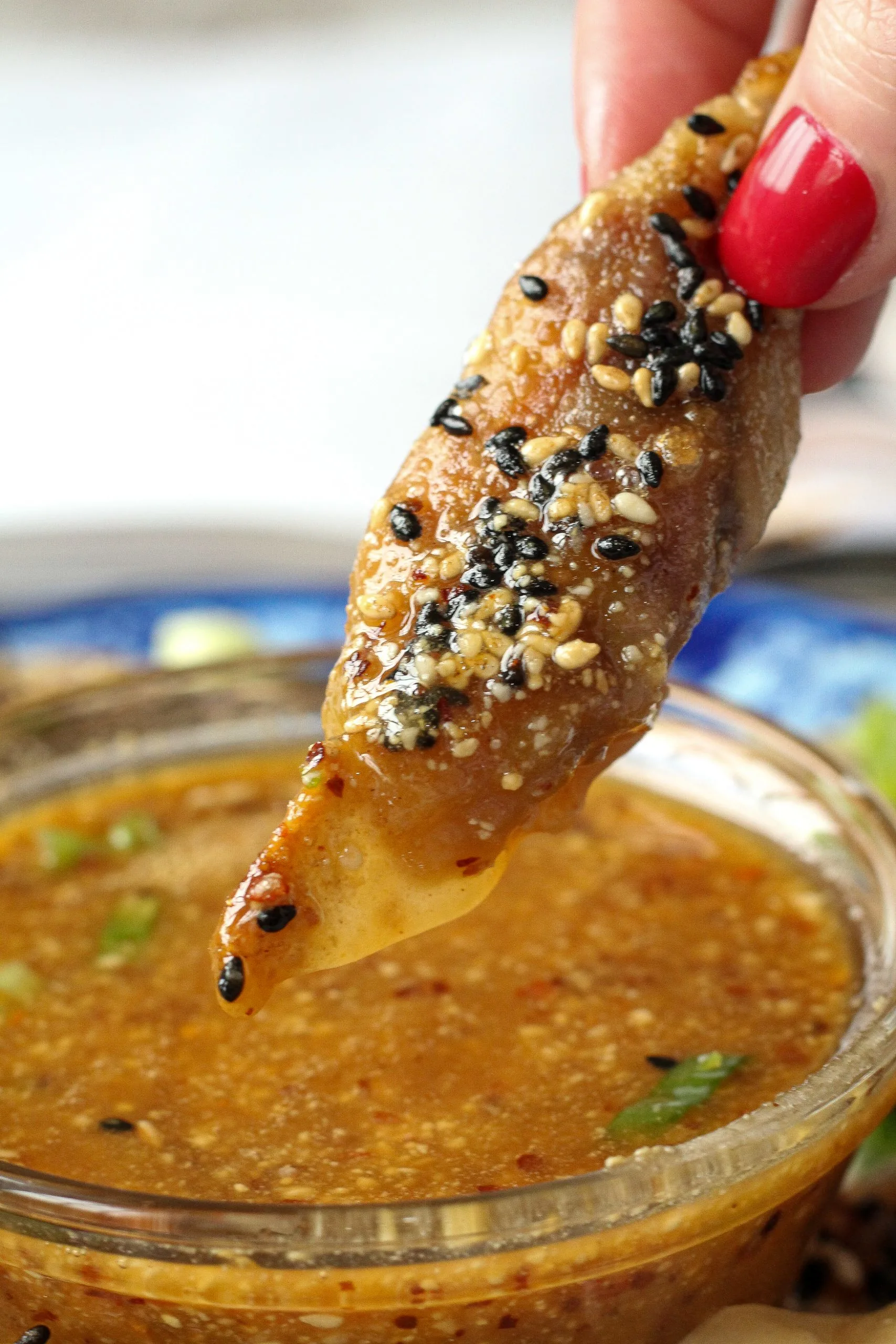 Even though the sesame oil was a little too pungent for our liking, the flavor of the potstickers is amazing and now that I know how to make them, I will be trying all kinds of different flavors from here on out.
Make the chili oil first
The first thing you are going to do is make the chili oil. It uses raw peanuts, 1/2 cup of sesame oil, raw sesame seeds, red pepper flakes, salt, and garlic.
The filling of the potstickers has chopped mixed veggies, which we just used the coleslaw mix in a bag. It also uses fresh ginger, 4 more tablespoons of sesame oil (see I told you — heavy on the sesame oil), grated garlic, soy sauce, green onions, and MORE raw sesame seeds.
From there, you just follow the recipe and assemble them. Like I said, they were good and the next time we make these, I will definitely be adjusting the sesame oil in them as it was a little too much for me, but if you love the flavor of sesame oil, you will love these just as they are!
About Half Baked Harvest Super Simple Cookbook
On her blog and in her debut cookbook, Tieghan is beloved for her freshly sourced, comfort-food-forward recipes that taste even better than they look.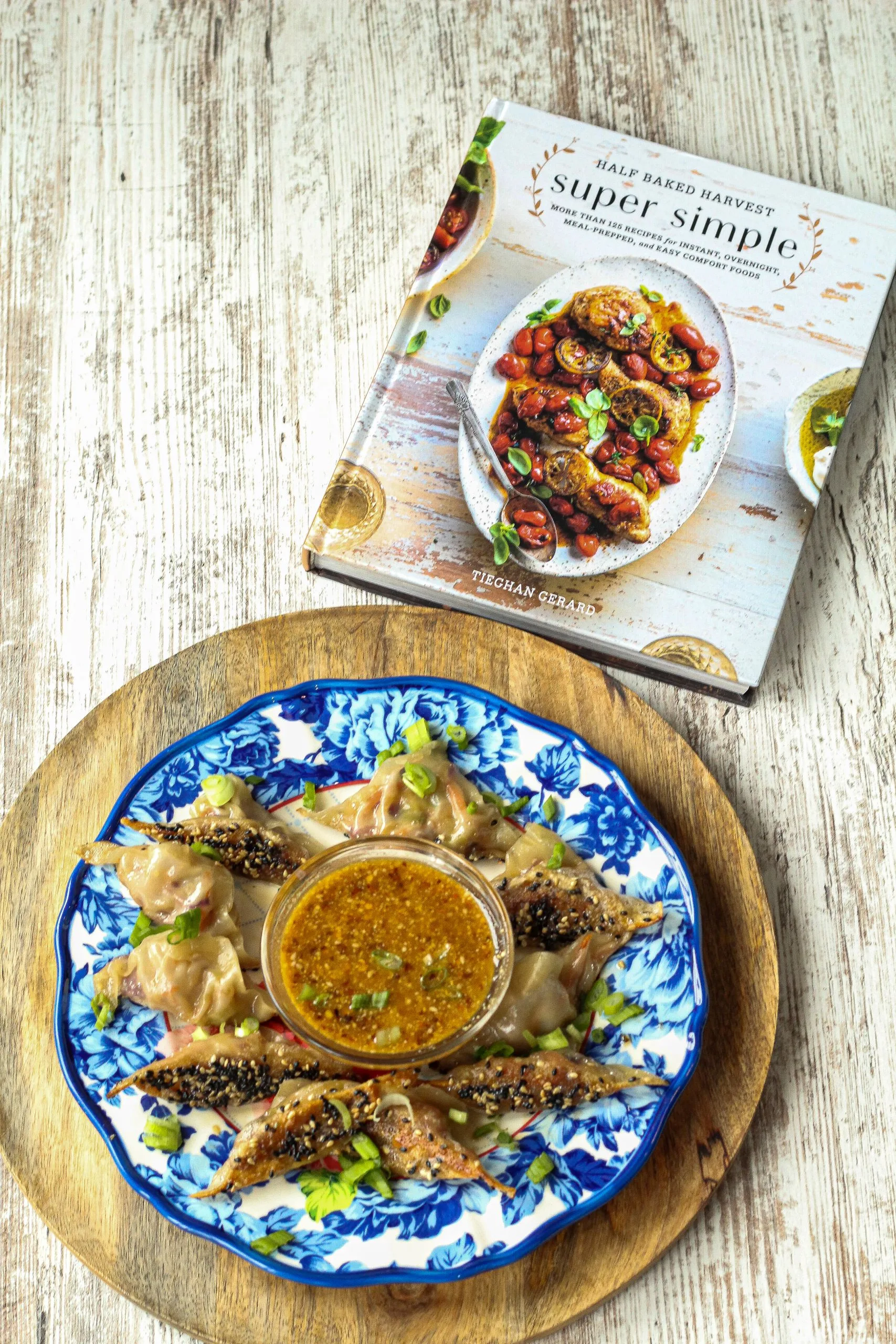 Half Baked Harvest Super Simple takes what fans loved most about Half Baked Harvest Cookbook and distills it into quicker, more manageable dishes, including options for one-pot meals, night-before meal prep, and even some Instant Pot® or slow cooker recipes.
Using the most important cooking basics, you'll whip up everyday dishes like Cardamom Apple Fritters, Spinach and Artichoke Mac and Cheese, and Lobster Tacos to share with your family, or plan stress-free dinner parties with options like Slow Roasted Moroccan Salmon and Fresh Corn and Zucchini Summer Lasagna.
Looking for Other Asian Inspired Recipes? Check these out
Yield: 18-20 potstickers
Hot and Spicy Pot Stickers
The perfect potsticker for a date night in, or having friends come over.
Ingredients
Chili Peanut OIl
1/2 cup of sesame oil
1 garlic clove, smashed
2 tablespoons of raw peanuts
1 tablespoon of raw sesame seeds
1 tablespoon of crushed red pepper flakes
1 teaspoon of kosher salt
Pot Stickers
4 tablespoons of sesame oil
1 (1-inch) piece of fresh ginger, peeled and grated
2 garlic cloves, grated
4 cups of chopped mixed veggies (use the coleslaw mix bag)
2 tablespoons of low sodium soy sauce
2 tablespoons of green onions chopped
18 to 20 wonton wrappers
1/3 cup of raw sesame seeds
Instructions
Make the chili oil -- In a small saucepan, combine the sesame oil, garlic, peanuts, and sesame seeds. Place over medium heat and cook, stirring, until fragrant, about 5 minutes.
Remove the pan from the heat and stir in the red pepper flakes. Let cool slightly. Transfer the mixture to a food processor and pulse until the peanuts are finely ground, 30 seconds to 1 minute. Add the salt and pulse again to combine.
Make the filling -- Heat 1 tablespoon of the sesame oil in a large skillet over medium-high heat. When the oil shimmers, add the ginger, garlic, and vegetables and then saute, stirring until the veggies are cooked down 5 to 10 minutes.
Add the soy sauce, and green onions and cook until all the liquid has evaporated, 2 to 3 minutes more. Remove the skillet from the heat and let it cool.
Assemble the Pot Stickers -- Lay the wonton wrappers out on a clean work surface. Working with one at a time, spoon 1 tablespoon of the filling in the center. Brush water around the edges and then fold the wrapper over the filling to create a half-moon, pinching the edges together to seal. Repeat with the remaining filling and wrappers.
Place the sesame seeds in a shallow bowl. Brush the bottoms of the potstickers with water and then dredge them in the sesame seeds, pressing to make them stick.
Wipe out the skillet used to make the filling and heat the remaining 3 tablespoons of sesame oil over medium heat.
Working in batches, when the oil shimmers, add some potstickers and cook until the bottoms are light golden brown, 2 to 3 minutes.
Pour in 1/4 cup of water and immediately cover the skillet with a tight-fitting lid.
A caution here because the water will splatter! Reduce the heat to medium-low and steam the pot stickers until the wrappers are softened all over 3 to 4 minutes. Repeat with the remaining potstickers.
Let cool and serve with the chili oil alongside for dipping.
Nutrition Information:
Yield:
18
Serving Size:
1
Amount Per Serving:
Calories:

141
Total Fat:

11g
Saturated Fat:

2g
Trans Fat:

0g
Unsaturated Fat:

9g
Cholesterol:

1mg
Sodium:

237mg
Carbohydrates:

9g
Fiber:

2g
Sugar:

1g
Protein:

2g