Making chocolate covered strawberries are simple and easy and great for the newbie cook who wants to impress their significant other.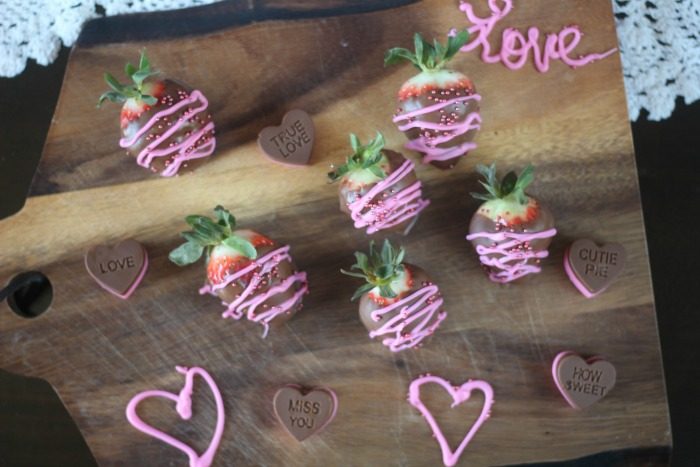 One of the most easiest desserts on the planet are Chocolate Covered Strawberries for Valentine's Day. We love making these because of how simple they are — and you can make them taste different using the different flavors of chocolate as well.
We have been making these for years since the kids were little. It was always something that they could make on their own without my help.
How to Make Chocolate Covered Strawberries
The trick to making them delicious is making sure your melting chocolate is melted perfectly and not burnt (yes I have burned it in the past).
Kayla loves making these with milk chocolate, but I prefer dark chocolate. But really — semi-sweet chocolate is the best for this.
Chocolate Covered Strawberries for Valentine's Day
Ingredients
1 pint 2 cups medium-large strawberries (18 to 20 strawberries)
1/2 cup semisweet chocolate chips or white vanilla baking chips
1 teaspoon shortening or vegetable oil
1 bag of Wilton Melting chips in your favorite Valentine color
Instructions
Gently rinse strawberries and dry on paper towels (berries must be completely dry). Line cookie sheet with waxed paper.
In 1-quart saucepan, melt chocolate chips and shortening over low heat, stirring frequently. Remove from heat.
Dip lower half of each strawberry into chocolate mixture; allow excess to drip back into saucepan. Place on waxed paper-lined tray or cookie sheet.
Refrigerate uncovered about 30 minutes or until chocolate is firm, or until ready to serve.
Melt Wilton chips in a microwaveable bowl in 10 second increments. Once melted, place in a pastry bag and snip a tiny tip off the top. Drizzle onto strawberries.
Store covered in refrigerator so chocolate does not soften (if made with oil, chocolate will soften more quickly at room temperature).
This recipe is perfect for those days you want a sweet treat that doesn't involve cooking at all. Of course, they are widely known for being served on Valentine's Day. But you can totally make Chocolate Covered Strawberries for any occasion.
We make them a lot during the summer months when the strawberries are at their ripest.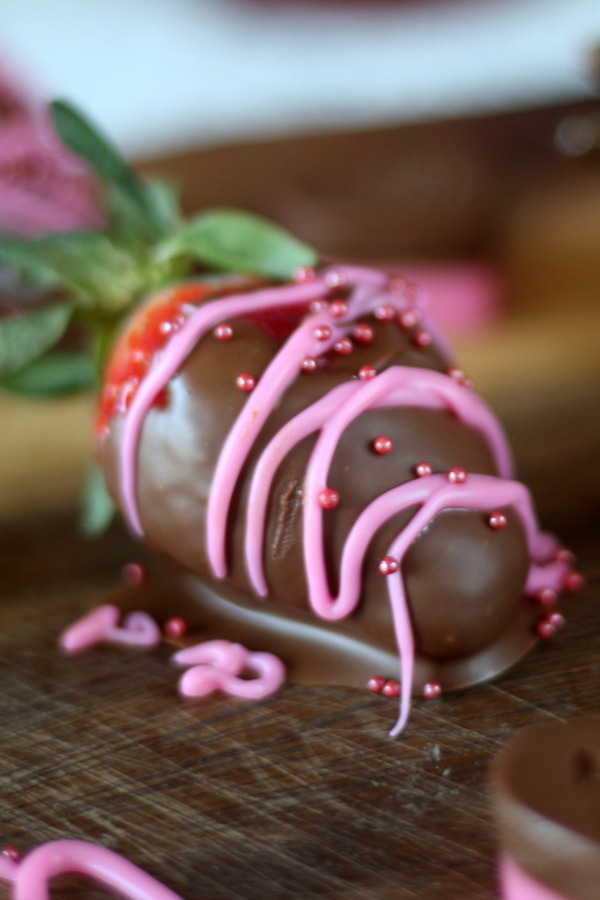 What is your all time favorite Valentine's Day recipe?