Homemade Falafel is one of my favorite Middle Eastern-inspired street food recipes. Canned chickpeas combined with other savory ingredients, processed to a gritty-smooth consistency, and pan-fried to perfection!
Serve them with a side of Tzatziki sauce and other Greek-inspired dishes.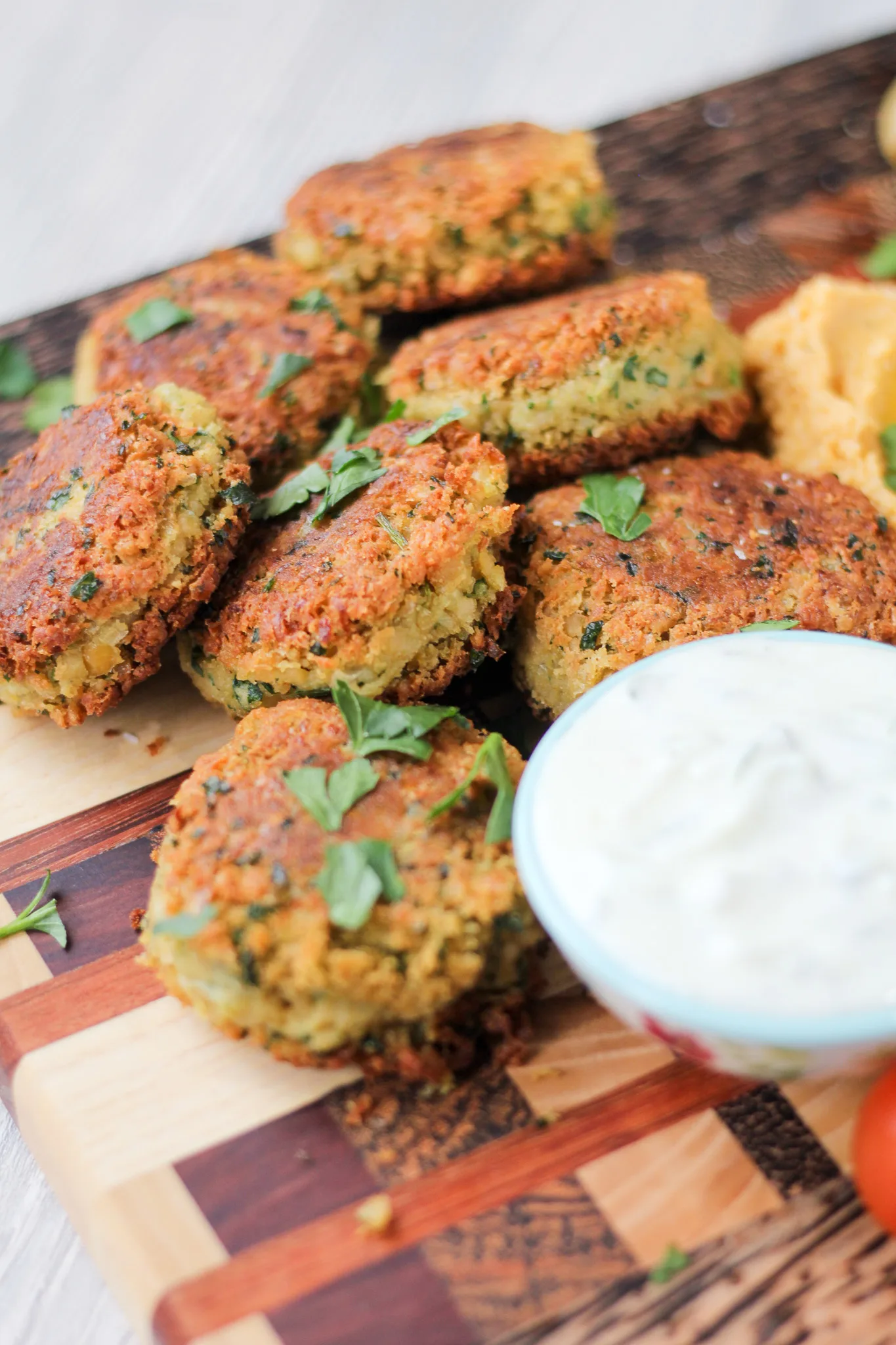 Most people make this dish using dried chickpeas, but we have found out that you can use canned and that is what we do when making falafel.
Just be sure to drain the chickpeas and rinse them off well.
Speaking of chickpeas — did you know that they are high in protein and fiber? They keep you feeling full, making them a great snack.
How to Make Falafel
For this recipe, you will need canned chickpeas, red onion, parsley, garlic, salt, cumin, pepper, and a little bit of flour to hold everything together. Then, they are fried in oil.
Process all the ingredients in a food processor. Don't make them into a smooth paste. Use the food processor to grind the chickpeas to a consistency of sand. If the chickpea pieces are too big, they will be difficult to eat, however, you still want some grainy texture.
Now, form balls and then flatten the balls to create a thick patty.
To cook the falafel, you'll heat a generous amount of oil in a pan and cook a few at a time, flipping once. The result will be a delicious, flavorful, golden brown, crispy snack!
For leftovers, you can reheat them in the microwave and then re-fry them to get them crispy again.
Serve them with your favorite Greek dipping sauce! Serve these with whipped feta dip or with Tzatziki sauce.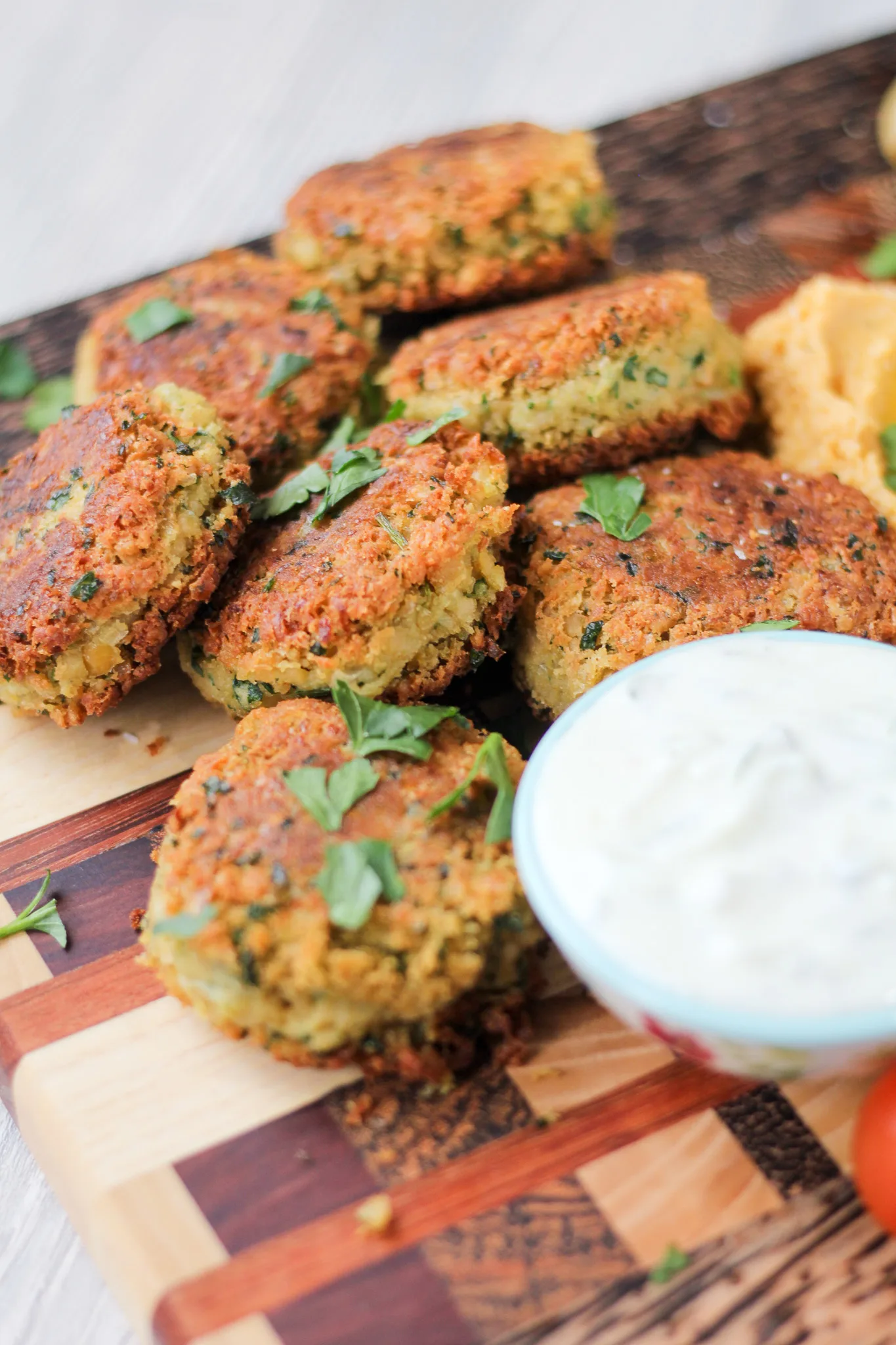 Love Chickpeas? Check out these other delicious recipes
Yield: 6 servings
Homemade Falafel
Easy homemade falafel using canned chickpeas instead of dried chickpeas.
Ingredients
1 14.5 ounce can of chickpeas, drained
1 cup of onion, roughly chopped
1/2 cup of fresh parsley
1/4 cup of cilantro
1 teaspoon of salt
4 cloves of garlic
2 teaspoons of cumin
1 teaspoon of ground coriander
1 teaspoon of baking powder
4 tablespoons of flour
Instructions
Drain the chickpeas and place them in the food processor. Add in the onions, parsley, cilantro, salt, garlic, ground coriander, and cumin.
Process until the mixture is blended but not pureed.
Transfer to a bowl and add the flour and baking powder. Mix with a wooden spoon or spatula.
Form the falafel mixture into little balls and then flatten them slightly. Place them on a parchment-lined tray.
Heat oil over medium-high heat. Once heated, fry the falafel for about 2-3 minutes until golden brown.
Remove from the oil and let them rest on a paper towel to drain.
Serve with your favorite dipping sauce.
Nutrition Information:
Yield:
6
Serving Size:
1
Amount Per Serving:
Calories:

166
Total Fat:

2g
Saturated Fat:

0g
Trans Fat:

0g
Unsaturated Fat:

2g
Cholesterol:

0mg
Sodium:

448mg
Carbohydrates:

30g
Fiber:

7g
Sugar:

5g
Protein:

8g