You will absolutely love this recipe for Lemon Lavender Macarons that my daughter and I came up with for #springsweetsweek. It has bright and vibrant flavors that scream Welcome Spring!
This post is sponsored in conjunction with #SpringSweetsWeek. I received product samples from sponsor companies to help in the creation of the #SpringSweetsWeek recipes. All opinions are mine alone.
Welcome to #SpringSweetsWeek 2021 hosted by Heather from Hezzi-D's Books and Cooks! With the weather warming up and flowers beginning to bloom let's celebrate with spring sweets and a fun giveaway!
This year 24 food bloggers from around the country are sharing over 100 sweet recipes that are perfect for the spring season. So say goodbye to the snow and cold and get ready to enjoy the best spring treats like cupcakes, cookies, pies, dessert boards, and even a few beverages!
Our #SpringSweetsWeek sponsors are helping us give away some great prizes. Thank you to Dixie Crystals, Melissa's Produce, Door County Coffee, Circulon, Taylor and Colledge, and Nairn's for your generosity.
We have an incredible giveaway with six amazing prizes and would love if you would take a moment to read about it and the prizes that you can win!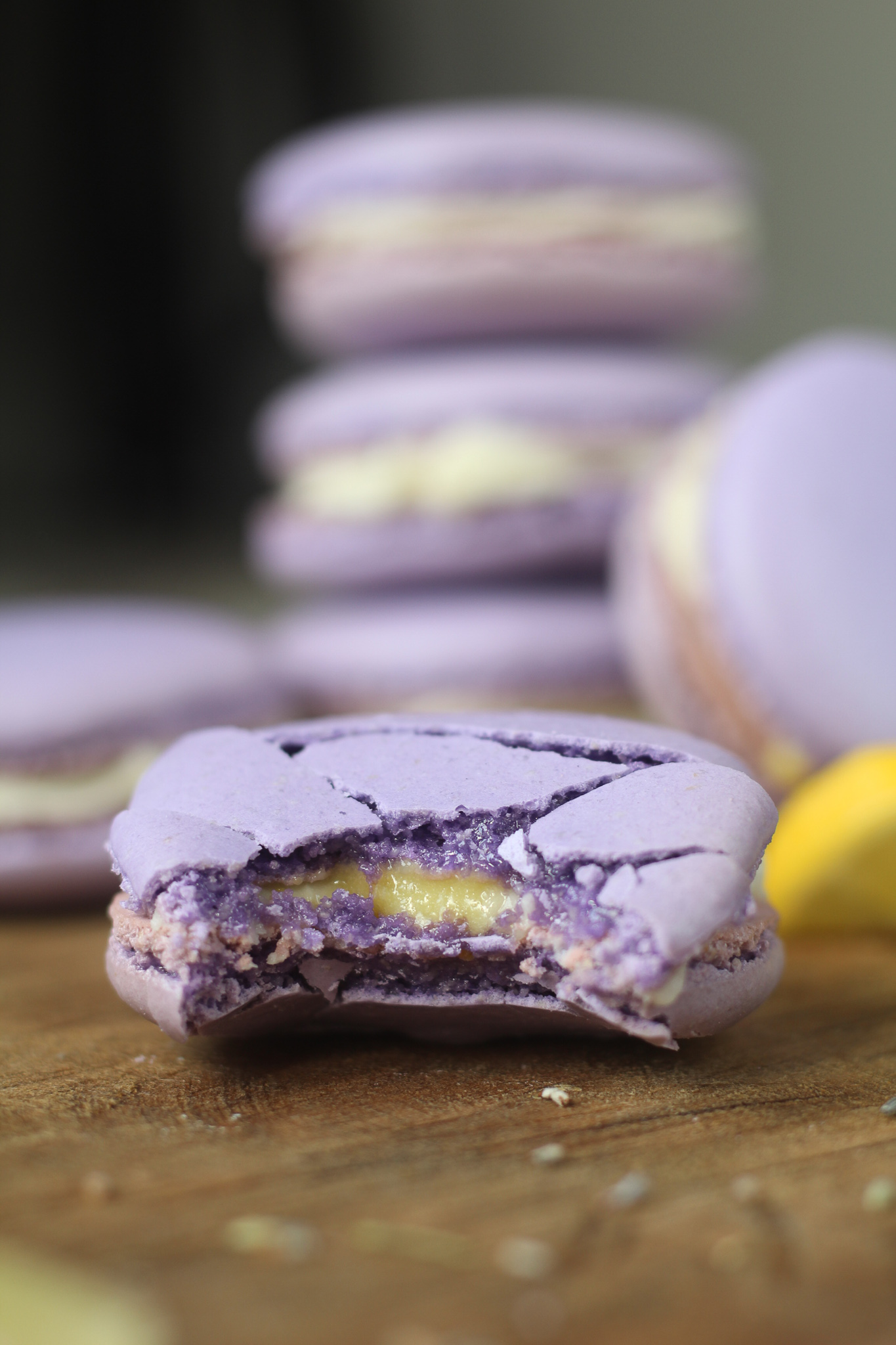 One of my favorite cookies IN THE WORLD is the French macaron. Whenever I learned that I had been accepted into the Spring Sweets Week, I knew that making something with lemon and lavender was going to be at the top of my recipe collection.
Since I am in love with French macarons, I kept envisioning a cookie that had a light lavender taste, with a punch of tart lemon in the middle and a creamy light buttercream for the filling.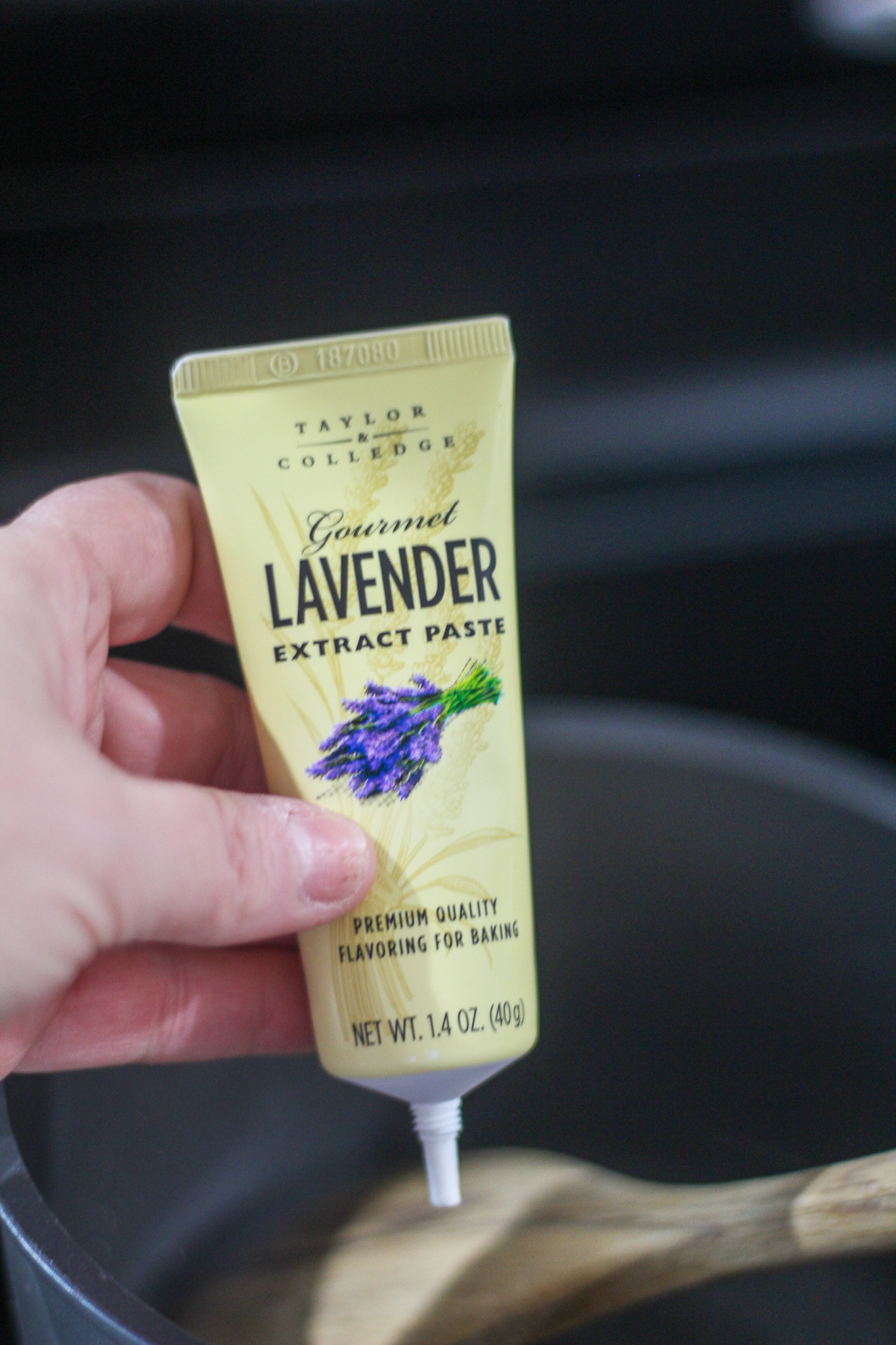 I truly believe that the Lavender paste from Taylor & Colledge has got to be the best flavoring I have ever used. It added a subtle taste of lavender and really made these cookies sing.
How to make Lemon Lavender Macarons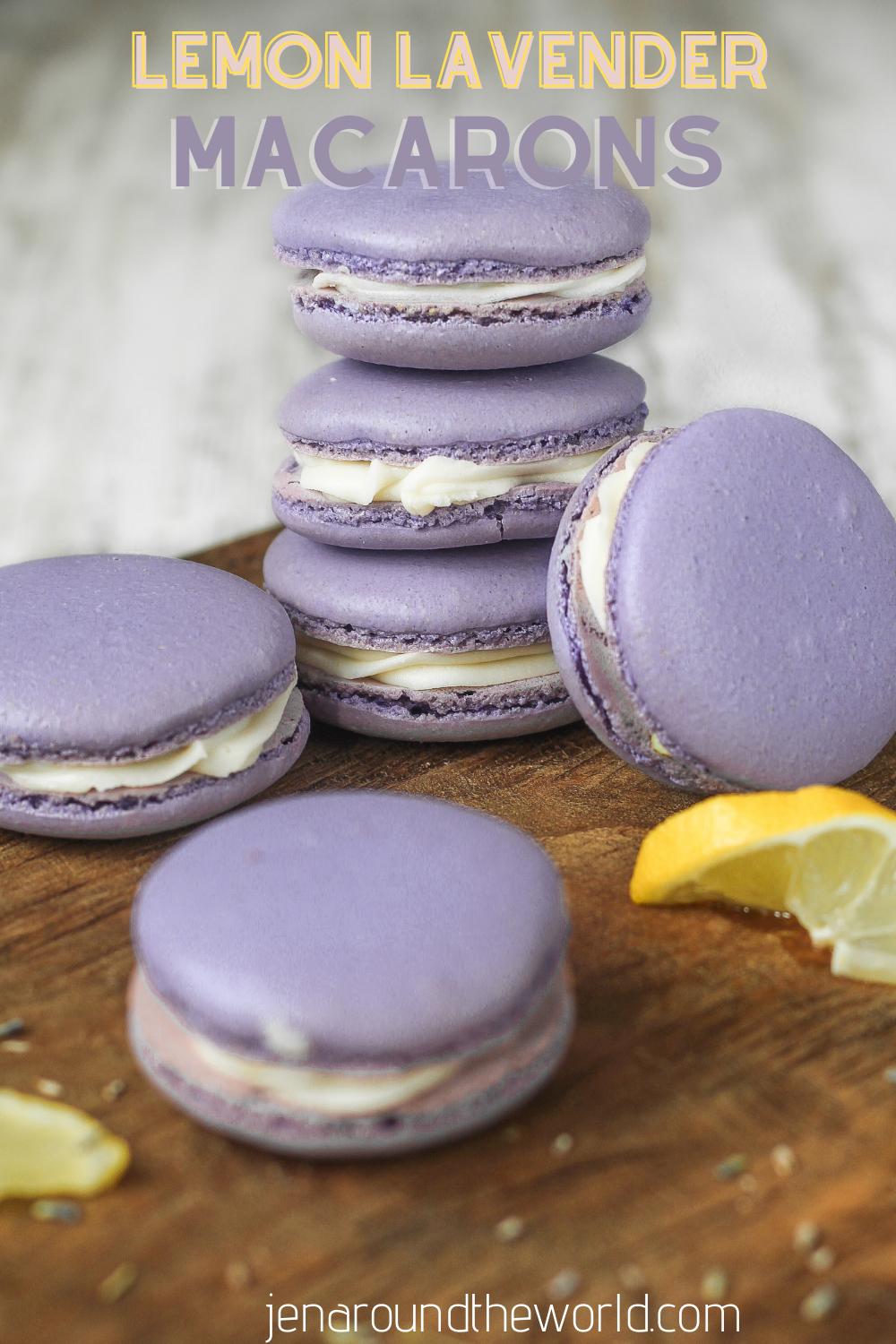 Macarons can be finicky if you are not careful. However, Kayla and I have finally perfected our technique and we are sharing it with you in this post.
If lavender is not your jam, be sure and check out our Cinnamon Roll Macaron recipe.
For starters, I will tell you that before we were successful with this recipe, we FLOPPED 9 times. Yes — you read that right — 9 unsuccessful cookie tries.
But now, we have it down pat and our cookies have turned out great since then.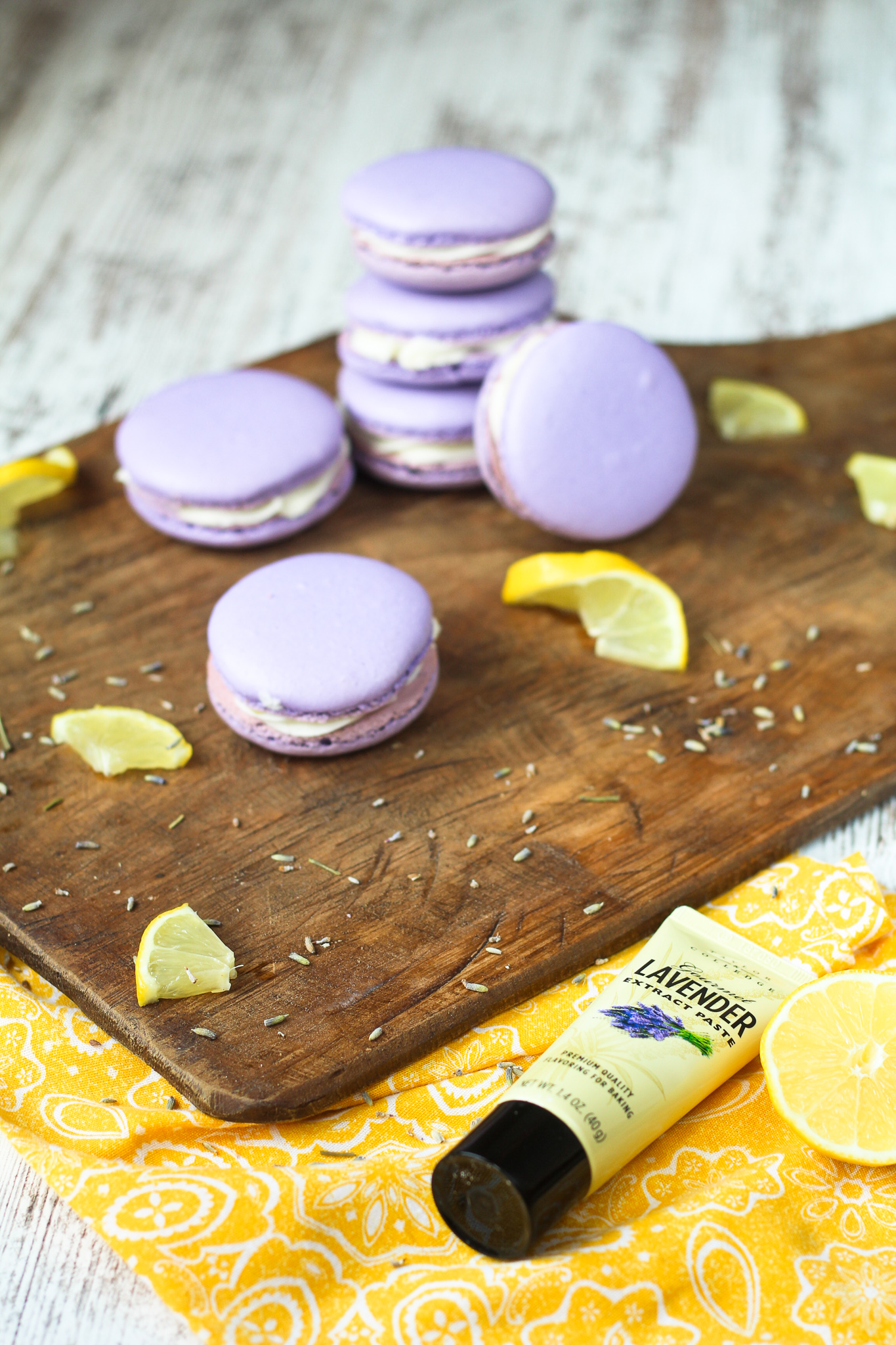 Start by gathering all your ingredients —
powdered sugar
almond flour
lavender paste
egg whites
sugar
purple gel food coloring
Piping bags with large round tip
Start by combining 1 and 1/2 cups of powdered sugar with 1 cup + 2 tablespoons of almond flour.
You want to sift it at least 3 times. The reason you do this is so that you get rid of all the clumps that are in the almond flour. You want a very superfine powder to work with. This will ensure your cookies come out smooth on top.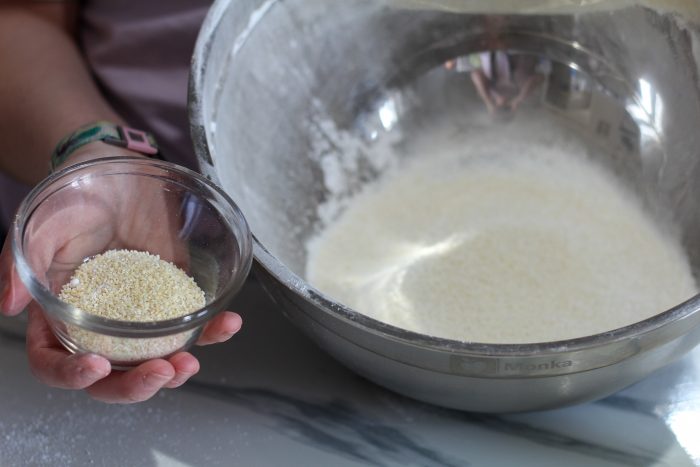 Just throw away the clumpy bits because you will not use them. Set the other bowl aside.
Now, in your stand mixer, you will beat your egg whites until they are fluffy. Then, add in your sugar, lavender paste, and your food coloring. Beat on high until somewhat stiff.
Your egg whites need to be stiff enough to create a little bird beak.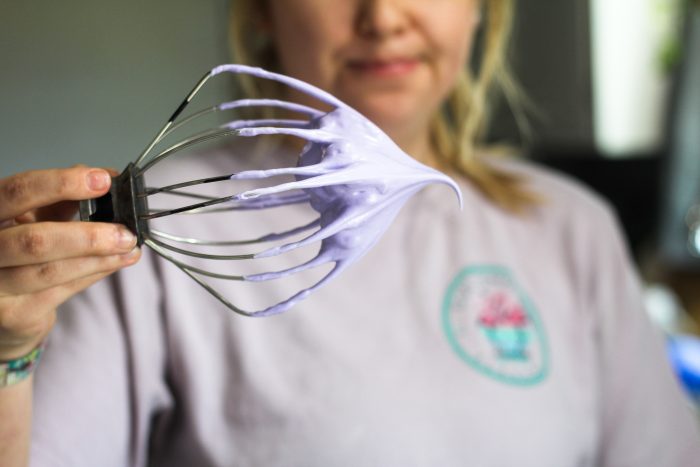 Fold the meringue into the dry ingredients. The batter will be thick but loose enough to make a figure 8 in the batter.
To whip this batter, you have to be super careful and not over whip it. This will cause your cookies not to gain their feet (which we will talk about below).
In the bowl, use a rubber spatula and start a circle in a clockwise motion. When you get back to the top at 12'oclock, then go straight down. That is 1 turn.
Do this 50 times.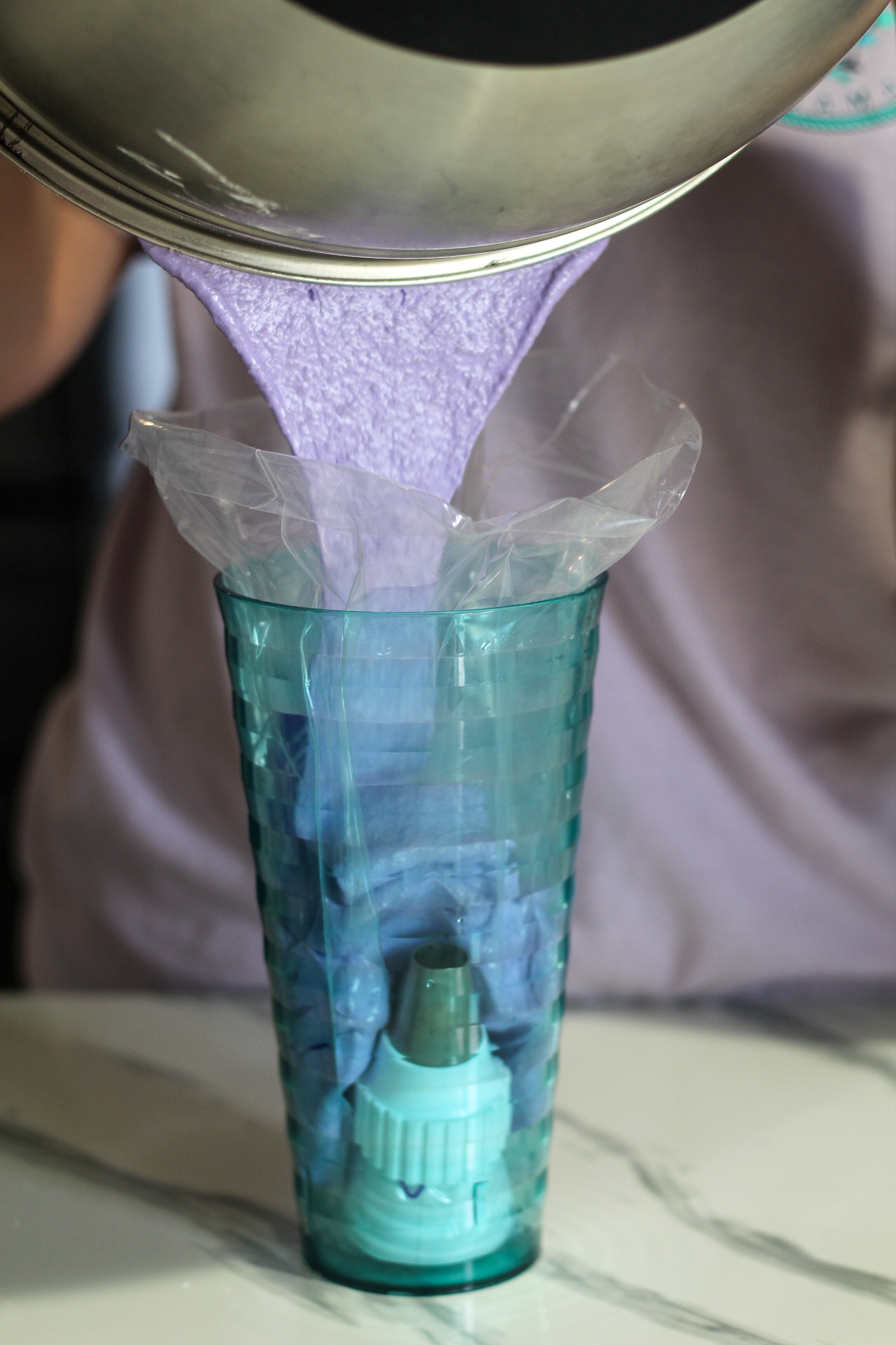 Now, put your large tip on the piping bag and fill the bag with the cookie batter.
Pipe the cookies onto the tray. You can make smaller ones or you can make bigger ones. The size depends on you. The normal size is about 1 and 1/2″
We like to stay somewhere in between.
Once you pipe the cookies onto your parchment lined sheet tray, take a wet finger and gently tap the top of the cookies if there are any tips sticking up.
Take the tray and firmly tap it on the counter 3 times to remove any air bubbles from the cookies.
Then, let the cookies rest for 30-45 minutes or until the tops are dry to the touch. They should not be sticky at all.
Preheat the oven to 325 degrees and when you are ready to bake the cookies, place them on the middle rack and bake for 10-15 minutes.
Let them cool before peeling them off of the parchment paper. Your cookies should have feet like these when they are baked correctly.
Let's Fill Those Cookies
Before filling your cookies, take them and try to match up the sizes as best as you can. Since we are human and not perfect, the sizes will not all be uniform.
You can fill your cookies with whatever flavor of buttercream you like, but for me, lemon always pairs so well with lavender.
For this, we piped my easy buttercream frosting around the edge of the cookie.
Then we filled the center with my delicious homemade lemon curd. You can use the store-bought lemon curd if you want.
You can eat them right away or store them in the fridge for a couple of hours. I like to let mine stay in the fridge because they just taste SO MUCH BETTER!
Try These Other Delicious Spring Sweets Recipes as well
Monday #SpringSweetsWeek Recipes
Enter the Giveaway Here

Check out the amazing prizes you can win in our #SpringSweetsWeek Giveaway!

Door County Coffee & Tea Co. is giving away one $50 gift certificate to doorcountycoffee.com so that one lucky reader can try any of their amazing coffees and teas.

Door County Coffee & Tea Co. was founded in 1993 in Door County, Wisconsin. It is a small, family-owned business, roasting coffee the old-fashioned way – in small batches to exacting specifications. The mission has always been to produce some of the best-tasting and highest quality coffee. They have over 100 types of coffee, all of which are roasted right on site. Visit https://www.doorcountycoffee.com/ to see their selection of coffees and teas as well as to find some fabulous recipes.

Dixie Crystals is giving away one propane kitchen torch which is ideal for caramelizing creme brulee or roasting peppers in a snap!

Since 1917, Dixie Crystals® has been the South's choice for high-quality sugar and sweeteners. Our pure cane sugar products are all natural, non-GMO and provide consistently delicious results. Visit https://www.dixiecrystals.com/ for hundreds of recipes, holiday ideas, and plenty of baking videos.

Thank you #SpringSweetsWeek Sponsors: Dixie Crystals, Door County Coffee & Tea Co., Circulon, Melissa's Produce, Taylor and Colledge, and Nairn's for providing the prizes free of charge. These companies also provided the bloggers with samples and product to use for #SpringSweetsWeek recipes. All opinions are my own. The #SpringSweetsWeek giveaway is open to residents of the United States who are 18 years of age or older. All entries for the winner will be checked and verified. By entering you give the right to use your name and likeness. The number of entries received determines the odds of winning. Six (6) winners will be selected. The prize packages will be sent directly from the giveaway sponsors. The #SpringSweetsWeek Bloggers are not responsible for the fulfillment or delivery of the prize packages. Bloggers hosting this giveaway and their immediate family members in their household cannot enter or win the giveaway. No purchase necessary. Void where prohibited by law. This promotion is in no way sponsored, endorsed or administered by, or associated with Facebook, Instagram, Pinterest, Twitter or any other social channel mentioned in the #SpringSweetsWeek posts or entry.

Yield: 24 cookies

Lemon Lavender Macarons

These Lemon Lavender Macarons are the perfect Spring dessert. Light and delicate with a light lavender flavor.

Ingredients

For the cookie shell

1 1/2 cups of powdered sugar
1 cup + 2 tablespoons of almond flour
3 egg whites
1/2 cup of sugar
1/2 teaspoon of lavender paste or lavender extract
Purple gel food coloring

For the cookie center

Buttercream Frosting

1 cup salted butter, softened
2 ounces of cream cheese softened
4-5 cups powdered sugar
2 teaspoons vanilla extract
3-4 tablespoons heavy cream
Pinch of salt, to taste

Instructions

Sift almond flour and powdered sugar together at least 3 times. Discard all the chunky bits that are left behind. Set aside.
In your KitchenAid mixer, beat egg whites on medium speed until they start to fluff up. Add the sugar and beat on high until stiff peaks begin to form. Add in 2-3 drops of purple food coloring and the lavender paste or extract. Beat until combined.
Now, fold the meringue into the dry ingredients. The batter should be thick but loose enough to make a figure 8 with the batter.
Mix together between 45-55 times by hand with a rubber spatula. Start in a clockwise motion starting at 12 o'clock and ending at 12'oclock, then go straight down to 6 o'clock. This is one complete turn.
Line trays with silicone mats or with parchment paper.
Using a piping bag fitted with a 1" round tip, fill the bag with the macaron batter.
Pipe onto trays, making cookies about 1 1/2" inches.
Touch the tops of the cookies to press down any tiny tips that stick up.
Tap the trays on the counter 3 times to release any air bubbles.
Let the cookies dry out for about 30-45 minutes. The cookies should be dry to the touch and not sticky when you feel the tops of them.
Preheat the oven to 375 degrees while cookies are drying out.
Bake for 10-14 minutes or until the cookies are set.
Let the cookies cool off before peeling off the parchment paper.
While cookies are cooling, make the buttercream frosting and place in a piping bag fitted with a small star tip.
Once cookies are cool, flip them over so that the undersides are face up. Match cookies together by size.
Pipe a ring around half the cookies. Fill the centers with a dollop of lemon curd. Top with a cookie that has nothing on it.
Enjoy!

Nutrition Information:

Yield:

25

Serving Size:

1 Amount Per Serving:

Calories:

20

Total Fat:

11g

Saturated Fat:

7g

Trans Fat:

0g

Unsaturated Fat:

3g

Cholesterol:

2mg

Sodium:

4mg

Carbohydrates:

5g

Fiber:

0g

Sugar:

5g

Protein:

1g