Hey! We are back with another delicious macaron recipe. These Strawberry Lemon Macarons are the perfect flavor for Spring and Summer.
My daughter and I truly love making French macarons and sharing them with our friends and family.
We have made cinnamon roll macarons, lemon lavender macarons, and now I am sharing these easy Strawberry Lemon macarons with you.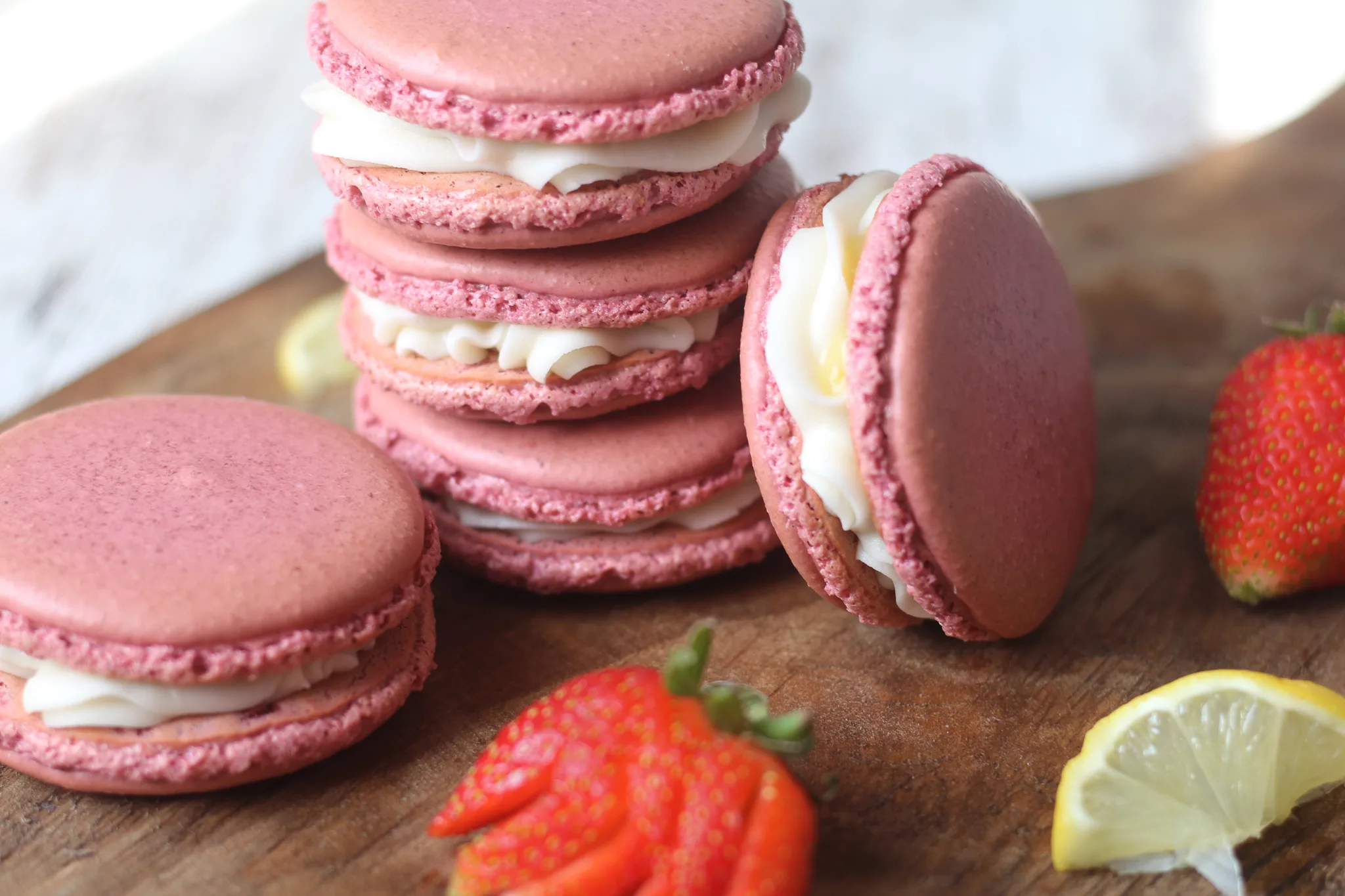 These macarons have a strawberry-flavored cookie with fresh vanilla buttercream and a lemon curd center. You can buy lemon curd at the grocery store if you want or you can use my recipe and make your own lemon curd from scratch.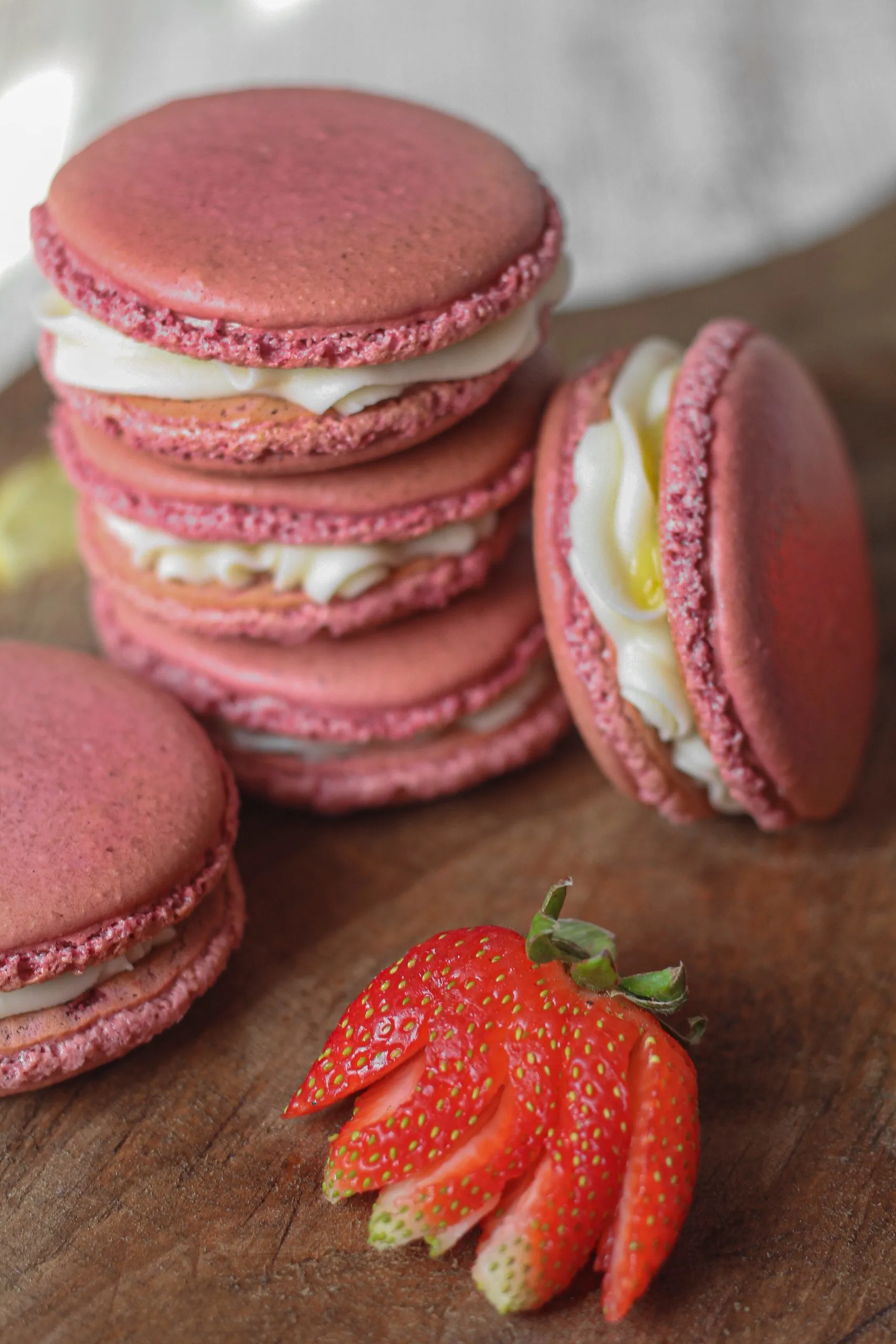 Macarons can be finicky if you are not careful. However, Kayla and I have finally perfected our technique and we are sharing it with you in this post.
How to Make Strawberry Lemon Macarons
Start by gathering all your ingredients —
powdered sugar
almond flour
egg white powder
strawberry powder
egg whites
sugar
Purple food coloring and red food coloring
Start by combining 1 and 1/2 cups of powdered sugar with 1 cup of almond flour, the strawberry powder and one tablespoon of egg white powder. We have found that the Blue Diamond Finely Sifted Almond Flour is the best to use. We only have to sift one time with it and there is almost no bits to throw away.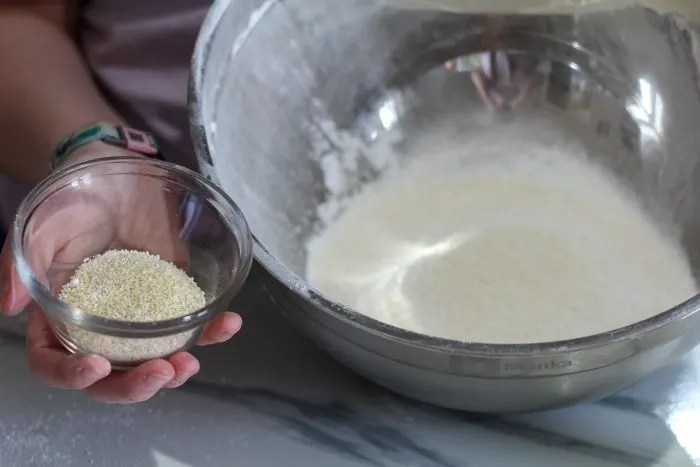 Just throw away the clumpy bits because you will not use them. Set the other bowl aside.
Now, in your stand mixer, you will beat your egg whites until they are fluffy. Then, add in your sugar and your food coloring. Beat on high until somewhat stiff.
Your egg whites need to be stiff enough to create a little bird beak.
Fold the meringue into the dry ingredients. The batter will be thick but loose enough to make a figure 8 in the batter.
To whip this batter, you have to be super careful and not over whip it. This will cause your cookies not to gain their feet.
In the bowl, use a rubber spatula and start a circle in a clockwise motion. When you get back to the top at 12'oclock, then go straight down. That is 1 turn.
Do this 35-45 times.
Now, put your large tip on the piping bag and fill the bag with the cookie batter.
Pipe the cookies onto the tray. You can make smaller ones or you can make bigger ones. The size depends on you. The normal size is about 1 and 1/2″
We like to stay somewhere in between.
Before Baking the Cookies
Once you pipe the cookies onto your parchment lined sheet tray, take a wet finger and gently tap the top of the cookies if there are any tips sticking up.
Take the tray and firmly tap it on the counter 3 times to remove any air bubbles from the cookies.
Then, let the cookies rest for 20 minutes or until the tops are dry to the touch. They should not be sticky at all.
Preheat the oven to 300 degrees and when you are ready to bake the cookies, place them on the middle rack and bake for about 12 minutes.
Let them cool before peeling them off of the parchment paper. Your cookies should have feet like these when they are baked correctly.
Let's Fill Those Cookies
Before filling your cookies, take them and try to match up the sizes as best as you can. Since we are human and not perfect, the sizes will not all be uniform.
You can fill your cookies with whatever flavor of buttercream you like, but for me, lemon always pairs so well with strawberry.
For this, we piped my easy buttercream frosting around the edge of the cookie.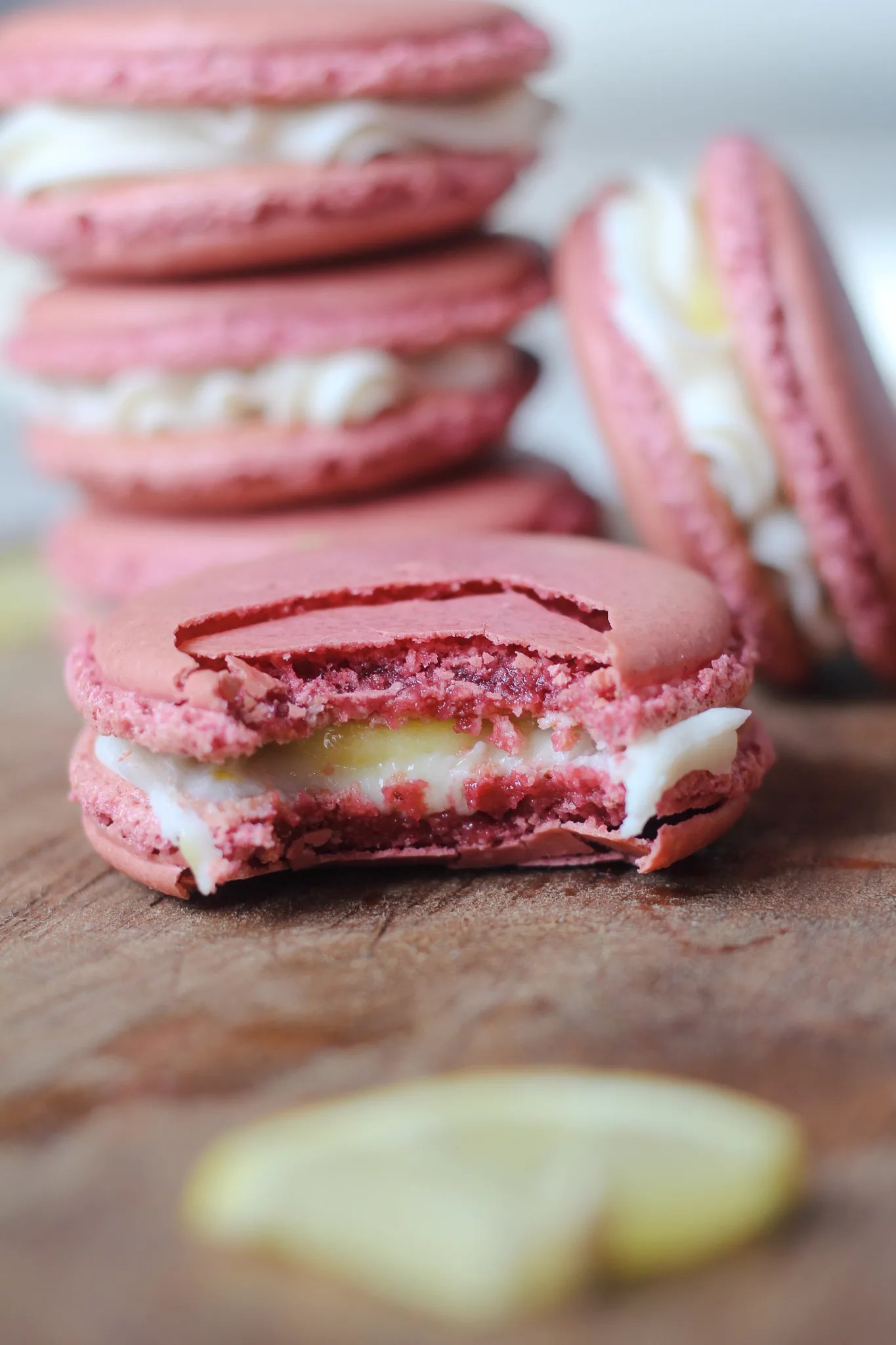 Then we filled the center with my delicious homemade lemon curd. You can use the store-bought lemon curd if you want.
You can eat them right away or store them in the fridge for a couple of hours. I like to let mine stay in the fridge because they just taste SO MUCH BETTER!
You can also try your hand at making French Macarons. If you are up for a new flavor, give these Coffee Flavored Macarons a try.
Make Macarons Like a Pro with These Supplies
If you like making macarons or want to try your hand at it, here are some supplies you might want to invest in.
Check Out Our Other Macaron Cookie Flavors
Be sure to try my other delicious macaron flavors —
Yield: 24 cookies
Strawberry Lemon Macarons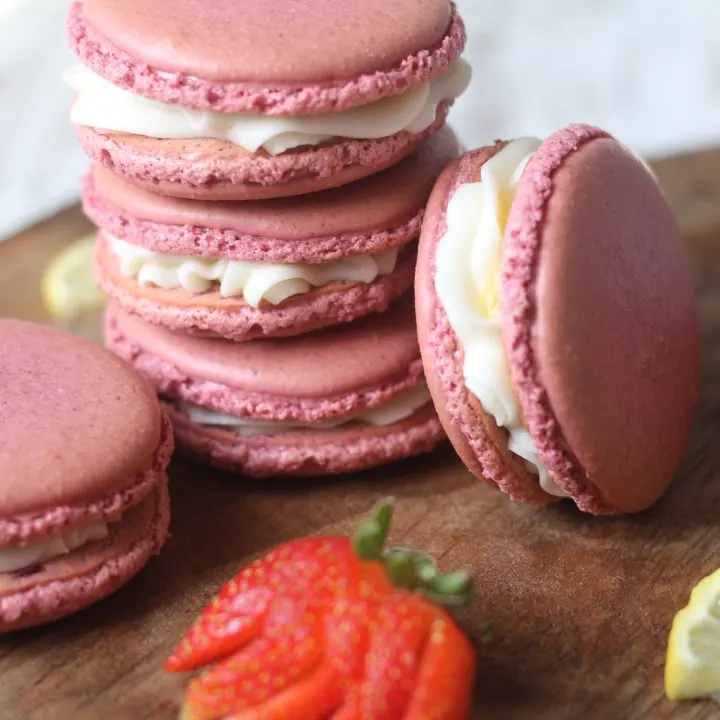 The perfect bite of summer -- a strawberry cookie filled with vanilla buttercream and lemon curd filling.
Total Time
1 hour
13 minutes
Ingredients
For the cookie shell
1 1/2 cups of powdered sugar
1 cup of almond flour
3 egg whites
1/2 cup of sugar
2 tablespoons of strawberry powder
Purple and red gel food coloring
For the cookie center
Buttercream Frosting
1 cup salted butter, softened
2 ounces of cream cheese softened
4-5 cups powdered sugar
2 teaspoons vanilla extract
3-4 tablespoons heavy cream
Pinch of salt, to taste
Instructions
Sift almond flour, strawberry powder, and powdered sugar together. Discard all the chunky bits that are left behind. Set aside.
In your KitchenAid mixer, beat egg whites on medium speed until they start to fluff up. Add the sugar and beat on high until stiff peaks begin to form. Add in 1 drop of purple food coloring and 2 drops of red food coloring. This should give you the perfect strawberry color. Beat until combined.
Now, fold the meringue into the dry ingredients. The batter should be thick but loose enough to make a figure 8 with the batter.
Mix together between 35-45 times by hand with a rubber spatula. Start in a clockwise motion starting at 12 o'clock and ending at 12'oclock, then go straight down to 6 o'clock. This is one complete turn.
Line trays with silicone mats or with parchment paper.
Using a piping bag fitted with a 1" round tip, fill the bag with the macaron batter.
Pipe onto trays, making cookies about 1 1/2" inches.
Touch the tops of the cookies to press down any tiny tips that stick up.
Tap the trays on the counter 3 times to release any air bubbles.
Let the cookies dry out for about 20 minutes. The cookies should be dry to the touch and not sticky when you feel the tops of them.
Preheat the oven to 300 degrees while cookies are drying out.
Bake for about 12 minutes or until the cookies are set.
Let the cookies cool off before peeling off the parchment paper.
While cookies are cooling, make the buttercream frosting and place in a piping bag fitted with a small star tip.
Once cookies are cool, flip them over so that the undersides are face up. Match cookies together by size.
Pipe a ring around half the cookies. Fill the centers with a dollop of lemon curd.
Top with a cookie that has nothing on it.
Enjoy!
Nutrition Information:
Yield:
35
Serving Size:
1
Amount Per Serving:
Calories:

358
Total Fat:

8g
Saturated Fat:

5g
Trans Fat:

0g
Unsaturated Fat:

2g
Cholesterol:

27mg
Sodium:

70mg
Carbohydrates:

74g
Fiber:

0g
Sugar:

72g
Protein:

1g