This Copycat Cheesecake Factory key lime cheesecake is delicious with a yummy graham cracker crust, creamy and tart filling, and a dollop of sweetened whipped cream on top.
Cheesecake has always been my go-to dessert no matter where I go. One of my favorite restaurants to eat at is The Cheesecake Factory. I mean, DUH — cheesecake?
I eat there so much that I have made several copycat recipes from the meals I have tried there. One of my most popular is my Copycat Cheesecake Honey Wheat Bread — that gorgeous brown bread we can never get enough of.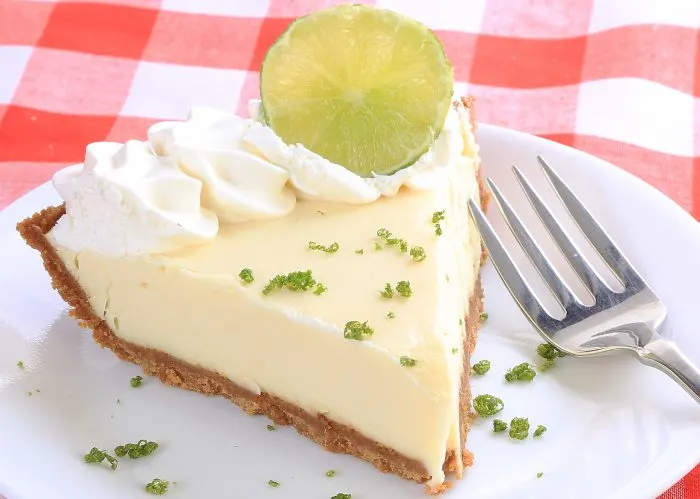 I usually cook and serve my cheesecake in a springform pan. It makes it easy to get out and it looks very pretty when your crust is not falling apart.
Speaking of crust, there is no sense in buying a premade Graham Cracker crust. Just use graham cracker crumbs you can get on Amazon or just make your own. It takes minutes and tastes so much better than a store-bought crust.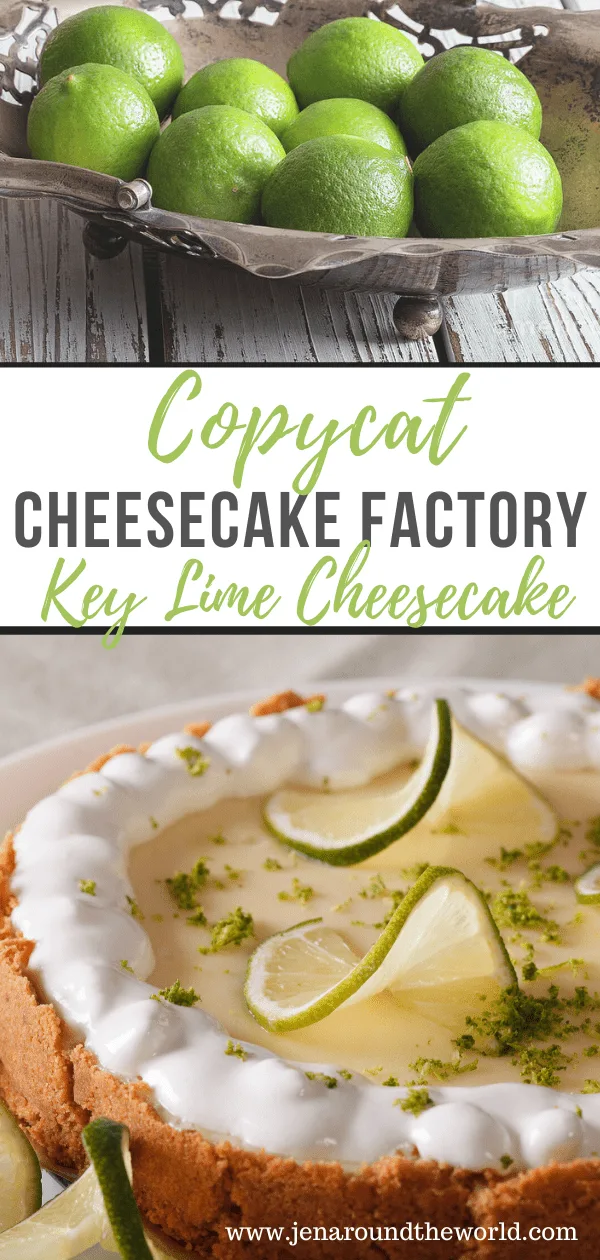 Tips for Getting a No Crack Cheesecake Crust
There are two tricks to getting perfect cheesecake, making sure that there are no cracks at all. My daughter has figured this process out and every single time she makes cheesecake they come out beautiful.
For the perfect cheesecake, put a pan of boiling water on the bottom oven rack while the cheesecake is baking.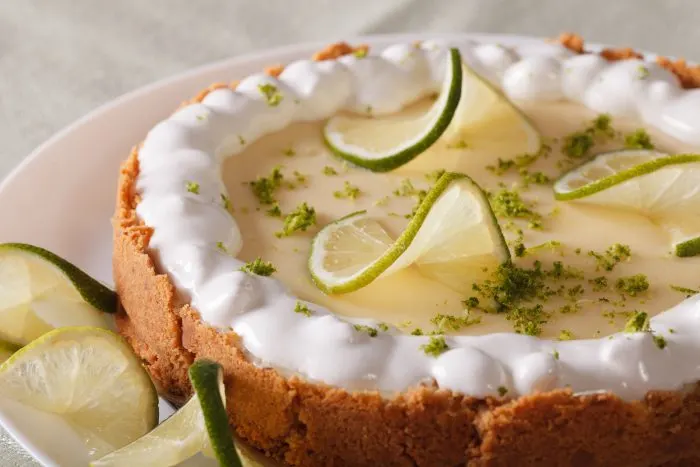 Once the cheesecake is done cooking, tilt the oven door slightly open (about 4-6″ inches) and let it cool down almost completely in the oven. Then you refrigerate it for at least overnight.
Can I Use Regular Limes in a Key Lime Cheesecake?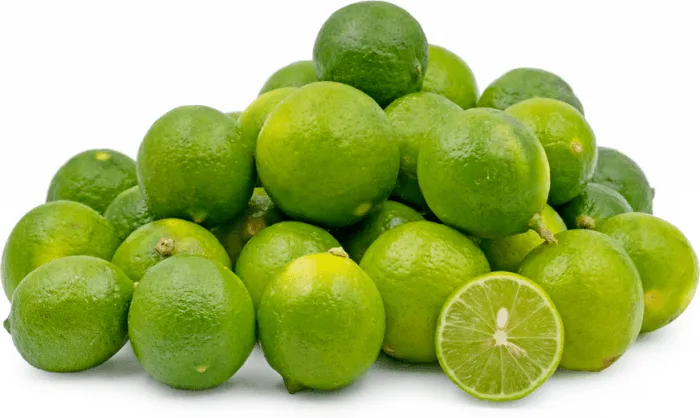 If you can find good, fresh Key limes, by all means, use them. But I've found that regular limes (also known as Tahiti or Persian limes) make just as good a cheesecake. Whatever you do, avoid bottled Key lime juice; the processing changes the flavor significantly.
What is the Difference Between Key Limes and Regular Limes?
Grocery store limes, also called Persian limes, are larger and tarter than their Florida cousins.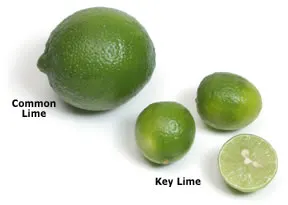 Key limes are smaller, sweeter, and contain more seeds than Persian limes. The larger limes have a thick, bright green skin, and Key lime skin is thin and tends to be a little on the yellow side.
If you love this Copycat Cheesecake Factory recipe, you will definitely love my Cheesecake Factory Bang-Bang Chicken recipe. If you love cheesecake, then this No-Bake Old Fashioned Cherry Cheesecake or this Orange Dreamsicle Cheesecake may be more to your liking.
Yield: 10
Copycat Recipe- Cheesecake Factory Key Lime Cheesecake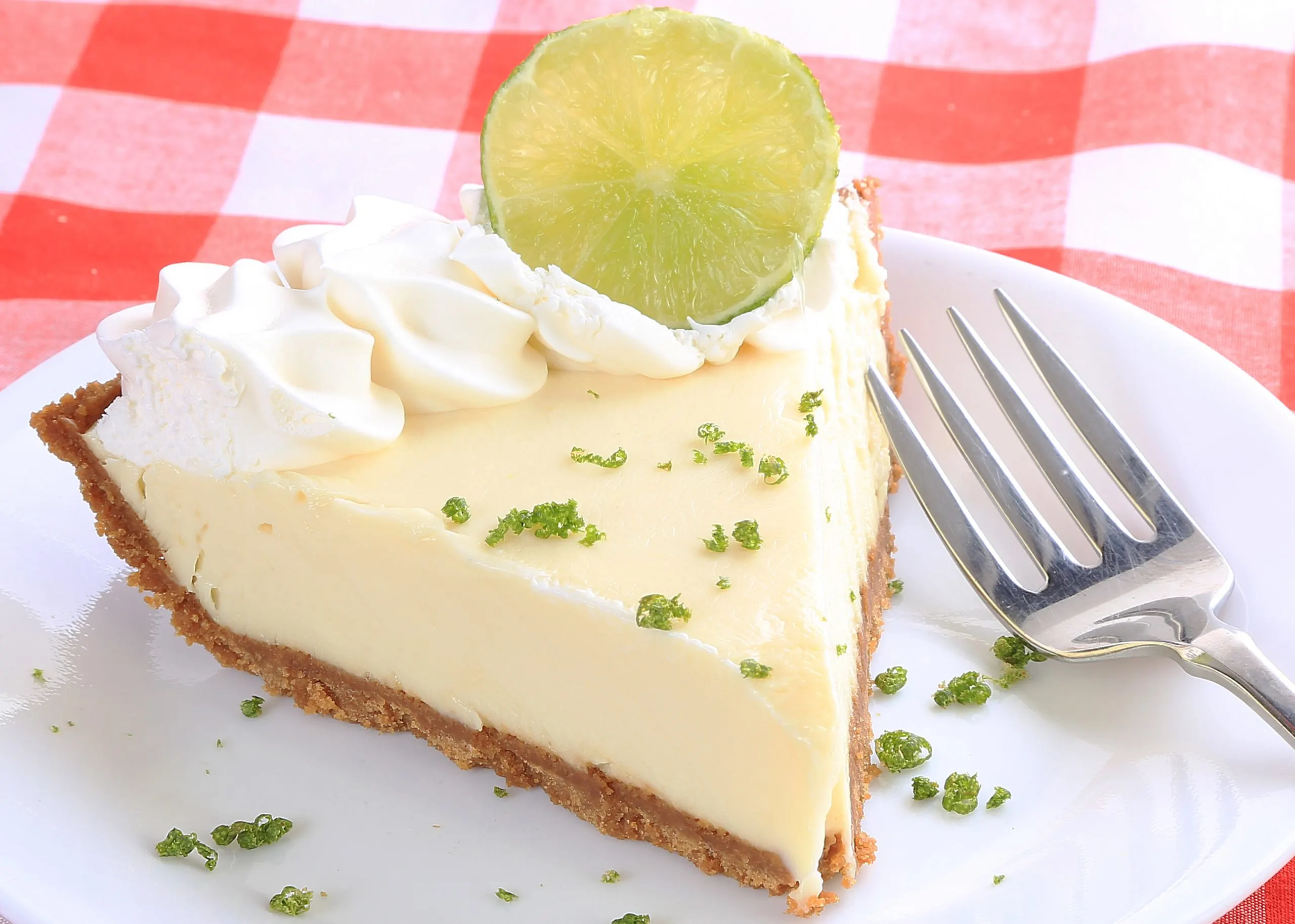 This is a fabulous copycat recipe for The Cheesecake Factory's Key Lime Cheesecake
Cook Time
1 hour
15 minutes
Total Time
1 hour
35 minutes
Ingredients
Graham Cracker Crust
1 1/2 cups graham cracker crumbs
2 tablespoons granulated sugar
6 tablespoons butter, melted
Key Lime Cheesecake
3 bars (8 oz each) cream cheese, softened
1 cup granulated sugar
1 tablespoon cornstarch
zest of 1 lime
1/2 cup lime juice
3 large eggs
Sweetened Whipped Cream
1 cup heavy whipping cream
1/4 cup powdered sugar
lime zest or slices for garnish, optional
Instructions
Preheat the oven to 300 degrees. Position the oven racks so one is just above the middle position and the other is just below the middle position. Lightly spray a 9-inch springform pan with cooking spray.
In a large mixing bowl, stir together the graham cracker crumbs, sugar, and melted butter. Mix well until everything is incorporated.
Press the mixture into the bottom and up the sides (about 1/2" up) of the prepared springform pan.
Bake the crust for 15 minutes. Remove from the oven and let cool completely. While the crust is cooling you can make your cheesecake filling.
For the filling -- In a large bowl with an electric mixer, or in the bowl of an electric stand mixer, beat the cream cheese, sugar, cornstarch, and lime zest together until smooth and creamy. Scraping down the sides of the bowl as needed.
Add the lime juice and mix until combined. Add the eggs and mix until just combined. Don't over mix because it can cause the cheesecake to crack while baking. Extra air beaten into the filling will cause cracking.
Pour the cheesecake filling over the crust and spread evenly.
Place a metal or glass pan on the bottom rack of the oven and pour in 3 cups of boiling water.
Immediately place the cheesecake on the upper rack and bake for 55-65 minutes until the cheesecake is set around the edges. You can expect a slight jiggle in the center of the cheesecake.
When the cheesecake is done cooking, turn the oven off and prop the oven door open about 4 inches.
Keep the cheesecake in the oven for an hour until it is completely cooled.
Refrigerate the cheesecake for at least 4 hours or overnight is best.
When ready to serve, whip together the cream and powdered sugar until thick and creamy. Either spread the whipped cream evenly over the cheesecake or pipe it around the edges.
You can also just put a dollop on top. Add the garnish of lime slices or lime zest.
Nutrition Information:
Yield:
10
Serving Size:
1
Amount Per Serving:
Calories:

358
Total Fat:

21g
Saturated Fat:

12g
Trans Fat:

1g
Unsaturated Fat:

7g
Cholesterol:

109mg
Sodium:

196mg
Carbohydrates:

39g
Fiber:

1g
Sugar:

29g
Protein:

6g